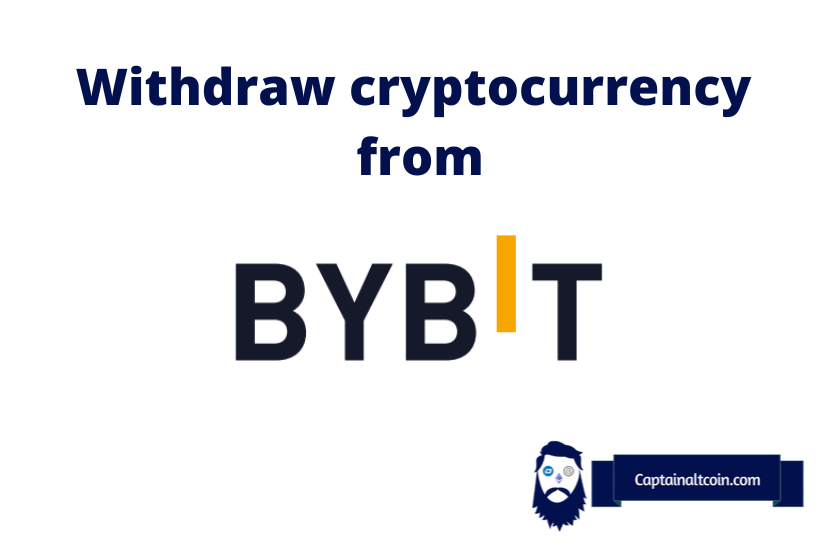 How do I withdraw from ByBit?
---
You can initiate a cryptocurrency withdrawal on the ByBit exchange platform either from a mobile device (on the Android or iOS app) or using a browser to log in and manage your ByBit account on the web-based dashboard.
The process is similar and easy to follow on both the app and the web platform.
On the trading app, the first step to withdrawing cryptocurrency is to log in to your ByBit account and go to the Assets tab. On the next page, click on Withdraw, select your digital asset (such as Bitcoin or Ethereum), paste your receiving address, choose the network, enter the amount you wish to send, and click the Withdraw button.
Cryptocurrencies will be sent from your spot account, so if your assets are in derivatives, earn, or funding accounts, make sure to transfer them to your spot account first.
Always remember to choose the right blockchain network (BTC for Bitcoin, ERC-20 for Ethereum, TRC20 for Tron, and so on) to avoid encountering delays with your transactions. To withdraw Tether USDT tokens, for example, you need to choose the right network (ERC20, BEP20, Solana, TRC20, and so on).
The steps for withdrawing cryptocurrency using the ByBit web-based platform are the same as those explained above. Log in to the app, go to Assets, then Withdraw, enter the receiving address, choose a network, enter the amount, and tap Withdraw. Some cryptocurrencies, like EOS or BNB (BEP2), may require a memo or a tag when transacting, so remember to add that as well.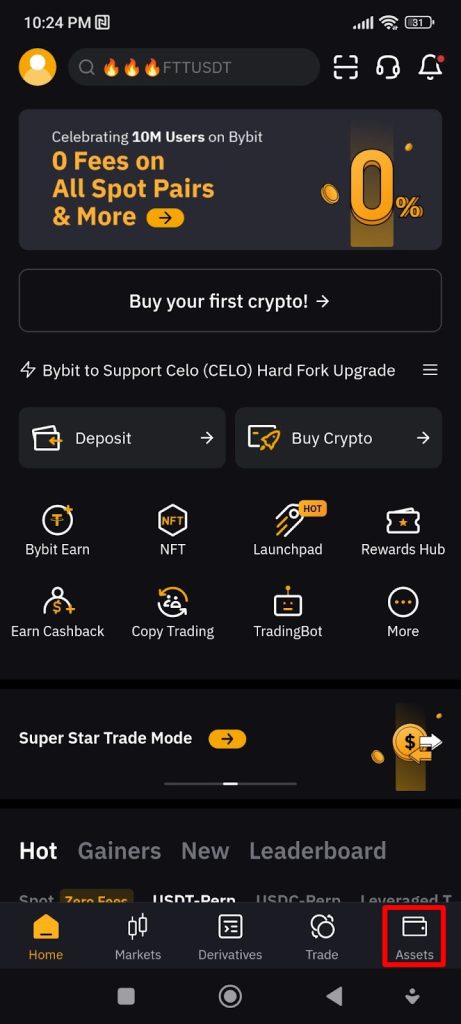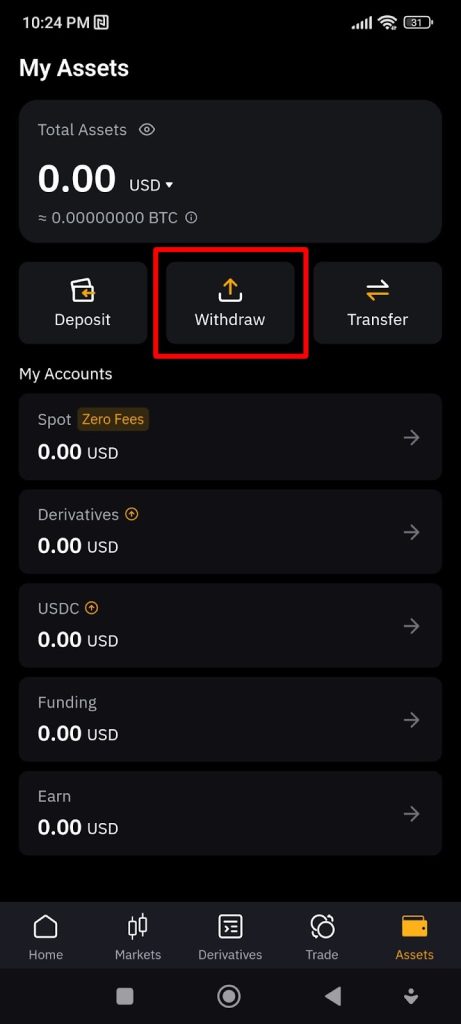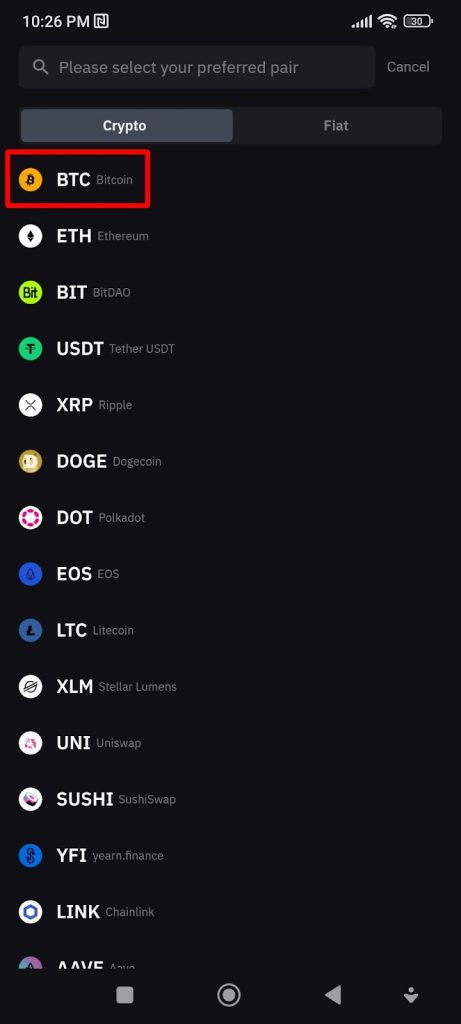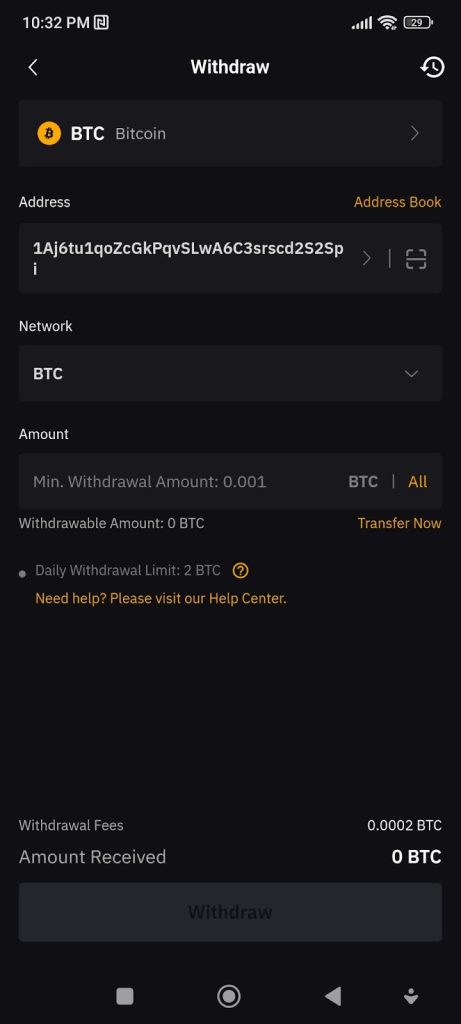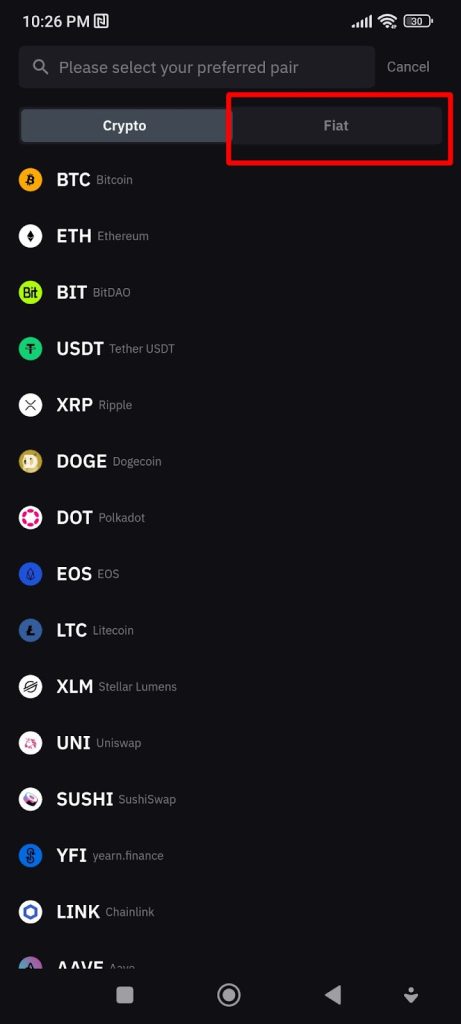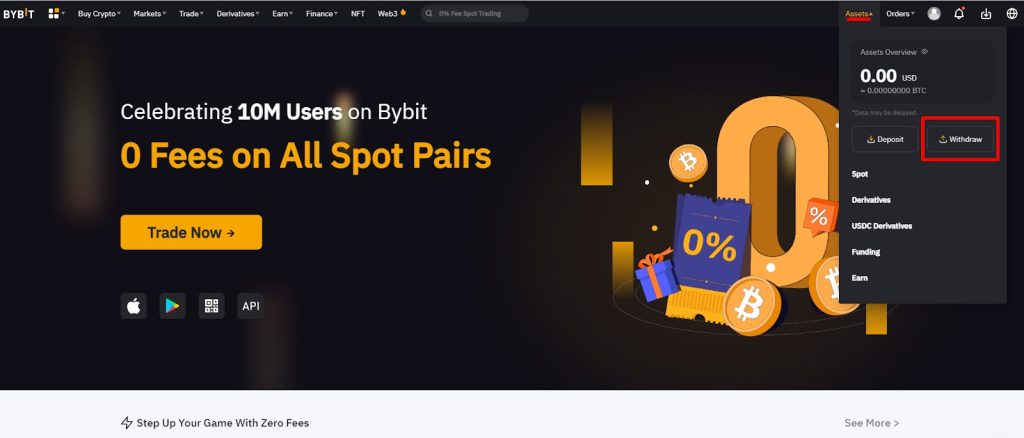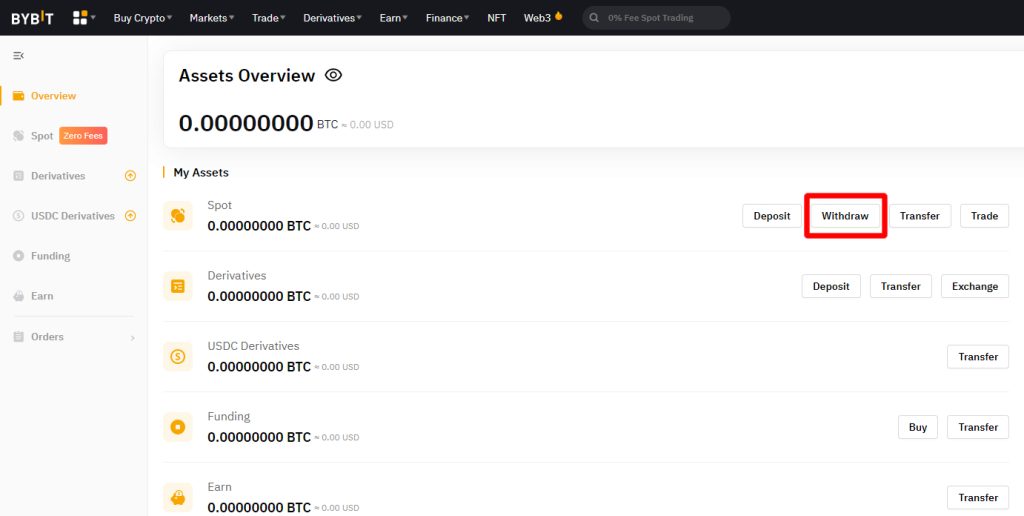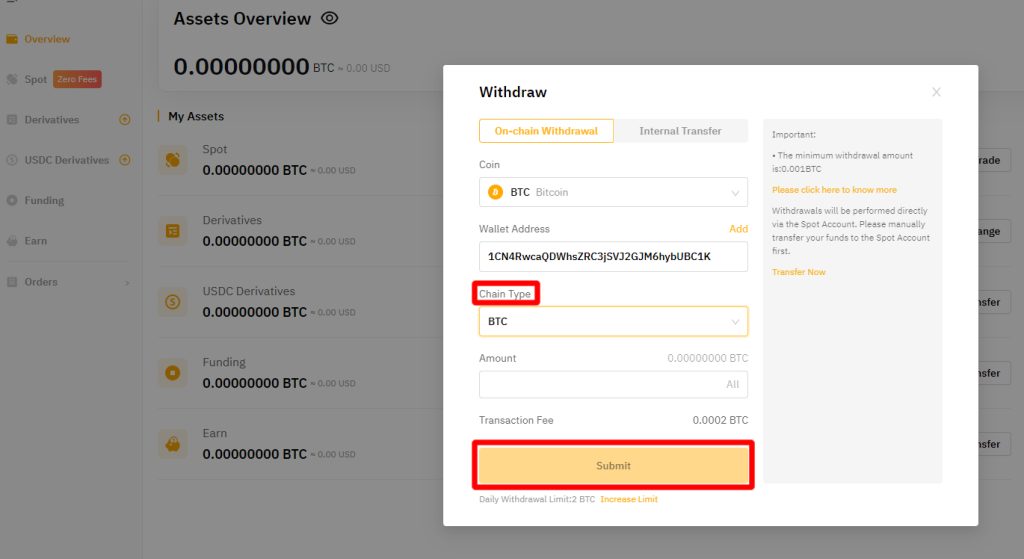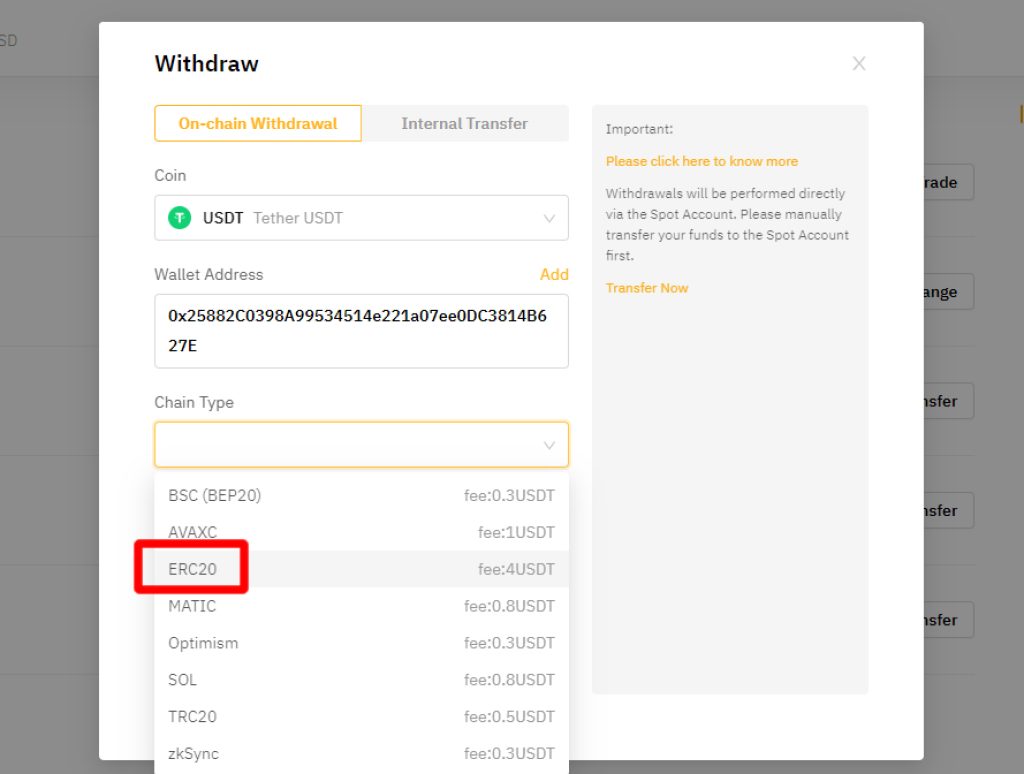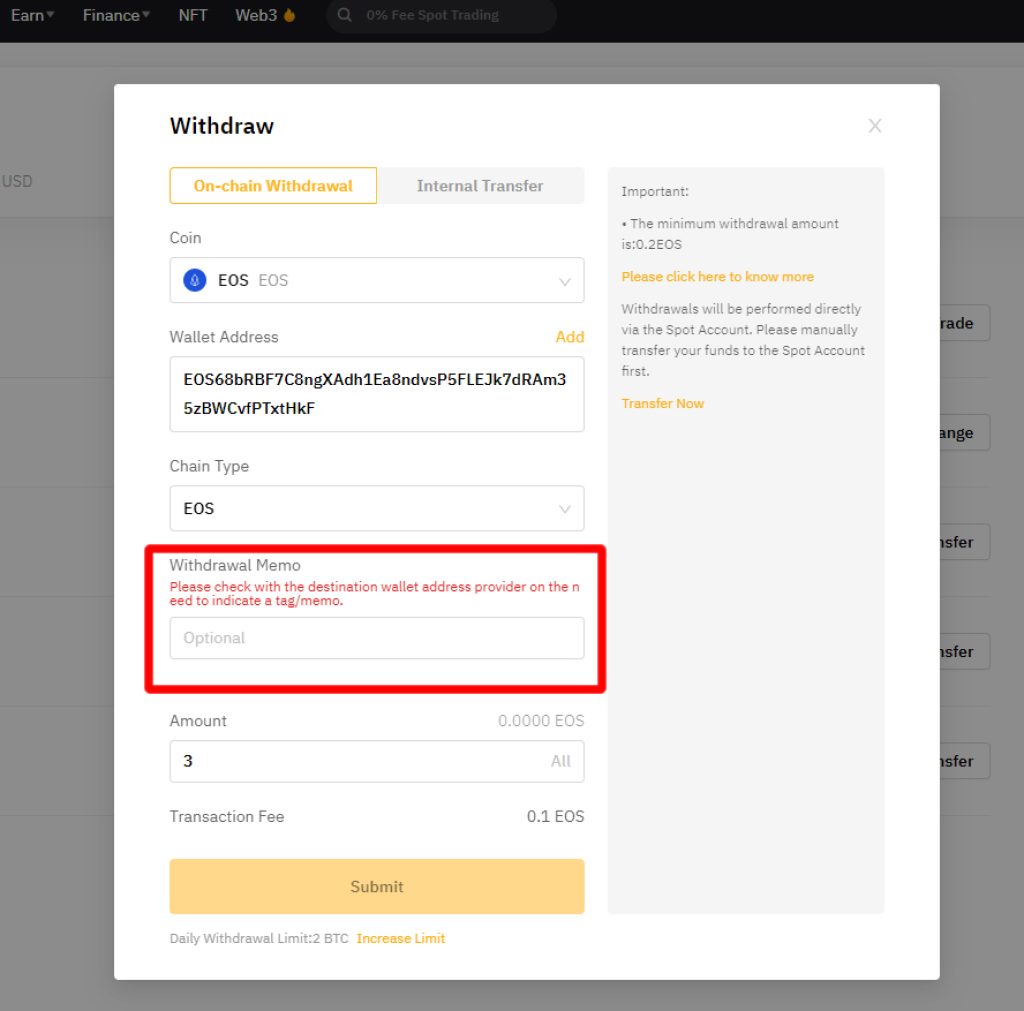 How do I withdraw crypto from ByBit to another exchange?
---
To withdraw cryptocurrency to another exchange like Coinbase Pro or Binance, you need to follow the same steps above, which require the receiving address (where you want to send the funds).
Most of the time, you can get this by going to another exchange's deposit page and copying it from there. Log in to your Coinbase Pro account, then select the Trade tab, followed by Wallet Balance, Deposit, and BTC (or another cryptocurrency) to copy.
How to Withdraw Crypto from ByBit to a Ledger Wallet
---
You can find the recipient's address in the Ledger Live app by going to the "Transfer" tab in the menu, clicking "Receive funds," choosing the account (BTC, ETH, etc.), copying the address, and pasting it into the "Wallet Address" field on the ByBit withdrawal page.
How do I withdraw fiat currency from ByBit to a bank account?
---
You can use Bybit to convert cryptocurrency into cash in two different ways: either by using the Sell function of its P2P platform or by withdrawing fiat currency (EUR) to your bank account via Capital Connect, a company that offers cryptocurrency buying and selling services for businesses and individuals.
The Cabital.com platform currently supports SEPA and SEPA Instant bank transfers, with plans to add SWIFT (GBP), TED (BRL), SWIFT USD, and SIC (CHF) transfers soon. ByBit has also said that it will soon make an ATM card (in VND) for people who live in Vietnam.
How to Withdraw Money From ByBit Without KYC
---
Follow the steps below to get money out of ByBit without KYC:
Convert the cryptocurrencies to USDT. If you want to get money out of ByBit, you should use USDT or Tether. Move the amount of cryptocurrencies you want to withdraw to USDT.
Send USDT to Binance. ByBit doesn't have a way to withdraw cryptocurrency to a bank account. Because of this, one must send USDT to Binance. Click "Deposit" in your Binance account and then choose the USDT coin. Then, choose the "TRC20" network and copy the deposit address. Then, go back to your ByBit account and click on the button that says "withdrawal." Choose the TRC20 network and paste the address you just copied into the "address" field.
Trade USDT for fiat currency: Once USDT is in your Binance account, go to "markets" and choose the fiat market. This is where you can trade USDT for the currency you want. For euros, choose the pair EUR/USDT and click the "buy" button.
Withdraw fiat currency. After exchanging USDT for fiat currency, go back to the main panel and click the "withdraw" button. Choose the fiat currency and how you want to withdraw the money, either by credit card or bank transfer. Enter the amount you want to take out, then click "Continue."
It's important to know that ByBit may ask for KYC if a user breaks their rules or comes from a country where they can't use the service. Users who have been flagged for KYC can still get their money out during the 30 days they have to prove who they are. If a user is asked for KYC, they will have to show things like a selfie, a photo ID, and proof of where they live. Users can take out up to 2 BTC or the equivalent every day without having to show their ID. However, some users have reported being asked for KYC even for amounts under 2 BTC.
Can US citizens withdraw from ByBit?
---
Unfortunately, they cannot. ByBit does not have a license to operate in the USA, and the company has also banned American users from using the platform.
What Are the Withdrawal Limits for ByBit?
---
You can withdraw up to 2 BTC (Bitcoin) per day without passing the KYC verification process (KYC level 0), 50 BTC for KYC level 1, and 100 BTC for KYC level 2.
FAQs
---
What's the minimum withdrawal amount on ByBit❓
The minimum withdrawal amount is different for each of the 40+ cryptocurrencies supported by ByBit, with 0.001 for BTC, ETH at 0.02, USDT at $10, LTC at 0.1, and so on.
Can I withdraw cash from Bybit❓

Yes. You can sell cryptocurrency for cash on the Bybit P2P page, withdraw fiat money (EUR) to your bank account via SEPA bank transfers through Cabital Connect, or send it to other external exchanges that allow cryptocurrency-to-fiat withdrawals.
How much can you withdraw from Bybit❓
You can withdraw 2 BTC for KYC level (no KYC verification required), up to 50 BTC for KYC level 1 (which requires KYC verification), and 100 BTC for KYC level 2, which requires proof of address PoA verification.
How long does a withdrawal take on ByBit❓
Cryptocurrency withdrawals on ByBit are instant. However, transactions may take up to 30 minutes, depending on the cryptocurrency used and the blockchain network. Withdrawing using SEPA bank transfers may take up to one working day.
How much will I pay for a withdrawal on ByBit❓
ByBit's withdrawal fees for cryptocurrencies range from $0.60 for LTC (0.001) to $25 for USDC. This is based on the asset being withdrawn.
Can I withdraw directly from ByBit to my bank account❓
ByBit does not currently allow direct transfers to your bank account. If you live in Europe, ByBit offers that feature via a 3rd-party crypto-to-fiat service called Cabital Connect, which supports SEPA instant bank transfers.
How do you convert ByBit cryptocurrency into cash❓
ByBit's P2P platform lets you sell your digital assets to other users in exchange for dozens of fiat-based payment methods. 

How do I transfer USDT from ByBit to my bank account❓
If you live outside of Europe and can't get SEPA bank transfers, you'll have to withdraw to an exchange outside of Europe that lets you withdraw USDT in fiat currency. EUR SEPA bank transfers are supported by Cabital Connect. 

A second option is to use the P2P feature and sell your USDT tokens for bank transfers to a local buyer. ByBit P2P has an escrow system built right into it, so users don't have to worry about getting scammed or having other problems with their trades.
How long does a withdrawal take from ByBit to a bank account❓
ByBit does not allow fiat withdrawals directly. You can withdraw to Cabital Connect or another external exchange to use that feature.
How do I find my transaction ID from ByBit❓
To find your TxID (transaction id) on the ByBit platform, you first need to log in and go to the Assets tab, Spot, and History.
Why can't I withdraw from ByBit❓
ByBit is a platform that focuses mostly on trading services for cryptocurrencies. It does not allow direct withdrawals of fiat currency.
Do you need KYC to withdraw from Bybit❓
KYC verification is needed, but only if you withdraw over $2 BTC daily.

CaptainAltcoin's writers and guest post authors may or may not have a vested interest in any of the mentioned projects and businesses. None of the content on CaptainAltcoin is investment advice nor is it a replacement for advice from a certified financial planner. The views expressed in this article are those of the author and do not necessarily reflect the official policy or position of CaptainAltcoin.com