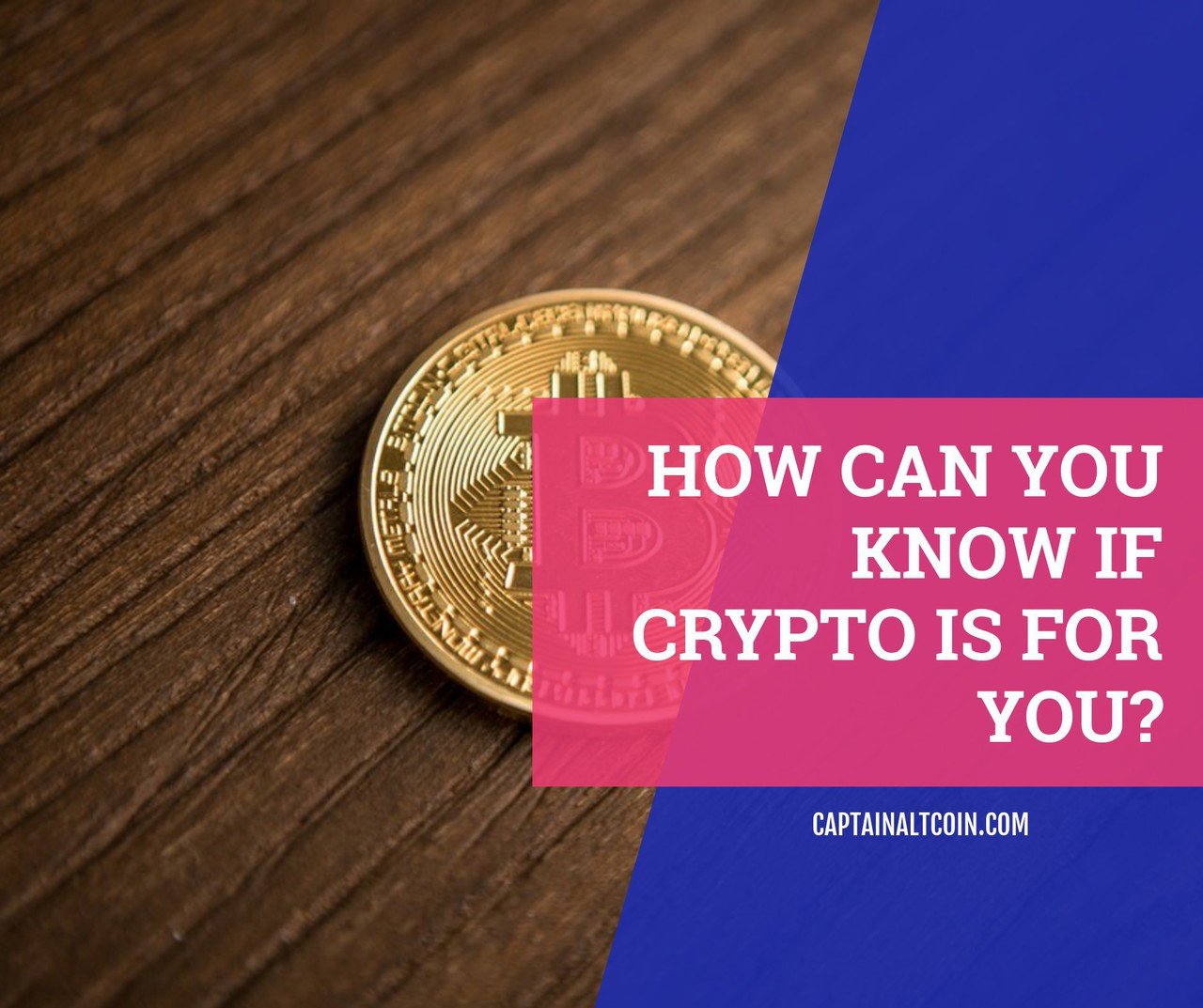 If you visited crypto Twitter any time in the past couple of weeks, you must have seen bots impersonating big crypto Twitter accounts and tweeting about "coin giveaways" in reply to the actual accounts. The scam is simple: they ask you to send them 0.4 to 0.9 of coin X to "verify yourself" and they send you back 10x the amount.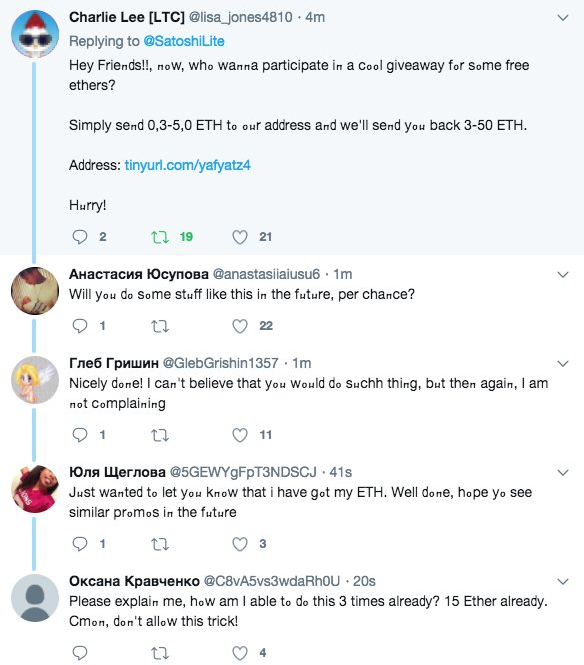 And when I say all big accounts are their target – I really mean all crypto celebrities starting from Vitalik, Charlie Lee, Andreas A. and even Roger Ver (although he is like Steven Seagal of crypto). Vitalik even changed his handle to "Vitalik "No I'm not giving away ETH" Buterin".
And these bots are obviously made by someone with high technical but low moral qualities. This bot creator uses very clever design and is obviously very up-to-date with what the "attacked" accounts post. He quickly reacts on any changes and tweets from his "victims", like in this case with Vitalik (he already changes his handle and reacted to Vitalik's tweet about how he is not giving away ETH):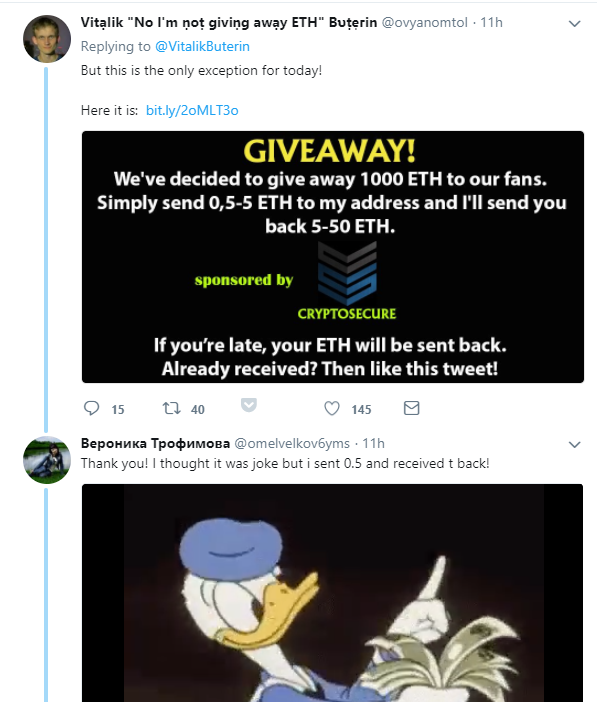 What I have noticed yesterday and today is  – he started using Medium now as well. And he shares his short Medium articles on Twitter and Facebook.

However, I doubt he will have much success on FB as they generally do a much better job than Twitter when it comes to scammers and spammers.
This article is my appeal to everyone who sees those Tweets and thinks even for a second they might be real: please stop looking at crypto like some magic money that will make you rich quickly. Stop trying to increase your crypto wealth by sending coins to some addresses and expecting you get 10x the sent amount. And stop falling for obvious Ponzi schemes like BitConnect and USI Tech.
Stop believing everything you read on Reddit or bitcointalk.org or Twitter.
If you found yourself in any of above mentioned categories: crypto is not for you. At least not on a daytrading/short-term investing level. You should at most be a passive holder and long-term investor. If you want to do anything actively to accummulate more coins – you will be crushed and you will be the only one to blame. Scammer will always scam people, but your job is to make sure you are not one of the victims.
This is highly unregulated territory with lots of wolfs that are gonna rip your skin off the second you come too close to them. These bots are most obvious scam of them all. But there are many others, that are more subtle and dangerous.
Everyone has an agenda and reason why they push some stories/posts/tweets. Most common reason is – they are paid for it. You won't believe it but anyone that has any reach in crypto sphere: bloggers, YouTubers, big Twitter accounts, Redditors gets tons of messages with offered bribes to shill some coin, exchange, wallet etc.
Some people do it and disclose it to their followers/readers but most of them don't. They just pretend it is their actual opinion.
So, my last message for this article is: don't trust anyone, even the "good guys" as they might turn bad in the meantime. Trust only your own judgement and put time into researching and educating yourself. But there lies the problem: you came to crypto to quickly get rich and not to learn and research, you had enough of that in school. Yeah, like  I've said: crypto is not for you!

CaptainAltcoin's writers and guest post authors may or may not have a vested interest in any of the mentioned projects and businesses. None of the content on CaptainAltcoin is investment advice nor is it a replacement for advice from a certified financial planner. The views expressed in this article are those of the author and do not necessarily reflect the official policy or position of CaptainAltcoin.com