Bitfinex is currently suspected of heading directly for bankruptcy. Users complain about missing cash deposits in Crypto and Fiat. The Bitcoin exchange denies these accusations. But they can't completely clear up the doubts. In the midst of all this stands the former child star Brock Pierce.
The Bitcoin exchange Bitfinex is currently exposed to the crossfire of its users. The main accusation is that the exchange no longer has enough money reserves to pay out its customers. In addition, many users complain online, to which the company reacts with censorship. Some users even fear a new Mt.Gox, but most fear for their stored Bitcoin. The old suspicions that the alleged Stable Coin Tether is not so stable are revived. In the midst of all these uncertainties stands a former Disney star: from the questionable Noble Bank, Brock Pierce, Tether and Bitfinex.
Brock Pierce: Bitcoin pioneer with dark sides
Brock Pierce is one of the richest (known) figures in the Bitcoin scene – Forbes estimates his crypto assets at between $700 million and $1 billion. He has invested in companies such as Mastercoin, Coinbase and Ethereum and is a frequent guest at blockchain events. But the path that led him there is questionable in many ways.
First there is the unpleasant thing with DEN, the Digital Entertainment Network. Brock Pierce founded this precursor of modern streaming networks together with Marc Collins Rector and Chad Shackley and planned a $75 million IPO. But that was not to happen: The trio had to answer for the accusation of child abuse. As a result, the operators closed the network and announced their bankruptcy. DEN is one of those companies in the DotCom bubble that produced little content and paid disproportionately high management fees. However, the former Disney child star of "The Mighty Ducks" never received a sentence himself and distanced himself from his co-producers. He only paid $21,000 to dismiss one of the lawsuits.
From Streaming to Bitcoin to Tether
It was also his questionable past that in 2014 led many members of the Bitcoin Foundation to resign from it. When Brock Pierce joined the board here, ten members decided to leave the Bitcoin Foundation. Motivation: One wanted to have nothing more to do "with such persons". This did not prevent Pierce from digging deeper into the crypto world.
If you dig a little yourself – in the depths of the net – you will come across an article in the Wall Street Journal. The magazine reports that Brock Pierce announced the realcoin in 2014: the first crypto currency to be covered by the US dollar. The editors modelled this on Mastercoin, a Bitcoin protocol.
Bitfinex and Brock Pierce – an unholy alliance
In September of the same year, Bitfinex operators Philip Grzac Potter and Giancarlo Devasini founded Tether Holdings Limited in the British Islands. Two months later, Brock renamed Pierce' Realcoin Tether and proclaimed Bitfinex a partner.
But this is not the only connection between Bitfinex and Pierce. As you can see from a Twitter post, Pierce also founded the company Noble Markets, today better known as Noble Bank:
— Bitfinex'ed ? (@Bitfinexed) June 23, 2018
This bank now has demonstrable problems providing liquidity. Thus, the bank based in Puerto Rico cannot provide enough liquidity to guarantee Tethers stability. Because it is one of those banks that guarantee it (and, by the way, was indirectly involved in the publication of that controversial report that was supposed to give Tether more credibility).
What does that mean now? Brock Pierce founds Tether and the Noble Bank. Then Bitfinex buys Tether and becomes the publisher of the controversial Stable Coin. Noble Bank is (partly) responsible for ensuring that there is enough supply for Tether. While Noble Bank can no longer provide exactly this in 2018, a large number of Bitfinex users are getting upset. Everyone unanimously complains that they cannot make any withdrawals, that their Bitcoin disappears and that Bitfinex does not respond to customer enquiries.
Bitfinex tries to pull itself out of the affair
All this can be seen in a medium post of the user ProofofResearch, whose account on Medium was suspended in the meantime, fueling even more uncertainty and doubt in the community. This clearly shows that there is not only a large number of users complaining about disappeared deposits. Rather it reveals that the Bitfinex moderator team generously deletes the contributions on Reddit.
But what do elephants, the blockchain and the Internet have in common? They don't forget. As ProofofResearch explains, you can restore the deleted posts in Bitfinex Reddit with a simple trick. All you have to do is replace the "r" from reddit with a c in the link (https://www.reddit.com/r/bitfinex/). If you do this, it quickly becomes clear that the Bitfinex moderator team is generously censoring.
Here is the before and after overview: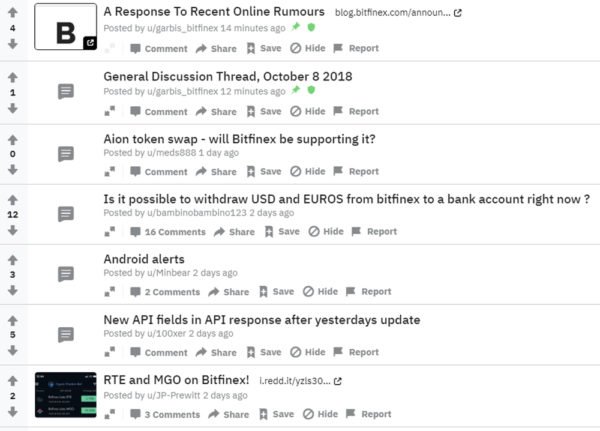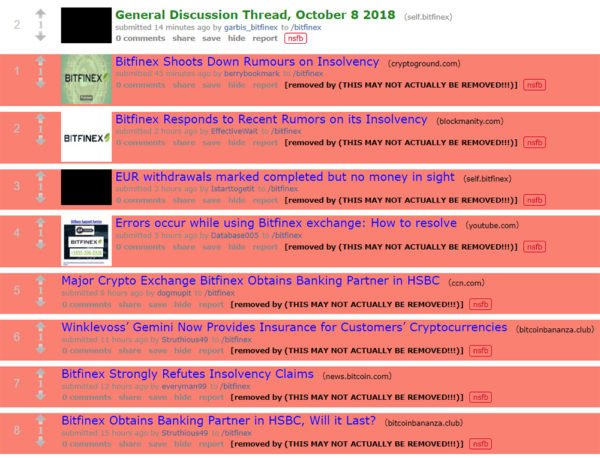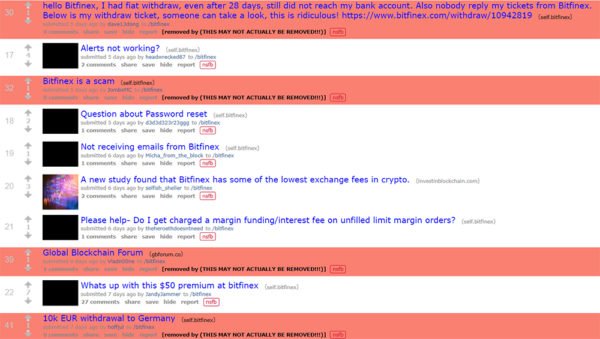 What is striking about the deleted posts is that they mainly refer to the fact that Bitfinex is not able to make withdrawals (and that the exchange disputes this). In any case, Bitfinex's procedure raises certain doubts: instead of answering the requests, they are deleted.
The Bitcoin exchange defends itself
This is what the Bitcoin exchange says about the allegations:
1. Bitfinex is not insolvent, and a constant stream of Medium articles claiming otherwise is not going to change this. As one of only a very few exchanges operating since 2013, with a small team and low operating costs, we do not entirely understand the arguments that purport to show us to be insolvent without providing any explanation about why. The wallets below represent a small fraction of Bitfinex cryptocurrency holdings and do not take into account fiat holdings of any kind.
How any rational party can claim insolvency when the opposite is there for all to see is interesting and, once again, perhaps indicative of a targeted campaign based on nothing but fiction.

2. Both fiat and cryptocurrency withdrawals are functioning as normal. Verified Bitfinex users can freely withdraw Euros, Japanese Yen, Pounds Sterling and U.S. Dollars. Complications continue to exist for us in the domain of fiat transactions, as they do for most cryptocurrency-related organisations. However, we continue to do our utmost to minimise any waiting times associated with fiat deposits and withdrawals.

3. Stories and allegations currently circulating mentioning an entity called Noble Bank have no impact on our operations, survivability, or solvency.
Is Bitfinex still trustworthy?
Now it may well be that Bitfinex, as indicated in the post, still has a certain stock of Bitcoin, Ethereum and EOS. However, as the connections between Brock Pierce, Tether and Noble Bank show, the accusations are most probably not fiction.
Even the second and third points of defence are sometimes not enough to dispel the doubts about Bitfinex. Ultimately, the deleted posts, some of which refer to withdrawals of over 100,000 US dollars, speak a different language. Bitfinex will also not be able to dismiss its connections to Noble Bank so quickly.
One thing is certain: The practice that Bitfinex shows and generously deletes everything that could cast a bad light on the company is by no means exemplary.

CaptainAltcoin's writers and guest post authors may or may not have a vested interest in any of the mentioned projects and businesses. None of the content on CaptainAltcoin is investment advice nor is it a replacement for advice from a certified financial planner. The views expressed in this article are those of the author and do not necessarily reflect the official policy or position of CaptainAltcoin.com