Fat Pig Signals Review – Is Fat Pig Signals Worth It? 3 Reasons For And 3 Against It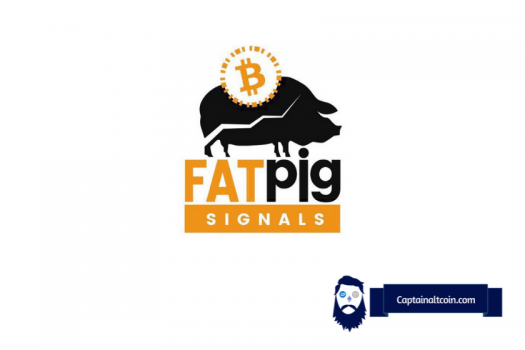 Fat Pig Signals Review – Is Fat Pig Signals Worth It? 3 Reasons For And 3 Against It
Experienced Team behind the service
Frequent technical Analysis for Bitcoin and Ethereum and other smaller coins
Long track record of profitable recommendations
FAT PIG SIGNALS OVERVIEW
---
Cryptocurrency trading is not for everyone. Getting good "alpha" information a minute before the rest of the crypto market can mean a hefty profit for you. That is why, among other things, a good signals provider can be an edge for your trading efforts.
These crypto signals help determine when to buy or sell a specific cryptocurrency and at what price. It's a highly sensitive matter, though, which can lead to either significant profits or immeasurable loss, depending on how accurate your crypto signal provider is.
Today, we'll talk about one of such signal providers. With the aid of this article, you can decide if it will work for you or if you will go with something else. Let's start.
What Is Fat Pig Signals Group?
---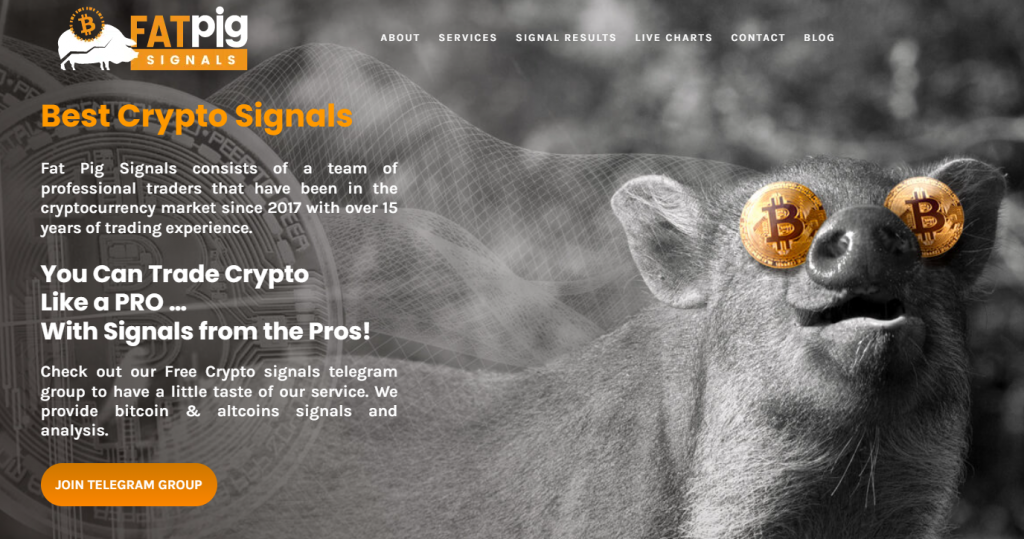 Fat Pig Signals is a group of professional traders that helps in getting technical market information that can help you determine which coin to buy or sell. It has been in existence since 2017 and has proved to be effective and reliable.
You can get their reports via Telegram or through YouTube videos. As one of the best crypto signal providers, there is a certain level of trust that comes with the cryptocurrency signals and reliable signals they provide. Furthermore, you can read all the market news here.
What Is It For?
---
Fat Pig Signals help investors to:
Monitor cryptocurrency market fluctuations, which will enable you not to miss out on any trade opportunities.
They give an up-to-date technical analysis of the market that helps investors know when to buy or sell their coins.
They give new updates that will be of benefit to investors to diversify.
They have a free telegram channel and VIP Channel telegram group for their subscribers.
It should be noted that Fat Pig Signals do not have access to funds; they only provide market studies and make suggestions to investors.
Performance
---
Since its existence in 2017, it has proven to be one of the best crypto signal providers. They have not had losses above 10%, and in a recent study, they have shown a consistent accuracy of 82.84%.
Pricing
---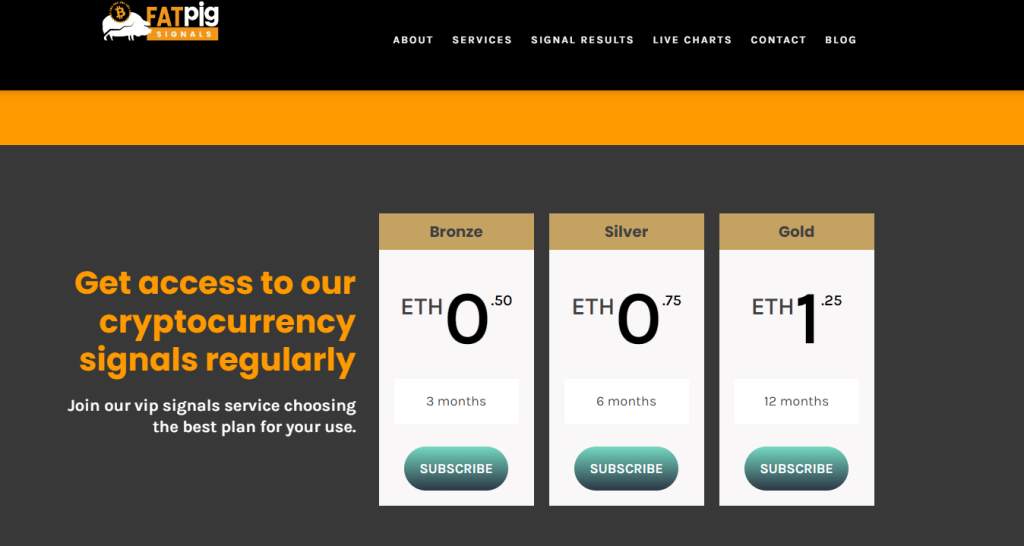 A starting price of:
0.5 ETH / 3 months
0.75 ETH / 6 months
1.25 ETH /1 Year.
Fat Pig Signals Services
---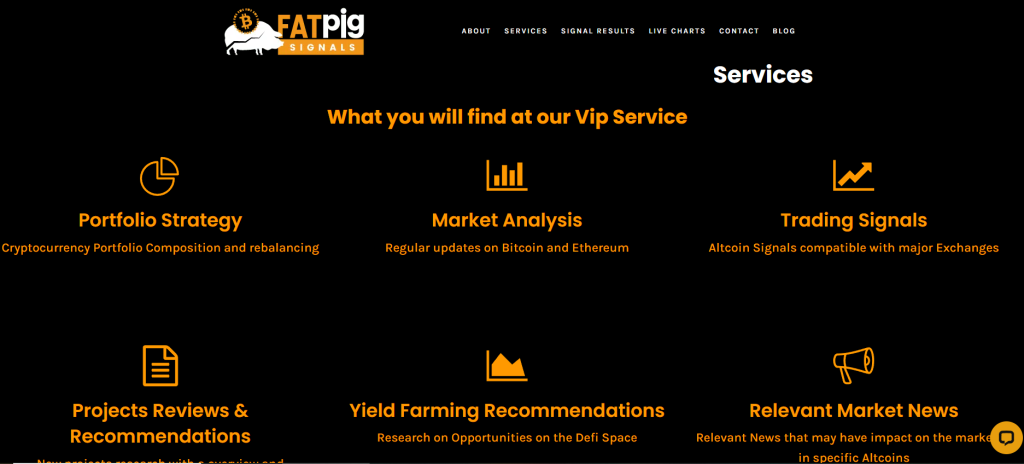 They give special reports and opportunity analyses.
They manage portfolios both for long and mid-term goals.
They provide new market updates to help subscribers take advantage of good trade opportunities in the cryptocurrency industry.
They give communication and customer service support.
Binance signals with risk management
Fat Pig Signals support auto trading. Making it easy to configure the channel native bots by using your API key
Quality Of Signals
---
Fat Pig Signals always make its crypto traders comfortable by making its signal easy to understand even by inexperienced traders.
The overall quality has been rated good, and its accuracy has been kept above 75%, and occasionally it goes up to 90% during favorable conditions.
Fat Pig Signals Communication and Customer Support
---
They have a chat room that is interactive, educational, and relaxing. It is available 24/7 and provides one-on-one help when needed
There are over 8000 paid groups on the platform. Therefore, crypto traders can get feedback within 24 hours from their admin.
Although they have excellent support and communication service, it does not give general cryptocurrency support.
FINAL THOUGHT – Is Fat Pig Signals Worth It?
---
The following should help answer the question correctly.
Fat Pig Signals give an expert technical analysis of the market and detailed reports that can help you make good decisions on crypto trading. With over 2,000 coins in the entire crypto market, it might be time-consuming and practically impossible to monitor them manually. 
However, with the Fat Pig Signals team, you can be assured to have up-to-date trading signals that will help you conclude which coin to buy or sell and when to do it. This is a team with lots of experience.
👉 Good monitoring and analyzing trading charts is not what can be done in a few hours, and most investors don't have much time to stay on doing the monitoring themselves. If that is the case with you, the Fat Pig Signals technical team got your back. They monitor and help traders know when they can make more profits.
Their prediction is based on history and monitoring graphs and charts over a period of time. They have always tried to give an accurate prediction and even give good advice on diversifying your portfolio to manage risk better. Also, they provide regular market updates.
In general, Fat Pig Signals has proven to be one of the best crypto signal providers. It is also important for investors to be more involved in the research to fully understand and be better able to make good personal decisions because, in the end, you are ultimately responsible for whatever trading decisions you make.
FAQs
---
PROS
Experienced Team behind the service
Frequent technical Analysis for Bitcoin and Ethereum and other smaller coins
Long track record of profitable recommendations
CONS
When the market is bearish, fewer signals overall (But is better than losing money)

CaptainAltcoin's writers and guest post authors may or may not have a vested interest in any of the mentioned projects and businesses. None of the content on CaptainAltcoin is investment advice nor is it a replacement for advice from a certified financial planner. The views expressed in this article are those of the author and do not necessarily reflect the official policy or position of CaptainAltcoin.com