If you are a fan of decentralized exchanges than DDEX should be your exchange of choosing. It is probably the most user friendly decentralized exchange for Ethereum based tokens. Decentralized exchange means that DDEX does not rely on third parties to hold users' assets. The exchange of assets on DDEX happens directly between buyers and sellers in a peer-to-peer (P2P) network via an automated process. By doing so, there is no single point of failure.


The main aim of DDEX is to provide liquidity for Ethereum and ERC-20 tokens directly from users' wallet such as MetaMask and Ledger. They are utilizing off-chain matching and on-chain settlement. In this way they provide a more user friendly experience for users to trade ERC-20 tokens on their platform.
DDEX.IO is a cryptocurrency exchange: specifically a next-generation hybrid model decentralized exchange for Ethereum-based (ERC-20) tokens. Created by the developers of The Hydro Protocol, DDEX is considered the flagship exchange of Hydro.
DDEX's Hybrid Model
Accessing the Ethereum blockchain and executing transactions quickly requires a gas cost – basically a gas cost to pay for the miners who uphold the blockchain. Running every aspect of an exchange on a decentralized system can be both costly and slow. Because of these issues with early generation decentralized exchanges, the sacrifice in user experience was simply too great to bring users off of centralized exchanges. However, technology and scalability is ever improving.
DDEX is a next-generation hybrid (hybrid meaning off-chain matching and on-chain settlement) decentralized exchange model utilizing both the hydro protocol and the 0x protocol to facilitate safe and smooth transaction processing. This model performs transactions roughly 50 times faster than the previous model of decentralized exchanges, and at a fraction of the cost.
Another cool concept with decentralized exchanges is in the idea of "liquidity pools". In a centralized system, all liquidity comes from the one exchange. Decentralized exchanges offer the functionality to share liquidity across multiple exchanges. For this reason alone, many believe that decentralized exchanges are the future of the exchange industry.
DDEX enables users to exchange ERC-20 tokens directly from wallet to wallet, eliminating the possibility of theft, lockup period for deposits and withdrawals and withdrawal fees. DDEX does not require you to register for a DDEX account, you can start trading immediately.
Start Trading in 60 Seconds
All you need is a laptop or PC running the desktop version of Chrome, Firefox, Opera, or Brave, MetaMaska digital wallet used specifically with web apps and Ether, a form of digital payment and/ or any ERC-20 Token.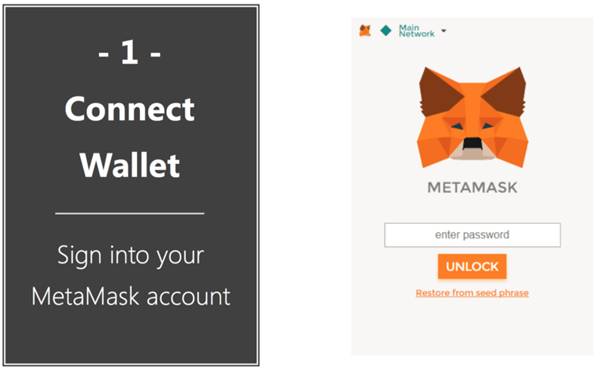 Next, if you want to trade ETC with ERC-20, select amount, click DEPOSIT and approve the transaction. You can deposit or withdrawal (wrap/ unwrap) your Ether at any time. You don't have to trade it just because you deposited it.
Go the web page https://ddex.io/trade/ZRX-ETH and start trading.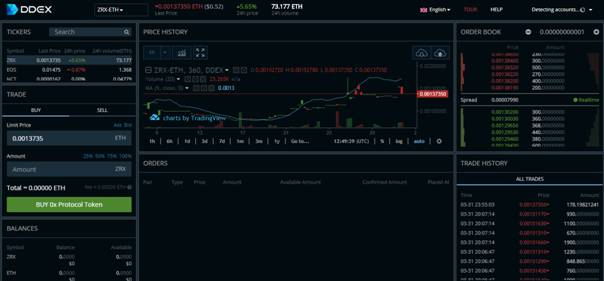 Fees
The fees and gas fee in the exchange are based on Ether. Transaction fee percentage is 0.1% and there are no withdrawal fees. There are transaction fees for wrapping or unwrapping ETH/WETH.
Wrapping ETH allows you to trade directly with Alt Tokens. The reason you need W-ETH is to be able to trade ETH for other ERC20 tokens on decentralized platforms like Radar Relay. Because decentralized platforms running on Ethereum use smart contracts to facilitate trades directly between users, every user needs to have the same standardized format for every token they trade. This ensures tokens do not get lost in translation.
When you "wrap" ETH, you are not really wrapping so much as trading via a smart contract for an equal token called W-ETH. If you want to get plain ETH back you need to "unwrap" it. Or in other owrds, trade it back for plain ETH.
Once you have the W-ETH you can freely trade with anyone holding an ERC-20 token. Steps are being taken to update the ETH codebase to make it compliant with its own ERC20 standards. Additionally, ERC20 may be replaced by other standards as problems and solutions arise. There's already an ERC223 in the works.
The fees included in your transactions are the gas fee and transaction fee. The gas fee goes to the miners, who help power the flow of transactions on the Ethereum network.
Because the network traffic on Ethereum is fluctuating, the fees can change over time. The fee will be adjusted appropriately based on the level of network traffic at the time. The DDEX platform will show you the estimated fee for your order in the trade area, as you can see on the picture below.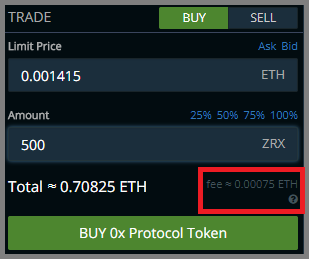 Each trade has market maker and market taker. Market makers originate and cryptographically sign orders, providing liquidity. Market taker inject maker orders into an Ethereum smart contract for settlement, consuming liquidity. DDEX is using the Order Matching strategy of 0x. The relevant part is that the relayer pays all gas fees (i.e., relayers (exchanges) pay the gas fee for users in advance). Relayers: aggregate orders from numerous makers and present them in the form of an order book for consumption by takers In the ordermatching system, when the limit order is created, the relayer does not know whether the order is going to be a market maker or the market taker, that is why the gas fee is divided between the market maker and the market taker.
Tell DDEX which tokens you want to trade
Another great feature of DDEX and why they are probably the most user friendly exchange for ERC-20 tokens, is that you can vote for tokens that you want to trade.
If you are a team member for a project interested in applying for a new ERC-20 token listing on DDEX, you can fill out a simple request form DDEX Token Listing Request Form that you can find on their blog page. Once you complete the new token listing request form, DDEX team will respond as soon as possible.
If you are unaffiliated with project, but would like to see it listed on DDEX, you can fill out the DDEX New Token Voting Form.
Team Behind DDEX
The developers behind the Hydro Protocol have built and operated a sample implementation of a hybrid decentralized exchange. DDEX is considered to be the flagship exchange of Hydro.


The project has been supported by numerous strategic partners as it is pointed out their web page.


Final Thoughts
DDEX is developed as a DApp on the Ethereum blockchain. According to their white paper, they are planning to use the QTUM blockchain as well.
Just as of March 21, 2018, DDEX started supporting the Ledger Nano S, which was one of the most sought after features.
DDEX announced strategic partnerships with Arcblock, Monaco, and CNN, which are all available for trading on DDEX. These projects have presented awesome use cases of blockchain technology. Although the use of blockchain technology for other applications is still in the early stages, there are some promising developments.
On the other hand, DDEX exchange stands on 173 place on the CoinMarketCap 24h Volume Ranking with only just above $25 thousand daily volume and only 33 trading pairs.
Team at Hydro Protocol strongly believes that decentralized exchange protocols inevitably will become a cornerstone of the entire blockchain ecosystem. However, there are both technical and economic challenges on the path to widespread user adoption.

CaptainAltcoin's writers and guest post authors may or may not have a vested interest in any of the mentioned projects and businesses. None of the content on CaptainAltcoin is investment advice nor is it a replacement for advice from a certified financial planner. The views expressed in this article are those of the author and do not necessarily reflect the official policy or position of CaptainAltcoin.com