CryptX Terminal Review – Crypto Swiss Army Knife With Automation Abilities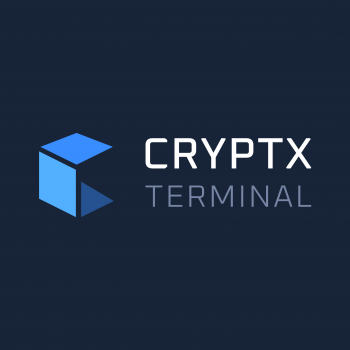 CryptX Terminal Review – Crypto Swiss Army Knife With Automation Abilities
Trading bots are an excellent way for new and seasoned traders to automate parts (or even the whole process) of their trading activities and not waste their whole life sitting in front of the computer screen.
CryptoX Terminal is a newcomer into the arena of crypto trading bots but it has no reason to shy away of the industry leaders, just the contrary – some of the features it boasts are trend-setting and will draw in some users from the competition.
What is Cryptx?
---
CryptX is a whole ecosystem that includes an exchange, a wallet, trading terminal and crypto ATM solutions.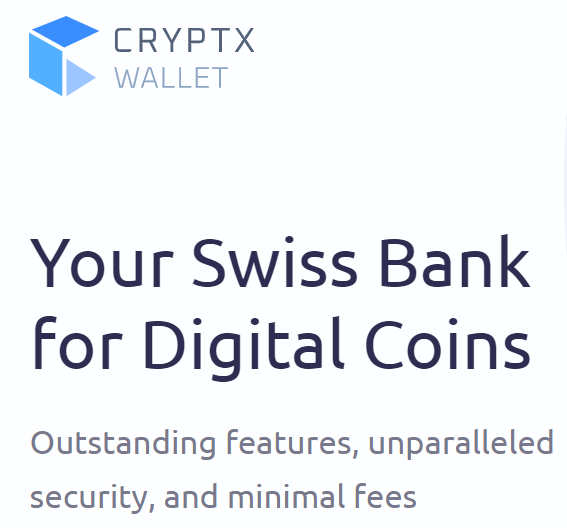 Who is Behind CryptX?
---
CryptX was founded by Joseph Bolkvadze, a Georgian entrepreneur who launched the company in 2018. Joseph is the company's current CEO. After installing several ATMs around Georgia and Ukraine, the company launched its Wallet product in 2019, and then Cryptal Exchange in 2020.
The company is run by a highly qualified team of developers who specializes in securing different types of crypto assets. The team has a long experience in crypto trading and blockchain technology and aims to transform the company into a top crypto management solution in the industry.
CryptX Terminal
---
CryptX launched CryptX Terminal after reporting a lot of success with the launch and operation of Cryptal Exchange and CryptX Wallet. CryptX Terminal is simply a trading platform offering an all-in-one solution for operating and managing multiple exchanges and wallets. In addition, the platform allows users to develop better strategies using backtesting capabilities and smart bots.
The terminal supports API links to 10 different crypto exchanges and stores both current and historical data from thousands of tokens and cryptocurrencies. In addition to seamless and secure management, CryptX Terminal allows users to get the best prices across several exchanges.
CryptX Terminal Features
---
CryptX Terminal offers efficient and secure management of crypto assets and enables users to juggle multiple crypto exchanges and locate the best prices to exchange their coins. The platform also has Auto Trading Bots that offer access to best trading strategies and allows analysts to access custom visualizations and projections.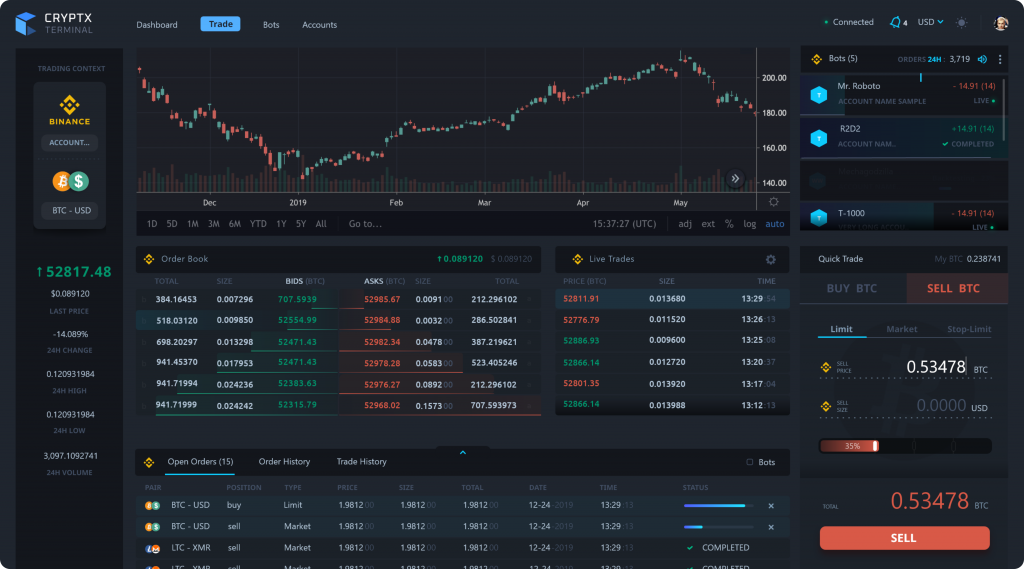 The Terminal features an array of arbitrage, speculative, and indicator bots that allow trading all day long. Key features include;
Access to multiple exchanges that enable users to stay connected to top crypto exchanges and conduct price comparisons to get the best deals.
Auto Trading Bots which automate the trading process using user's rules, limits, instructions, and commands. In addition to straightforward accumulator and order chain bots, indicator bots are also configurable for more sophisticated trading strategies, such as Relative Strength, MACD, Bollinger Bands, and Combo bots that can utilize more than one strategy to maximize profits.
Profit-Loss Control through execution of crypto assets on multiple exchanges and fast price discovery.
Safe and Secure. The platform offers secure and seamless management of crypto assets across multiple wallets and exchanges.
User-Friendly Interface. CryptX Terminal has a user-friendly interface with everything needed to trade effectively at the fingertips.
KPI and Reporting which allows users to analyze past trading data and make informed trading decisions and maximize earnings.
CryptX arbitrage bots – most powerful feature
---
The definition of Arbitrage is: "Arbitrage is the simultaneous purchase and sale of an asset to profit from a price difference".
Put shortly, arbitrage is looking to exploit the price differences of exchanges or market inefficiencies. Arbitrage is possible as a result of market inefficiencies and a well-coded and fast bot can make you a lot of money through arbitrage.
The inter-exchange Arbitrage Bot from CryptX Terminal will monitor the prices on two exchanges you pick. When it has the opportunity to sell high on one exchange and buy lower on the other, it will execute 2 orders at the same time, one buy and one sell.
How to set up an arbitrage bot on CryptX
Give your bot a unique name.
Select the first and second exchange where this bot will run. See instructions for connecting to external exchanges.
Select the account for each exchange that this bot will trade from.
Seelct the cryptocurrency pair this bot will trade with.
Choose how much currency to trade in each transaction.
Indicate the total amount of currency the bot will trade.
Indicate the total number of trades the bot will make.
Indicate how long the bot will run for.
Enter your desired profit percentage.
The Arbitrage Trigger is automatically calculated based on the known fees of the exchanges you selected above, or you can modify the fees if necessary.
Other bots on the CryptX Terminal
---
⚡️ ACCUMULATOR BOT
The Accumulator Bot works on your preset rules where you simply tell it when to start , how much to buy or sell within your price settings, and then when to stop. With it, you don't need to watch the market constantly yourself.
⚡️ BOLLINGER BANDS BOT
This bot follows the popular Bollinger Bands indicator. It buys when the current price is below the lower band and sells when it is above the upper band.
You can learn more about the Bollinger Bands indicator here.
⚡️ COMBO BOT
The Combo Bot combines three popular trading indicators: Bollinger Bands, MACD, and RSI strategies together to act quickly on signals, executing trades even faster and more effectively. This capability, alongside its ability to exit a losing trade quickly, will enable this bot to accumulate gains over time in any market condition.
⚡️ MACD BOT
The Moving Average Convergence Divergence (MACD) bot combines trend and momentum indicators.
A MACD-based trading strategy executes buy orders when the MACD line crosses above the signal line, and executes sell orders when it crosses below the signal line.
⚡️ ORDER CHAIN BOT
The Order Chain bot is the most straight-forward mechanism for automatically executing trades: it places your orders when your target price is reached. With this bot, you can create a series of orders along a defined timeline.
⚡️ RSI BOT
The Relative Strength Indicator (RSI) bot buys an asset when it goes below the defined RSI levels, with the dollar cost averaging by buying more if the price drops further. It sells when the profit target or stop loss level is reached.
CryptX Terminal Pricing
---
CryptX offers three pricing packages for the Terminal; a free starter plan, and an Advanced Plan at $37, and a Professional Plan at $74.With the Starter plan, users can access one account, two exchanges, $10,000, one active bot, and one backtest per day.


The Advanced Plan allows users to access unlimited accounts, more than 10 exchanges, $1,000,000 monthly trading volume, 10 active bots, and a hundred backtests per day. Professional Plan offers access to unlimited accounts, more than 10 crypto exchanges, unlimited monthly trading volume, unlimited active bots, and 1000 backtests per day.
Exchanges Supported
---
CryptX Terminal supports multiple exchanges including the major one like: Kraken, Binance, Bitfinex, Coinbase Pro, Kucoin, OkEX, Bittrex and Bitstamp.


How to Register
---
Registering for CryptX Terminal is very easy only requires one to enter personal details like name, email, and password.
The Bottom Line – The CryptX Review
---
While CryptX is a newcomer, it is promising to turn around the crypto industry with its cryptocurrency storage solutions. The platform has standout features like Auto Swap which allows users to automate trading and minimize risks. The platform is designed to serve a wide variety of clients including crypto exchanges, online casinos, and e-commerce companies.

CaptainAltcoin's writers and guest post authors may or may not have a vested interest in any of the mentioned projects and businesses. None of the content on CaptainAltcoin is investment advice nor is it a replacement for advice from a certified financial planner. The views expressed in this article are those of the author and do not necessarily reflect the official policy or position of CaptainAltcoin.com