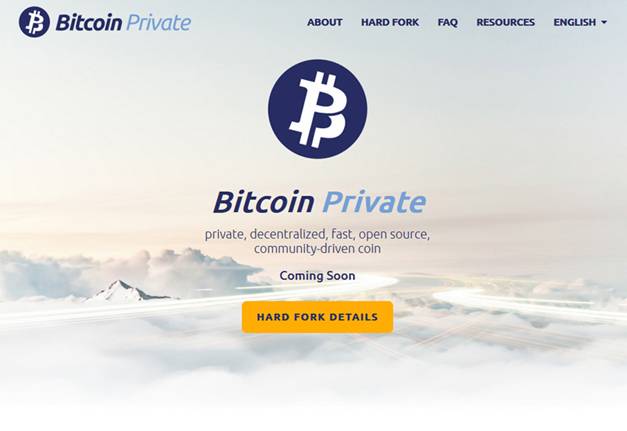 Bitcoin Private has been going through a tough period recently, partially due to its failing price and partially due to controversies which included the revelation that more than 2 million BTCP was pre-mined by a malicious actor. Reacting to this, Bitcoin Private decided to conduct a hard fork that would effectively remove 1.7 million of those premined coins and minimize the damage done. Today, they have released some guidelines detailing how this hard fork will go through.
Read here how to buy bitcoins with a credit card.
The team points out that the hard work will remove 1.7 million of premined coins, which are currently sitting in a shielded state. In order to prevent losing their own coins, legitimate BTCP owners who have their coins shielded should switch them into a deshielded state prior to the fork.
The project acknowledged that some people might lose their shielded coins due to not seeing the hard fork notice in time, which is why they'll create a back-up fund of 20k coins. Anyone who can make a legitimate claim to have lost shielded coins will be reimbursed through this fund. This process will apparently be managed by a trusted third party which is yet to be decided via this Reddit thread.
Read also: What are bitcoin forks anyways?


Overall, the code for the hard fork has been officially completed and we will see the removal of these premined coins at block heights 455500 (approx. 1 week from now). This code also contains the removal of unmoved coins from the network which will occur at block height 480000 (expected to happen around March 1st). For now, the project recommends that all exchanges, pools, wallets and other nodes upgrade to latest code.
2 million Bitcoin Private tokens pre-mined
Crypto data provider Coinmetrics released a report titled "Don't trust, verify: A Bitcoin Private case study" which revealed some damning information about this popular fork-merge of Bitcoin and ZClassic. Among other things, the report discovered that 2.04 million BTCP coins were candidly pre-mined before the miners were given an ability to start mining the currency.
Bitcoin Private was originally envisioned as a currency that will take all the best features of Bitcoin and ZClassic (itself a fork of Zcash), and among other things it inherited the total supply of 21 million units from Bitcoin. However, an additional "2.04 million units were covertly minted during the import of the Bitcoin UTXO and sent to the BTCP shielded pool" in a move which made the actual BTCP supply cap sit at 23.04 million. Shielded pools contain coins stored in shielded addresses, which employ Zk-SNARKS, a privacy technology that anonymizes transactions.
Coinmetrics goes into more detail how this premine happened in the mentioned article published here. To sum it up, they explain that 102 "special blocks" were produced by the Bitcoin Private network that contained 400 extra outputs containing 50 bitcoins each. Multiplying these numbers we can conclude that 2,040,000 extra BTCP were pre-produced.
This newly-discovered information directly contradicts the information given in the BTCP whitepaper and BitcoinTalk announcement thread, both of which said that the total supply will sit at 21 million and that the coin won't have any pre-mines. Around 300k BTCP has been withdrawn from the shielded pool, meaning that there are still 1.74 million coins sitting in it. BTCP team released no official communication about this issue at the moment of writing.

CaptainAltcoin's writers and guest post authors may or may not have a vested interest in any of the mentioned projects and businesses. None of the content on CaptainAltcoin is investment advice nor is it a replacement for advice from a certified financial planner. The views expressed in this article are those of the author and do not necessarily reflect the official policy or position of CaptainAltcoin.com