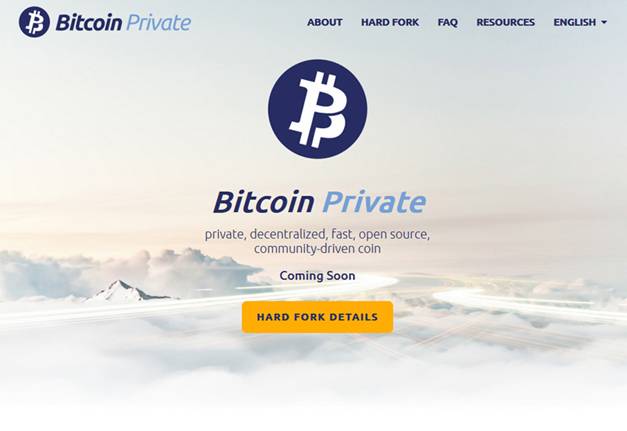 Bitcoin Private has been seeing some very unconvincing price action as of late. August was opened with a monthly high of $6.30/83233 satoshi before the currency dropped off towards the levels of $2.82/46773 satoshi. This recovered to $4.70/72354 satoshi after which we saw a drop-off followed by a slow, sustained growth to $4.75/65803 satoshi. This didn't last for long as September brought about another strong drop on the 5th which bottomed out with a monthly low of $2.74/42321 satoshi on the 13th. The currency has been pretty much stagnant and hovered around $3 ever since.

Bitcoin Private can currently be purchased for exactly $2.90/43840 satoshi. The daily trade volume of this currency is almost non-existent, with 17 BTC exchanged in the last 24 hours. With a market cap of $59,641,337, Bitcoin Private is currently the 92nd most valuable cryptocurrency on the market.
Motivated by the fact that their previous update was released ages ago and that the community chatter died down a bit as of late, the project recently released a community update #13. The update addressed the Rebase initiative, "arguably the single most important development effort within BTCP". BTCP is a fork of ZClassic, which is a fork of ZCash, which is a fork of Bitcoin, meaning that the project is using a codebase that is three years behind current Bitcoin core software. In a move which seemingly embraces its Bitcoin origins, the Rebase will have BTCP updated to 0.16 version of the core software, letting the cryptocurrency gain access to features like Lightning Network, BIP32's and SegWit.
---
?So many forks – what is Bitcoin Gold? And what is Bitcoin Cash? Then again, there is bitcoin diamond. And bitcoin atom. And Super BTC. And some others we didn't cover since they are not worth mentioning. 
---
Alongside Rebase there has been heavy talk of tweaking the Bitcoin Private algorithms to deter ASIC mining. Some parts of the community are for this, others feel that losing ASIC hash power might expose the network to 51% attacks. Bitcoin Private will move to Equihash 192,7 which effectively increases the amount of memory required to hash the algorithm. This change will thwart the latest ASIC miners released by Bitmain like the BitMain AntMiner Z9 and Z9 Mini. The fork is expected to be done by the end of this month (September of 2018), with the launch of Rebase.
"The Rebase provides a solid base to start building more features while at the same time, allows the team to quickly merge future Bitcoin upgrades into BTCP. As Bitcoin continues to grow and evolve, so does Bitcoin Private! Having BTCP be concurrent with Bitcoin also enables us to easily implement BTCP into any Bitcoin ecosystem product. Once the Rebase is in place, other features can begin to come to life such as the One-Click Miner, TOR to TOR nodes for added privacy (and a shiny new TOR wallet to match), and the Dandelion protocol," closed off the team's official update.
The project recently saw a website update which, among other things, led to the previous roadmap that was riddled with mistakes and issues removed. As the team completes the redesign of their website they've promised to put out an improved roadman soon. Bitcoin Private has seen several new exchange listings in the month of September. Coinswitch, Crex24, TopBTC, SonoX.io and SafeTrade Exchange all listed BTCP as a tradable coin on their platforms, increasing its overall exposure and liquidity.
For now, the project seems to be delivering updates here and there but much of the initial enthusiasm seems to have dissipated. Bitcoin Private came out at a very bad time market-wise and this didn't help at all. Combine the general bear market we are in and some missed deadlines and promises, it's not hard to realize why parts of the community aren't exactly expecting fireworks from BTCP in the future. The project's focus seems to be attracting new investors that aren't jaded by the previous underwhelming news and Rebase should help with that. It remains to be seen if it will be helpful enough.

CaptainAltcoin's writers and guest post authors may or may not have a vested interest in any of the mentioned projects and businesses. None of the content on CaptainAltcoin is investment advice nor is it a replacement for advice from a certified financial planner. The views expressed in this article are those of the author and do not necessarily reflect the official policy or position of CaptainAltcoin.com