Bitcoin transactions are irreversible, so when transacting with an untrusted party, it is recommended to use a 3rd party escrow service to handle a Bitcoin payment.  The bitcoin escrow service acts as a neutral third party between buyer and seller when doing business online and it protects seller and buyer. Escrow protects sellers in case buyers decide to back out of the deal without a legitimate reason and likewise, buyers are protected if the seller turns out to be a scammer and doesn't deliver the goods. If there is any dispute between buyer and seller, the escrow service will act as mediator and determine who should ultimately receive the Bitcoin funds.
An escrow service provides safer transactions and is especially needed when purchasing things online, making payments, doing bitcoin exchanges on forums and similar.
Many Bitcoin marketplaces come with a built in escrow service for safe bitcoin trading (i.e. LocalBitcoins, BitPremier, CryptoThrift, etc.). However, if the marketplace through which you are making a transaction doesn't provide one, you should check out the escrow services below. Each one of them has built a solid reputation and is generally trusted by the Bitcoin community.
I've made a few large Bitcoin related purchases recently with people whom I've never met before, which required me to use some sort of Escrow service in order to conduct the transaction. It's important to note that I've encountered two major issues when doing my research about the different services available:
You're (still) sending your money to strangers
When you're using Bitcoin escrow services you have no idea who is behind the escrow site and why should you trust them with your money more than you trust the person you're purchasing from? This means that you don't actually solve the original problem you're dealing with, which is not to send your money to a stranger.
There aren't many well-known Bitcoin escrow services
Unfortunately, there aren't many reputable Bitcoin escrow services. The oldest and most reputable bitcoin escrow service in the market that is still active is BTCrow. The site was launched on June 23rd, 2011 and is still the only "long lived" solution out there, but it too is not that reliable.
Several users have reported delays in the system's response, for example one user sold a domain name through BTCrow. However, once the transaction was complete, he didn't get his money. He contacted BTCrow's support and posted on BitcoinTalk. However, it took 12 hours until the problem was resolved, which is way too much if you're waiting for $7,500 to come in.
One more thing worth noting is that BTCrow has changed hands since it was first set up (the original founder sold BTCrow in 2012 to two students). Also when examining BitcoinTalk a bit deeper, you'll see that opinions regarding BTCrow's reputation are going both ways.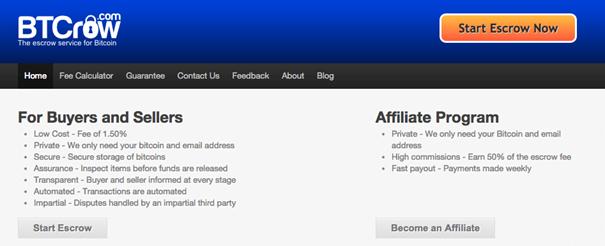 I've personally tried to use this escrow service, and when I use it for the first time the confirmation emails took more than an hour to arrive. I was afraid their system wasn't up to date, so I decided to send the money directly to the seller.
I did a thorough check on the identity of the seller and also the BTCrow user on Bitcoin talk was idle at the time and didn't seem to be responding to any BTCrow related threads. However, it still didn't feel very comfortable sending out a couple of thousand USD without the insurance that I will get what I paid for.
Other Bitcoin escrow sites don't have any reputation (good or bad). This means that there's no way of knowing if they're legit or not other than trying out their service.
Update – service discontinued
Escrow My Bits
Launched on September 17th, 2014, Escrow My Bits is a new arrival to bitcoin escrow market but from trustable bitcoin people. The service charges a 1% escrow fee and your funds are kept in a secure 2 of 3 multi-signature transaction where they hold one key. The site offers 4 different types of escrow transactions:
Regular Escrow – You deposit your funds into a bitcoin address controlled by the site. After that, the funds are forwarded to cold storage.
Regular escrow with a pegged exchange rate – Funds are held in a Coinapult multi-signature address in an account that Escrow my Bits controls and Coinapult pegs the value to a fiat or asset value.
Mutli-Signature Escrow – Your funds are kept in a secure 2 of 3 multi-signature transaction where each party (the site, buyer seller) controls one key.
Multi-Signature Escrow pegged to a fiat value – Your funds are kept in a 2 of 3 multi-signature address where each party (the site, buyer seller) controls one key, and the funds can be pegged to fiat values using Nubits.
It's important to note that if the transaction takes a long time to go through, you can still peg it to a dollar value. And the best thing is that you won't be affected by the exchange rate.
If you still want to learn more, check this video about the service:
What If Someone Doesn't Want to Use a 3rd Party Site?
Fortunately there are still some viable sites which will allow you to conduct a Bitcoin transaction through Escrow.
You can use the escrow thread on BitcoinTalk (https://bitcointalk.org/index.php?topic=855778.0) if you want to eliminate the reputation issue. This thread has multiple users that supply escrow services, and they all have extremely high trust rankings and will probably not scam you.


Another option is using a multisig service like Bitrated . Bitrated isn't an escrow service, it's a multisig wallet that charges no fees, except for the fees the trust agent may charge. This site allows participants to choose from a list of independent arbitrators registered on platform. Bitrated allows 2 out of 3 people (buyer, seller and arbitrator) to complete the transaction.
If you want to learn more, check this video:
A multi-user wallet (also known as a multisig wallet) is a special bitcoin wallet that requires more than one private key to sign transactions. For example, the wallet can be shared by 3 people (the sender of the payment, the recipient, and an escrow agent) and when any 2 out of the 3 decide to send the money, the order is executed.
Bitrated  is the Israeli-based company, founded in 2013 by software developer and bitcoin enthusiast Nadav Ivgi. With almost 2,000 registered users, the service seems to be a welcome addition to the growing bitcoin ecosystem. This platform introduces buyers and sellers with arbitrators and then creates a multisig wallet shared by all three parties that requires only two signatures to release the funds. If the transaction goes smoothly and the buyer and seller agree and release the funds to the seller, then the arbitrator isn't needed. On the other hand, if the seller or the buyer believes a dispute needs to be made, then the arbitrator's job is to review the case and decide which party to side with, either refunding the buyer or releasing the funds to the seller.
Arbitrators can optionally sign up to have a public profile listed on the website. However, they don't have to and they can simply provide their public key to the buyer/seller and have them use it. Arbitrators also usually charge a fee for their services and the system is set up so that the seller will always be the one who pays the arbitration fees. However, this fee is usually a very decent one. One last thing to keep in mind is that the fees change depending on whether the arbitration is ultimately needed or not.
The major upside of this platform is that you're depositing your money inside a multisig wallet which you have certain control over. This means that you're not sending it to a stranger. Bitrated itself can not steal the funds because it doesn't hold the private key to the wallet. Almost everything happens client-side – private keys are created and used client side and are never transmitted to the server, transactions are constructed and signed client-side, and the transaction data, including the terms, is only saved as part of the URL each party has and isn't stored on the server at all.
Conclusion
So these are basically your options. You can go with a "traditional" bitcoin escrow services, you can use a BitcoinTalk mediator or you can use Bitrated.

CaptainAltcoin's writers and guest post authors may or may not have a vested interest in any of the mentioned projects and businesses. None of the content on CaptainAltcoin is investment advice nor is it a replacement for advice from a certified financial planner. The views expressed in this article are those of the author and do not necessarily reflect the official policy or position of CaptainAltcoin.com