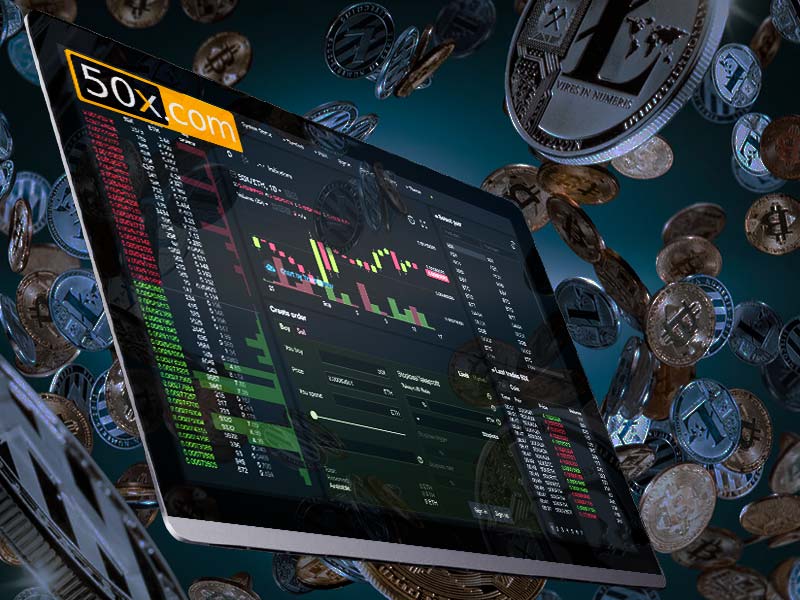 The world's first and only cryptocurrency exchange with the Any2Any technology has successfully completed beta testing of the third version of the quantum trading core with a built-in liquidity flow that will completely change the notion of exchange trading.
Surprisingly, all modern exchanges, like hundreds of years ago, still use fixed trading pairs, which are in no way connected at the level of the trading core and the order matching system. Each orderbook only contains orders placed in a specific pair. Although hundreds of cryptocurrencies have emerged, you won't be able to directly exchange one for another on an exchange, where prices are set by the users themselves – you will need to change it first into one of two or three "base currencies" supported by the exchange, and then transfer it to another, or use the services of exchangers, arbitrageurs, thus having to pay increased fees.
The result of three years of development by the 50x.com team was an innovative trading core based on cloud technology and quantum principles for combining orders: although the concepts of a trading pair are preserved at the user level and the interface is completely identical to a regular exchange, all orders inside the core exist in a single space and do not have a firm connection between a seller and a buyer, combining the maximum number of orders in all trading assets simultaneously.
According to the developers themselves, it is impossible to confidently predict the progress of execution after another order has been added, since any new order adds liquidity to a part of the system, thereby changing its state and topology. The same effect is observed in quantum physics, where the presence of an observer changes the results of an experiment. Users only benefit from this, as the system often finds more profitable options while executing another order.
The benefits of using the new Any2Any technology are immediately visible: one order in a trading pair immediately creates the same liquidity in all trading pairs containing this token. That is, one user can place an order to buy DASH for Bitcoins, while all others get the opportunity to sell DASH for any of the currencies listed on the exchange.
The old separated "markets" technology incessantly bumped into traditional problems that were noticeable even on national stock exchanges, i.e. a lack of liquidity in most instruments and its concentration in "blue chips", which led to a decrease in trading opportunities. Cross-rate trading with more often observable strong movements on which one can quickly earn money, was reserved for advanced arbitrageurs boasting their own trading robots. There were also infrastructural restrictions, making it economically impossible to support a large number of orderbooks.
The 50x.com exchange offers a completely different approach to trading, where hundreds and thousands of cross-rates are available to every user right in the terminal. Thanks to the Any2Any liquidity overflow technology, you can choose any pair from the assets available on the exchange and trade in it. Whereas, orders placed, for example, in the DASH/QTUM orderbook, will automatically appear in all other DASH/* */DASH and QTUM/* */ QTUM orderbooks. And this will lead to the fact that even the most exotic orderbook will collect the entire liquidity for the coins of this trading pair.
How does it benefit trading?
The first and obvious benefit is the possibility of direct trading between coins, without paying double commissions. If you want to switch from DASH to QTUM, you simply place an order in an orderbook of DASH/QTUM. This is much faster than selling DASH first and then buying QTUM. And most importantly, you only make 1 order, and, therefore, pay the trading commission only once.
The second advantage is the ability to view orderbooks/charts in exotic pairs and, accordingly, a huge number of new trading tools, whose rates often go in wider channels than the main instruments. That means they have a greater profit potential.
The third advantage is a multiple increase in liquidity for each coin. Since the entire liquidity of the exchange is summed up across the coins, no matter what pair the orders are in, the liquidity will be available in other pairs as well. This makes manipulating rates much more difficult.
How is this possible?
The fact is that the 50x.com exchange has developed a trading core of a unique architecture that operates with entire transaction graphs, rather than with single orders. This allows you to reduce hundreds and thousands of cross-orders in different currencies within one transaction and create cross-orders.
Why is there no such thing on other exchanges?
The architecture of the Any2Any core is fundamentally different from standard trading cores and required numerous innovative solutions during its creation. Regular exchanges cannot switch to Any to Any technology without completely changing the very basis – the trading core.
Other major exchanges have also attempted to create Any2Any technology, but only one development team has managed to create a truly working product today.
You can try trading with the new technology at 50x.com now – no KYC required.