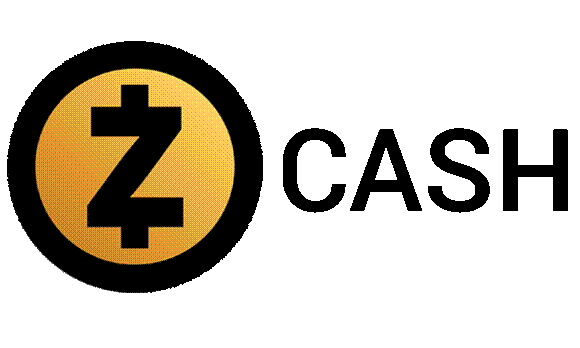 Zcash has been seeing some signs of activity in the last couple of days. The currency peaked on August 1st at $204.76/0.02666230 BTC before dropping strong on the 14th and bottoming out at $128,91/0.02109500 BTC. The coin slightly bounced and entered a sideways trend at this point which continued on towards September 5th, when one ZEC was purchasable for $157.60/0.02141600 BTC. September bottom was reached on the 12th when the currency recorded the values of $104.68/0.01674800 BTC. Ever since it has been moving in a positive trend, even managing to slightly recover in the last couple of days.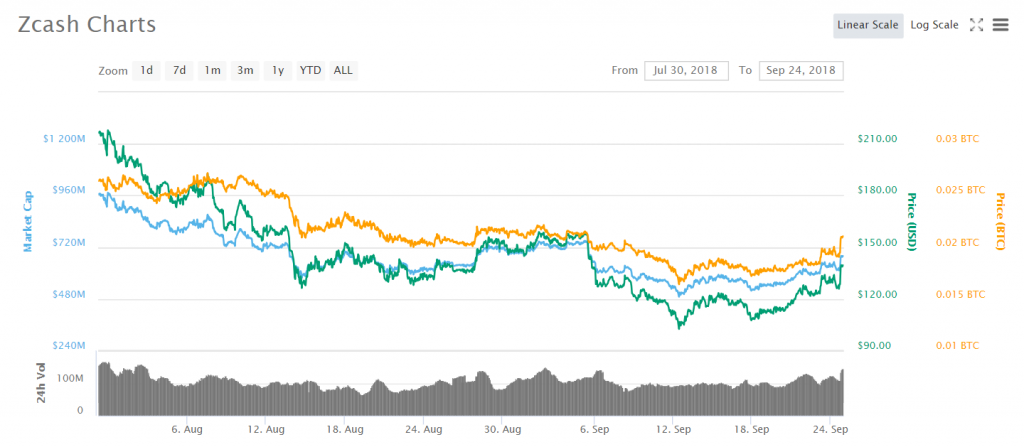 At the moment of writing, one ZEC can be purchased for $140.40 USD (7.17% rise in the last 24 hours)/0.02120867 BTC (8.20% rise in the last 24 hours). The coin is among better traded ones, with a daily trade volume of 22,179 BTC. Lbank is responsible for 46% of this, with Binance, Bithumb, Huobi and Bitfinex recording various contributions in the range of 5%-7%. With a market cap of $683,706,812, Zcash is currently the 20th most valuable cryptocurrency on the market.
ForecastCity perfectly called out the coin's latest uptrend:
"ZCASH/BITCOIN is in a downtrend and the beginning of uptrend is expected.
The price is below the 21-Day WEMA which acts as a dynamic resistance.
The RSI is at 40.
While the RSI and the price downtrend in the Daily chart are not broken, bearish wave in price would continue.
Trading suggestion:
Price is in the support zone (0.01895000 to 0.01610000), traders can set orders based on Daily-Trading-Opportunities and expect to reach short-term targets.
Beginning of entry zone (0.01895000)
Ending of entry zone (0.01610000)"
Zcash, the decentralized and open-source cryptocurrency that offers privacy and selective transparency of transactions to its users, had a couple of updates for its community. In a weekly update released on the 21st, the project focused on describing the community related activities they were engaged in during the last couple of weeks.
The project's latest YouTube video series titled Perspectives, during which community members and team leaders take time to speak about various crypto and Zcash related questions. This week's Perspectives series focused on a discussion about the intersection of privacy and regulation. Visit the project's channel to learn more about their views on the mentioned issues and maybe even take a look at their first video in this series titled "Vitalik Buterin Discusses On-chain Governance".
They also communicated about the Sapling turnstile migration and explained what this latest network update means to the average user/ecosystem service. More details about Sapling addresses, monetary auditing and Sapling turnstile (the new process related to auditing existing shielded ZEC) can be found here. The mentioned features are apparently going to be expanded with HD wallets and diversified addresses in the near future; the community should keep an eye on the project's official documentation for these.
Lucas Nuzzi, lead tech at Digital Asset Research recently published an article titled "ZEC: Unmatched Privacy In a Public Blockchain" which went in deep into the project's inner workings and came to a conclusion that Zcash is one of the most important projects "in the entirety of the crypto space". The article mentions the project's zk-SNARKs technology and compares it to their main competitor Monero's RingCT, claiming that Zcash is superior in terms of privacy guarantees. You can read this article in full here.
Even Vitalik Buterin praised the project's technology recently, claiming that his own Ethereum could reach 500 txps with the help of Zcash's zk-SNARKs. Currently sitting at 15-25 txps, Ethereum is known as a rather slow chain that is prone to clogging and scalability issues. While sharding, Raiden and Plasma were previously mentioned as solutions, Vitalik recently proposed the zk-SNARKs method in a post on Ethereum Research forum.
The project will hold its first ever Zcash meet-up in Denver, Colorado, where the team will give a quick coin rundown and host a series of "lightning" talks related to various crypto topics. In the following week they'll hold a Sapling related meet-up in Boston where the community will get to discuss this latest network update with the project's team members. Finally, they've confirmed that an "exciting brand update" will be coming during the next week; many community members are anxiously waiting to see what this is for sure.
Something fresh from @zcashco is coming soon. Very soon. But not tomorrow, or the next day.

— Josh Swihart (@jswihart) September 25, 2018
Overall, it's been a community focused period for Zcash, with several engineering updates addressed in the week before. Zcash keeps working hard on becoming the dominant privacy coin; with a plethora of competitors going up against it, it should be interesting to see if they have what it takes to become the leading solution of this fascinating market.

CaptainAltcoin's writers and guest post authors may or may not have a vested interest in any of the mentioned projects and businesses. None of the content on CaptainAltcoin is investment advice nor is it a replacement for advice from a certified financial planner. The views expressed in this article are those of the author and do not necessarily reflect the official policy or position of CaptainAltcoin.com