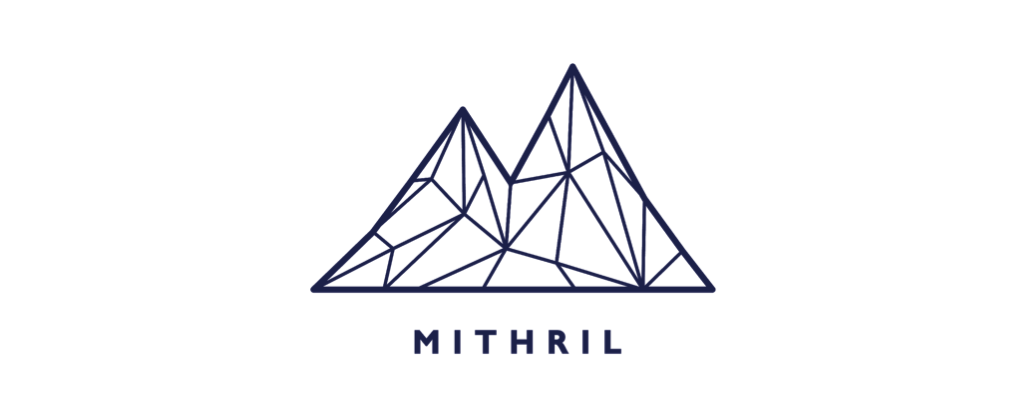 Mithril almost had an excellent month of July, until everything fell apart just two days before the month was over. Starting off with the lows of $0,4306 USD/6836 satoshi, the coin experienced a strong rising pattern. Towards the end of the month this pattern picked up the pace and Mithril reached the monthly highs of $1,02 USD/12296 satoshi, before things turned south pretty fast. In a single day, the coin dropped all the way down to $0,65 USD/8062 satoshi, losing about a third of its previous value. Mithril hasn't moved much since and you can currently purchase it for $0.569808 USD (a 0.45% rise in the last 24 hours)/8414 satoshi (a 0,44 rise in the last 24 hours).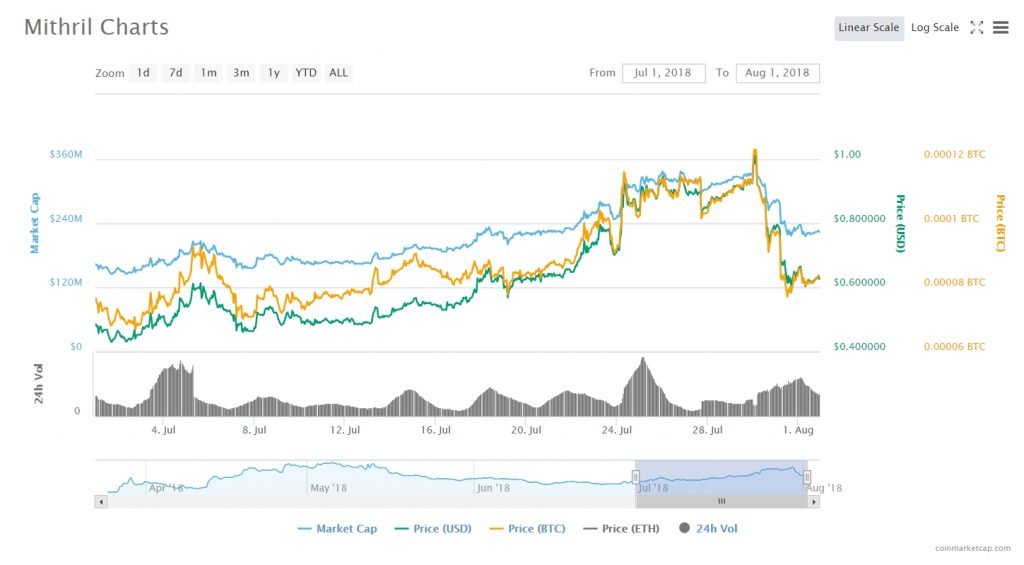 Mithril's market cap is currently at $200,691,515 USD which is enough to give it the 46th spot on the coinmarketcap's list of world's most valuable cryptocurrencies. It also has a high daily trade volume of 11,326 BTC, most of which comes from OKEx. veerakumarnice gives the following analysis of the coin (traded against KRW):
"Mithril was trending so good that it posted 150% gains within weeks. Due to overbought conditions and fading momentum it has now experiened heavy pullback. Buy in the 710 to 730 area for a quick scalp to 800 to 830 area. Close longs in this area to buy back at lower prices. Expect 730 area to test again. If it holds again Target would shift towards 1000 area." He later on readjusted his targets after noticing a bearish sentiment is forming:
"Yesterday closed below 100 DMA and multiple closes below. 4H 100 DMA. Setting stop loss at 670. If at all stop loss gets hit, targeting 580 area. Entering the trade if and only it 50 DMA holds."
Mithril is a platform looking to reward people who spend time on social media with more than just shots of dopamine. It introduces a concept called "social mining", which allows people to earn MITH by creating and sharing content on the network. The first App to use Mithril is Lit, where creators can upload and share stories to the Lit community and earn MITH. On August 1st Lit announced a new feature called Archive which works as your personal gallery and collects all your posts from the past. In the future there are plans to expand Lit with Lit Stories, Lit Discover and Lit Chatroom features.
---
Read here a guide about best privacy coins.
---
The biggest story around Mithril is the recently held Binance Community Coin of the Month vote. Mithril was among the coins listed in this vote, looking to get elected by the community as the next Binance addition; amazingly enough they managed to win over 50% of the total votes (1053383 of them to be exact) and finish the vote as its undisputed winner. However, soon rumors started appearing that some Mithril higher-ups/whales decided to game the Binance voting system a bit. This article explains how 80,000 votes for Mithril were funded by just 2-3 BNB addresses. One other interesting thing is that Mithril managed to net almost 50% more votes than the second placed NKN while having 2892 total voters to NKN's 2406.
This information clearly shows that there could be some truth behind the murmurs of manipulation. After the news of the manipulation broke, the price of the coin took the massive stumble we described at the beginning of the article. Some are suggesting that the dump happened because the whales started dumping their Mithril tokens on the market before Binance disqualifies the project from the vote. Mithril creator Jeffrey Huang attempted to calm the tides by publishing an "open letter to the community" which didn't address the issue of irregular voting activity and made the community even more worried.
Binance has been clear that any creation of fake accounts or distributing BNB en masse to get more than 500 BNB per voter will be severely punished with a disqualification, which seems to be exactly what MITH whales did. We will see if Binance finds Mithril guilty of wrongdoing in this case and what effects such a verdict will have on this coin's credibility and price.

CaptainAltcoin's writers and guest post authors may or may not have a vested interest in any of the mentioned projects and businesses. None of the content on CaptainAltcoin is investment advice nor is it a replacement for advice from a certified financial planner. The views expressed in this article are those of the author and do not necessarily reflect the official policy or position of CaptainAltcoin.com