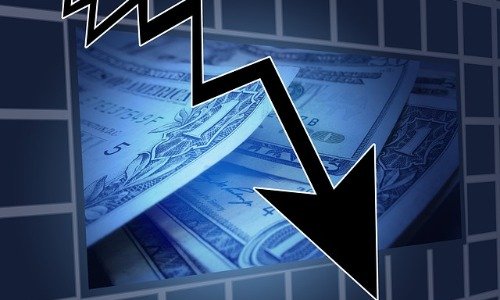 Ever since bitcoin started acting more stable than the stablecoins while ranging between $6400-$6550, sudden drops like the one from today are always peculiar and question on everyone's lips is "why did we drop so sharp, so quickly"?
According to this trader, the reason is the raging hash-war in the BCH community. He is quoting Jihan Woo, the Bitmain founder to say this:
Jihan:

I have no intention to start a hash war with CSW, because if I do (by relocating hash power from btc mining to bch mining), btc price will dump below yearly support; it may even breach $5000. But since CSW is relentless, I am all in to fight till death! pic.twitter.com/d95axXEwFS

— ๑ RAMEN ๑ (@RamenofBinance) November 14, 2018
Another possible explanation for this:
"On the daily chart we have just broken down through support on the
​- RSI
– Momentum Indicator
Plus we are desperately close to making a new Donchian Channel break to the downside and closing in on breaking our DMI support trend support as well. If the DMI one breaks i'll be very worried for the short term as for me it's a great trading signal.
We are below every MA on the daily level, if we were to consolidate and bounce… this price area would definitely be the time!
Last few weeks I was certainly pretty neutral, I was waiting to see if we could break the descending triangle to the upside and move above the Daily cloud. Well, that's certainly out of the window for the short term. Medium term really is going to be dependent on us not making a new Daily low and not breaking through the little support we have left."
The Block thinks it could be related to tax season.
"It is possible that some of the movement is due to late-year tax selling. With bitcoin down  >70% from all-time highs some traders could be booking their losses to offset gains elsewhere on 2018 taxes. The down move nevertheless represents a change in the recent status quo. Bitcoin had been seeing lower volatility than in recent years with virtually no movement since September."
The more seasoned holders are already battle tested and know how to deal with this situation. But the newcomers are having a tough time and admissions of capitulation are flooding the crypto communities. Throwing the towel and giving up is a smart decision for some, especially for those that didn't listen to the saint rule of crypto: don't invest more than you can afford to lose. If you adhered to this golden rule, you have nothing to fear, just dress up in patience suit and make sure to use this experience as a great learning lesson for the future.
​A whole umpteen of theories popped out to explain the drop, ranging from whales manipulation to nothing to see here, normal behavior.
The most likely explanation is that this is an inherent bitcoin pattern of behavior, it is after all a chaotic, non-linear dynamic system in its nascence. Sudden pops or drops are normal, an odd stability is what is hurting the eyes.
Another theory that tries to explain the drop is TA – we are heading to the $5800 support level, or even a bit lower before we ultimately surge with the Bakkt and other announcements that have been heating up the community in the last 3 months or so.
Finally, the most frequent explanation for anything in the crypto space is whales and their manipulation. That one is so well developed that it has multiple versions, chosen as seen fit by the narrators when explaining the drops or price surges. By this theory, whales wanted to make a final shake out of the weak hands before we head up. Sure sounds nice but is not more plausible than the other 4.
The most probable reason why the whole market dumps (or pumps) so quickly is because it's severely illiquid. That means there aren't many buyers or sellers and when a big buyer (or group of people) decide to sell a big bunch there aren't enough buyers (demand) to satisfy this supply at this price level. Hence the price level drops to a level where the are more buyers.

CaptainAltcoin's writers and guest post authors may or may not have a vested interest in any of the mentioned projects and businesses. None of the content on CaptainAltcoin is investment advice nor is it a replacement for advice from a certified financial planner. The views expressed in this article are those of the author and do not necessarily reflect the official policy or position of CaptainAltcoin.com