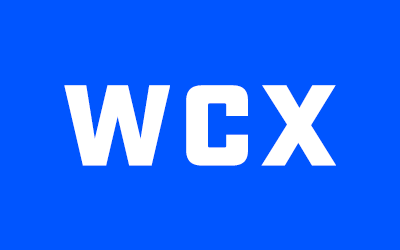 UPDATE 17 March 2020: This exchange has been revealed to be a scam. It is no longer accessible. We have marked it as "dead" and moved it to the Exchange Graveyard.
Trading platforms are popping up all over the market lately, as more and more people are looking into either buying their first crypto or betting on/against its future. Some of those platforms turn out to be total duds and outright scams, as we saw with exchanges such as Mt. Gox or most recently Quadriga.
Still, most of them remain perfectly fine (or at least appear so) and don't have their owners disappear into the ground (both literally and metaphorically) with people's funds. Today we'll be analyzing a relatively new exchange called WCX and its potential to either succeed or fail in the crypto space.
Good Security And Low Fees
WCX Introduction
WCX is a trading platform based in Switzerland and originally founded by two former Apple engineers, Amatsu Soyoobu and Tagawa Hayashida.
The rest of the team comes with Deutsche Bank and IBM backgrounds, and has decades of experience in building secure, distributed, and massive-volume systems.
To make sure external traders can use it, WCX has its legal entity in the British Virgin Islands and the company is KYC/AML-compliant and self-regulated. The platform began its existence in 2017 as a Forex and CFDs broker that gave people the market to trade variety of assets across FX, stocks, crypto, and indices.
This crypto-based platform gives you the ability to purchase over 150 assets with Bitcoin on over 100 global financial markets and trade them with leverage of up to 300x. WCX reports some impressive user base statistics, boasting that their current numbers sit at over 125 thousand traders across 189 countries and over $1 billion in trades.
Leverage Trading on WCX
The exchange's main selling point is the fact that it gives people the ability to trade financial markets stocks, commodities, and also cryptos with BTC. You can simply deposit BTC on this crypto exchange's wallet and start trading/speculating with it.
You don't actually purchase any of the stocks, currencies, cryptocurrencies, commodities, and indices that are listed on the exchange; what you do is predict whether the market price of these assets will rise or fall (go long/short on a market) and depending on the leverage you took, you'll achieve profit.
Say you have 0.1 BTC you want to invest on EUR/USD price going up and you decide to go in with 100x leverage on your investment. This means that you are "borrowing" money from the market to invest more than you have (something investors do when they are almost entirely certain that the price is going up); your leveraged investment will be worth 0.1 BTC x 100 = 10 BTC. If the EUR/USD price goes up by 3%, you'll earn 10 BTC x 3/100 = 0.3 BTC. Not too shabby of a gain, is it?
Keep in mind that this goes both ways; if the EUR/USD price goes down, it will take only a drop of 1% for your entire original investment to get liquidated. In fact the automatic liquidation limit is even stricter at WCX: if your position loses 80% of the equity value then they will close out the trade. Settlement of all of their contracts occurs at 12 UTC every day.
Setting Up Your Account
You'll need an account with the exchange in order to be able to trade on it. The "Create your account" screen will require your first name, your e-mail and your account password of choice. Enter these and click on the "Create Account" button to finish the process.

This will give you access to your very own WCX account. This account will only be able to do Demo trading, that is until you complete the KYC/AML verifications that the exchange requires from its real traders (to comply with global legal practices).
You'll be asked to answer a few questions about yourself, such as your name and address, and upload your ID and residence documents. Your documents will take anywhere from a few minutes to a couple of hours to get verified, depending on the request load the staff is facing at the time.
Interface
WCX is a web-based and its trading interface is pretty much the standard stuff you'll see with similar trading platforms. On the main screen, you'll find buttons to deposit/withdraw Bitcoin, new trade setup screen, detailed market info, session info, current market chart, your positions, pending orders and trading history. The chart is equipped with some advanced charting features with over 300 indicators that are powered by TradingView.


A dropdown menu on the right lets you navigate towards support, tutorials, general settings, transactions, your referral program, market for buying exchange's cryptocurrency XT and a GitHub containing the exchange's API. There is also a button that you can use to switch back and forth from real trading to demo trading and back.
The interface is also adaptable to mobile browsing, but the lack of Android/iOS apps might turn phone users away. Overall, everything looks sleek, tidy and is pleasant to use. Oh and the platform has a dark mode enabled which is an immediate plus.
How To Trade On WCX
Here's a quick guide on how to do your first trade on WCX:
Go to the trading dashboard and click on the Deposit button in the left sidebar to deposit BTC. (Deposits are credited after 1 confirmation on the blockchain.) Your deposits will be credited after a single confirmation. Alternatively, switch to the "Demo" trading account by clicking the button in the upper left corner; your Demo account has 10 fake BTC which you can trade to your heart's desire and refill indefinitely.
Pick the asset market you want to invest in. WCX provides access to 14 cryptocurrency pairs, 30 forex pairs, 13 indices, eight commodities, and 39 stocks.
Enter an Amount, set up your leverage, and then click on Buy to profit from the price rising or Sell to profit from the price falling.


And that's about it.
Now all you have to do is wait and see where the asset price goes next and if your prediction was right. Your amounts are expressed in contracts, which are nothing more than a simpler way to represent BTC so as not to deal with decimals. 1 contract is equal to 0.001 BTC. You can close your position at any point in time by navigating to the Positions screen and clicking the red X button. Once you do so, your profit/loss will be added to your total balance.
Minimum margin (initial investment) for all markets is 0.001 BTC. Leverage for EU residents is limited to 30x in line with ESMA regulations. Additionally, you can utilize some of this exchange's advanced trading features like pending orders, split orders, and stop loss/take profit orders. WCX offer a complete tutorial on how to set up and use these features here.
Fee Structure
You can deposit, trade, and withdraw on WCX with 0 fees involved. The exchange claims that was made possible by its founders being early crypto investors who have made a generous donation to fund WCX's growth for many years. This money allows their team to build products in line with a long term vision, without the pressure of making short-term profit.
They do note that some money is made via spreads (the differences between the bid and ask prices). Additionally, they earn money through a "decay" fee which you can think of as the overnight or financing fee that is applied by other brokers to roll over positions.
Security
WCX offers some industry standard security features like end-to-end encryption, comprehensive DDOS protection, 2-factor authentication, and offline storage for client crypto keys (>98% of funds are stored in cold wallets). The servers and network are segregated into several subnetworks and availability zones. The exchange protects its traffic by using strict access control, firewalling, and routing.
Additionally, WCX encrypts all network traffic connecting the servers to clients with High Assurance SSL and offers client side brute-force prevention via CAPTCHA, as well as rate throttling mechanisms.
You can also count the fact that they have the Demo trading included in the platform as a security feature, as it allows people to learn how to trade before actually exposing their real money to harm's way. However this can be deceptive, as your trading habits, instincts and risk-taking proneness won't be the same when you switch from one mode to the other.
Customer Support and Additional Features
WCX offers easy to contact support; their system requires you to submit a support ticket which will then be attended to by the exchange's staff in a relatively short timeframe (depending on the ticket backlog). Alternatively, you can email support@wcex.com directly or check out the company's Documentation for a potential solution to your problem.
The documentation is a good source for beginners, as it provides tutorials and information on how stuff like the exchange itself, its liquidity pools, leverage/margin trading, prices and spreads, decay, liquidation, and affiliates works.
The exchange prides itself with having an in-house built trade engine called "The Juggernaut" which is able to process millions of orders each second. This gives the platform the ability to handle their reported volumes, which at the time of writing sat at 22,085 BTC in the last 24 hours. The engine handles trades that cover all sorts of assets, including:
Cryptocurrencies – users can trade more than a dozen of the most popular cryptos, including Bitcoin, Ethereum, Litecoin, Ripple, Cardano etc. Prices are sourced from Coinbase Pro, Bitstamp, and Binance (equally weighted).
Forex – users can trade just about any type of FX trading pair including EUR/USD, GBP/USD, USD/JPY, AUD/USD, and more. These prices are sourced from a variety of brokers and liquidity pools: Oanda, ActiveTick, Thomson Reuters, and more. They are also weighed based on liquidity and spread: the exchange assigns a higher weight to sources with high liquidity and low spread.
Stocks – dozens of stocks including Apple, Amazon, Tesla, and more are available to trade. Prices sourced directly from the exchange the stock is traded on, as well as secondary venues such as the Investor's Exchange (IEX) for redundancy and availability purposes.
Commodities – gold, oil, silver, brent crude oil, natural gas and other precious metals and commodities are available for trading.
Indices – users can trade popular global indices such as the S&P500, NASDAQ and the China 50.
The exchange provides an API which lets you access real-time data as well as place trades via the WebSocket and REST API. The APIs allow for exchange and margin trading service, and there is clear documentation in place to help developers use the API.
WCX has rate limits on their API in order to prevent abuse by DDoS attackers who try to overload the servers by sending too many requests to WCX. Currently, this limit is 5 requests per second per IP address.
Affiliate Program
WCX offers a pretty rewarding affiliate program for those who want to help promote the company and onboard new traders onto the platform. The commissions at WCX could net you up to 50% of the revenue that the exchange makes from a trader that signs up through your referral, which is definitely among the highest percentages in the industry. In comparison, Binance offers 40% and BitMEX offers 10%. Those who were reffered to the platform by someone else benefit as well, as they get a 10% rebate on their losses for the first three months. Check out the exchange's "Referral" section to learn more.
In Conclusion
The exchange remains operational as of this moment without many issues. There are little to none complaints about it online and the users seem generally satisfied with the service.
With it's solid referral program, tight spreads and a wealth of assets on offer, WCX so far seems to be a great place to learn about and engage in leverage trading with your Bitcoin. There's little to suggest that it won't keep on having these attributes in the future as well.

CaptainAltcoin's writers and guest post authors may or may not have a vested interest in any of the mentioned projects and businesses. None of the content on CaptainAltcoin is investment advice nor is it a replacement for advice from a certified financial planner. The views expressed in this article are those of the author and do not necessarily reflect the official policy or position of CaptainAltcoin.com