There aren't many coins on the market with a graph like the one Stellar has in the last couple of weeks. After reaching the lows of $0,18/2925 satoshi, XLM has recovered quite well, twice testing the highs of $0,313/4279 satoshi before somewhat dropping off. The drop was ended in a spectacular fashion, as the price exploded from $0,25/3535 satoshi towards $0,28/3848 sats in just under an hour. It has been growing ever since and is currently traded at $0.287714 which is a 1.02% increase in the last 24 hours (3193 satoshi, 2,61% increase). Thanks to its excellent growth in the last couple of weeks the coin managed to amass a market cap of $5,399,452,069 USD, which was enough for it to overtake Litecoin for the spot of the 6th most valuable cryptocurrency in the world.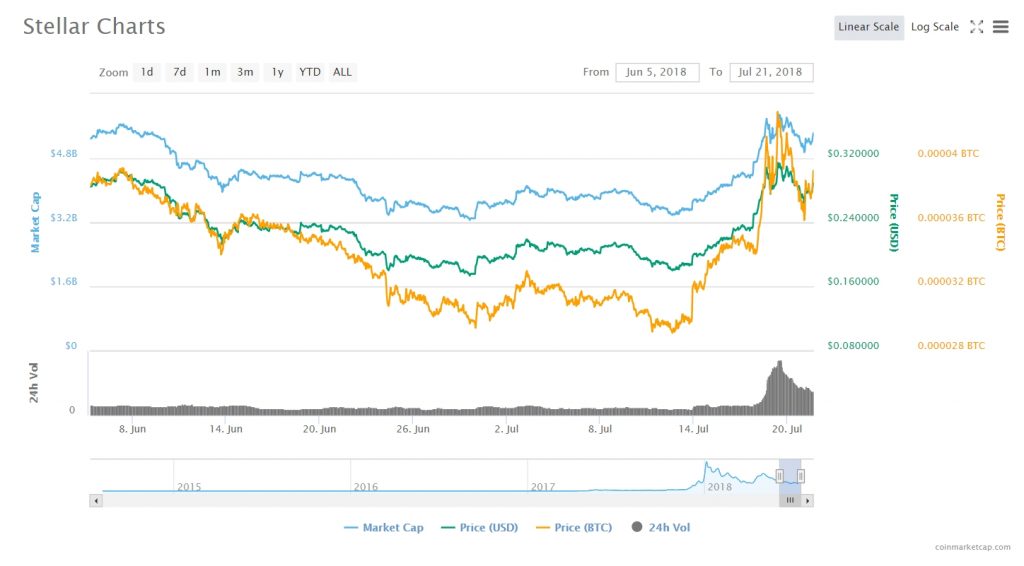 The coin is currently looking like one of the healthier alts, as it seems determined to avoid bleeding further during this BTC sideways period. The trading volume for the coin has been maintaining a consistently high level as of lately, at one time reaching second best on Binance, just behind Ethereum. Traders have historically noticed a lot of correlation between the way alts and Ethereum move; since ETH spent the Saturday in green, we should expect XLM and other alts with strong fundamentals to do the same.
Stellar's fundamentals are looking as good as ever. Since the Tempo partnership was announced, plenty of new updates have happened. Probably the most cited one was the creation of Stellar-supported stablecoin, cryptocurrency that is pegged 1:1 to the US dollar. A start-up named Stronghold will be launching a currency called USD Anchor which will be backed by US dollars held by a Nevada-based trust company Prime Trust. Prime Trust will deposit the funds into banks that are insured at the Federal Deposit Insurance Corp (FDIC), the U.S. agency with a long pedigree of protecting American people's money.
This initiative is backed by Stellar's long-time partner IBM, which will be looking to develop a network that will give its customers a lot more flexibility, speed and freedom regarding their transactions.
 "What we really want to do is enable all sorts of digital transactional networks to settle their transactions with digital fiat currency on the same blockchain networks," Jesse Lund, IBM's head of blockchain services for financial institutions, told CoinDesk. The coin is expected to play a significant role in IBM's cross-border payment systems and small-scale foreign transactions.
The coin also takes pride in being different from Tether, both in the fact that it's fully audited by FDIC and in the fact that IBM sees the coin having much wider palette of use cases, which will include payments, food tracking, supply chain management etc. It will probably become a part of the network of IBM-supported blockchain protocols, which include its own permissioned Hyperledger Fabric and of course Stellar's XLM.
In other news, Stellar became the first blockchain protocol to receive Sharia compliance certification from The Shariah Review Bureau (SRB), a leading international Sharia advisory agency licensed by the Central Bank of Bahrain. This certification basically declared the company and its products "Muslim-friendly" and will enable Stellar and its currency XLM to find a wide variety of legal application in Islamic financial institutions (300++ Islamic banks & windows in > 60 countries). This will also grant the company significant exposure to potential users in Bahrain, Kuwait, Oman, Qatar, Saudi Arabia, UAE, Indonesia and Malaysia.
Stellar had a couple of smaller updates for its holders. Atomic Wallet confirmed its support for XLM tokens, becoming the first wallet with cross-chain atomic swap capabilities that holds this token. Stellar was chosen by KodakOne as the launch platform for its KodakCoin that is coming sometime this year. And finally, XLM got listed on KuCoin, a major Asian exchange that should bring increased liquidity and demand for the token. With all these updates and the potential Coinbase listing looming above its head, XLM remains one of the strongest projects on the market.

CaptainAltcoin's writers and guest post authors may or may not have a vested interest in any of the mentioned projects and businesses. None of the content on CaptainAltcoin is investment advice nor is it a replacement for advice from a certified financial planner. The views expressed in this article are those of the author and do not necessarily reflect the official policy or position of CaptainAltcoin.com