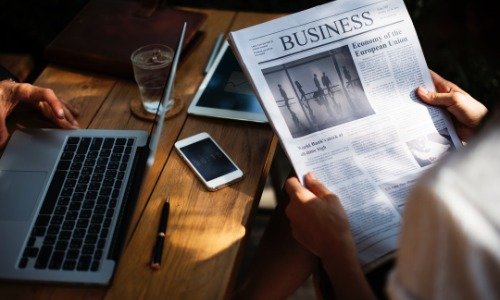 Blockchain start-up Steemit drops 70% of its staff
Steemit CEO and founder Ned Scott released a post on his blockchain-based social network on November 27th, announcing that his company will be laying off more than 70% of its employees.
Addressing his fellow "Steemians", Scott explained that the company has underwent a structural reorganization as a direct result of the cryptocurrency market conditions we experienced during the last year.
Scott cites the overall weakness of the cryptocurrency market, the falling fiat returns on their automated selling of STEEM, and the growing costs of running full Steem nodes as the main reasons for this severe cost cutting operation.
He further added that the remaining team members will focus on restructuring the company; reducing the costs of running the Steemit infrastructure and its public API's even more will be some of the main steps they'll take to keep the project operational and alive for the foreseeable future.
"We still believe that Steem can be by far the best, and lowest cost, blockchain protocol for applications and that the improvements that will result from this new direction will make it far better for application sustainability," explains Scott. "However, in order to ensure that we can continue to improve Steem, we need to first get costs under control to remain economically sustainable. There's nothing that I want more now than to survive, to keep steemit.com operating, and keep the mission alive, to make great communities.
The post is accompanied by a video address where Scott took the opportunity to explain the developments from above in a more personal manner. The community response was never going to be a good one here so the video has been unlisted and had its like/dislike ratios, as well as its comments disabled. One Twitter user even blamed the project for negligence/treasury mismanagement.
Concluding his address, Scott thanked all the people who contributed to the project throughout the years and promised to do "as much as he can" to smooth their employment transitions.
I expect this type of woes to strike many altcoin projects as most of them poorly managed their excessive funds as the exaltation of the bull market messed with their reasoning and decision making. It is going to get much tougher as the SEC warrants start pouring in and customers start asking for refunds. Natural selection at its finest.
EOS creator leaving the project behind?
Another Steem related news piece popped up today. The news were related to Dan Larimer, man behind the invention of Delegated Proof of Stake algorithm and Graphene technology utilized in EOS
Larimer has been called out several times in various crypto circles for the fickle nature of his crypto loyalties. He has in the past been a part of three crypto projects, leaving two of them behind with minimal desire to stay involved in their further development.
In 2014 Larimer created BitShares, a platform which he abandoned in 2016 when he began working on the abovementioned Steemit. He left Steemit in 2017 when he started developing EOS, the popular smart contract project that had the biggest and longest ICO in crypto history. It would appear that Larimer has grown tired of EOS as well, as sources report he has set his sights on a new project.
Telegram screenshots started popping up on Twitter today showing Larimer detailing his interest in a so-far unnamed crypto project.
https://twitter.com/___zazazu/status/1068085159336034304
After some EOS Telegram users questioned his commitment to EOSIO after these new screenshots, he replied:
"In the process of working on EOSIO security and scalability, I stumbled upon a new set of tradeoffs for a potential crypto token and I have merely been exploring whether there is a market for those tradeoffs," Larimer said. After reiterating his team's dedication to working on EOSIO, he added:
"This hypothetical token would be immutable, non-programmable, and limited to a currency role. It would in no way compromise the much larger use cases for EOSIO applications."
Needless to say, the community reactions were split here. Most people who aren't the biggest fans of EOS/Larimer started gloating about being right about him. Calling out his "new" idea for being nothing more than a rehash of Bitcoin, some added that EOS is about to suffer the same sad faith as Larimer's two previous projects, Steemit and BitShares. EOS supporters and investors claim that Larimer won't abandon the project before completing it. It remains to be seen which group turns out to be in the right here. You can read our in-depth analysis of the situation here or join the community discussion here.
In an announcement which surprised very few people, Coinbase announced today that they will be listing Zcash (ZEC) in their Coinbase Pro trading platform. This privacy focused cryptocurrency has long been mentioned as a potential Coinbase listing and screenshots of ZEC being present on the official Coinbase app have been leaked just days ago.
All doubts have been squashed today as Coinbase confirmed that they'll be accepting ZEC deposits for 12 hours before enabling full trading services. Once sufficient liquidity is established, trading on the ZEC/USDC order book will start. Coinbase pro users from the UK, EU, Canada, Singapore, Australia and US (excluding NY) will be able to initially trade the token.
Zcash offers two types of addresses to its users, "transparent" and "shielded" ones; Coinbase will initially support deposits from both transparent and shielded addresses, but only support withdrawals to transparent addresses due to potential legal issues.
ZEC is to be launched in 4 stages:
Transfer-only. Starting at 10am PT on Thursday, November 29, customers will be able to transfer ZEC into their Coinbase Pro account. Customers will not yet be able to place orders and no orders will be filled on these order books. Order books will be in transfer-only mode for at least 12 hours.
Post-only. In the second stage, customers can post limit orders but there will be no matches (completed orders). Order books will be in post-only mode for a minimum of one minute. This market state has been shortened to improve market health during launch.
Limit-only. In the third stage, limit orders will start matching but customers are unable to submit market orders. Order books will be in limit-only mode for a minimum of ten minutes.
Full trading. In the final stage, full trading services will be available, including limit, market, and stop orders.
Read an analysis of ZEC's price reacting to this latest development here.
Several cryptocurrencies selected for the Official Gold Label Project organized by Binance Info
Binance.info, the major exchange's platform focused on presenting/analyzing the market data and price actions of the cryptocurrencies present on the market, recently launched its Gold Label Project, an endeavor looking to set the "industry standard for comprehensive, accurate information on crypto projects".
The purpose of the Gold Label Project is to help ensure users are given timely updates on crypto projects, as well as trustworthy, accurate, and comprehensive information about their holdings, says Binance's official Medium post regarding the project. They further add:
"The Binance Info Gold Label Project aims to protect the blockchain community by encouraging projects themselves to update and maintain project-related information, alleviating the risk from information asymmetry. Gold label badges will be given to projects that keep blockchain enthusiasts informed and updated."
The project is already being populated with several community favorites, including NEO, Ontology, OLC Chain, TRON, NULS, Nano, Wanchain, Qtum, Bluzelle, Gifto, CyberMiles, Aelf, Skycoin, Nebulas, Quark Chain, OST, Enjin, Genesis Vision, Nexus and Zcoin. Other arguably less expected names on the list of Gold Label bearers include GXChain, H Cash, Project Pai, Contentos, IoTeX, YOYOW, Digix Global, Aeron, and Verge. It remains to be seen how successful this project ultimately is and if it helps ward off scams and increase quality information distribution in the crypto space.

CaptainAltcoin's writers and guest post authors may or may not have a vested interest in any of the mentioned projects and businesses. None of the content on CaptainAltcoin is investment advice nor is it a replacement for advice from a certified financial planner. The views expressed in this article are those of the author and do not necessarily reflect the official policy or position of CaptainAltcoin.com