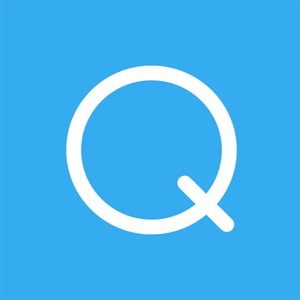 Qash hasn't exactly been squashing the price growth charts as of late, but in a world where everything can drop 20% in an instant, this doesn't sound like a bad thing. August was opened with $0.22/2912 satoshi before a drop-off happened on the 14th which led to the currency bottoming out at $0.14/2329 satoshi. This kickstarted a positive price run which ultimately led to Qash reaching monthly highs of $0.23/3547 satoshi on the 24th.
September saw the currency's USD value peak at $0.24, with BTC deciding to mostly hover above 3100 satoshi. At the moment of writing, you can purchase a single Qash for the price of $0.218031 USD (3.30% drop in the last 24 hours)/3299 satoshi (0.60% drop in the last 24 hours). The coin is barely being exchanged with its daily trade volume sitting at 105 BTC. With a market cap of $74,810,994, Qash is the 80th most valuable cryptocurrency on the market.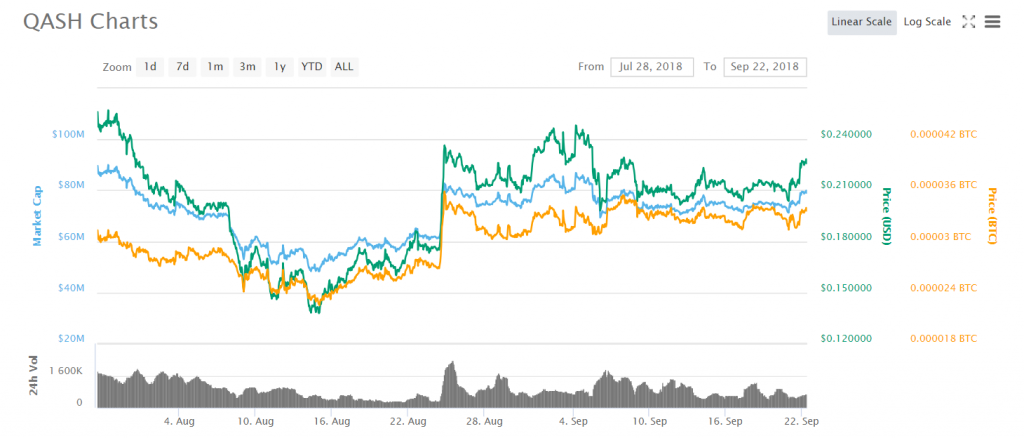 Qash and its parent company QUOINE were quite busy in the last couple of weeks. The project announced at the end of August 2018 that they officially merged their previously created crypto exchanges Quionex (launched in 2014) and Qryptos (launched in 2017) into a single new exchange called Liquid. Users who had accounts on either of the previous exchanges had their holdings transferred onto Liquid accounts; these accounts are accessible with users' original credentials.
---
?What does FUD in crypto mean?
---
Liquid is, as its name implies, focused on crypto exchange liquidity; this means that if one exchange experiences a loss of liquidity, Liquid is there to bridge the gap and allow the exchange to borrow funds from another exchange that has an overabundance of liquid funds. The platform also prides itself over taking a law-abiding approach form the start, making sure they acquired all the required licenses before kicking off their trading activities.
Liquid's main features were revealed in this blog post and include an internal order book called "the World Book", margin trading with 2-25x leverage, a refreshed user interface, regulatory-friendly trading platform (licensed by the Japan Financial Services Agency and audited by Deloitte) and security measures designed to safe keep users' assets and data. Qash remains the platform's official token, with the project confirming that a rebrand will come "shortly after launch".
Not everyone is impressed with these latest developments. Reddit user EroticBean sums up the feelings of naysayers nicely:
"They can barely get the latest airdrop done, let alone make a new revised roadmap. God the amount of red flags missed this year, are staggering. From exchanges dropping out, to countless delays, to the miss communication and dead sub Reddit that only had fruitful news once a month. Liquid exchange only accounts for 3% of Qash volume, our partner EXX is only one massively trading this shit token. So even the Japanese don't give a shit about Qash. But you know what they will always think they are hot shit since they raised so much ICO money. They will blame the market fluctuates, rather than how they performed throughout the year."
This community post also discusses issues with the exchange's stability and the lack of a mobile app. For their part, Liquid team are taking initial steps to acknowledge the issues and suggestions as they've opened up an official Reddit thread to log community feedback. Overall the project launched its official merged exchange platform but not much else seems to have changed. Low volume on the exchange, stability issues and a lack of a clearer roadmap for the future (banking license in Q3 2019 and Qash blockchain in Q2 of 2019 with some service expansion planned beforehand are all that we know so far) are a pain in the community's side. Quoine and Liquid team would do well to address these issues and fix them sooner rather than later.

CaptainAltcoin's writers and guest post authors may or may not have a vested interest in any of the mentioned projects and businesses. None of the content on CaptainAltcoin is investment advice nor is it a replacement for advice from a certified financial planner. The views expressed in this article are those of the author and do not necessarily reflect the official policy or position of CaptainAltcoin.com