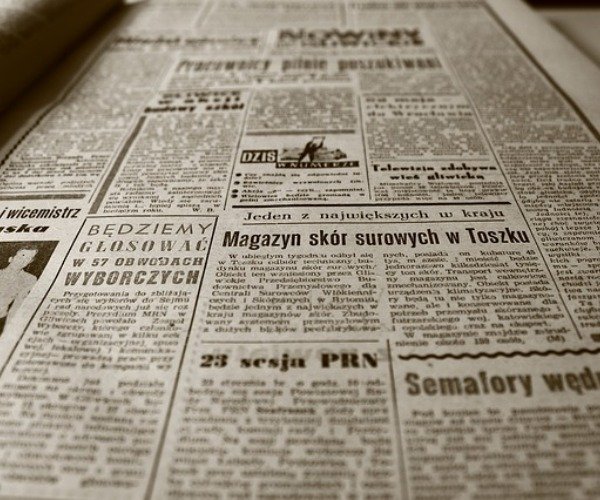 Today's news stories were somewhat of a mixed bag, in many way mirroring many-a-crypto-investors current holdings. Some positive stories, some negative ones, just enough of a balance to keep the community on its toes. Check out the scoops we selected for you below:
Bitcoin less volatile than  the DOW (DJI), NASDAQ-100 (NDX) and S&P 500 (SPX)
In a turn of events we haven't seen a lot in the past, this last month saw Bitcoin be more stable than the biggest traditional financial market indices.
During the mentioned period of time Bitcoin was as stable as one gets, managing to move 0.45% from where it was a month ago.
At the same time, the DOW (DJI), NASDAQ-100 (NDX) and S&P 500 (SPX) indices have dropped 3.62%, 5.60% and 7.36% respectively.
Bitcoin's stability can be attributed to what many feel is the currency reaching its "bottom", an area of strong bull support that prevent the price from going lower.
Meanwhile, the instability of traditional financial markets can be connected to the general market uncertainty, along with some notable interest rate hikes and upcoming midterm elections in USA, a country known for its effect on the world's economy.
Substratum caught doing fake ICO's, doing fake giveaways and making fake partnerships?
It's been a rough couple of months for Substratum, a project which presents itself as "the foundation of the decentralized web" and is basically an open-sourced network that allows anyone to rent their computer as a hosting server.
First it was revealed that Substratum will be doing a second ICO, 1 year after their first one. The Reddit thread on this topic and the article linked in it reveal some damning details about the upcoming ICO (apparently SUB tokens won't be accepted as ICO payment, telling you how much the team actually values their own token), the project's CEO, and the overall lack of vision/focus/funding that the project apparently finds itself dealing with.
Then information came up online that there was some apparent "fixing" in their Twitter giveaways. It was discovered that one Twitter user "won" three Substratum giveaways in a row, thus beating the odds of 1:24,000. Truth be told, these odds aren't that high and stranger things have happened before all over the cryptosphere so the project should probably be given a pass on this one.
Finally it was revealed today that the project's partnership with National Christian Foundation (NCF) is apparently fake. The team has responded to these claims by posting digital copies of the letters of intent that were sent by NCF and other "fake" partnerships.
This project that wants to "liberate the centralized ties that bind web hosting and content access" sure does seem to suffer from many of those issues that come with excessive centralization.
TRON introduces the public to their new mascot
Tron Live, something we assume is TRON's official YouTube channel, posted this video today, revealing more details about their official project mascot.
The 6-minute animated video takes the time to introduce those who are watching it to the mascot and to TRON's official homepage TRON.Network.
Apparently the mascot is named "Lil' Tronbeary", has a bigger and grumpier brother called just Tronbeary, and bears (no pun intended) a stunning resemblance to this legendary horror movie character.
Justin Sun immediately retweeted this video which for some reason has its like/dislike ratio, as well as the comment section, disabled.
Binance reveals a blockchain-based donation portal
Binance-created Blockchain Charity Foundation (BCF), a not-for-profit organization dedicated to the "advancement of blockchain-enabled philanthropy," launched a blockchain-based donation portal during this year's UNCTAD World Investment Forum.
This information was presented by Changpeng Zhao, CEO of Binance, during the Blockchains for Sustainable Development event which assembled more than 700 attendees and marked the first time a blockchain-related session was held during the World Investment Forum.
"We pledge that 100% of donations will go to the end beneficiaries, and all costs will be covered by Binance, the company and the foundation," said Zhao during his address which was curiously enough held on the 73rd anniversary of the UN Day.
The charity is already accepting donations and people can pledge either in BTC, ETH or Binance's BNB. Its first major endeavor will be helping the victims of flooding in Eastern Uganda.
Kraken exchange announced today that they'll be delisting the ICONOMI token from their platform.
The ICONOMI company is apparently moving towards a "more traditional" legal structure that will eliminate ICN in favor of tokenized company shares that will be called "eICN."
This will require all ICN holders to convert their tokens either into the newly-created eICN or into ETH by December 31st, 2018.
The exchange states that this delisting isn't reflective of their thoughts on ICONOMI or any of its tokens, and is instead caused by the fact that the exchange doesn't want to take part in the upcoming token conversion. ICN will be delisted according to the following schedule:
ICN Deposits Disabled: October 29 2018 at 11:59 pm UTC
ICN Trading Disabled: October 31 2018 at 11:59 pm UTC
ICN Withdrawals Disabled: November 30 2018 at 11:59 pm UTC
It remains unclear if the latest delisting of ICN has anything to do with Binance doing the same just a couple of weeks ago, citing failing quality standards as the reason for their actions.

CaptainAltcoin's writers and guest post authors may or may not have a vested interest in any of the mentioned projects and businesses. None of the content on CaptainAltcoin is investment advice nor is it a replacement for advice from a certified financial planner. The views expressed in this article are those of the author and do not necessarily reflect the official policy or position of CaptainAltcoin.com