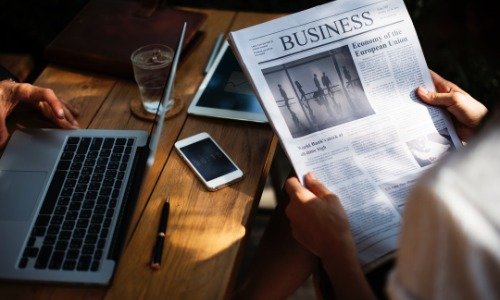 As we leave another day behind us we decided to revisit the biggest stories we saw. There were a couple of decent hitters, alongside a scam we've been covering extensively throughout the last couple of days. So let's just jump into it:
Australia Post creates a rapid KYC/AML service
Australia Post recently created a service which enables cryptocurrency exchanges to perform rapid KYC/AML checks of their customers. The process now lasts only a couple of minutes and has significantly simplified the process of buying cryptocurrency in Australia.
The so-called "Digital iD" service has removed the need for crypto buyers to wait several days for their KYC to be manually completed before they are given an option to trade.
Instead of having to share documents and personal details multiple times with different platforms which are in itself a significant consumer security risk, users only need to register once with Australia Post's Digital iD, and then share identity verification from Digital iD with any platform that is integrated with it.
Each user can decide not to share the complete stack of his information every time he/she links the Digital iD account with a new platform.
Coinbase head of trading resigns
Hunter Merghart, the head of Coinbase trading, has resigned after spending 6 months at the mentioned position. Working for the UK financial giant Barclays, Merghart accepted a position at Coinbase in May 2018.
Sources close to Meghart suggest he left the position voluntarily and will be looking for further professional opportunities in the future. He was apparently frustrated with the lack of resources or clarity regarding Coinbase's roadmap to building an institutional business.
Some suggest that his resignation had something to do with the person who hired him, Adam White, himself leaving his position at Coinbase just months ago. White decided to become the COO of Bakkt, the upcoming institutional crypto trading platform.
JP Morgan CEO "doesn't give a f*ck" about Bitcoin
Jamie Dimon, the CEO of JP Morgan (a famous financial institution) has earned a reputation as somewhat of a Bitcoin opponent with his inflammatory statements on the cryptocurrency. Calling it a fraud several times in the past, Dimon certainly never held back the punches against Bitcoin.
Still, in a recent interview with CNBC's Squawk Box Dimon revealed he never actually wanted to go after Bitcoin nor did he want to become a "spokesperson" in a war against the cryptocurrency.
"I never changed what I said, I just regret having said that," he said. "I didn't want to be the spokesperson against Bitcoin. I just don't give a fuck, that's the point."
Dimon also parroted the "blockchain, not Bitcoin" mantra, one that became a staple of the banking industry in the recent past. "Blockchain is real, it's a technology, but Bitcoin isn't the same as a fiat currency."
Oyster Pearl team responds to Bruno Block
After Bruno Block, developer and creator of Oyster Pearl project, recently restarted the project's ICO and pulled of an exit scam (partially blaming the team at the company for his actions), the team themselves responded.
William Cordes, the CEO of Oyster Pearl, criticized Block for pushing Oyster into a state of "complete chaos", categorically denied the accusations that the dev laid out in his ramblings we mentioned before.
Explaining that Bruno Block committed this crime as an individual, Cordes went on Telegram and spoke to the scammer himself.
The conversation revealed that Mr. Block still hasn't realized the extent of his fraudulent behavior and how many people he hurt with his actions, regardless of how Cordes or anyone on the team behaved towards him. Calling Bitcoin a "Ponzi that's going to crash to $20", Bruno keeps acting righteous and behaving like he did everyone affected by his exit dump a favor. You can read the complete Oyster Pearl team response here.

CaptainAltcoin's writers and guest post authors may or may not have a vested interest in any of the mentioned projects and businesses. None of the content on CaptainAltcoin is investment advice nor is it a replacement for advice from a certified financial planner. The views expressed in this article are those of the author and do not necessarily reflect the official policy or position of CaptainAltcoin.com