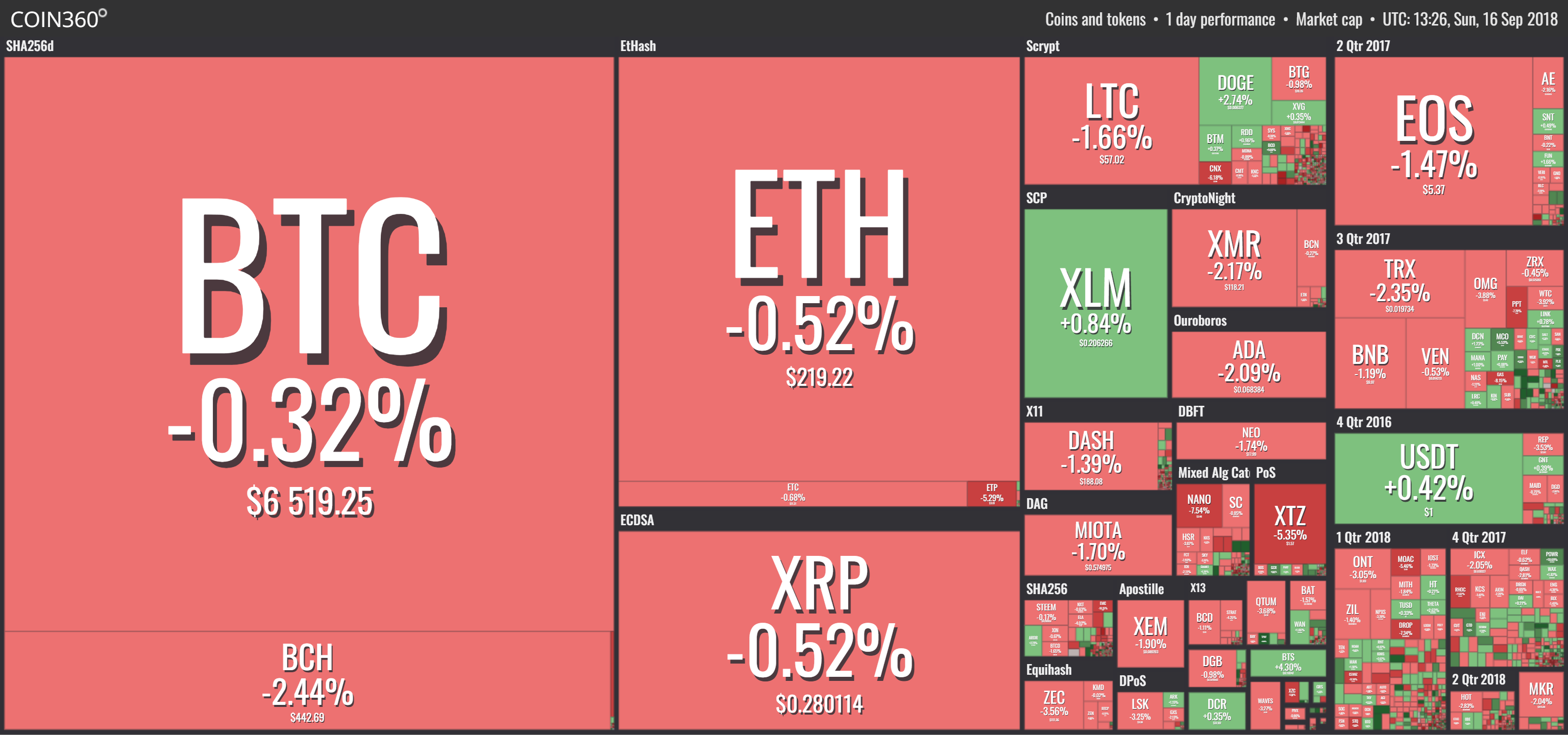 The slow grind continues. Bitcoin managed to stay slightly above $6500, confirming it lacks the volume and drive to break out of its current range. For now we mostly expect things to keep moving in the $6300-$6600 range with stronger movements expected towards the end of the month, when an announcement regarding the VanEck ETF is expected to drop. We looked at the overall market sentiment for today:
Bitcoin (BTC)
Trader heyitskolin suggests the entire market forgot an important thing:

"So we have ourselves either a bullish ascending triangle with a target of close to 7K, or a symmetrical triangle which can take us to 71XX on a break to the upside; or somewhere between 5700-5880 on a break to the downside. Regardless of which one plays out, I think it is likely we touch the bottom support line at around 6285-6310ish before a decision on direction is made. I have been short since about 6500 and will be looking to close it around 6300."
Check out his complete analysis here to see more in-depth details. Trader rzmb44 thinks the range isn't going to be broken out of any time soon:
"I don't believe we'll see a strong bull market even if we make a move here back above $7400. If we don't make new lows here soon, I think the most likely scenario would be that June was a weekly cycle low and we range trade between $6000 and $8000 for many months that chops of both bulls and bears. This is a scenario that no one is talking about but in bear markets it's common to make this ski slope move down then just run sideways for months where the Bollinger bands tighten up before breaking bullish."
Check out the entire analysis here, as it provides deeper insight into his current positions and a potential bullish scenario he thinks might happen. @overheardcoffee thinks its shorting time, at least short-term:
https://twitter.com/overheardcoffee/status/1041291482899001349
Ethereum (ETH)
Trader inmortal009 thinks Ethereum is looking into a strong downfall: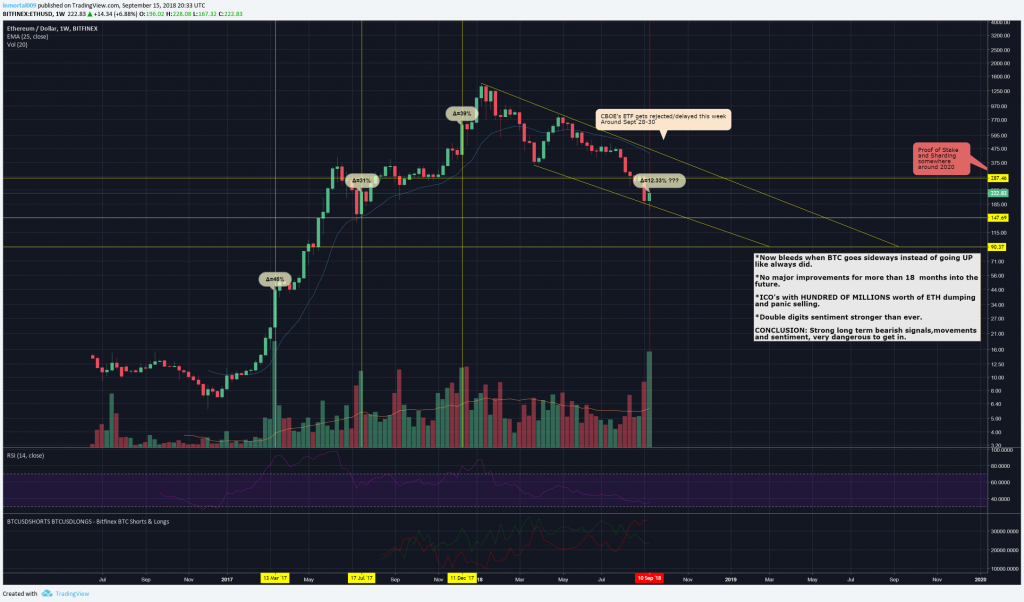 "Zooming out is always a good idea to get a wider scope of what's really happening in the grand scheme of things and suppress noise. In this case a weekly ETH/USD chart clearly shows us a double top and falling with no support on sight and all indicators pointing down."
We noticed a good call by Bmoody92:
"ETH finally bounced. It is in a good upward channel. As the 4H closes it is wicking up into ichi resistance and struggling to hold $226+. Gut feeling is it won't break. This run up seems a little weak. A short with a tight stop loss ~$230 could net nice profits. If it breaks and is able to hold during the next 4H we could see decent gains."
Ripple (XRP)
REKTCryptoTrader thinks Ripple is looking to break its downtrend:


 "XRP/BTC broke the downward trend line that was established since 20 April '18 (marked as red). We didn't see an increase in volume yet, so I'd wait for a break of the resistance area around 0.00004400 BTC -0.23% before scaling into a Long. If the area breaks, we will most likely see a huge pump. A stop could be set around the most recent support line (marked as green)."
Other thoughts
The market has been rather slow today, with most alts looking to retract a bit after their previous run-ups. The worst performer of the day was Nano, with 7.97% drop in the last 24 hours. Rchain, Populous, Horizen, Cryptonex, Zcoin, Dropil and Tezos had loses of over 5% as well. The other side had some green on it, with Aurora (15.95%), Power Ledger (12.87%), BitShares (5.28%) leading the pack. Overall, this Sunday turned out to be rather uneventful; hopefully Monday brings on some more concrete action.

CaptainAltcoin's writers and guest post authors may or may not have a vested interest in any of the mentioned projects and businesses. None of the content on CaptainAltcoin is investment advice nor is it a replacement for advice from a certified financial planner. The views expressed in this article are those of the author and do not necessarily reflect the official policy or position of CaptainAltcoin.com