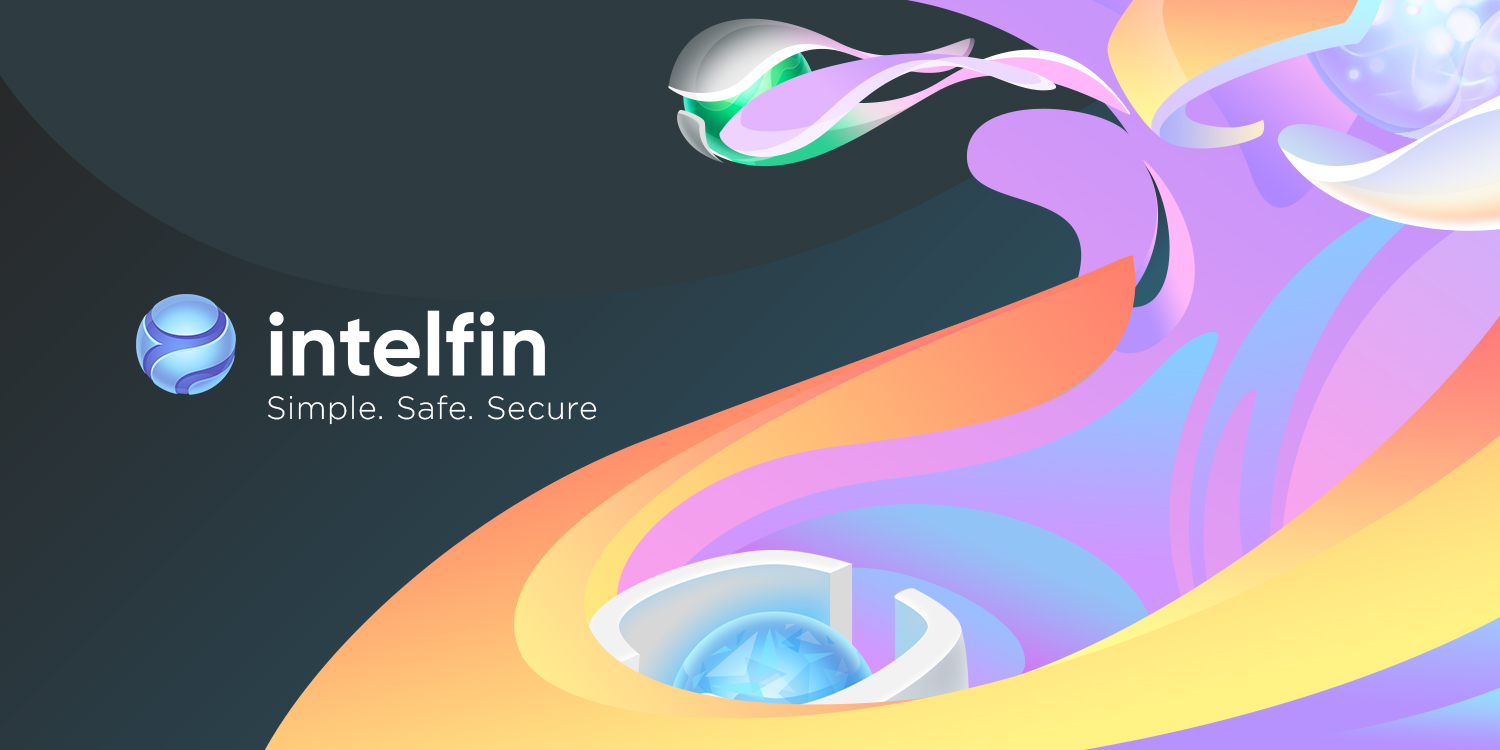 «As a result of today's economic realities, if you do not earn, you lose»
As a result of rising inflation, which is being anticipated by all major financial experts and institutions around the world, it is no longer enough to possess a bank account to maintain the wealth you have earned through hard work. It is necessary that the money you invest continues to generate profits on a regular basis.
This is where innovative and decentralized platforms like Intelfin Global come into play. By correctly employing the tools they developed, like arbitrage, hybrid and liquidity bots, you can preserve or even expand your wealth in this time of crisis.
But, first things first, let's see what is Intelfin Global.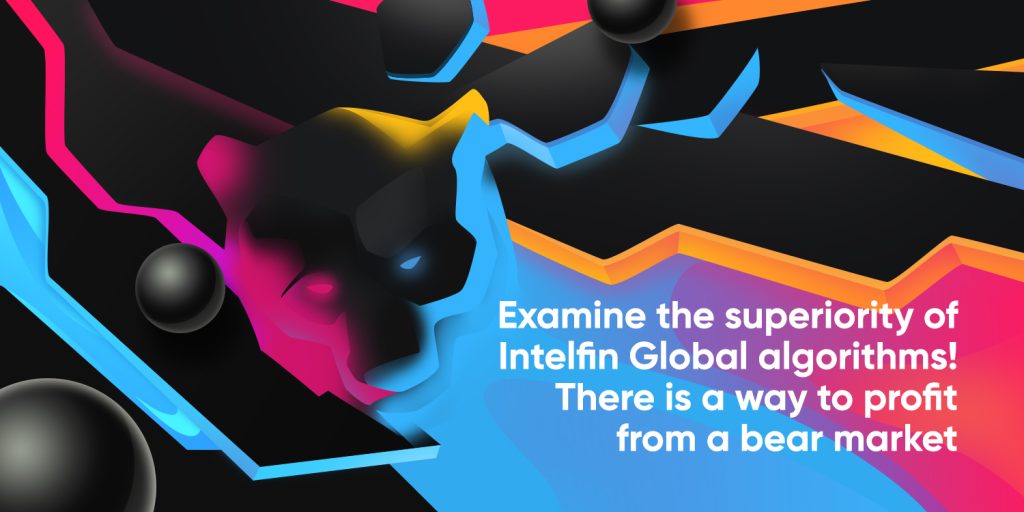 What is Intelfin?
The Intelfin ecosystem (IFGT) is a decentralized ecosystem built on the internal tokens of each product/membership, the total value of which is expressed in the main internal token of the platform — $IFGT.
Intelfin Global is a multiplatform that has set up a system that is fully automated and very responsive by using blockchain and hybrid intelligence. The platform handles transactions automatically and helps new and experienced investors, financial managers, and companies do well in the digital asset markets.
They are committed to taking control of the cryptocurrency space away from big banks and giving it to regular people. Even people who don't know much about digital assets can profit from price differences in the market by using the Intelfin Global platform's mathematical advantage.
What can you do on Intelfin?
As the Intelfin Ecosystem grows rapidly following the release of its first public product, the Intelfin Global Platform, in the third quarter of 2020, Intelfin has become a major player in the finance industry. The ecosystem will encompass Intelfin DAO, Intelfin NFT, Intelfin AI, Intelfin Staking and Intelfin DEX along the existing solutions for crypto arbitrage, liquidity mining and staking.
Right now, you can use their ARBITRATE BOT pool that has earned 103.1% cumulative income over the past 6 months. If you had activated the membership in the arbitrage bot pool at the end of December 2021, you would now have twice as much money as you had invested!
For the same period, the return on the HYBRID BOT pool was 74.1%, which is also an excellent result.
Additionally, the team behind the platform has a special consultancy agency where you can become their client (one of 15000 clients they had) and let them help grow your investing portfolio.
How does arbitrage bot work on Intelfin?
The arbitrage bot lets you buy and sell an asset in a fraction of a second, making money from the difference in price of altcoins between exchanges. With the Intelfin's arbitrate bot, you'll be able to find the best arbitrage trading opportunities across the crypto market.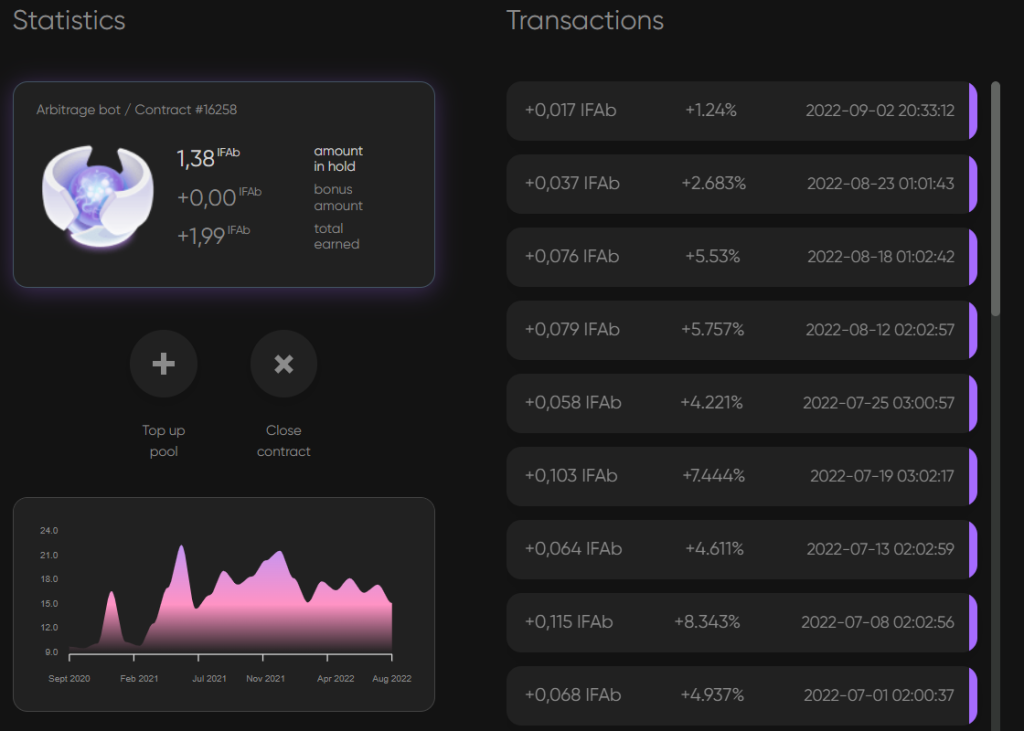 Doing arbitrage manually vs automated bot
When you do arbitrage trading on your own, you will face a number of problems. Some of them will include the need to
Register and get verified on dozens of exchanges to take advantage of price differences between hundreds or even thousands of altcoins.
Verify withdrawals and deposits on exchanges. This is important for rebalancing (fiat money, cryptocurrencies, and stablecoins) after a successful transaction trade between dozens of robots that compete with each other and have assets on all exchanges in dozens of different coins. The price of cryptocurrencies is very volatile, and rebalancing is a big risk because exchanges can stop withdrawals and the price can change a lot during a transfer from one exchange to another. In this process, it's important to get things to work in sync.
For a transaction to go smoothly, you need to keep an eye on exchanges and peer-to-peer platforms and know the difference between stablecoins and real money.
Taking into account everything is hard and expensive for one person. Any move could cause a mistake and cause money to be lost.
On the other side, with the Arbitrate bot from Intelfin, you can let the bot do the heavy lifting and let it earn passive income with a click of a button.
How to get started with Intelfin Global platform?
Follow these 4 easy steps to get started on Intelfin platform:
You must first log in to your account. You can make one if you don't already have one by clicking:
Register
Deposit your funds and top up your account
Pick a product (like arbitrate or hybrid bot).
Launch it and let it do its thing (occasionally, you may wish to observe how each new transaction multiples your assets).
Those interested can ask an Intelfin specialist for advice by visiting https://intelfin.info/.
Learn more about Intelfin by clicking on their linktree profile.
(https://linktr.ee/intelfin)