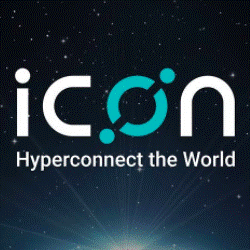 ICON has been experiencing a bad month of July so far, mostly bleeding and following the general movement of the market. It did so somewhat more erratically than the rest of the altcoins, as it pretended to become primed for a run a couple of times before falling off a cliff. Coin reached its monthly highs on July 4th, when its USD value sat at $1,81 and its BTC value at 27111 satoshi. The lows were reached just a day ago, when you were required to hand out $1,26 USD/16145 satoshi for a single ICX token.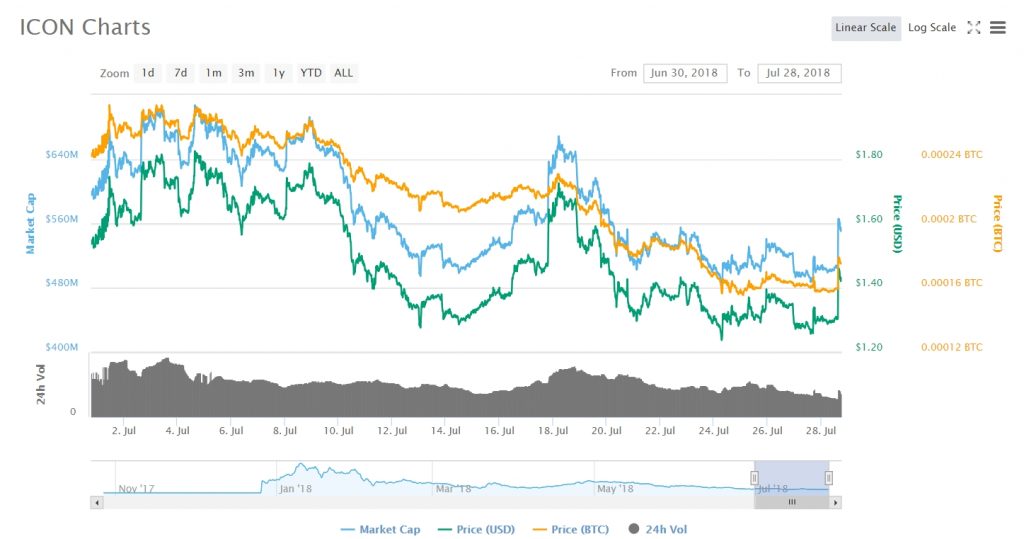 The project is currently going through some rough times, but the community remains optimistic. To Quote Min Ho Kim, the project's CSO:
"We continue to stay focused – build the team, technology, and network. ICON is better positioned for success today than yesterday. We are making improvements one step at a time. 2017 was the year of INITIATION, 1H2018 was for ORGANIZATION, and we expect 2H2018 to start ACCELERATION."
---
You can buy BTC with credit cards as well – see here how.
---
With all that, the coin has indeed fallen on some tough times. The price is experiencing a continual bear market and has fallen considerably lower than most people predicted it would. Mr. Kim blames three key reasons for this drop in price:
High-Beta: According to Kim, ICX appears to show qualities of high-beta token. This means that the market sees higher risk associated with ICX vs. others, and hence, higher price volatility is to be expected. High-beta assets fall faster in a bear market, but also tend to rise faster in a bull market. Overtime, with increased number of holders (diversification), more exchange listings (liquidity) and real-world uses (velocity), Kim expects to see ICX's beta normalize.
Lock-In Profits: Fund managers tend to lock in profits during mid-year to reduce performance risk for the full year. At the same time, end of the year is for tax-loss harvesting. Kim feels that various fund managers decided to start locking in their ICX profits, thus creating a selling pressure which is driving the price down.
Fear of Competition: Kim finally goes on a rant how South Korea is becoming a diverse market that's both backed by a crypto friendly government and populated by crypto exchanges, funds, trade desks and competitors of ICON. He claims that his project doesn't fear this increase of competition, saying that ICON is an industry leader and as such will see their "piece of the pie" rise as the market evolves further.
However, not everyone in the community agrees. BitttBurger, a Reddit user, responded to Kim's arguments by saying:
"You've been informed of this ad nauseum over the last eight months. So I'm going to say it again, because it's the truth: The reason ICON is not doing well, is because you are missing deadlines, and have zero PR/Marketing in place."
Citing himself as an experienced investor who was in the crypto game since Ethereum had its ICO, this Reddit user claimed that ICON is losing investor confidence.
"Investor confidence comes from creating interest, excitement, curiosity, and anticipation. If you don't nurture these 4 things, your token price will go nowhere but down," adds the Reddit user. He concludes his critique by saying: "The sad reality is: Nobody cares that you're working hard. You have consistently missed deadlines by literally months. You provide zero explanation, and you convey that you have absolutely zero interest in retaining investor confidence. This is why the product is suffering."
HanSolosBoots, another Reddit user, disagrees somewhat:
"The thing is icon isn't prioritizing consumers, it's focused on enterprise right now. In the similar vein, right now they aren't focused on token price, they are focusing on product development and partnerships with critical infrastructure businesses." To his point, IDGAFOS responded by saying:
"How much money did it cost for Min to pop in here and update us? This is the type of stuff we need and should happen more frequently… It's not about keeping the price high it's about instilling confidence in the project we are supporting."
Ultimately the debate is raging right now about whether or not ICON should be more transparent with its fans and holders. One side believes that ICON is better off focusing its resources on development of the project; other side thinks that the holders should be regularly updated regarding the project's progress. It's difficult not to err on the side of the latter group, as setting up a YouTube livestream or publishing a short blog post each week to explain how the project is doing goes a long way in building a faithful and strong community. A lot of projects have realized this and started being more open to the public and ICON could benefit from doing the same.
Until then, ICON users mostly rely on news released by internet publications. The latest updates regarding the coin have been decent enough. ICON is regularly selected among the most promising blockchain startups in South Korea. They have ongoing business relationships with companies like Samsung, SBI Ripple Asia, Deloitte, LINE, DAYLI Intelligence. They also recently announced that Ledger support for ICX tokens will be coming very soon. As such, there are reasons to believe that the coin is both oversold and undersold. Only future will tell us which one of these is true.

CaptainAltcoin's writers and guest post authors may or may not have a vested interest in any of the mentioned projects and businesses. None of the content on CaptainAltcoin is investment advice nor is it a replacement for advice from a certified financial planner. The views expressed in this article are those of the author and do not necessarily reflect the official policy or position of CaptainAltcoin.com