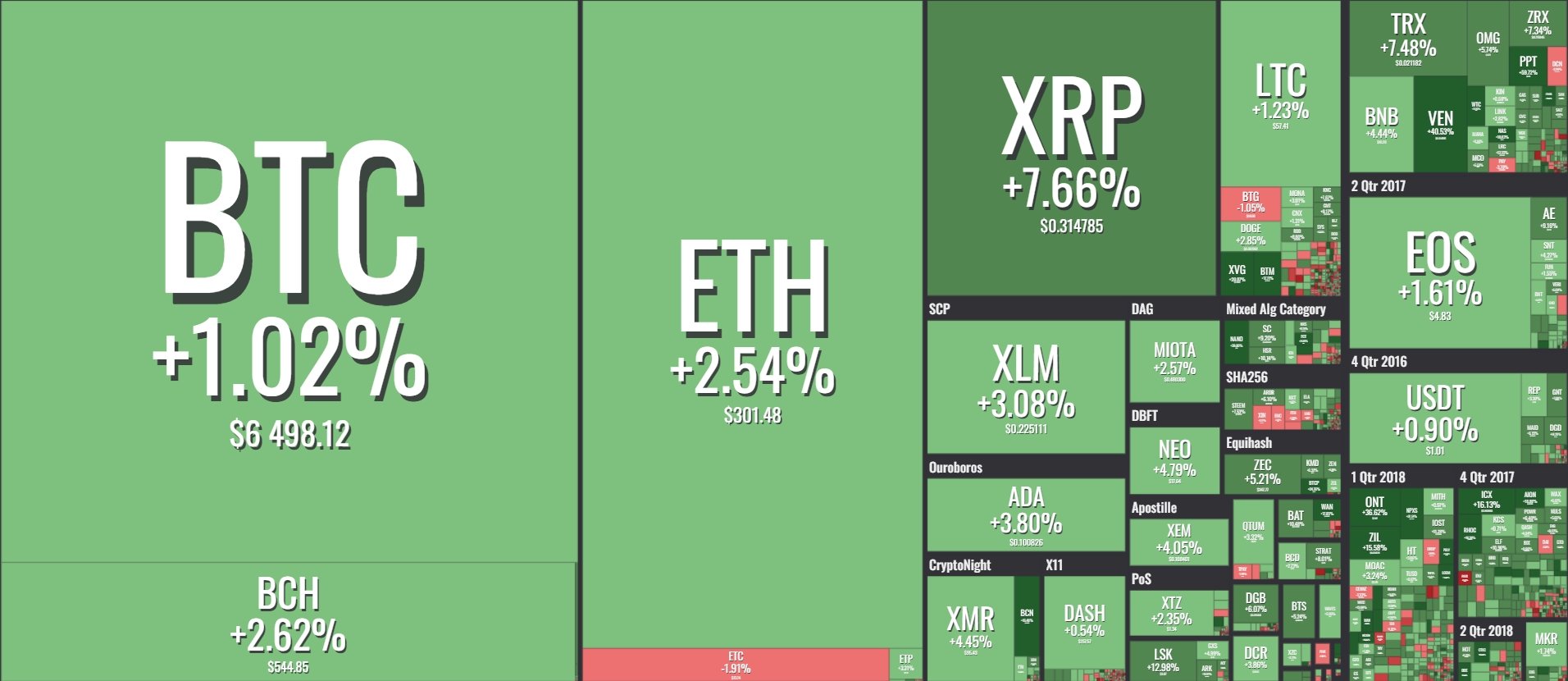 Another day in the green for the market. Yesterday we saw a typical consolidation pattern from BTC, which choose to remain in the $6000 – $6500 region, without enough buying power to break upwards/selling pressure to sink below. And while BTC rested, several alts took advantage of the situation and we finally saw signs of what an alt season could look like.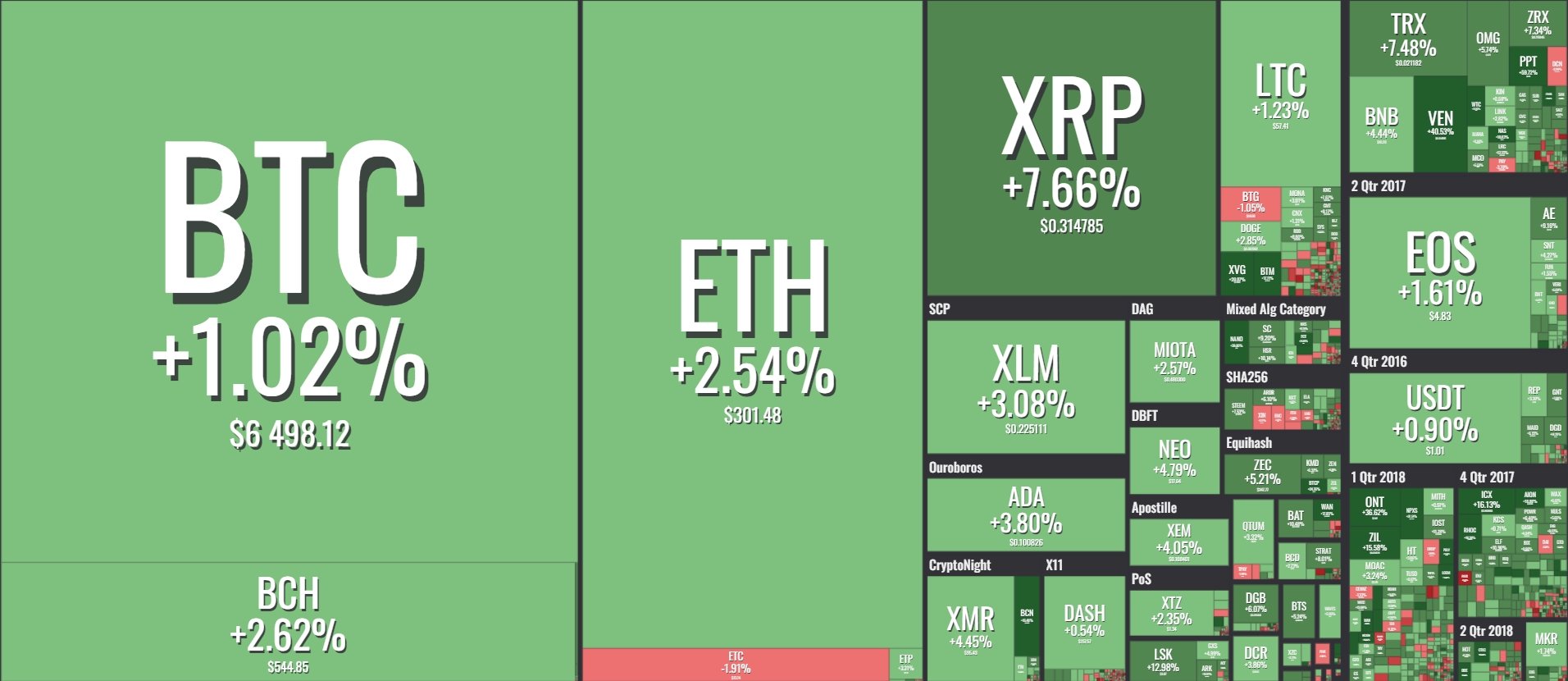 Let's take a look at the stand-out performers of the day and what the traders had to say about them:
Bitcoin (BTC)
It is clear that Bitcoin is currently building momentum for a move, either upwards or downwards. Traders like VaidoVeek feel that there is a strong possibility this movement will be a positive one:
"At the moment we are around our very strong resistance which consists:
Round number $6500
March low $6533
April low $6425
There also a minor trendline since 7. aug.
To confirm a breakout from this area we need at least a 4h candle close above the $6533 which is March low. Why 4h, because we have tried almost a week to break that level down but those attempts were unsuccessful. Yes, we got 1h candle closes above the mentioned area but those were just fakeouts so, that's why we need at least the 4h candle close above this level to confirm the breakout!"

So that $6500 resistance seems like a tough nut to break right now. VaidoVeek lists a couple of chart patterns and EMA's that he feels will lead to the breaking of this resistance:
"We have a CYPHER pattern which indicates that the 1st target would be around $6900
2. We have a "Double bottom" on the trendline since 15.09.2017 with two touches
3. In the 1h chart, we break above the 200EMA
4. We have seen very nice and bullish candlestick patterns on the higher level and the higher timeframes"
Check out his complete analysis here.
Sherem from TradingView had some interesting points to make as well, implying that Bitcoin is getting ready to bounce off of $6k into a very bullish movement:
"If you notice on BTC, the channels are shifting. Before, we had more of a downward channel marked by the purple lines and with this recent push up the channel is shifting upwards. If we go to the recent past we can see a similar shift in action in a smaller channel and over a longer period of time and on shorter time frames. The difference this time is it's doing it much quicker. I believe the reason for this is that BTCUSDSHORTS are at all-time highs."
This trader goes on to say that we had a similar set-up in April, after which BTC ran up from 6k to 10k. He feels that failure to test $5.2k will be an extremely bullish sign that could see us repeat the April movements. However, a couple of bears still feel this is simply a bull trap and that we will soon see BTC break below $5000 and reach as low as $1400.
Ethereum (ETH)
Ethereum is in a downwards channel, at least when it comes to its USD price. The decline has lasted since July and it does look like it has some way to go still.
InvestingScope from TradingView provides a deeper look into this:

"TP = 357.60 (April 01,2018 low) hit as the price broke lower aggressively from its latest "extended" Lower High rejection. ETHUSD follows a very rigid 1D Channel Down ( MACD = -42.590, Highs/Lows = 047.9881, B/BP = -101.4846) but being oversold on RSI = 22.822, STOCHRSI = 22.159 and ADX = 83.950, it is possible to make a relief rebound towards 357.60 to form another Lower High before it resumes the underlying long term bearish trend . This argument is further supported by the presence of an extra Lower Low support line (dotted line)."
Check out their full analysis for the targets of their currently active shorts. Another trader jeanneymar011001 provided a price target that will signal the time has come to start longing; check that one out here.
Ripple (XRP)
For XRP analysis we looked at CryptoMedication. He began his analysis by revealing that XRP had some strong press releases (Exodus integration, xRapid partnerships with Bittrex, Bitso and Coins.ph) which seemingly kicked off a price recovery:

His suggestion is that a break out above the pictured levels would be good for the short term future of XRPUSD price. Check out his complete analysis for more information. Twitter user @_hightek provides the following insight:
Don't want to be that guy, but $XRP bull div on the daily and the fractal shows a possible bottom. This might be a good indicator for half of the altcoins, which seem capitulated. The volume will kick in soon hopefully. pic.twitter.com/vwlyKwDxWl

— cryptoNaut ⚡️ (@_hightek) August 16, 2018
Other thoughts
The rest of the market bounced off pretty nicely. Some stand out performers include Cortex (CTXC) which bounced 72%, Nano (NANO) which gained 50% on the daily and 90% since the start of its recovery and VeChain (VET), up 50% in the last 24 hours.

Nano recovery (source @CryptoDonAlt)
Ontology (ONT), Aion (AION) and even Verge (XVG) recorded solid 20+% gains as well. All in all, the signs of a possible incoming recovery are there. Granted, signs don't mean the recovery will actually happen, as more buying volume will be needed before that. Even though short term trends are changing, there is still a lot of work to be done before we can call this a real reversal. @TheCryptoMonk sums the sentiment up nicely:
I'm feeling the sentiment is slightly turning bullish again.
Don't get trapped and move slowly, especially for long term investments.
There is no need to rush in. You won't miss everything out if you don't market buy everything right now.

— The Crypto Monk ⛩ (@TheCryptoMonk) August 17, 2018

CaptainAltcoin's writers and guest post authors may or may not have a vested interest in any of the mentioned projects and businesses. None of the content on CaptainAltcoin is investment advice nor is it a replacement for advice from a certified financial planner. The views expressed in this article are those of the author and do not necessarily reflect the official policy or position of CaptainAltcoin.com