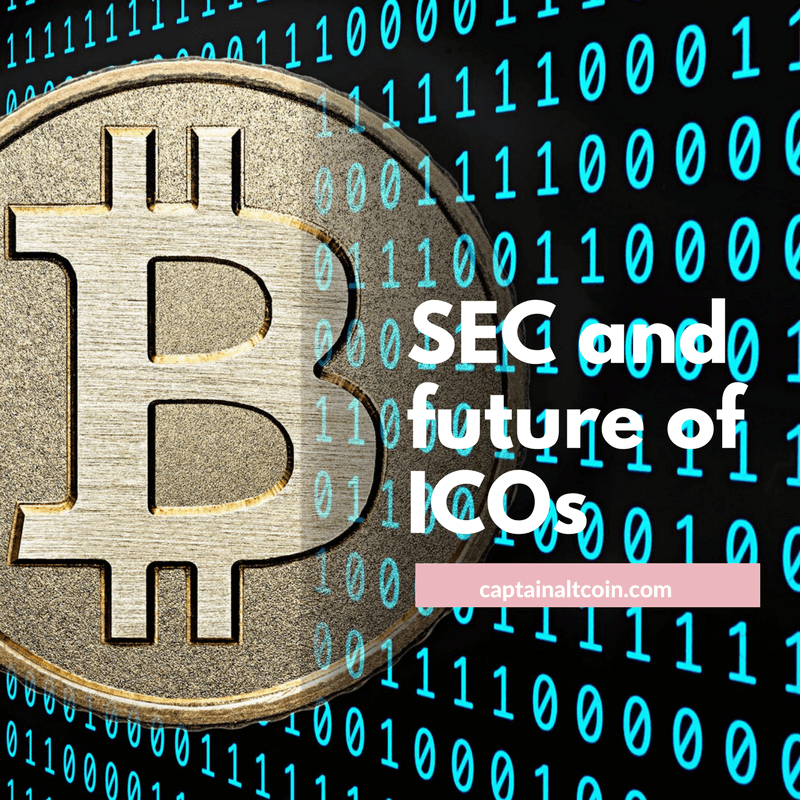 SEC compliance is the most difficult part of the puzzle for any aspiring ICO. The essence of the matter lies in the definition of the tokens – are they securities or "utility tokens". Number of actions from SEC indicate their current stance on the issue – they are more inclined to define them as securities. And that is a big problem for companies planning an ICO.
A senior official from the Securities and Exchange Commission confirmed that the agency had "dozens" of open investigations into initial coin offerings. This negatively impacted the price of ether, as it has fallen 19 percent in the last 24 hours, from $580 to $470. Ethereum is the main network for ICO launches as big majority of token are issues as ERC20 smart contracts on top of Ethereum blockchain.
"We're doing obviously a lot in the crypto space, and we're seeing a lot in the crypto space," said Stephanie Avakian, co-director of the SEC's Enforcement Division, at a conference on Thursday. "We are very active, and I would just expect to see more and more."
What does SEC want to know when investigating?
Main thing SEC is requesting, are details of sale structures and the pre-sale elements to them. These pre-sale offers often include big discounts for early investors who are usually investing large sums.
2017 was a year of ICOs – more than $6 billion was raised via this crowdsourcing method, and a further $1 billion has been added to that tally in 2018 to date.
ICO opponents are quick to point out that, in many cases, the tokens for sale are just a new form of shares—and that selling them without an appropriate license violates federal securities laws. In one of its earlier rulings, the SEC confirmed exactly that: The agency said that, in the case of one recent ICO, the tokens in question are indeed securities.
On the other side are ICO supporters and the whole blockchain community, that argue that different than a security — a utility token is not a financial instrument which carries the expectation of future economic gain — rather a prepayment for a service.
An ICO works in a similar way as an initial public offering in that it's an option for a startup to raise money from the public. In most cases, ICOs last anywhere from a few hours to a few weeks, the company invites investors to buy tokens (aka coins) to fund a project. Company comes out with whitepaper that details their product and sometimes with a finished alpha or beta version of the product and uses that as basis for receiving the funding.
What could it mean for the future of ICOs?
Avoid USA
Simplest solution, which some companies already chose with their ICOs, is to prohibit USA investors to participate in the ICO. By doing this, company is out of SEC jurisdiction and doesn't have to worry about being compliant to their regulations. However, negative to this is losing a lot of investor power since USA is one of the largest markets in cryptocurrencies.
Traditional investing approach
Companies could return to raisin money the old-fashioned way – by asking Angel and Venture Capital groups and investors to fund their project. This approach is much harder to pull out since these investors are professionals and very meticulous prior to investing. Most ICOs to date, raised tons of money thanks to a basic PDF paper with, in some cases, wishful thinking and vision what they dream of building.
That era has ended as no serious VC fund would invest in company that basically has nothing but an idea.
Nothing changes in broader picture
In the bigger picture, though, the SEC ruling is not likely to affect the larger development of blockchain technology, which many experts expect to become one of the most disruptive technology innovations in decades.

CaptainAltcoin's writers and guest post authors may or may not have a vested interest in any of the mentioned projects and businesses. None of the content on CaptainAltcoin is investment advice nor is it a replacement for advice from a certified financial planner. The views expressed in this article are those of the author and do not necessarily reflect the official policy or position of CaptainAltcoin.com