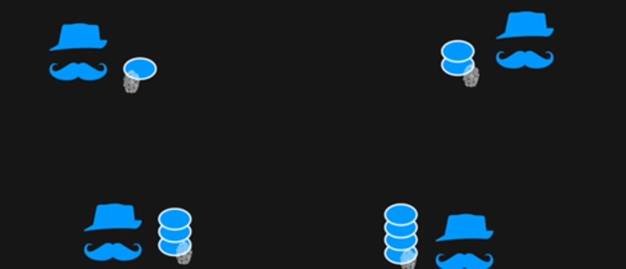 Holochain's price has been teasing the market for quite some time now. Opening the month of August at 8 satoshi the currency went on a strong positive run which saw it almost triple in value at the peak of this run and reach values of $0.001538/23 satoshi. Ever since, it has been a slow path downwards. These low values can be explained with the currency's massive circulating supply of 133,214,575,156 HOT.
Right now you can purchase one HOT for the price of $0.000977 USD (-2.37% drop in the last 24 hours)/15 satoshi (-3.32% drop in the last 24 hours). Daily trade volumes are at mediocre 633 BTC, with Binance (48%), Fatbtc (18%) and Hotbit (20%) being responsible for most of that. With a market cap of $130,160,953, Holochain is currently the 49th most valuable cryptocurrency on the market.

Crypt1c_one from TradingView had this to say about the currency's technicals:
"1) The Breakout for this coin has been huge, the Volume was literally in the top 5 on Binance while these breakouts occurred and the price doubled in one of the price increases.
2) The Fibonacci Retracement has hit the 50% level and is holding on this price while accumulation occurs as can be seen on the 30 min chart where there are many green volume candles
3) I did some research into this coin, sounds interesting to say the least they try to solve many problems facing cryptocurrencies including the issues of scalability.
4) This coin was recently added to Binance allowing more traders access to trade this coin."
Check out his complete analysis as it contains the graph and a detailed explanation why the trader feels Holochain will be moving up in the future.
Holochain is a blockchain-like project which combines the technologies of hashing, digital signatures and DHT (distributed hash tables) to form a tamper-proof distributed ledger that hosts and supports building of decentralized applications and storage/sharing of data in a peer-to-peer, user-controlled manner. In an effort to reach out to the general public and communicate their efforts so far Holochain recently held a YouTube AMA that was spearheaded by Matthew Schutte, project's Director of Communications.
Before addressing the questions, Schutte thanked the community on Telegram as well as the people who attended the project's Amsterdam hackathon and delivered several important updates regarding Holoports:
Holoports are under production! The first shipment of prototypes should be delivered to the project in the next couple of days and the testing will begin immediately. Schutte notes that there was an issue with finding enough processors that were initially envisioned and adds that new, faster, and slightly more energy consuming processors will be used instead. As Holochain presents itself as a blockchain-like solution that is less energy-wasteful than the likes of Bitcoin/ Ethereum this could be an issue; Schutte however reiterates that the increase will be negligible. A Holoport shop, where people will be able to buy their own Holochain hardware, was also mentioned. First Holoports are expected to be shipped in early 2019.
The development team has prepared several apps including HoloVault, HoloChat, Fractal Wiki, Errand to be available at Holoports launch. Games like Chess, Battleship and social version of Minesweeper called Minersweeper were also mentioned.
The team will soon provide a way of asking them the "in the weed" technical questions through something he called Holochain Office Hours.
Holochain Beta, the project's Rust refactor is coming "very soon". The project was originally built-in Go but have since decided to rebuild everything in Rust because this language will give them much more flexibility and development options.
Schutte later on addressed several community questions, ranging from ones about tokenomics and future value of the Holofuel tokens (Holochain ledger tokens which will replace HOT in the future), Holochain adoption, biggest development hurdles, to some abstract themes like future shifts in human behavior caused by cryptocurrency. Check out the complete and rather interesting AMA here.
The project has a couple of community related efforts planned in the near future. Trust Square and Holochain will host a "Think outside the blocks" event where the project's architect Arthur Brock plans on presenting the advantages of Holochain technology. A Holochain Hackathon will start in Brooklyn on Friday October 12th, where developers will get a chance to learn more and even engage in building decentralized applications on top of the Holochain platform. A couple of smaller meet-ups will be held as well, including the ones in Mexico City, Pittsburg and even one in Cyprus.
Several projects (Clutter, Junto, Core.Network, Sacred Capital, Producer's Market, JustOne Organics, Ulex, Holo-Health, Comet) have so far chosen the Holochain infrastructure to build their dApps with its help. Holochain also recently confirmed that a partnership has been struck with Producer Token, a platform that is building a global peer-to-peer marketplace for agricultural producers. Colin Stewart, Director of Agricultural Technology for Producers Token explains what he expects to gain from this partnership:
"At the ground-level, integrating Holochain into our technology stack means producers on our platform will have agency over their financial transactions, data, and personal information. Most notably, due to the nature of the method of cryptographic accounting Holochain employs, each asset-backed currency is interoperable. This means that any currency backed by an agricultural-asset can be liquidated on any exchange that lists Holofuel."
Overall, Holochain is currently focused on setting up the required infrastructure and an accompanying ecosystem. With Holoports and Holochain Beta just around the corner, we'll soon find out more about the project's ability to become the next dominant market player.

CaptainAltcoin's writers and guest post authors may or may not have a vested interest in any of the mentioned projects and businesses. None of the content on CaptainAltcoin is investment advice nor is it a replacement for advice from a certified financial planner. The views expressed in this article are those of the author and do not necessarily reflect the official policy or position of CaptainAltcoin.com