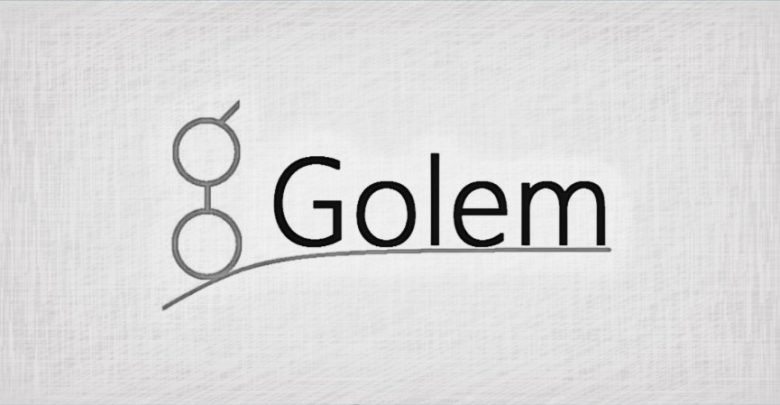 Golem had a very red month of July. After reaching the highs of $0,373796 USD/5697 satoshi, it embarked on a steady bleed pattern. The bleed managed to slightly slow down and shift into a sideways motion for a while before it went down even harder around the middle of the month. After the second relatively peaceful period the token started dropping again towards the 31st, managing to reach monthly lows of $0,2686 USD/3477 satoshi before August rolled in. The pattern seems to be continuing, as 1 GNT is currently worth $0.240489 USD (a 7,10% drop in the last 24 hours)/3181 satoshi (0,93% drop in the last 24 hours). A market cap of $230,871,596 USD ranks the token as the 43rd most valuable cryptocurrency on the market.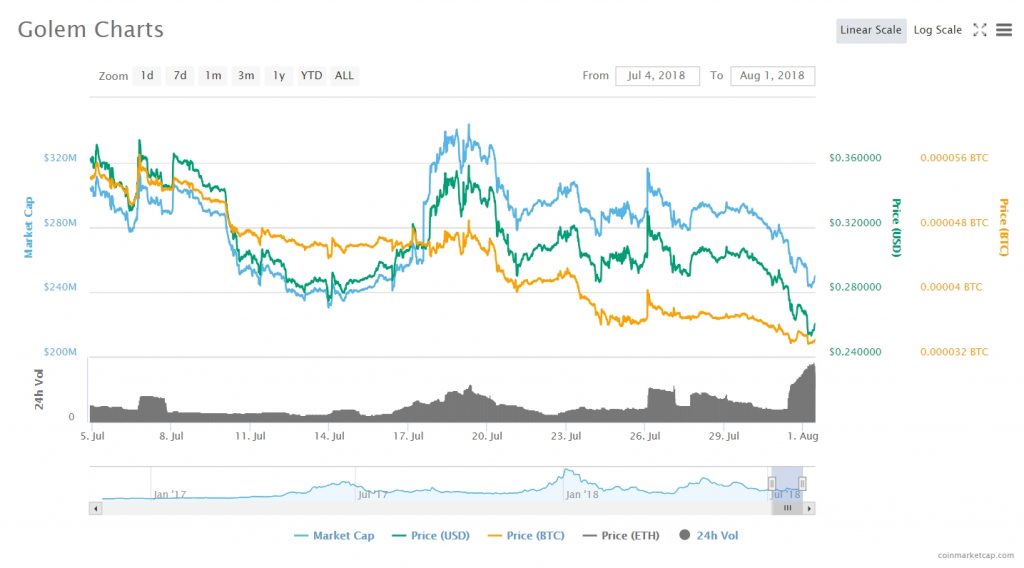 The Golem project, called "the Airbnb of computers", aims to create the world's first decentralized supercomputer. Combining the computing power of its network members with those less privileged in this sense, Golem allows resource rich users (providers) to rent out their CPU power to those in need of it (requestors).
The platform already has a working Beta called Brass which can be downloaded here. The Beta was recently upgraded to 0.17.0 version, which brought in several new features like netmasking, improved Blender verification/ETH transaction layer and similar important updates. Significant upgrades were made in the core, concent and electron softwares and you can find more details on this here.
---
You can choose the best coin exchange by reading this article. Read here how you can quickly convert other coins to bitcoin and the other way around.
---
The development team is working hard on improving the features of the Golem project and have decided that it's important to keep their users and potential investors updated with their progress. Therefore, they recently held a Reddit AMA and questions from it were answered via a livestream posted on their website. Questions regarding adoption, rendering, GPU support and other general future plans regarding the project were asked so be sure to check out the livestream if you are interested in finding out what the team had to say.
Golem was also featured at the DAPCON Berlin's Side Chain Stage, where one of the project's co-founders, Aleksandra Skrzypczak, got to explain details regarding SGX and Graphene-NG. She also gave a peek into what's to come for Golem, into Golem's use case pipeline and how developers can propose what they want to build on top of Golem/how the network can help them.
A blogger named Viggith has recently started posting on the Golem's blog. Through these blogs, he/she is looking to give interested people a closer look at the inner workings of the Golem technology. "this series will feature some insights into the computational perspective of the Golem platform; alongside the requirements, imposed constraints and emerging challenges," says Viggith in the latest blog post titled "An overview of a computation's lifecycle in Golem". Make sure to check the blog post out as it explains in depth how the Golem project creates a trust-free peer-to-peer network for sharing computational power out of many imperfect/untrusted parts.
All in all, it was a relatively busy month for Golem which continues to be a relatively undervalued project, considering its use case and the fact that it has a working platform (granted still in beta). It remains to be seen what the future holds but the updated roadmap they have released on August 1st gave us a clearer picture.

CaptainAltcoin's writers and guest post authors may or may not have a vested interest in any of the mentioned projects and businesses. None of the content on CaptainAltcoin is investment advice nor is it a replacement for advice from a certified financial planner. The views expressed in this article are those of the author and do not necessarily reflect the official policy or position of CaptainAltcoin.com