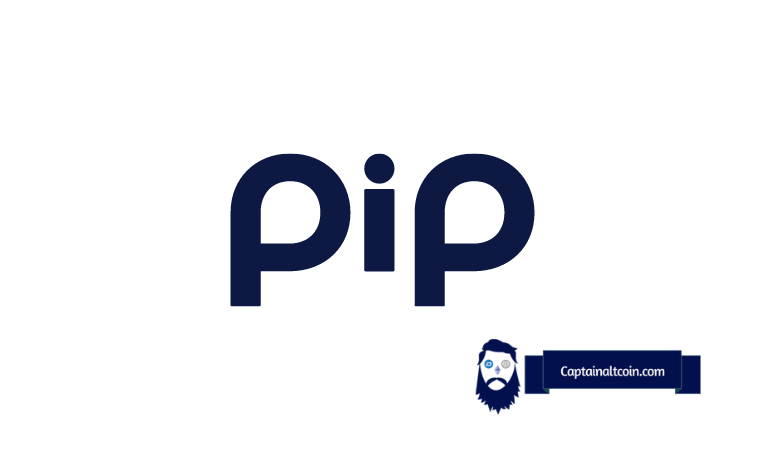 PIP – a step towards the dream of true crypto, peer-to-peer social payments 
403 ERROR
The request could not be satisfied.
---
This distribution is not configured to allow the HTTP request method that was used for this request. The distribution supports only cachable requests. We can't connect to the server for this app or website at this time. There might be too much traffic or a configuration error. Try again later, or contact the app or website owner.
If you provide content to customers through CloudFront, you can find steps to troubleshoot and help prevent this error by reviewing the CloudFront documentation.

---

Generated by cloudfront (CloudFront)
Request ID: wEXemgRcqwrfBExSbMMNYCN_3AmEW2aIaK5dHURFhuSZaQMtP1bQvg==

PIP is a layer of the Internet on Web 3.0 which adds Web3.0 functionalities onto existing social platforms with billions of active users.
PIP is a free web extension that allows users to pay for goods and services using cryptocurrencies. It is designed to bridge the gap between the Web 3.0 and the Web 2.0 ecosystems. PIP is built using the Solana blockchain protocol, allowing millions of people to transact value without a single entity's permission or high intermediary fees.
PIP provides a superior payment experience because it works neutrally on every web page on the internet, whereas traditional payment companies are platform-driven, and permission-based.
The platform is disrupting traditional Web 2.0 payment platforms like PayPal or Stripe to empower individuals.
PIP is an innovative platform that allows users to monetize their content. If you want to charge people to read your posts on social networks like Twitter or Medium, then the PIP paywall could be integrated into your content to generate a pay wall button for people to pay.
This is how a Peer-to-Peer Economy could be.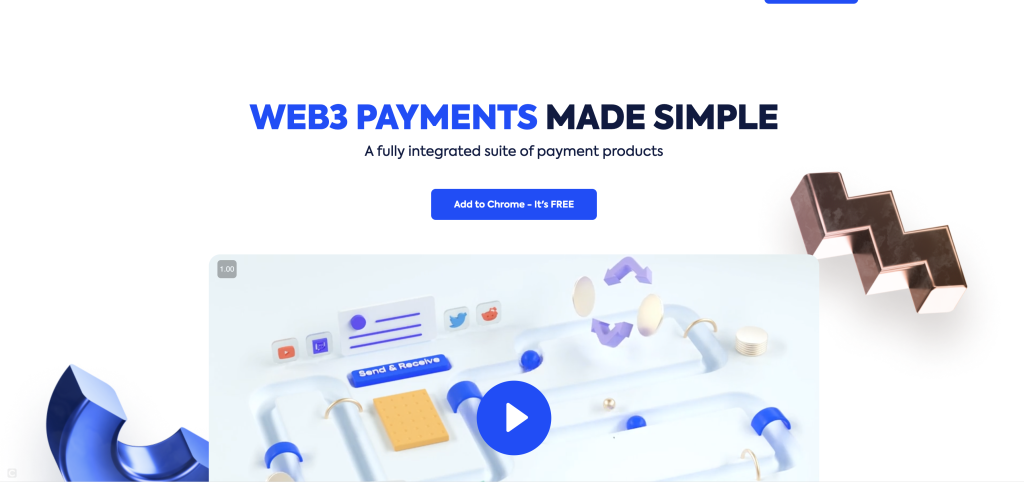 How does PIP work?
This foundation enables three pillars, the first being transactions, the second being identity and the third being governance.
Payment buttons will appear on the user's social profile or the individual posts to help promote online transactions. These buttons will allow users to send and receive coins through the social platform they are already interacting on, making it easier for them to complete transactions. Users can send payments regardless of whether both parties are using PIP or not, ensuring anyone could claim tokens.
The second pillar of PIP is presented in the linking social identity to crypto­currency ownership through future releases of the PIP Bio, a social identity tree which authenticates users and their interac­tions, making engagements more trustworthy.
The final piece of PIP's solution is the ability to empower individuals to monetize their content online. The infrastructure is set-up so that creators can develop an entire microeconomy and collect royalties on their creations throughout the entire sales process, including the creation of the product itself.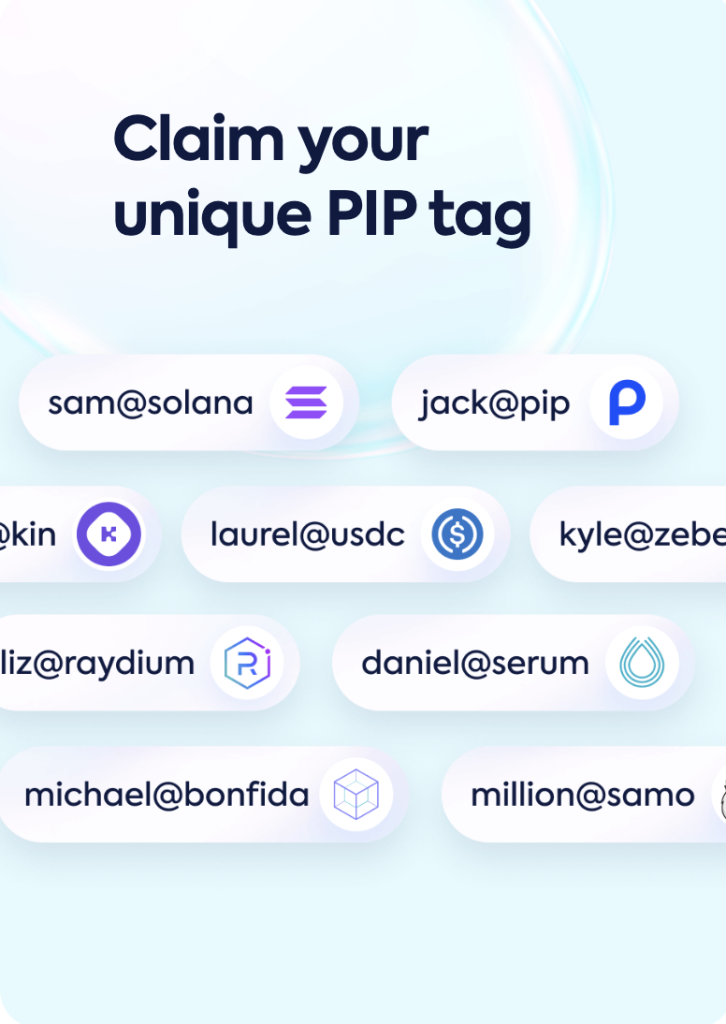 How to set it up?
Setting up a PIP button requires setting a wallet through Phantom Wallet, Slope Wallet, or another wallet that supports the token you wish to send. Currently supporting Solana Tokens and transactions (including SOLA, USDC, PIVX, RAY, KIND, ORCA, etc), the team plans to roll support for additional major blockchains over the coming months.
To use PIP, you first need to install the PIP chrome extension, then connect PIP with a Solana wallet using Phantom, one of the most popular wallets in the Solana ecosystem.
You will need to create a custom tag called "solana_tag" which is actually a human-readable layer on top your actual address.
Remember to connect your social media accounts like Twitter with PIP, so that other PIP members can connect to send and receive cryptocurrency via social platforms.
PIP users can send crypto directly to friends using the PIP app. If you're not a PIP user yet, you need to download the PIP app. Once installed, you'll need to add your Phantom Wallet address to your contacts list. You can then send crypto to your friends via the PIP app.
PIP Features
PIP is an innovative company that has already launched some major projects since it hit the world. Here are some of its ideas that have been realized.
PIP Extension
The PIP Extension lets anyone send and receive payments on websites like Twitter, Twitch, or Reddit. You can install it on any of the three major browsers: Chrome, Opera and Edge. To use it, you need to install Phantom Wallet extension for your browser as well. Then, you sign in with Phantom on PIP and create your own PIP Tag – a human-readable payment address to receive and send tokens.
PIP Tag
Usually, crypto wallets are strings of random characters – letters and numbers. However, more recently, ENS (ethereum name service), DNSes or SNSs (solana name service), are gaining traction. They are essentially eadable addresses which are associated with their original wallets, to send tokens to other users.
However, the Web3.0 blockchain technology has expanded the use cases to another degree, so that social media contents (tweets) can also be used as the receiver of tokens.
PIP also has a human-readable crypto address that is linked to an alphanumeric address. Users can post PIP tags anywhere on the internet. This allows them to link their PIPs to their wallets.
PIP.ME
PIP.ME is similar to PayPal.me where you create your own payment link which can be shared anywhere across the web. PIP.ME is a free web3 profile to connect audiences, accept payments, provide the easiest way to create profiles links with many web3 features. PIPs are powered by SolanaPay, and also support payments via mobile wallets and QR codes.
PIP Creator Token
With PIP anyone can launch their own token with a couple of clicks. These are called social tokens and are meant to be distributed through social media platforms and provide utility services attached to them.
PIP Button
PIPButton is an easy way to add a donation button to your website. You can choose what you want to do when someone clicks on the button. PIPButton allows you to create a button that will allow you to donate money to a charity, tip someone, or even buy something.
You can add the button to your website easily by adding a couple of lines of customizable code.
Once implemented on the content creator's site, users can use the PIP button to buy stuff from their favorite creators like exclusive content, merch, mastermind access, courses etc.
Upcoming features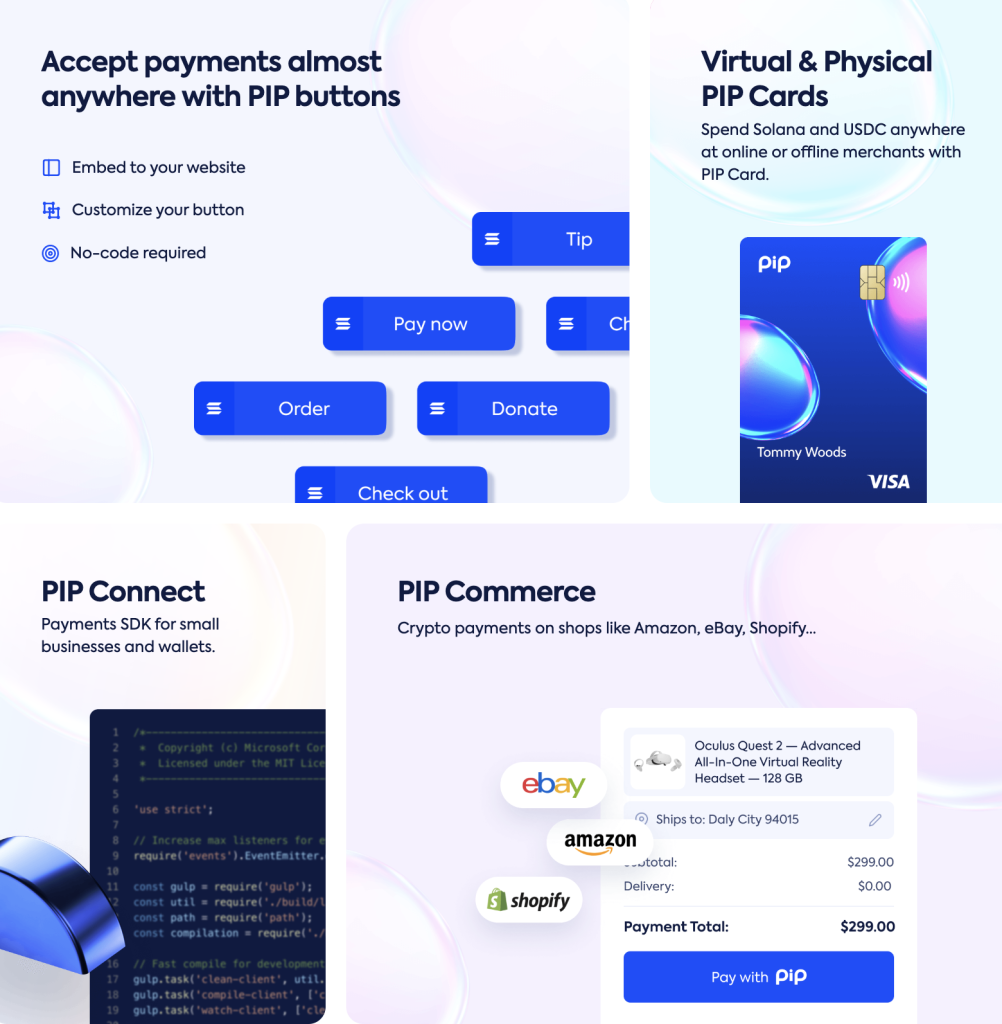 PIP Card
PIP card is an easy way for creators to buy goods and services without storing the coins which they receive for their content on their social media accounts.
PIP Bio
PIP Bio is a social identity tree. It allows you to link your social media accounts together. This means that if someone posts something about you on Twitter, Facebook, Instagram, etc., you will see it in your PIP Bio. You can also add friends to your PIP Bio. This means that when they post something about you, you will see it
PIP NFT
PIP allows users to view their NFT holdings, and to browse through the NFTs available on the network. Users can also purchase and sell NFTs using the PIP platform.
PIP Creator token
PIP allows users to create their own social currency. Users can distribute their tokens through social media platforms and provide utility services attached to them.
PIP Swap
PIP is an instant exchange platform that allows users to swap tokens directly on social media platforms. Users can also trade tokens using the PIP app.
Tokenomics of the $PIP token
$PIP is a native token of the PIP platform that is used as a governance and utility token that can be farmed through liquidity mining. It has a lot of incentive mechanisms built-in so the holders can be rewarded for not selling it.
Users can earn $PIP by creating new content, sending messages, and receiving messages from their peers.
PIP Ushering a New Era of Web3 Payments
If the internet can combine with crypto protocols, this might create a new economy with substantial societal value.
The PIP button was designed for artists, musicians, fashion designers, and filmmakers who want to incorporate blockchain into their business models.
As a Web 3 bridge connecting the blockchain world with the web 2.0 platform, PIP can wrap both the web 2.0 and the blockchain worlds together. It can also bring billions of people into the Web 3.0 world.
Social media platforms such as YouTube are all siloed, and they each have their own payment system.
PIP acts as a neutral intermediary platform that allows interoperability between social platforms when it comes to crypto activities.
Through PIP, everyone can send tips or pay someone else for tasks.
As a result, besides connecting huge numbers of people around the world on Facebook, Instagram, Twitter, etc., it also allows high- quality content to generate income that motivates the author's desire to create.

CaptainAltcoin's writers and guest post authors may or may not have a vested interest in any of the mentioned projects and businesses. None of the content on CaptainAltcoin is investment advice nor is it a replacement for advice from a certified financial planner. The views expressed in this article are those of the author and do not necessarily reflect the official policy or position of CaptainAltcoin.com