Take a step back and acquire interest on your crypto wallet; whether you are holding Bitcoin or other cryptocurrencies, the Amon Earn product allows you to earn interest for simply depositing cryptos. Instead of storing assets in an exchange such as Binance or Coinbase you simply deposit them in the Amon Wallet – doing so you will earn a percentage of interest every week.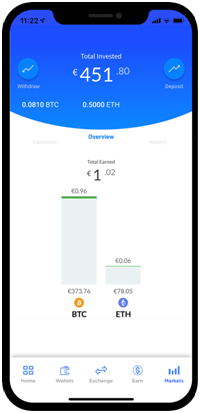 With more than 95% of crypto users using digital currencies as part of their investment portfolio, a smaller number spend cryptocurrencies day to day – the future remains bright for crypto finance.
So what has Amon done to help crypto investors and users? As easy as it sounds, they created an innovative Earn Product – by placing your cryptocurrencies in the Amon Wallet you can earn interest every week.
Whether you are adding Bitcoin (BTC), Ethereum (ETH) or LiteCoin (LTC) to your Amon Wallet it is really very simple – every Monday without fail you will receive an additional interest payment for those currencies – you can earn more with Amon.
And these are not the only cryptocurrencies, you can earn interest on more than 15 other cryptocurrencies!
How Does Amon EARN Work?
You might be wondering how Amon is able to provide interest from your deposited funds? It is quite straightforward – Amon has some great partnerships with Hedge Funds, professional trading companies that require large amounts of capital to place their trades. They borrow cryptocurrencies to third parties to pay their capital interests.
Amon keeps only 20% of the proceeds and shares 80% with the community. Amon Earn is both easy and straightforward:
Deposit your digital currencies in the Amon Wallet
You will receive interests on deposited funds every Monday
Want to withdraw? No problem – there is no locking period
20+ Coins – Bitcoin (BTC), Ethereum (ETH), Ripple (XRP), BitcoinCash (BCH), LiteCoin (LTC), DASH, and other coins in the pipeline.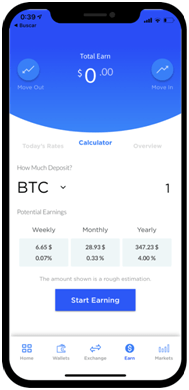 How do I Calculate my Interest?
Wondering how much you can earn? With the Amon Calculator, you can work out the potential interests from your deposited crypto funds.
Simply insert the type of cryptocurrency you want to estimate as well as the amount and the calculator will give you an assessment of the weekly, monthly and annual yields that you could receive.
Based on market conditions the level of interest may change a bit, on average Amon Team estimates a yearly yield of 3-10% per annum.
The rates are updated every week and displayed on the APP.
What Else Can You do with the Amon Wallet?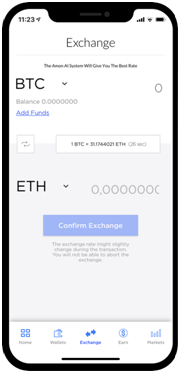 The Amon Wallet is not just an interest-earning wallet, it is much more. You can also use the wallet to:
• Buy & Sell over seven cryptocurrencies
• Deposit / Withdraw Euro with a unique Virtual IBAN
• Exchange crypto-crypto and crypto-Euro
• Track the performance of your coins
• Pre-Order Card, Amon is shortly launching a debit card with a fully integrated powerful AI System to convert cryptos at the time of purchase
Who is Behind the Amon Wallet and How Secure is it?




The Amon Wallet is secured by the SEC regulated provider BitGo. BitGo is a supplier of custodial services that works with the top blockchain companies around the globe, handling millions of transactions and crypto assets. For additional piece of mind, they are also insured for up to $100 Million against loss and hacks.
As a top-level partner known for its reliability, Amon decided to work with BitGo to provide real security for the users – your funds have never been safer in the Amon Wallet.
Who is Amon? Starting its journey in 2017, Amon raised $1.5 Million via a successful ICO – in March 2019 Amon was proud to announce that they joined the Innovation Fund of MKB Bank, the fourth largest bank in Hungary.
Amon Vision and Awards
Amon's journey started in November 2017 when they began to build a unique Wallet that offered unrivaled services.
Over the past year and a half Amon has been able to create different products for the needs of different crypto users:
By holding your cryptos you can use the Earn product and make good interests
You can buy Bitcoin or cryptos with Euro/swap between different cryptos – Amon is connected with a number of different exchanges and provides only the best rate for your exchange
Amon will also be releasing a debit card backed by the Amon AI system to optimize users spending at the point of sale
Amon is proud to announce that they were awarded the Top Disruptive Company in 2019 at the Malta Blockchain Summit in May 2019 along with two other important projects, Bitcoin.com and HoloChain.
If you have queries, please do free to drop them a line at hello@amon.tech or join the Amon community on the Amon Telegram Group.
Download the Amon App on iOS, Android or use the Web wallet.