Out of all the coins currently present on the market, Bytecoin (BCN) had one of the best reactions to the recent Bitcoin breakout. Traded at $0.0029 at the start of July, the end of the weekend saw it rise just above $0.0040, at one point rising over 30% in less than a day. It has since consolidated and went on quite a retraction run as the price fell down to $0.003251, managing a drop of 11.02% in the last 24 hours. Bytecoin is currently capped at just over $620 million and holds the 24th position on cmc's list of the most valuable cryptocurrencies.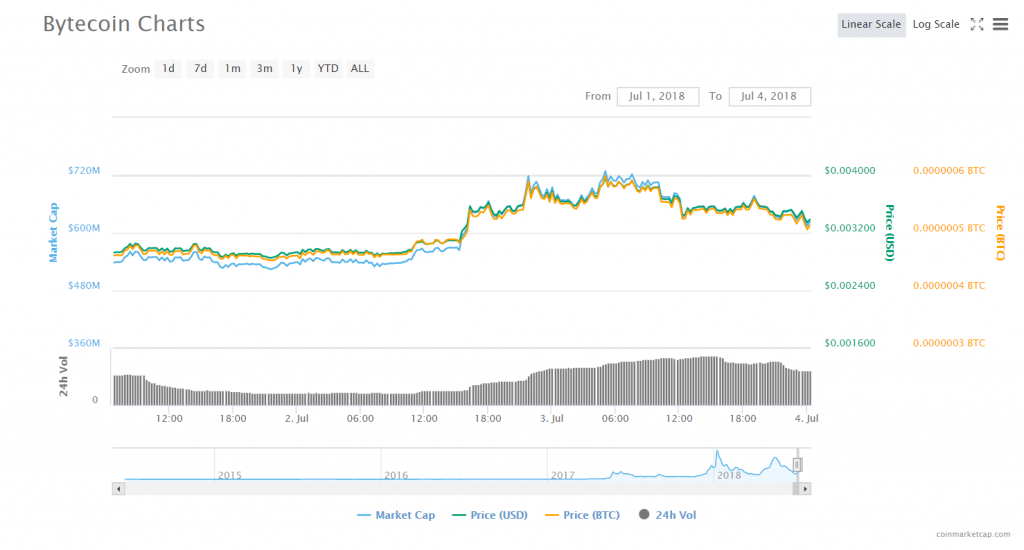 The currency has gained a lot of notoriety in recent times, especially since its post-Binance/Poloniex launch fiasco. The website btcmanager.com took a deep dive into Bytecoin and came up with results which suggest that the coin is in fact a scam. Even if you put aside the accusations presented there, the exchange launch was a step too much for a lot of investors.
If you recall, the top exchanges listing caused the price of this coin to jump to $0.018 and its market cap to go over $3 billion before the issues began. The "private and untraceable" Bytecoin apparently wasn't prepared to handle this much of an investor interest, as the network "crashed" with no explanation immediately after this massive price spike. No one was able to withdraw or transfer their BCN tokens and the panic kicked in.
Bytecoin's official Twitter page said back then:
"The network is experiencing unusual high load. Transaction can be delayed, node synchronization can lag far behind. The team is working hard to solve this issue. It's strongly recommended to avoid any transferring of BCN until the situation is resolved."
Immediately the price started dropping and people started going wild. Accusations that Bytecoin team is performing a textbook pump and dump scheme started flying in from all directions. The price was indeed stuck around 50 sats before the Binance listing, and then it skyrocketed to 200 sats before the funds got frozen, which is a typical pattern that a PnD coin tends to follow.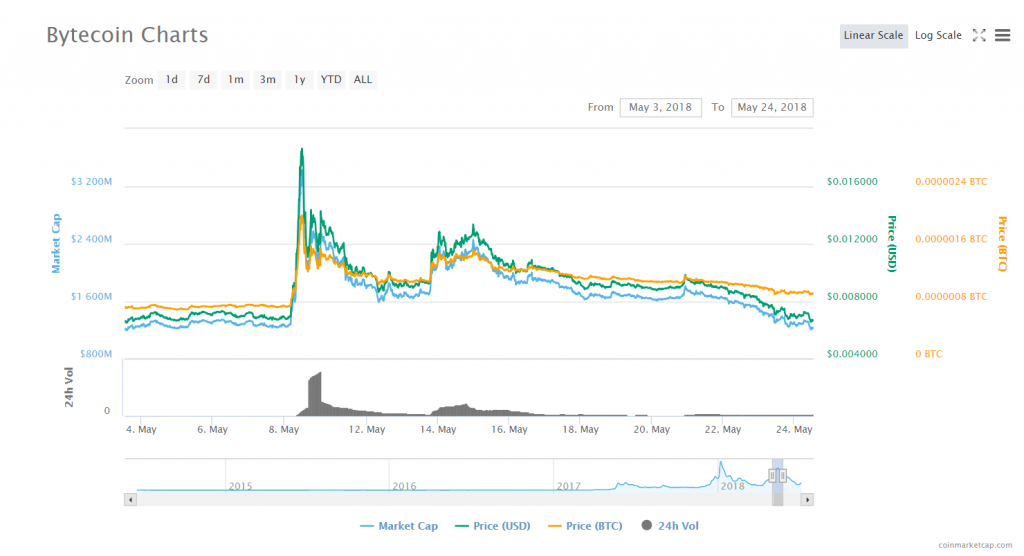 The pump-and-dump pattern can be clearly spotted on the graph
Because this was a network issue, which was later confirmed by Binance and CoinMarketCap, the fears that BCN developers actually performed a pump and dump on its investors aren't baseless.
As things stand, the coin never recovered from that event. The price fell down to around 40 satoshi and was pretty much flatlined there before the recent market movements seemingly moved it into green. The fears of manipulation still ring true as the coin has dropped quite considerably even after its latest run. So for now, the few holders of Bytecoin who still blindly believe in "the father of Monero" do not and probably will not in the future have much reason to be joyful about their bag.

CaptainAltcoin's writers and guest post authors may or may not have a vested interest in any of the mentioned projects and businesses. None of the content on CaptainAltcoin is investment advice nor is it a replacement for advice from a certified financial planner. The views expressed in this article are those of the author and do not necessarily reflect the official policy or position of CaptainAltcoin.com