CoinSwitch platform is the first cryptocurrency and altcoin exchange aggregator. It has integrated many leading exchanges across the globe to provide best exchange rates to its users.
CoinSwitch is a cryptocurrency exchange providing the best way to invest in cryptocurrencies by aggregating all leading exchanges and comparing cryptocurrency prices in real time. They support over 300+ cryptocurrencies, digital currency, altcoin, cryptocoin with more than 45000 pairs for exchange.


By using the CoinSwitch platform, users are able to exchange their digital funds on any of the partner exchanges such as KuCoin, Bittrex, ShapeShift, Changelly, Cryptopia, Changer and Evercoin. Users do not have to create an account at any of these exchanges. The platform enables you to create an exchange order and compare best price availability amongst the partner exchanges and execute the order. The platform additionally provides a dedicated end-to-end support to see through a successful order completion. During its 10 months of existence, the platform has driven volumes up to 1 million USD per day to these exchanges.
Main advantages of using CoinSwitch platform:
– Availability a of the huge number of coins and exchange pairs (300+ coins and 45,000+ pairs – the highest in the world);
– Ability to trade on multiple exchanges without having to register at them individually;
– Compare prices and choose the best exchange rate;
– Dedicated support system to facilitate end-to-end trade.
Supported Exchanges and Coins
At the moment, CoinSwitch supports exchanges Shapeshift, Bittrex, Changelly, KuCoin, Changer and Cryptopia. There is an announcement that CoinSwitch will add HitBTC, OKEx, LiveCoin and Huobi to their platform in the near future.


The number of supported coins is massive and it cannot be listed here. More than 250 coins supported which gives the possibility to trade in more than 6,000 currency pairs.


Traditional fiat currencies such as USD, EUR or GBP are not supported. It means that you must own digital currency to trade on CoinSwitch. As it does not support fiat currencies, it means less or none regulations. Regulations maybe an issue for some users, but their reputation can be checked in the users' reviews and forums.
How to Trade with CoinSwitch
Let's assume that you already own BTC. Go to https://www.coinswitch.co and select BTC on the top 'You Send' field and ETH on the right 'You Get' field. Enter the amount of BTC you want to exchange. This will show the quantity of ETH at current exchange rate. Now you have to click 'View All Offers' button.


Here you will see the list of all exchanges with Ether (ETH) quantity. Choose the best exchange to convert your Bitcoin (BTC) to Ether (ETH) or you can choose the one recommended by the platform.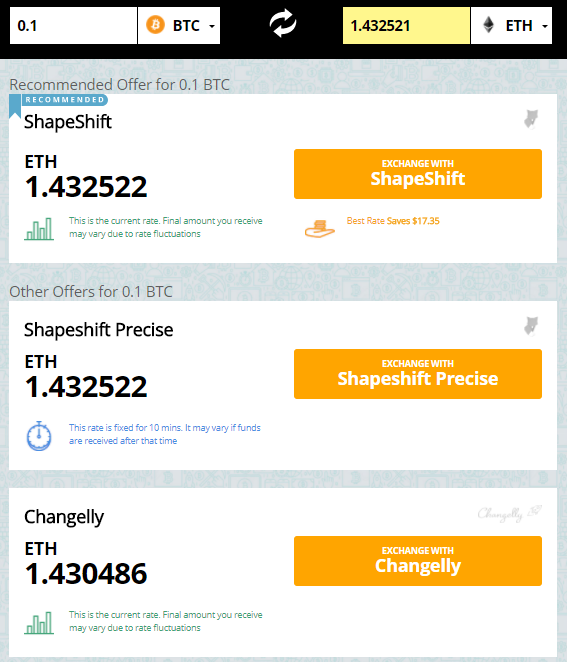 Provide your Ether (ETH) wallet address. You will receive your ETH coins in that wallet after the exchange completes. Please double check the address and read the terms before hitting Next button.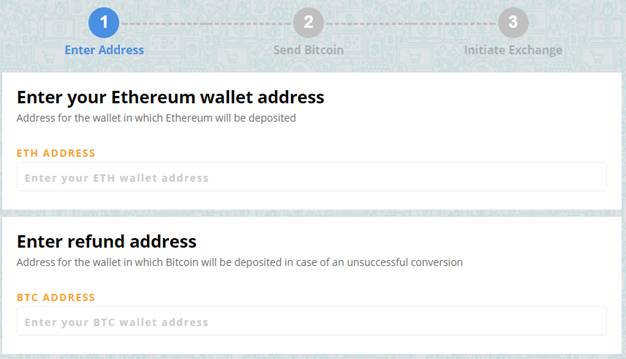 Here it will show the Bitcoin (BTC) address of the exchange. Now you have to send BTC from your BTC wallet to that address.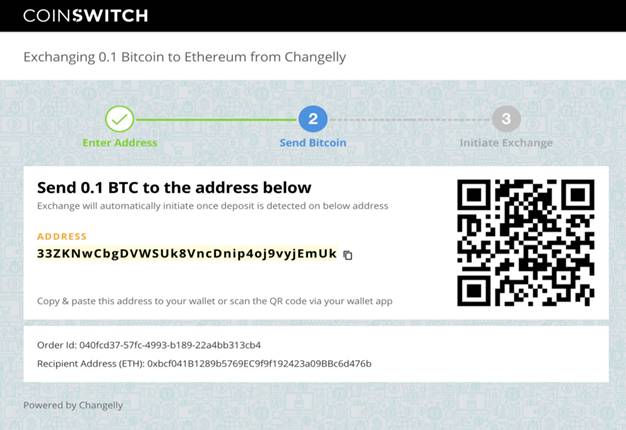 Once the exchange will receive your BTC then it will initiate the Ether (ETH) conversion.
You can always track your transaction on the blockchain with our easy to access links, below is your transactions status.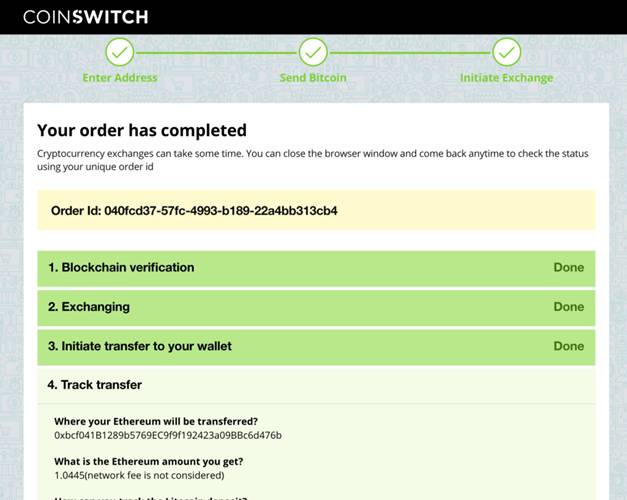 The transaction is now completed, and now you can check your Ether (ETH) wallet. Note that although the transaction is finished, in some cases your wallet needs some additional confirmations to display the received funds. All you should do is to just wait until your coins are displayed.
CoinSwitch transactions take 15-30 minutes to be processed. If a transaction is large (around 1 BTC worth), processing may take longer depending on the size of your transaction and blockchain capacity.
It is important to know that, unlike ordinary money, cryptocurrencies are highly volatile, so the rate may fluctuate. It may happen that the exchange rate which you see before the transaction is different (high or low) after transaction gets completed. In that case, the exchanged quantity which you receive may differ from what you see during the comparison.
The platform doesn't have amount restrictions. Nevertheless, there are some situations that need your attention. If an amount is too low, you should make sure that it will cover all the network fees a blockchain takes. It means that the amount you are going to send and the amount you are going to get should be enough to cover input and output network fees taken by a blockchain. If your funds to be exchanged are insufficient, you will see a message. Please pay attention to these recommendations. Otherwise, there is a high risk that your money will be lost. Some exchanges provide a max limit as well.
User Interface
The CoinSwitch platform is very easy to use. There are simple steps that need to be taken to make the exchange. Even if you are a beginner in the world of cryptocurrencies it will not be a problem. The platform is very intuitive and after you choose your trading pair just follows the steps and instructions on the screen.
If you are still having problems with making the transactions, you can always visit FAQ page where you can find answer to your problem.
On the other hand, the platform lacks advanced tools for more experienced users such as charting tools, trading history, order book and etc. Most of the experienced users are doing an in-depth research of the market before making a decision. Most of these tools are common on other exchanges, but considering that CoinSwitch is an exchange aggregator it should come as a big surprise.
CoinSwitch Transaction Fees
The fee that the user will pay for making a transaction on the CoinSwitch depends on the exchange he selects for the transaction. In the following table, you can see the fees charged, but they do not include any amount charged by the exchange itself.
| | |
| --- | --- |
| Exchange | Fees |
| Changelly | 0% |
| Shapeshift | 0% |
| Changer | 0% |
| EverCoin | 0% |
| KuCoin | 0.25% – 0.59% |
| Bittrex | 0.25% – 0.98% |
| Cryptopia | 0.25% – 0.98% |
| Others | 0.25% – 0.98% |
CoinSwitch Referral Program
The CoinSwitch referral program is a special feature that allows individuals, website owners and bloggers to share their unique link, for each transaction, that is made by another person through users' referral link. Users would earn 25% of CoinSwitch's revenue share forever.


According to their web site, the CoinSwitch Affiliate program works in 3 simple steps:


Get Referral Link: Create your account at CoinSwitch and visit the Referral Program page. You get a unique referral link.
Invite Friends: You can invite your friends to exchange their cryptocurrencies through your referral link. You can share your referral link to social media platforms directly from Referral Program page.
Get Paid: You will receive 25% of platform's revenue share for their successful exchange. If they register at CoinSwitch through your referral link then you will receive the revenue share for every exchange they will do forever.
You can track the stats of your referrals on the Referral Program page. It shows you all the completed registrations, successful transactions done through your referral link and the referral bonus which you are going to receive, all three in real time.
Final Words
On April 14, 2018 it was announced that CoinSwitch users will now be able to directly pay through their Coinbase account to exchange coins on the platform. This integration is aimed at enhancing user experience by providing a seamless way for them to use their Coinbase wallet to fulfill exchange orders placed at CoinSwitch.co.
CoinSwitch is a service that can be used to find exchange rates for over 275 cryptocurrencies and 6,000 exchange pairs across half a dozen popular exchanges including ShapeShift, Changelly and Evercoin. What's more, CoinSwitch displays the best rates by not only comparing with ShapeShift, Changelly and Evercoin but they also support major exchanges like Bittrex, KuCoin, Cryptopia and many more.

CaptainAltcoin's writers and guest post authors may or may not have a vested interest in any of the mentioned projects and businesses. None of the content on CaptainAltcoin is investment advice nor is it a replacement for advice from a certified financial planner. The views expressed in this article are those of the author and do not necessarily reflect the official policy or position of CaptainAltcoin.com