Coinbase Pro (formerly GDAX) and Poloniex are two of the world's most popular places for the exchange of cryptocurrencies. Poloniex is commonly suggested for advanced users, while Coinbase Pro is commonly recommended for new users. But why?
In this comparison, we're going to show you the key differences between both these platforms so that you can choose which one will suit you the best.
Important Note: Be cautious using Poloniex because they are quite overloaded at the moment and their users have been complaining recently about customer support tickets taking weeks or sometimes even months to get handled.
Coinbase Pro vs. Poloniex: Key Information
| | | |
| --- | --- | --- |
| |   | |
| Site | Visit Coinbase Pro | Visit Poloniex |
| Company Launch | 2012 | 2014 |
| Company Location | San Francisco, CA, USA | Delaware, USA |
| Site Type | Cryptocurrency Exchange | Cryptocurrency Exchange |
| Available Cryptocurrencies | Bitcoin (BTC), Ethereum (ETH), Litecoin (LTC) | Bitcoin (BTC), Ethereum (ETH), Litecoin (LTC), and 90+ more |
| Buy/Deposit Methods | Crypto Deposits, Bank Transfer (ACH), Bank Wires | Cryptocurrency |
| Sell/Withdrawal Methods | Cryptocurrency, Bank Wires, Bank Transfer, Coinbase Account | Cryptocurrency |
| Fees | Very Low | Very Low |
| Security | Great | Good |
| Community Trust | Great | OK |
| Customer Support | Good | Poor |
| Mobile App | No | No |
| Beginner Friendly | No | No |
One major difference between these platforms is their deposit and withdrawal methods. While Coinbase Pro allows users to deposit fiat currencies (USD, EUR) through bank transfers, Poloniex does not support deposits, withdrawals, or trading in any fiat currencies. They are a cryptocurrency only exchange, which means that if you do not already own cryptocurrency, you will have to use Coinbase Pro or another exchange to first purchase cryptocurrency and then deposit it to use on Poloniex.
Poloniex, the Altcoin Option
Altcoins find their home on Poloniex. It's true that Poloniex has a bad reputation when it comes to customer support. However, they are not lacking when it comes to coin offerings. They have over 90 different coins available to trade, so it's easy to see why so many day traders are drawn to this exchange.
On the other hand, Coinbase Pro only offers Bitcoin, Litecoin, and Ethereum. This is ideal for someone who wants to purchase a few of the major coins here and there. However, it's not perfect if you're looking to put some altcoins in your portfolio.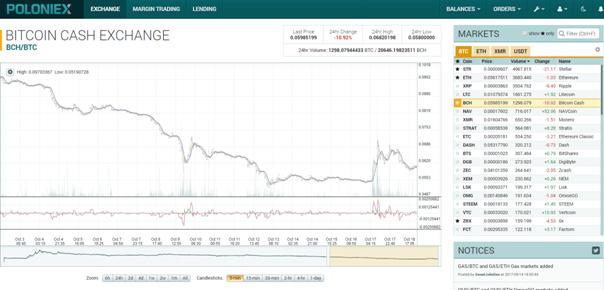 Poloniex is not beginner friendly and using it takes some getting accustomed to. There is a list of all the different cryptocurrency exchanges available on the right. The tabs along the top indicate the main trading currency.
Everything is traded in BTC in the above screenshot. So, when it says STR, it's really saying STR/BTC, which means that you'll purchase STR with BTC, and sell STR for BTC.
If we click the ETH tab, you'll see: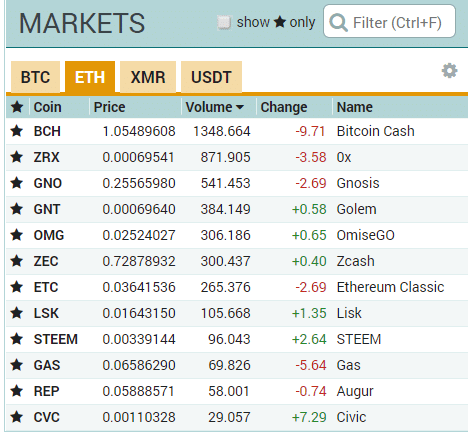 Now, every currency pair is for Ethereum, so where it says OMG, it really means OMG/ETH.
Right below the chart, there are the options to purchase or sell in the chosen currency pair. It's rather intuitive: you input how much you want to sell and press 'Sell', or how much you want to buy and press 'Buy'.
Coinbase Pro is a little more user-friendly and is better suited for people with an intermediate understanding of crypto trading, professional investors and institutional investors. Coinbase Pro may look slightly daunting for beginners. However, it's fairly easy to understand once you get the hang of it. In the screenshot below, you can see what the platform looks like after you've set up your account: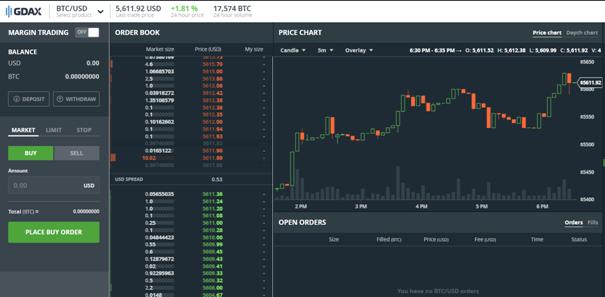 You select your trading pair in the upper left. Just below that, you'll be able to withdraw your cash out or deposit to fund your account. If you'd like to purchase or sell, you select the appropriate option and input the amount of BTC you'd like to sell or the amount of USD you'd like to spend. You name the price, and once an order matches your price, it will buy (or sell) automatically.
Overall, Coinbase Pro has a more pleasing interface and is easier to use. It is also run by the same company that owns Coinbase, which means that existing Coinbase users have easy verification and already have two-factor authentication (2FA) built in.
Meanwhile, Poloniex has an interface that has not been modernized and that looks like it's straight out of the early 2000's. However, it's definitely usable. On the other hand, Poloniex has the altcoin advantage, and they are one of the leading exchanges for purchasing and selling alt-coins.
So when deciding which exchange to use, you have to ask yourself do you care about altcoins? If you want to purchase Dogecoin, 0X or STR, go for Poloniex. However, if you only care about purchasing Bitcoin, head on over to Coinbase Pro.
Available Cryptocurrencies
Coinbase Pro offers Bitcoin (BTC), Litecoin (LTC), and Ethereum (ETH) (the same cryptos that can be bought on Coinbase) plus they added 90+ other coins during 2019.
Poloniex, on the other hand, offers Bitcoin (BTC), Litecoin (LTC), Ethereum (ETH), Ethereum Classic (ETC), Bitcoin Cash (BCH), Ripple (XRP), Stellar (XLM), and about 90 other coins. It's important to note that new coins seem to be added weekly, with OMG and GAS both recently added and this sheer magnitude of coins offered is what draws people to Poloniex. Many people are willing to overlook their poor customer support in exchange for having the ability to purchase coins that can't be easily found elsewhere.
Supported Countries
Coinbase Pro currently serves customers in the following countries: the United States, Canada, Singapore, Australia, and Europe (including the UK).
Poloniex is based in San Francisco, California and the company is focused on the United States market. However, tend to attract altcoin traders from all over the world as well.
Fees
Poloniex fees are very competitive, with fees at or below .25%. Luckily, there are no fees for deposits. However, there are withdrawal fees, which are charged by the cryptocurrency network itself, not by Poloniex.
Coinbase Pro  fees are extremely low, with no fees on maker trades, and just like Poloniex, there are no deposit fees and network-based withdrawal fees. Taker fees start at .25%, with a discount based on volume dropping the fees to .1%, which is a stark difference from its brother Coinbase, which charges 1.49% per transaction.
Both exchanges can be proud of offering low fees, but the lack of maker fees gives the win to Coinbase Pro.
Safety and Security
Both platforms promise to keep your funds safe and secure, but the question is: have they been successful in this endeavor?
Poloniex was hacked in March 2014 due to a hacker discovering an exploit in their software and at that occasion hackers stole 12.3% of Bitcoin on the exchange, which was approximately $50,000 at the time. The software has been fixed and a response deemed by the community as satisfactory was provided, and there were no incidents since.
Coinbase Pro, on the other hand, has only experienced a flash crash in June caused by a multi-million dollar sell order, which caused the price of Ethereum to plummet from over $300 to under $1. This gigantic sell order triggered an avalanche of around 800 automated stop-loss orders and margin-funding liquidations, but luckily Coinbase Pro handled the matter with grace. They took responsibility for the flash crash and honored every single transaction using company funds. This can't be considered as a hack and the financial damage was mitigated. However, many users still noted that the lack of accessibility to the site during the crash was aggravating.
Funds stored in Coinbase Pro are FDIC insured, which means that your balance up to $250,000 is protected. Poloniex, on the other hand, does not offer the same protection.
Poloniex claims that the majority of customer funds are held in cold storage and that they only keep enough online to facilitate trading. Poloniex also offers two-factor authentication (2FA) for both login and withdrawal authorization, and also an email confirmation is required for withdrawals. They also claim that they are monitoring the platform 24/7 for any unusual activity.
Coinbase Pro also keeps 98% of their users' funds off the Internet in cold storage with encryptions and multisig keys. There's 2FA, PGP encryption is used in email communication and email and SMS alerts are available too.
Both Sites Are Trusted by the Community
Poloniex has a poor reputation for customer support – they take too long to respond, and the responses often aren't complete. However, both Coinbase Pro and Poloniex are trusted options in the cryptocurrency community.
The history of Poloniex is less clear and they do not make much information about themselves publicly available. We know that they are based in the United States and that they were launched in 2014.
Customer Support
Customer support is definitely one of the most important things in the cryptocurrency world. Unfortunately, the support isn't one of the advantages of Poloniex. Reddit has a laundry list of posts that show users having bad experiences with Poloniex's customer support. Poloniex is the leader in the altcoin world, but they have a long way to go with their customer support before we can give them a firm recommendation. They simply require a handful of newly trained agents, or even open a full-on the call center.
Conversely, Coinbase Pro has a robust FAQ and also offers ticket submission and email support. One more thing worth noting is that Coinbase Pro is surprisingly offering phone support, and they can be reached at 1-888-908-7930. They can also be reached on Twitter.
In the past, Coinbase Pro customer support has come under some criticisms for not offering phone support. However, they have clearly gone above and beyond to correct this problem.
Coinbase Pro is the winner in this round.
Conclusion
Coinbase Pro has a superior reputation and better customer support as compared to Poloniex. Poloniex, on the other hand, provides a superb liquidity for the majority of altcoins, which can be traded against Bitcoin. However, for those who wish to trade altcoins, there are other alternatives, such as Bittrex.
Ultimately, Coinbase Pro is perfect for those who are only interested in Bitcoin, Litecoin and Ethereum. On the other hand, you should consider Poloniex or Bittrex if you want to trade altcoins. Bittrex has a much better reputation in the cryptocurrency community, and that is of the utmost importance in the cryptocurrency world.
Poloniex should be used with the warning that the support is answering very slowly and the website itself is quite slow and using lots of your computers resources. This means that you will not likely receive satisfactory help from customer support should a problem arise.
If you don't mind the fact that Poloniex's customer support has been known to take as long as 90 days to respond, head on over to Poloniex and set up an account. Otherwise, you'll be wise to stick with Coinbase Pro and Bittrex, where you can save a ton of money on fees, as well as enjoy the much greater functionality.
Coinbase Pro vs. Poloniex Pros and Cons
Coinbase Pro PROS:
Very low fees
Highly liquid
Fully regulated in the US
Coinbase Pro CONS:
Fewer available altcoins to choose from
Coinbase Pro is owned by Coinbase which is known for lack of privacy
POLONIEX PROS:
Huge list of altcoins to trade in
Good liquidity
Supports margin trading in altcoins
POLONIEX CONS:
Poor customer support
Pumps and Dumps
Does not support fiat currency trading

CaptainAltcoin's writers and guest post authors may or may not have a vested interest in any of the mentioned projects and businesses. None of the content on CaptainAltcoin is investment advice nor is it a replacement for advice from a certified financial planner. The views expressed in this article are those of the author and do not necessarily reflect the official policy or position of CaptainAltcoin.com