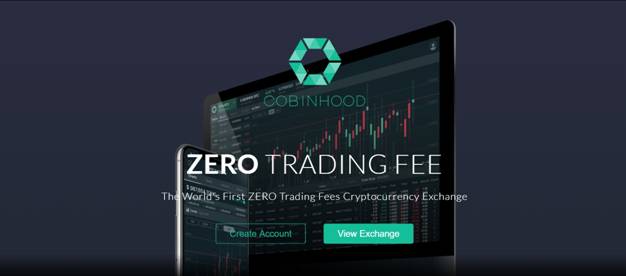 With the total cap of the cryptocurrency market exceeding 400 billion dollars, the exchanges that are basically powering it are popping up left and right. Cobinhood is one such exchange that markets itself as a next-generation cryptocurrency platform. Their main sales pitch in this oversaturated market is that they are the first cryptocurrency exchange that offers its customers zero fees.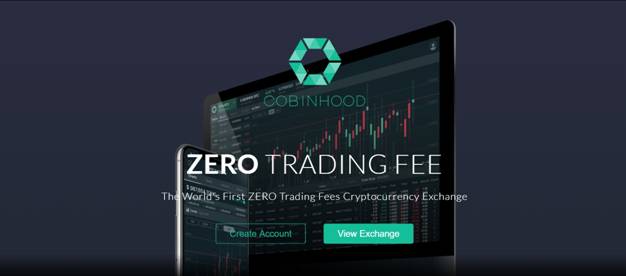 A serial entrepreneur and a holder of a Master's Degree in Electrical Engineering named Popo Chen founded Cobinhood and is its current CEO. The co-founder of the platform and its current CTO is Wei-Ning Huang, a three-year long employee of Google and a seasoned veteran in the development game. Huang specialized in building large scale web applications which demand a lot of availability and throughput, which are key features required for a working blockchain product.
This made him become accustomed with thee blockchain itself at the turn of the decade, when he first started trading it. Since then he has continued his crypto engagements without looking back and has gained serious experience in the field. These two are currently advised by key financial world figures like Tony Scott, the former USA Federal Chief Information Officer and I-Cheng Liu, the former chairman of EasyCard. This team has done a pretty good job as they've created a platform that has attracted more than five million active users and earned its angel investors a 20x return within a year.
Cobinhood Account Signup & Verification
It is relatively easy to create your own Cobinhood account. First thing you'll need to do is to click on the "Create Account" located on the homepage. After filling out the supplied form, agreeing to the terms and conditions and confirming that you aren't residing in New York state or Japan, you will be asked to fill out a captcha to confirm that you are not a robot.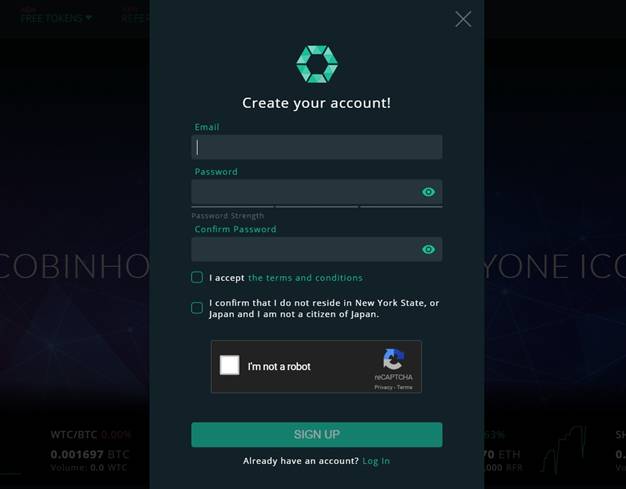 If the previous steps were completed you are now free to click the "Sign Up" button. Upon doing so, you will be sent a confirmation e-mail. Click the link provided in the e-mail and your account will become active, of which you will be notified with a follow-up automated e-mail from Cobinhood.
Your Cobinhood account has different levels of verification. Initially you are given a Level 1 account, which has daily withdrawal limits of 3 BTC. You can upgrade it to a level 2 by providing your full name, your current residence, your citizenship, a valid ID, a selfie with your ID and your phone number, which are the usual steps that need to be taken to become KYC-compliant. Level 2 comes with a daily withdrawal limit of 100 BTC. Apparently there is a VIP level in the workings, with full details about its features yet to be disclosed.

Upon logging in, you will be taken either to the home page or to the Exchange screen. You can click on the "Exchange" button in the top left corner of the home page to access the trading features of the platform.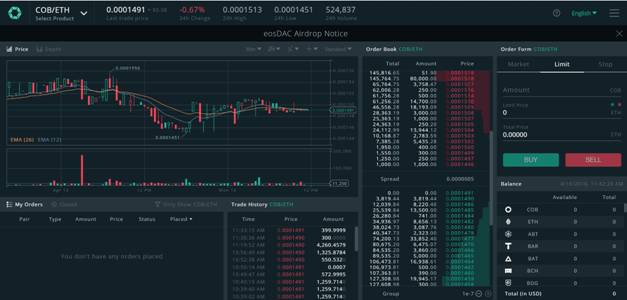 The platform has a sleek, polished, eye and night work-friendly interface which contains all the basic stuff like the price chart with adjustable time-tables and RSI/MACD indicators, depth chart, order book, trade history, order form, your current balance and your previously set-up orders. Pretty standard features that will satisfy most traders; however those interested in charting and doing advanced TA might find this interface lacking.
Depositing/Withdrawing Funds
To access your funds, you can navigate to the top right corner of your screen and click "Funds" on the dropdown menu.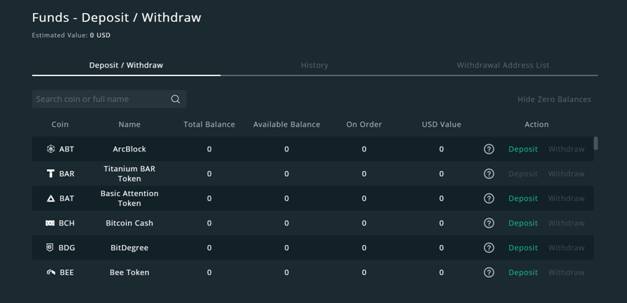 You can view your current funds from the Deposit/Withdraw tab. This tab provides you with a list of available currencies, your total balance, your available balance, on order amount, USD value of your funds and deposit/withdraw actions for each currency. Clicking on the "History" tab will show you your previous deposits and withdrawals while the "Withdrawal Address List" keeps track of all the addresses you sent your tokens to.
Deposits can be made by choosing your currency and clicking on "Deposit". An address will be generated and shown to you and you need to send your funds into this address. A thing you should keep your mind on is that every cryptocurrency has a separate address and if you, for example, send BTC to your ETH address your funds will be lost forever. Therefore make sure to send your funds to the proper address. Clicking on "Withdraw" allows you to send funds to other addresses. Enter an external address to which you want to send the tokens and the amount you wish to withdraw and then hit "Submit."
The platform currently supports the following cryptocurrencies: BTC, BCC, ETH, ETC, LTC, ZEC, XMR, XRP, COB, NEO, OMG, USDT, DASH, IOTA, EOS, REP, and GNT. The exchange also supports fiat currencies, including: USD, EUR, JPY, KRW, CNY, HKD, CAD, GBP, AUD, and NTD.
Trading on Cobinhood
Cobinhood offers its users a chance to trade either via their browsers or via a mobile application. The app is available for both Android and Apple devices.
Every trader is given an option to use the platform's interface to help him make an informed decision before trading. The "Exchange" screen contains enough information for everyone but the most advanced trader. From this screen you can choose your desired cryptocurrency and its trading pair by clicking on the dropdown menu in the upper left section of your screen.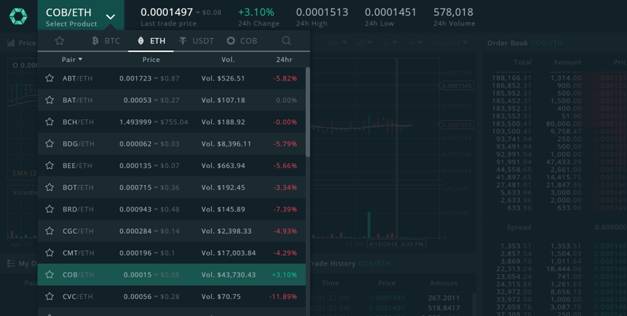 There are 4 major trading pairs available on the Cobinhood exchange, BTC, ETH, USDT and COB, which is the platform's token. The contents of every coin page include the same parameters like the latest trading price, 24 hour change and 24 hour highs and lows. You can also view the trade history for the selected pair plus the order books.
A key element in your trading experience will be the small window positioned on the upper right of your chosen pairing screen.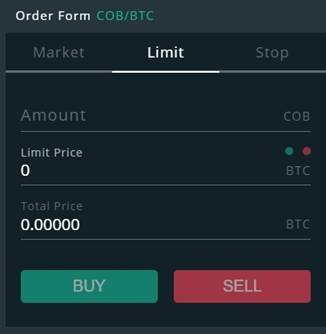 This so-called "Order Form" offers you three possible trading options: you can make a market, a limit or a stop order. Each one has its own qualities and flaws which a careful trader will consider before placing an order. Market orders are good for people who want to trade as quick as possible, however they will likely cost you more than they should. Market orders are filled the moment they are confirmed. Limit orders are designed for the careful investor who wants to pick his own price. He will set the price and the amount of coin he wants to buy/sell and when someone comes along who is willing to pay his price, his order will be filled. Once the order type has been chosen, the trader will input the necessary instructions (like how much of the token he wants to purchase) and confirm the trade.
The trades involve either buying or selling a desired currency and the interface for the desktop version includes handy green and red buttons which mark these orders. The green button shows the price with the highest bid. The red button shows the lowest ask. Similarly, the green button calculates your max buy amount for your current available balance. The red one calculates your max sell amount for the current available balance.
Users are given an option to favorite trading pairs by clicking on the star next to them. You can access your favorites by clicking on the star tab placed just in front of the BTC tab in the "Select Product" drop-down menu.


Cobinhood offers a high-performance order matching engine capable of delivering sub-millisecond latency while processing millions of orders. This entire system is fully distributed, auto scalable, capable of delivering the best possible trading experience.
Fees
Cobinhood prides itself with the fact that they are the first exchange in the world that does not charge any trading fees for spot trading. The fees for margin trading with as much as ten times leverage are also zero.
This doesn't mean that the exchange completely lacks fees. The withdrawal fees are there, but COBINHOOD does not profit from withdrawal transactions, these fees will go to the miners who are responsible for maintaining the network.
The fees are currently set at 0.001 for BTC, 20 USD for USDT, 0.007 for ETH. This is the equivalent of 3 USD for QRC-20 tokens and the equivalent of 8.4 USD for the ERC-20 tokens. The Cobinhood claims that the part of the fees is used to "cover internal transfer fees between deposit wallets and hot/cold wallets".
Cobinhood does need to make money and the profits come from performing underwriting services for ICO's. These services include listing the coin on the platform immediately after ICO, to help with its liquidity and initiate the coin trading. They also offer reviews for smart contract technology, business advice and other general blockchain technology consultancy.
A team of lawyers handles the regulatory and legal risks while helping with issues related to paperwork, whitepapers, identification of investors and more. Cobinhood offers its ICO's marketing and promotion services designed to create a positive public image and brand awareness via social media and strategic communications.
They create custom promotion campaigns which aim to reach the audiences that would be the most interested in a token. Cobinhood offers comprehensive fundraising methods that make ICOs successful. With Cobinhood's help, ICOs have raised 29,400 ETH, which is about $64,056,882 USD. Cobinhood are guaranteed five percent of the funds raised during an ICO.
COB Token
COB token is the official token of the Cobinhood exchange. It offers its holders special privileges while trading on Cobinhood. Paying with COB tokens gets you 50 percent off the interest on a margin trading loan. Holding COB gives you an ability to get the tokens that the exchange underwrites in the future at a significant discount. The list of privileges is going to expand even more in the future.
An ICO for COB was held from 13th September to 23rd October 2017. Around 13 million dollars was collected during the ICO. The total supply is 1 billion tokens with something over 300 million in trading. Insold tokens were held by the Cobinhood team. The token did rise to 1.20 in price at the turn of the year and has since been in a slow downward spiral.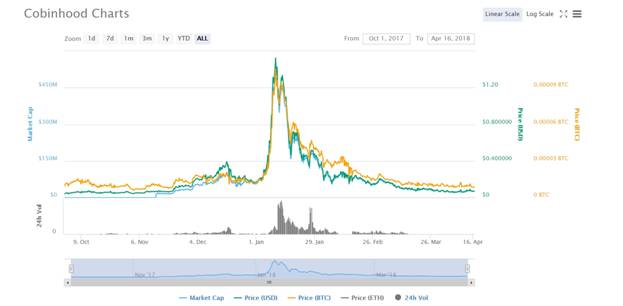 Cobinhood Referral and Reward Programs
Cobinhood offers a referral program to its users. Inviting a person to use Cobinhood for trading nets the owner of a referral ten Daily Bonus Draw tickets which give him a chance to win BTC. If the referred user reaches the Level 2 verification within a month of registration, both the owner of the link and the user get the reward. The Daily Bonus Draw can be reached by making a successful transaction on COBX, with a maximum of one entry per day. The awarding is done through Cobinhood's "Candy Machine"; crypto prizes are random and can include up to 1 BTC.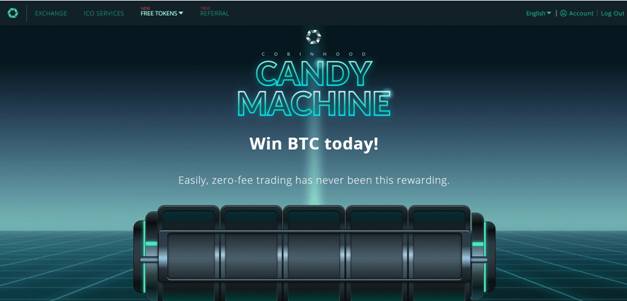 Is Coinmama a legit or scam exchange? Read a complete Coinmama guide and review to see for yourself.
Cobinhood also does airdrops which can be surveyed at this link. There are also occasional trading competitions during which users are given a chance to win coins for trading. Each user gets a score which is calculated by multiplying his account balance with the trading volume and then multiplying that with the COB factor, which is based on how many COB user holds. There are also occasional coding competitions which offer developers a chance to win tokens for developing custom API.
Security
A modern, trustworthy cryptocurrency exchange needs to effectively prevent and combat any and all instances of fraud, embezzlement, and cybercrime. Cobinhood implements many quality security solutions which improve the fund safety. Deposited assets are stored in an online vault with multisignature features which requires 5 out of 8 geo-distributed hardware security modules to open. Crypto assets in online wallets are also insured.
Users are also insured with various measures. Every time you log in from a new IP address or a device, the platform will send you a "New Device Confirmation" message in your inbox. Two factor authentication measures are also available, either by Google Authenticator or SMS.
Final Thoughts
Cobinhood is a quality exchange that excels at offering zero transaction fees trading. It offers underwriting services and a nice, expanding collection of tokens that can be traded via a quality interface. It will be a good option for anyone wanting to trade cryptocurrency, from the absolute beginner to most advanced traders.

CaptainAltcoin's writers and guest post authors may or may not have a vested interest in any of the mentioned projects and businesses. None of the content on CaptainAltcoin is investment advice nor is it a replacement for advice from a certified financial planner. The views expressed in this article are those of the author and do not necessarily reflect the official policy or position of CaptainAltcoin.com