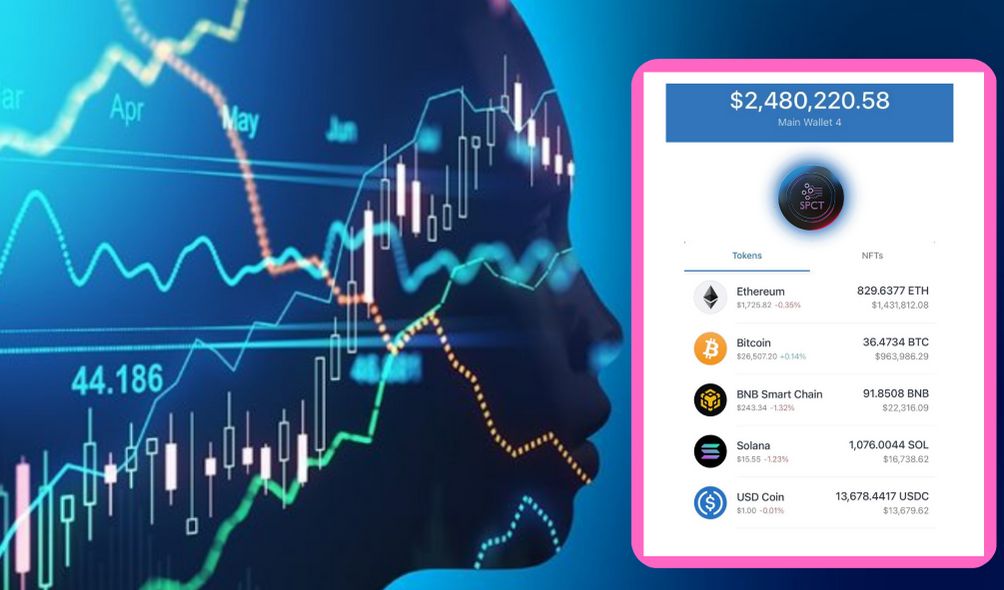 Dogecoin (DOGE) and Bitcoin (BTC) are worlds apart from each other's prices. However, what about their trends? As Dogecoin (DOGE) dwindles, Bitcoin (BTC) moves upwards, and VC Spectra (SPCT) appears as another strong investment alternative. Can VC Spectra (SPCT) investors profit from the $2.4 million raised in the private presales, and will BTC be an excellent coin to switch from DOGE anytime soon?
Read on to learn the answer.
Dogecoin's (DOGE) Start Of A Bear Market: Time To Switch?
As a meme coin, Dogecoin (DOGE) has a moderate market trend and is influenced mainly by outsiders, the most significant of whom is Elon Musk.
For instance, Dogecoin (DOGE) surged in price because Elon Musk staked MrBeast Burger's announcement to accept Dogecoin (DOGE) as a payment method in response to rival food chain McDonald's.
However, starting 24th June, Dogecoin (DOGE) lost vital support levels of $0.065 and dipped as low as $0.062. Fortunately for Dogecoin (DOGE), bulls soon regained control, pushing the price near its weekly high of $0.071 on 4th July.
Since then, RSI and EMI indicators have shown a slightly oversold status. Ultimately, this is an indication that a price drop is coming again.
Dogecoin (DOGE) is starting its downward trend as it approaches a decisive turning point. In the monthly charts, Dogecoin (DOGE) is oversold, marking diminishing support levels and a potential drop to lower lows. This leads investors to opt for more viable options, including Bitcoin (BTC) and VC Spectra (SPCT).
Bitcoin (BTC): Better Than DOGE, Yet Not The Best Choice
Bitcoin (BTC) quickly rose to the charts as the world's biggest crypto in June, rising more than 26% from $24,871 on 15th June to $31,233 on 23rd June. Yet, what seemed to be a significant bull run where the opening days sent Bitcoin (BTC) flying high slowed down after hitting a monthly high of $31,233.
Following its bullish sentiment, Bitcoin (BTC) holds its grounds at the minor support level of $29,830. Bitcoin (BTC) is retesting its support by oscillating back and forth between the support regions.
While weekly charts indicate strong market capitalization, a trend reversal might come into play if Bitcoin (BTC) drops below this support. On the other hand, bulls are confident that Bitcoin (BTC) will likely follow an uptrend based on its history from this point forward.
For this reason, switching from Dogecoin (DOGE) to Bitcoin (BTC) might benefit some. Others, however, have spotted a far more attractive offer: VC Spectra (SPCT).
VC Spectra (SPCT): July Can Be The Best Month Yet
Meanwhile, VC Spectra (SPCT) can significantly rise in July. VC Spectra (SPCT) is all set for a 37.5% gain in July 2023, revolutionizing the asset management industry on the blockchain.
Giving its investors exclusive voting rights to choose their investments and control their assets through involvement in the VC Spectra (SPCT) blockchain, VC Spectra (SPCT) aims to resolve ongoing investment issues.
Furthermore, VC Spectra (SPCT) employs capitalists and risk managers to ensure all assets are invested in suitable projects. Speaking of which, VC Spectra (SPCT) also allows access to ICOs and other startups for early investments.
VC Spectra (SPCT) raised over $2.4 million in private presale events. Moreover, the VC Spectra (SPCT) token's public presale is ongoing. Stage 1 has already sold over 70% of available tokens at $0.008. Stage 2 will raise this price by $0.003 (37.5%) to $0.011.
By the end of all public presale stages, VC Spectra (SPCT) will have a price of $0.08, a strong 900% surge from its offer price in Stage 1. Experts also forecast further growth as soon as the SPCT token launches on major exchanges, making VC Spectra (SPCT) an excellent long-term option.
Learn more about VC Spectra (SPCT) and its presale: