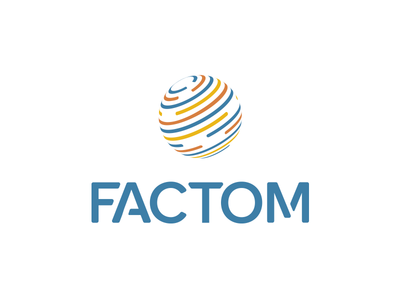 Factom hasn't been moving a lot lately. The price peaked on July 18th when one FCT went for $12.66/0.000167418 BTC and has since dropped off significantly. Almost two thirds of its value was lost in just under a month as Factom bottomed out at $4.28/0.00089376 BTC. The currency has since mostly moved sideways.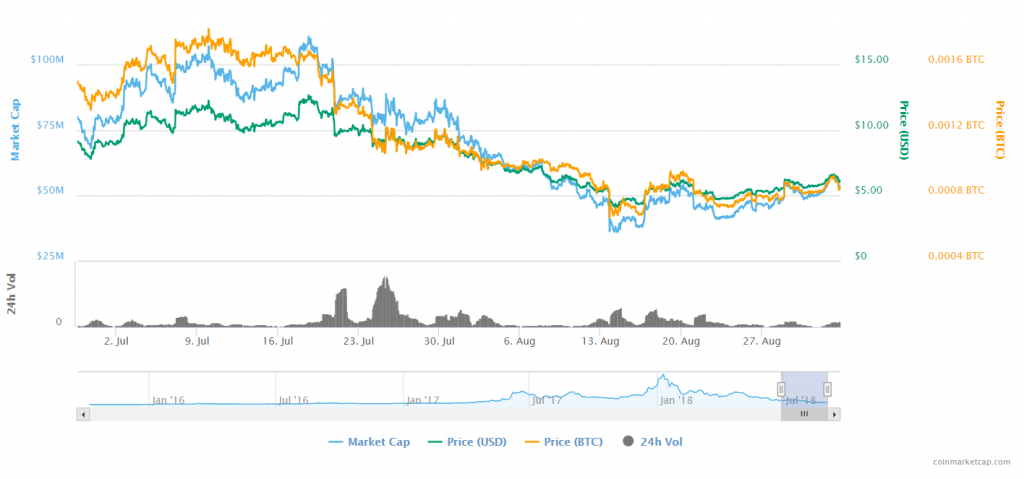 [vcw-full-card symbol="fct" color="black" currency1="USD" currency2="BTC" currency3="ETH" url="" target="_self"]
Factom is a blockchain based project that wants to create an immutable record-keeping system for businesses. Blockchain is the perfect technology for this purpose as data stored on it cannot be modified, viewed or deleted by a single outsider entity. Data is divided and stored across multiple network nodes and changing it would require performing a 51% attack, one of the most dangerous yet most impossible to perform attacks in the crypto world.
This protocol runs on top of any cryptocurrency blockchain and is open source, meaning that anyone can download its code base to use it as they wish. We recently saw a potential blow to this open source, decentralized nature of Factom when the project decided to patent its technology that allows verification of documents on a blockchain with multiple digital signatures. The patent claims the following concept:
"Authentication of electronic document is based on multiple digital signatures incorporated into a blockchain. Structured data, metadata, and instructions may be hashed to generate the multiple digital signatures for distribution via the blockchain. Any peer receiving the blockchain may then verify an authenticity of an electronic document based on any one or more of the multiple digital signatures incorporated into the blockchain."
By patenting this concept Factom is painting with a very broad brush in a world where lines are very close to one another. This could potentially limit future developers working with the Factom codebase or even affect other similar blockchain projects.
---
?Read: Top Bitcoin and Altcoin Exchanges 2018
---
The project operates on top and in unison with existing blockchain technology and is what the industry calls "blockchain agnostic". While the underground ledger is a financial one, Factom's is data focused, being capable of storing complex information thanks to a built-in smart contract technology. Financial systems, medical records, supply chain management, voting systems, land grants and legal applications are among potential areas of application for the Factom ecosystem. Factom doesn't verify the data's legality but it makes sure that it's safely stored and transferred.
Factom is supported by a double-coin system: Factoids (FCT are the officially tradable currency you can purchase on exchanges. Entry Credits are required to use the data securing services of the Factom ecosystem. Each Entry Credit gives you 1kb of storage; you can purchase EC's with Factoids.
As a project built on top if other blockchains, Factom looks to make the underlying blockchain faster, less expensive and less bloated. With a form of the Raft algorithm running it, the network has three types of servers: Audit Servers, Federated servers and Follower Servers. There is a system of 65 elected Authority Node Operators planned to oversee and maintain the network server operation. Currently, 21 of them are active and the first 18 recently held an AMA for Factom investors. During this AMA several questions were answered, including ones about the cost of running a node, operator backgrounds, node infrastructure, as well as their opinions on marketing, adoption and potential frustrations with the project. Check out this complete AMA here.
Factom had a couple of significant boosts in the past, like the one when Microsoft announced that the project would be integrated into its Azure cloud platform. Factom apparently has a partnership with the Chinese government to build a "smart city" that will use Factom's technology to audit the city infrastructure.
Other notable "happenings" as of late included a partnership with a Russian developer of commercial realty "Victor and Company" and a recent on-chain voting protocol grant issued by Factomatic, MyFactomWallet, Luciap, and The Factoid Authority, Authority Node Operators on the network. As a result of this grant, we should expect to see an on-chain voting protocol implemented on the platform and two new wallet integrations: one via Ledger Nano integration and other via an online client side Factom wallet similar to Ethereum's MEW.
Overall, Factom looks like a project that has done some good things in the past but has also been held back by a lack of adoption and a couple of missed deadlines. Additional focus on promotion and delivering solid products and updates on time should help Factom develop into a serious market competitor.

CaptainAltcoin's writers and guest post authors may or may not have a vested interest in any of the mentioned projects and businesses. None of the content on CaptainAltcoin is investment advice nor is it a replacement for advice from a certified financial planner. The views expressed in this article are those of the author and do not necessarily reflect the official policy or position of CaptainAltcoin.com