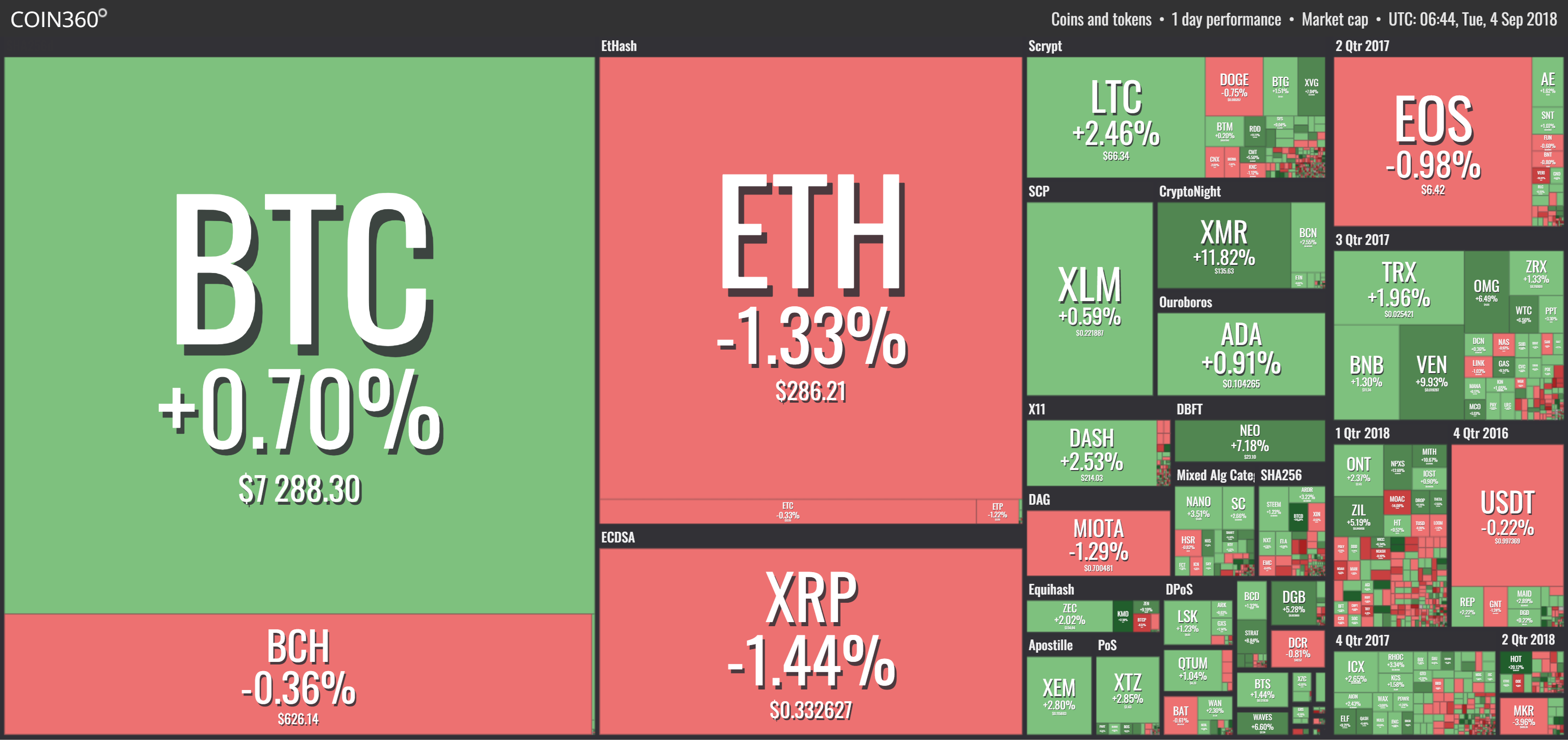 The market didn't change much from yesterday, and neither did the short-term sentiment. People generally seem bearish at the moment, expecting pullbacks to just above $7000 before Bitcoin breaks into another run upwards. This pullback didn't come just yet, which a couple of alts took advantage of and recorded decent gains. Some people think in can retract even more than $7000. The market had this to say:
Bitcoin (BTC)
JimmyTourtellotte notices an accumulation/distribution line divergence on the charts and thinks Winklevoss twins ETF dropping in late September will play a major role in the monthly movements:
"Over the past two weeks the accumulation/distribution Line has been decreasing while the price of BTC has been increasing, on top of a Bearish wedge formation as well. This is a classic divergence. It implies that the current price growth of BTC is not organic and there is little to nothing that is holding this price up. This inorganic price increase is an indicator to my fundamental analysis catalyst that of which is the Winklevoss ETF."
He explains that the market is heavily manipulated and that he expects the price to pull back to the major support levels of $5900/$6200. This complete analysis accompanied by a video explanation will give you more details about his trade setup.
As always, trader easyMarkets was direct and concise with his analysis:

"BTCUSD is approaching our first resistance at 7498 (61.8% Fibonacci extension , 61.8% Fibonacci retracement , ascending channel upper resistance) and a strong drop might occur below this level pushing price down to our major support at 6833 (horizontal overlap support, 38.2% Fibonacci retracement , 100% Fibonacci extension , ascending channel support). Stochastic (89,5,3) is also approaching our resistance and seeing a bearish divergence where a reaction below this level might see a corresponding drop in price."
Finally, @CryptoDonAlt added the following:
$BTC daily update:

Looking pretty weak here, like anticipated yesterday.
Wouldn't be surprised by a quick and nasty wick below 7k in the coming week.
That said I'd love to tag the 7.5k area first, that's where I'd most likely start shorting instead of just hedging. pic.twitter.com/obpApHCe0S

— DonAlt (@CryptoDonAlt) September 4, 2018
Ethereum (ETH)
@ILikeCharting from Twitter responded to the recent wave of Ethereum naysayers who think this altcoin has made its final bull run:
"$ETH currently has massive scalability issues. However, it also has the most Dapps built on it and one of the largest crypto communities in the world including very talented devs. I wouldn't bet against it long term"
That being said, he opened up an ETH long shortly after.
https://twitter.com/ILikeCharting/status/1036858975122325505
LudwigStirner thinks Ethereum is currently oversold:

"The ETH price is oversold, so we can expect the end of downtrend in the near-term. There is a low risk / high reward. I recommend you to check 1W, 1Month and 3Month TF to understand the possible scenario for the price in the future.
Open: $200, 250, 280, 300 
Close: Around $400.
I'm sure in the near-term the price will back to 200EMA line ($365) again and it's already the half of our target of $400 per ETH, if this trend will continue we will see the new highs in the next quarter."
InvestingScope adds that the downtrend isn't over yet:
"Ethereum has extended the consolidation within the 1D Channel Down (ADX = 18.498, CCI = 34.6330, Highs/Lows = 0.0000) and is now approaching the Lower High limitation (blue curve). 1W is still a Falling Wedge (RSI = 36.391, Highs/Lows = -98.9500) and our shorting approach remains intact. 297.50 is a key point to hold at the moment and if it breaks it will face the last Resistance (357.60) before ETHUSD turns bullish."
Check out the targets for their short here.
Ripple (XRP)
Trader easyMarkets sees a potential bounce ahead of Ripple:

"XRPUSD is approaching our support at 0.3349 (horizontal overlap support, 61.8% Fibonacci extension , 61.8% Fibonacci retracement , short term ascending support line) and a strong bounce might occur above this level pushing price up to our major resistance at 0.3499 (horizontal swing high resistance, 61.8% Fibonacci extension , 61.8% Fibonacci retracement). Stochastics (89, 5, 3) is approaching support where a bounce above this level might see a corresponding rise in price."
Other thoughts
Overall, the market had a couple of decent breakouts during the last day. One currency definitely stood out; BitcoinDark managed to record 365.24% gains in the last 24 hours, albeit on some low volume which might indicate this rise won't be a long-lasting one. Meanwhile, Komodo, Holo, PundiX Mithril, Dropil, Monero, ReddCoin, VeChain and Horizen all broke out in double digits.
Meanwhile, there were a couple of red currencies as well but nothing to extreme. MOAC and its 13% drop dominate this side of the market, with Bitcoin Private at 8% and Maker at 3% following suit. Dogecoin, the standout of this "alt-season" has recorded a 0.62% drop but this analysis implies that it could be on the move again. For now, we wait to see what Bitcoin has in store for us next.

CaptainAltcoin's writers and guest post authors may or may not have a vested interest in any of the mentioned projects and businesses. None of the content on CaptainAltcoin is investment advice nor is it a replacement for advice from a certified financial planner. The views expressed in this article are those of the author and do not necessarily reflect the official policy or position of CaptainAltcoin.com