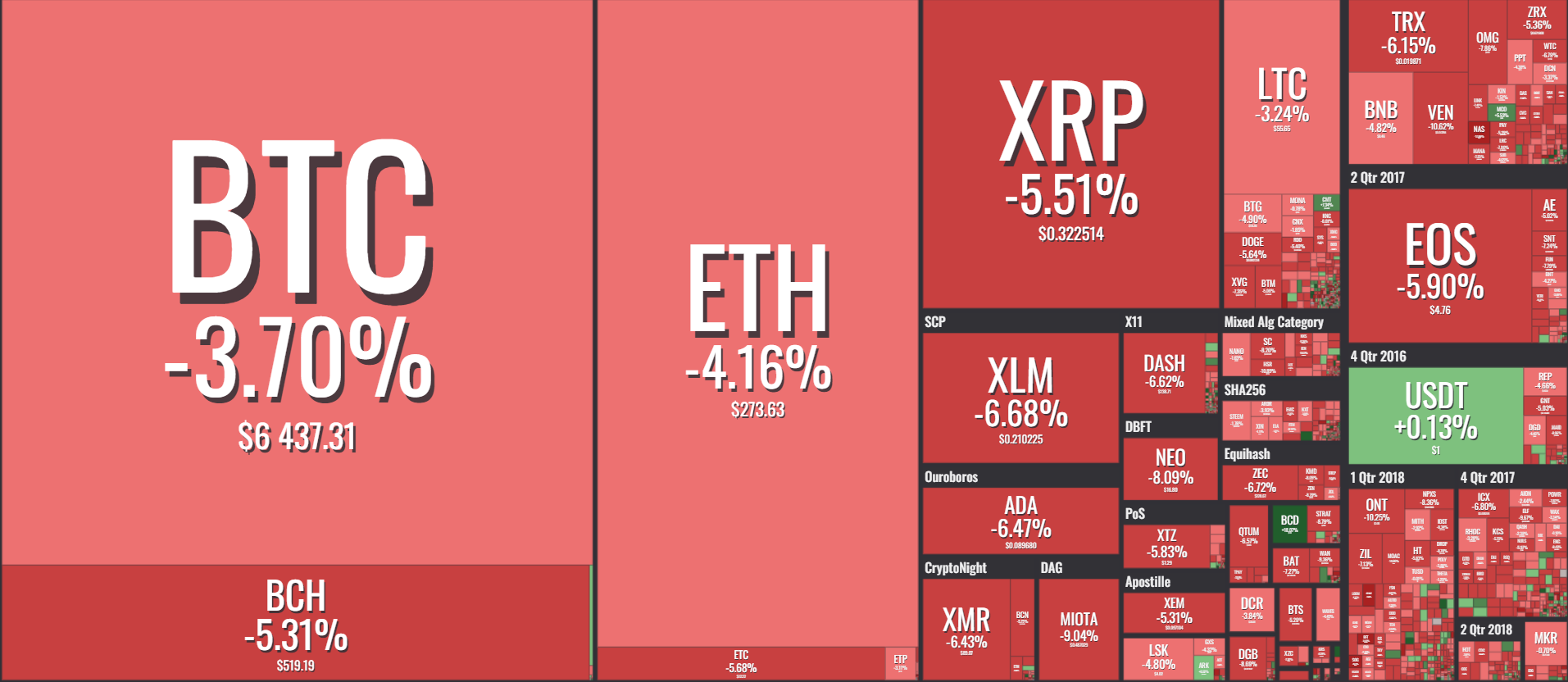 Just as we got them, the gains of yesterday went away in a similar direct fashion. Bitcoin has predictably fallen down to below $6500 and went as low as $6250 after it was announced that US SEC rejected the ProShares applications to list and trade various Bitcoin (BTC) exchange-traded funds (ETFs). The agency explained these rejections by claiming that BTC markets are too susceptible to manipulation and that ProShares offered no record evidence to demonstrate that Bitcoin futures markets are "markets of significant size." The rejection was closed off with the following thoughts:
"[The agency] emphasizes that its disapproval does not rest on an evaluation of whether Bitcoin, or blockchain technology more generally, has utility or value as an innovation or an investment."
@CryptoDonAlt explained the last few movements nicely:
"Short squeeze into long squeeze into ETF denial. Capitulation everywhere while all we do is ranging."
That being said, let's take a look at what some other TA specialists think about the market today:
Bitcoin (BTC)
A TradingView pro easyMarkets thinks Bitcoin is facing some strong resistance at $6800 levels and is gearing up for a drop:

"BTCUSD is approaching our first resistance at $6827 (horizontal overlap resistance, 38.2% Fibonacci retracement) where a strong drop might occur below this level pushing price down to our major support at 5877 (horizontal swing low support, 61.8% Fibonacci extension). RSI (89) is seeing a bearish exit and we might see a corresponding drop in price."
Meanwhile, MohsenCrypto and several other traders noticed a head and shoulders pattern forming, on that could lead us to new yearly lows. He actually notes a couple of H&S's forming in the last couple of months and mentions that the latest one has the potential to drop Bitcoin down to $3k levels. Check out his complete insight here.
Finally, Turningmecard completed the bearish overall sentiment, predicting a massive incoming drop. Speaking of BTC's yesterday movements, he said this:
"It has happened many times before, making higher lows going up making a nice wedge, breaks down coming back in, but at some point die. This has happened 2 times now; we are almost at the end of the road. These kinds of pullbacks, or moonshots, usually do not happen in one day, it takes at least some days. BTC is a violent investing tool, but it has respected(?) its support when it moves up and down. But since April, and May, when our downtrend became so massive, we started to see whale manipulation, mostly by exchanges, using low volume to destruct market structure."
His call for the future is what most people feel is going to happen:
"Nobody can really see where we go; most likely drop should be in play at some point after boring sideways or short term rally. Even if we do have a bull run to 10k, yes, bottom should be revisited."
Check out his complete analysis which goes much deeper than what we shared here and offers entry, target and stoploss zones for your potential shorts.
Ethereum (ETH)
Trader easyMarkets sees short-term bullish potential for ETH:

"ETHUSD is approaching our first support at 268 (horizontal overlap support, 61.8% Fibonacci extension, 76.4% Fibonacci retracement) where a strong bounce might occur above this level pushing price up to our major resistance at 303 (horizontal overlap resistance, 61.8% Fibonacci extension, 76.4% Fibonacci retracement). Stochastic (89,5,3) is also seeing a bullish divergence and is approaching support where a bounce off this level might see a corresponding rise in price."
TheChartGuys reveal what they feel needs to happen before the break-out:
"We are seeing lower highs and lower lows on the 4 hour chart as we approach the low of the dump for ETH. At this point the bears are very comfortable and have all the momentum. The bulls have to change the 4 hour trend, and have to break the high of this bounce so far for it to do anything for the reversal.
Things are not looking good for the bulls right now with their backs against the wall and momentum against them. If you are bullish ETH and patient… wait for a daily or weekly trend change before establishing a long term position."
Ripple (XRP)
Avalontrading gave a short overview of XRP:

"On a downtrend; the triangle is a continuation of the trend."
Bitcoin Cash (BCH)
Trader orminlange tested out a unique trading pattern called ermanometry to analyze the movements of BCH:

"Blue line is perfect entry point here (daily close from coinmarketcap), red line is Stop Loss signaling line (if daily close will occur under that line)."
EOS (EOS)
InvestingScope thinks its EOS shorting time:

"After a moderate rebound at 4.1839, the momentum on EOS has shifted within a tighter Falling Wedge pattern hence the elevated neutrality on 1D (Williams = -51.953, CCI = 2.0932, Highs/Lows = 0.0000, Ultimate Oscillator = 49.557). This consolidation was the expected technical response to the previously oversold RSI , STOCH , STOCHRSI, Williams, as discussed on the previous post. The dominant trend however remains bearish on a Channel Down, still limited to a maximum Lower High within 5.9782 – 6.4155. We remain short on EOSUSD 0.51% with TP = 3.8925 and 1.6921 (November 24, 2017 Low) the extension."
Stellar Lumens (XLM)
AltugOzturk feels there is a massive profit opportunity with Stellar Lumens:

"XLM seems to be in a huge symmetrical triangle. Stop loss can be put just below the green line that is pointed out in the chart. Major resistance levels are shown with red lines, after passing the second resistance, XLM can reach up to 10k satoshis. That is about %300 profit opportunity."
While a few days old, his analysis seems to still be on point. You can check it out here and pick up a few XLM hopium hits. 
Litecoin (LTC)
Shursst from TradingView thinks Litecoin is close to a breakout:

"LTC has almost completed a falling wedge. These patterns are bullish and pretty trustworthy."
Other thoughts
The market has been rather red in the past 24 hours. Bitcoin Diamond was the only notable performer with a break-out of 31%. Meanwhile Nebulas (15%), Cortex (13%), PIVX (11%), FunFair (10%) and MOAC (10%) recorded the biggest drops of the day. For now, the market seems uncertain regarding the future short-term movements; a break-out of the $6000-$6500 channel is yet to be confirmed. What we are certain is that we will need much more to confirm a break-out from the overall downtrend.

CaptainAltcoin's writers and guest post authors may or may not have a vested interest in any of the mentioned projects and businesses. None of the content on CaptainAltcoin is investment advice nor is it a replacement for advice from a certified financial planner. The views expressed in this article are those of the author and do not necessarily reflect the official policy or position of CaptainAltcoin.com