In a first major drop in price since the turn of July, Bitcoin managed to lose almost $300 USD worth of value during this Tuesday. Trading at just above $6838 USD at the end of Monday, a slow morning bleed followed up by a large afternoon drop-off were seen on the BTC/USD graph, leading the price all the way down to $6387 USD. Currently traded at 6398 USD, Bitcoin has lost 5,95% of its value in the last 24 hours. As it always does, this has sent a shockwave across the entire market and made other top altcoins lose on average around 10% of their respective values, leaving the total market cap just above $250 billion USD.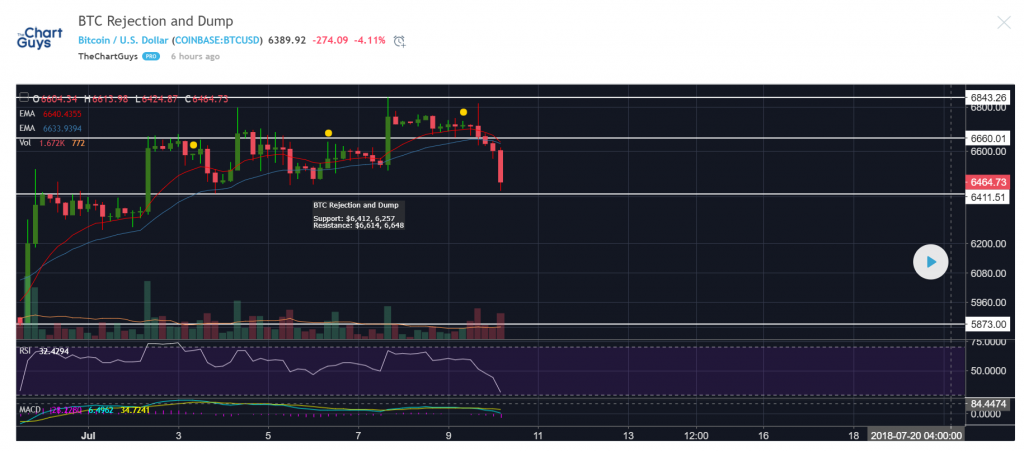 The decline has been explained nicely by TheChartGuys on tradingview.com:
"BTC -4.23% had one last push for the bulls yesterday just after the video posted, that lasted all of about 4 minutes before a clear rejection for the 6th 0.00% time in the last 2 weeks from the low $6,800s and a complete turnaround to a break of 4 hour support.
This led to a very bearish overnight dump to oversold conditions on most time frames.
We are currently still trying to see hourly RSI cool off on a bounce.
Only hope for the bulls here is for a daily inverse Head and Shoulders Reversal pattern.
The more we pull back on the daily, the more likely for a daily equilibrium.
Daily EMA 12 and 26 never got the bulls cross, and the bears are back to complete control on all time frames.
It is up to the bulls to PROVE any strength to us from this point, as shorts are back to being comfortable."
So for now, the bears are back in the driving seat and are leading the market on a bloody ride. The price dropped under the first mentioned support line of $6412 USD so a further drop towards the $6257 support seems inevitable.
In the FA related news, recent reports suggest that China may have had an important role in bringing Bitcoin down to where it's currently at. Xinhua.net, a Chinese publication, issued a report on Saturday which shined additional light onto how China's central bank stifled the crypto activities in the country. Bitcoin trading in Chinese fiat (renminbi or RMB) has fallen to less than 1% of the world's total, down from a peak of more than 90%, according to the bank.
The bank reacted to Chinese authorities banning ICO's last year by stopping direct trading of RMB for virtual currencies. The rapidly rising market was seen as a huge risk and measures were taken to nip it in the bud. Zhang Yifeng, a blockchain analyst at Zhongchao Credit Card Industry Development Company, confirmed the regulatory strong-arming of the cryptocurrency market in China:
"The timely moves by regulators effectively fended off the impact of sharp ups and downs in virtual currency prices and led the global regulatory trend."
In an expanded effort to rid themselves of the crypto menace, Chinese authorities allowed "zero-risk exits" out of the country for 88 exchanges and 85 ICOs. While some exchanges and ICOs managed to find more crypto-friendly countries to continue to operate in, most regular Chinese traders, crypto investors and miners basically ended up being forced out of the market. This has hurt the market significantly as massive amounts of liquidity simply got locked away behind government regulatory actions.
This serves as an indicator of what increased regulation could mean for the cryptosphere. Many are welcoming it, seeking protection from the wave of scammers and criminals that have inhabited the space. Others are more cautious, fearing that the government might apply regulation with too broad of a stroke, as was demonstrated on the Chinese example. An easier stance on crypto from China would definitely represent a bullish sign for the market and cause a significant recovery. Jon Ostler, CEO of finder.com told Express.co.uk earlier this week that, with China in mind, "the crypto industry is optimistic about the future." He concluded by saying:
"China lifting its ban on cryptocurrency would likely have a significant impact on prices. It is such a big potential market that even murmurings of the ban lifting would probably push value up in the short-term."
CaptainAltcoin's writers and guest post authors may or may not have a vested interest in any of the mentioned projects and businesses. None of the content on CaptainAltcoin is investment advice nor is it a replacement for advice from a certified financial planner.