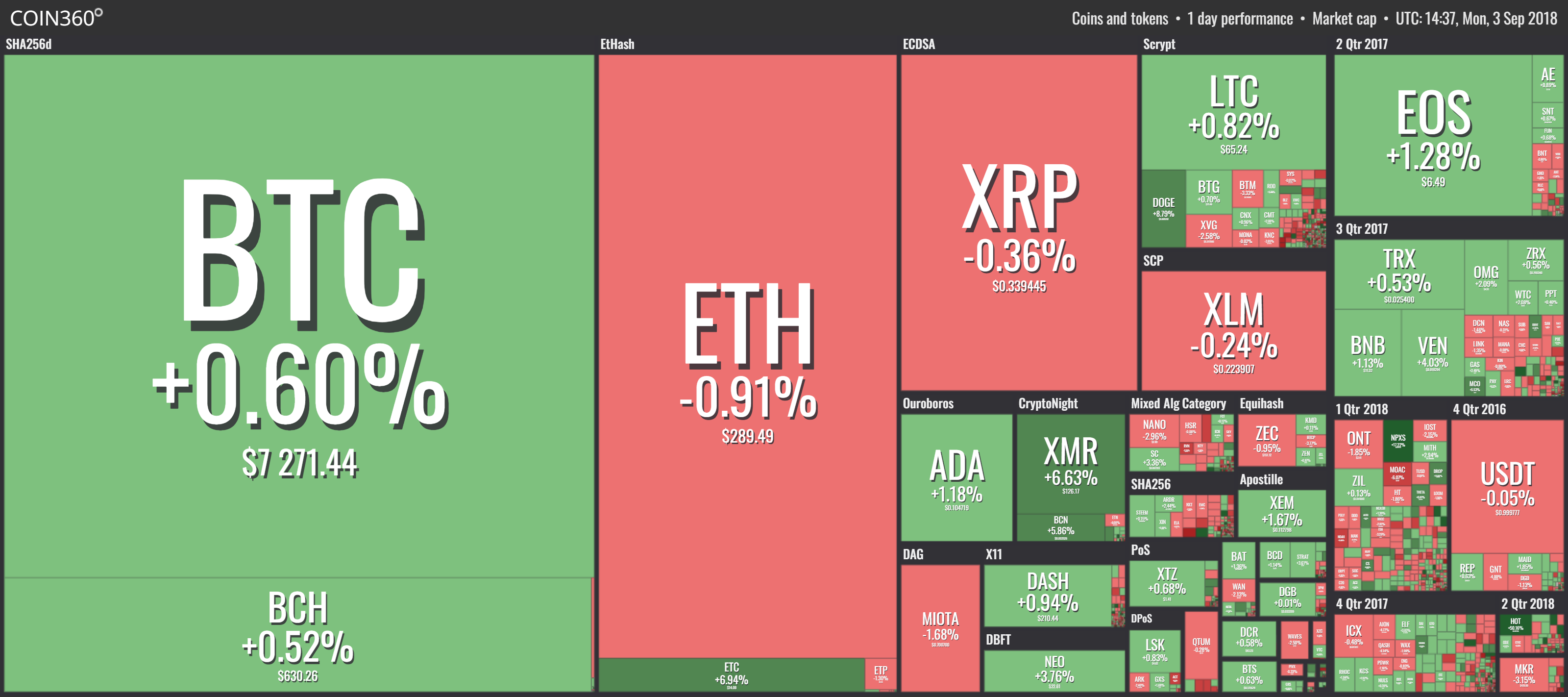 The market has been mostly red today, with most currencies looking to consolidate and gear up for the next run. A couple of traders still feel we can go down to below $6000 but the short/midterm sentiment is overall bullish. At this point is seems like the bears simply don't have enough power to break below the current support of $7000/$6800 and a move towards $7400/$7500 and above is what the market is looking forwards to next. Still, a short consolidation is to be expected.
My thoughts on $BTC

1) Strong resistance flipped support

2) We could see a small retrace with price ranging in the blue zone

3) Break above the green zone would corner a lot of shorts. If we break this zone, I will be adding to my longs and expect more upside pic.twitter.com/qf0QP5nPNY

— Altcoin Psycho (@AltcoinPsycho) September 2, 2018
We checked out some other trader's thoughts on the matter:
Bitcoin (BTC)
VaidoVeek analyzed the 4H chart:
"On the 4h chart, we could see that yesterday we tried to push the price above the strong area and we even touched $7430 but the bulls can't hold the price above those levels and after the 4h candle close we go a "Gravestone Doji"/"Shooting Star" candlestick pattern which indicate bearishness but luckily the bulls catch the bears momentum and we didn't drop much after this candle! It shows that at the moment there are buyers who own control over the market!"
He further adds what his targets/resistances for the upcoming period are:
"My target is $7500, why:
Fibonacci retracement 62% pulled from 24.07-14.08
Round number
Trendline since 05.05 (pulled from bodies)
Fibonacci extensions (entry point Fibonacci's)
Round number and Fibonacci retracement level are just SO identical! 200EMA on the daily timeframe works as a resistance"
He further explains what the future trend line for BTC might look like, according to this chart. His analysis also goes much deeper than the 4H chart, as he looks into daily, weekly and monthly charts as well. You can check all of this out here. @CryptoDonAlt from Twitter offered his own weekly overview:
$BTC weekly update:

Reducing exposure with a short hedge here.
Still bullish & net long but expecting a retrace to around 7k.
Both weekly and daily at resistance, while momentum is slowing down.

This is where I'd take a stand if I was a bear, not at 6k.

S: 7k & 6.9k
R: 7330 pic.twitter.com/VJZHh6N9fP

— DonAlt (@CryptoDonAlt) September 3, 2018
InvestingScope thinks that the time to start shorting BTC might be just around the corner:

"BTC has resumed the uptrend following the 6,802.40 low making 4H an aggressive Channel Up ( RSI = 61.244, MACD = 104.900) against our short term expectations. However we are still expecting on the medium term the 1D Channel Up (Highs/Lows = 277.2224, B/BP = 627.3060) to be limited just above the 0.618 Fibonacci retracement level (7,500 – 7,800), which on 1W has formed the previous two Lower Highs and is where we will add the last sell."
Their complete analysis gives you more information about the targets for the upcoming short they expect. Finally, @BitDealer_ from Twitter got in on the "rounding bottom" idea that was shared a couple of times among other traders:
Here's a case for a potential Rounding Bottom pattern. PA has been beautiful lately compared to the last few months. Take into consideration that we've also set the first HL of the year & how well 6k has been defending in the past. Would love to hear opinions pic.twitter.com/nUE5uPvrRf

— ₿itDealer (@Bitdealer_) September 2, 2018
Ethereum (ETH)
Trader rexlomax offers this possible ETH scenario:

"ETH it's currently at point of control, major support at 250$, failing to sustain this level will take ETH into major downtrend that could bring it back to double digits. That's why I'm seeing this scenario more likely, which will be a ranging for upcoming months between 300 and 450$."
Rilez also feels that a breakout could be forming:
"ETH bb bands are squeezing nicely on the daily and are looking to break out. ETH hasn't retraced much at all from the down fall from $515. Given that Bitcoin is likely to retest $8,500 from last two ideas shown from my Wyckoff analysis. I believe a retrace to $352 to the .38 fib is highly probable for 20% gain. If ETH manages to retrace to .50 fib $381 and .61 $415 that would be a 30% and 40% gain which possible but less probable."
The complete analysis gives you more information about the RSI and TD Sequential indicators. @HsakaTrades agrees that we are in an "expansion before consolidation" moment:
$ETH USD

Consolidation
before
E X P A N S I O N.

Betting on a bullish break of this range as long as the EQ holds. pic.twitter.com/jorx41BGVd

— Hsaka (@HsakaTrades) September 3, 2018
Ripple (XRP)
TotoParasca felt XRP could move up:
"XRPUSD has broken the trend and is looking upwards. The momentum is positive and good news keep on coming in. Might be just the wind before the storm, but it has room up until $0.4 where it's a turning point to decide the further direction."
As you can see on the graph, XRP took a different path once it passed the trend cross. @CryptoGainz1 noticed this and admitted that XRP looks rather sluggish at the moment:
$xrp admittedly sluggish. pic.twitter.com/Q4AwcrqWZ7

— CryptoGainz (@CryptoGainz1) September 3, 2018
Other thoughts
Red is the story of the day, as only a couple of currencies remained positive during the last 24 hours. The market leader in this sense was Holo, an extremely cheap currency (17 satoshi at the time of writing) that recorded a 55% breakout since this time yesterday. Being a Binance alt and having a decent project behind it, Holo seems surprisingly undervalued even after the recent breakout. The buying volume for this currency keeps rising so that is always a bullish sign. Dropil, Ethereum Classic (6%), Dogecoin (6%), ReddCoin (3%) and Monero (1.5%) were the remaining currencies that moved more than 1% in the green.
The red side of the market, while extremely well populated, was surprisingly encouraging, considering the fact that the biggest loser of the day TaTaTu recorded a drop of only 9.5%. Aion (9%), ChainLink (7.8%), Verge (7.75%) and DigiByte (7.58%) followed with their own respective drops. Overall, the market seems stable, looking to consolidate before the next major move. All we have to do is wait and see where Bitcoin wants to take things next.
Transparency addendum: The writer of this article owns some Holochain tokens. DYOR if you consider buying some yourself.

CaptainAltcoin's writers and guest post authors may or may not have a vested interest in any of the mentioned projects and businesses. None of the content on CaptainAltcoin is investment advice nor is it a replacement for advice from a certified financial planner. The views expressed in this article are those of the author and do not necessarily reflect the official policy or position of CaptainAltcoin.com