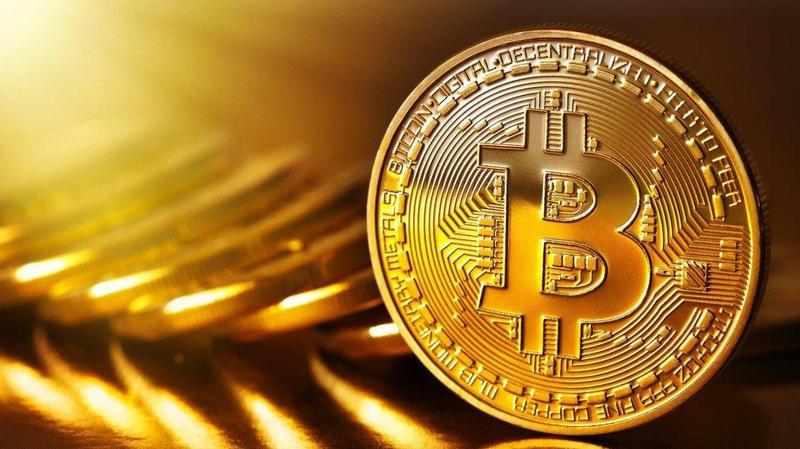 While the website name might imply we don't pay much attention to the only true non-altcoin on the market, this simply wouldn't be true. Today we decided to revisit Bitcoin, the original cryptocurrency which is still sovereignly ruling the price movements across the board. August was kicked off with prices of $7,747.54 after which we saw a gradual drop-off to what later on turned out to be the monthly bottom of $6011.72. Bitcoin experienced another price run-up which culminated on September 5th at $7,367.90. After this, the currency fell back into the $6000-$6600 range and hovered around $6400 for a couple of days before seeing a small break-out in the last couple of days.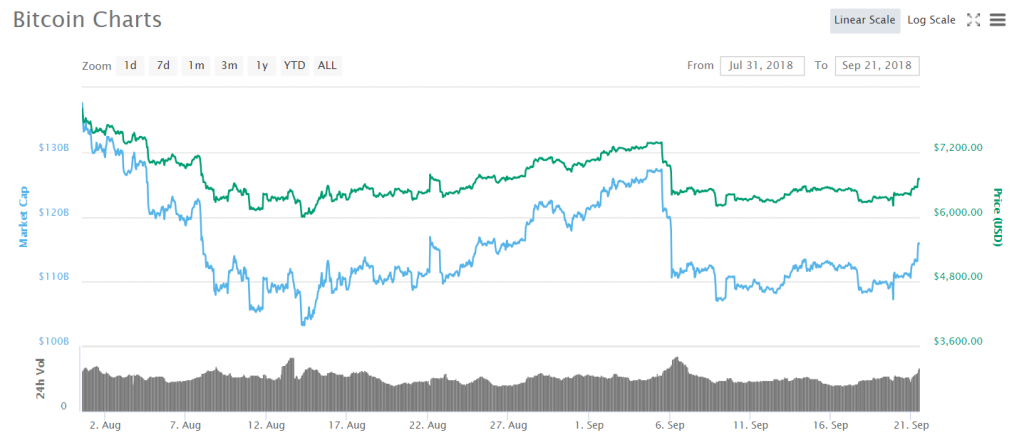 At the moment of writing, one Bitcoin can be purchased for $6,699.99 (0.91% rise in the last 24 hours). Daily trade volume is sitting at 922,464 BTC or $6,200,866,458. With a market cap of $115,785,238,815 and a market share of 51,5%, Bitcoin remains the undisputed no.1 cryptocurrency on the market.
Trader botje11 is currently mid-term bullish on Bitcoin:
"Bitcoin is still moving inside this triangle and as i posted a while back, i still don't know if the 2 blue ones are the correct lines to use or the bigger triangle (black line)." You can check out his graphs here. He continues:
"During that drop from 7400 i said for me the 6200 is the level for me to stay mid-term bullish, with of course some extension towards 6100 or with a quick wick even a bit lower maybe. So far this support is still holding, even though the looking at it objectively, it's more bearish than bullish."
He further adds:
"At the moment with the strange manipulative price movement of the past 2 days, it is starting to look like a bearish wedge. So the bulls really need to break the 6600ish and make an attempt to break the 6800 to bring the playing field between bulls and bears back to 50/50. If this wedge does break, it could still find support on the way down, but usually the target will be around the 6200/6100. I think that will be very bad for the bulls if that level gets tested again."
He goes into much more detail in the link posted above so make sure to check it out if you are interested in TA.
As always, there were plenty of interesting developments around our king cryptocurrency. One of the most interesting ones was the discovery of CVE-2018–17144 bug, one that could have potentially caused silent, uncontrolled inflation of the cryptocurrency. The bug was discovered by a Bitcoin Cash/Bitcoin Unlimited developer who goes by the name Awemany in a case similar to the one where Cory Fields, Bitcoin "Core" dev, revealed a critical vulnerability in BCH just months ago. Awemany went into detail how the bug was discovered/reported in a blog post on his Medium account.
The "Core" people were mostly grateful for this disclosure, but some users noted that it had a rather negative tone that was perhaps overly critical of Bitcoin. Some people also had issues with the way the bug was reported, claiming Awemany should have disclosed the bug directly to Bitcoin developers in a way similar to what Mr. Fields did with BCH's vulnerability. There were also doubts about Awemany being the one responsible for the finding of this bug which he dispelled with this Reddit post.
---
?Read here about best bitcoin wallets.
---
In other news, v0.16.3 of the Bitcoin Core software was released just recently. The recent update brings important bug fixes and improvements, including the inflation bug, and is treated as an absolute-must update. The upgrade is recommended as there is a possibility that nodes running the older software are facing a small risk of a chainsplit. With 2413 nodes currently running the latest update, there is a lot of upgrading to go around still.
Bitcoin has been touted as good means of wealth protection for people in countries facing economic crisis and we have recently seen plenty of press coverage about Venezuelans taking advantage of this. Another county that is recently seen its share of economic turmoil is Argentina. Its currency has recently plunged in USD value and many ordinary people decided they'll rather weather Bitcoin's volatility than hope that banks will muster a solution to salvage the Argentinian pesos out of thin air.
"Argentinians are moving in large numbers out of their peso and into a more stable currency, BTC. The numbers being witnessed by the markets in BTC are surging from Argentina. The stability being offered by the digital currency is far greater than the peso and Argentinians are moving in quickly," commented an economist and mathematician D.H. Taylor. Bitcoin vendors and merchants are recognizing this and on September 19th Athena Bitcoin installed the first ATM designed to exchange the cryptocurrency in a Buenos Aires mall. Taylor added that the currency is now accepted in over 8000 stores across the country.
Popular American temporary art community festival the Burning Man, dedicated to anti-consumerism and self-expression, recently hosted some interesting Bitcoin sculptures.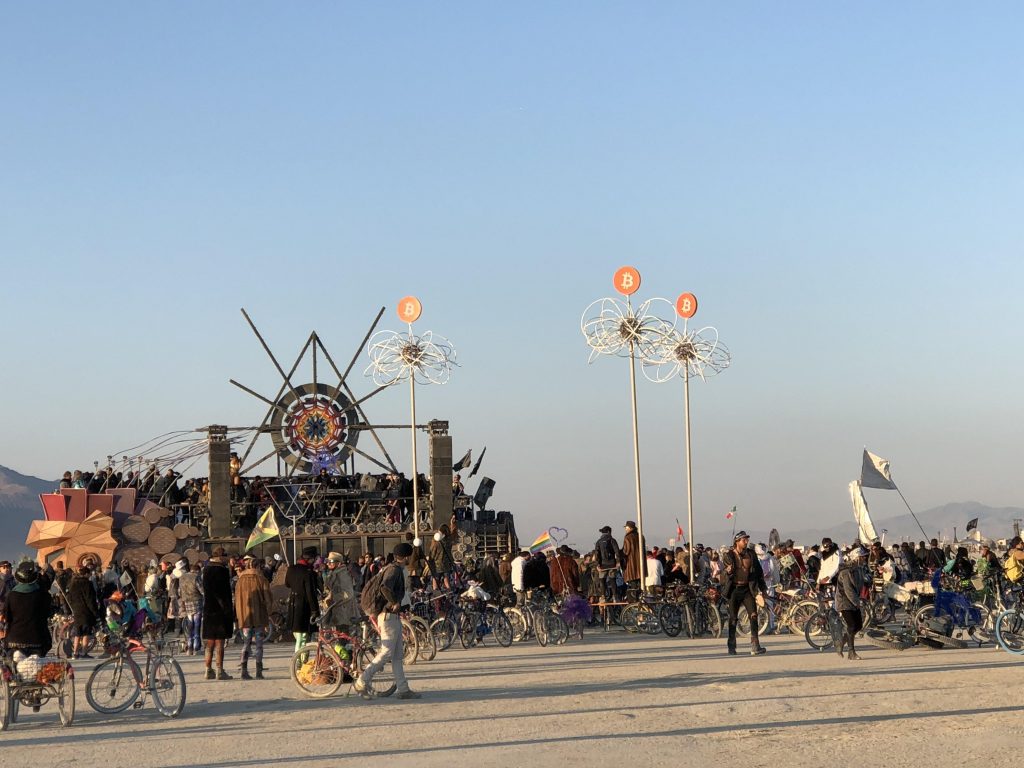 The event promotes a "gifting" culture where people who have plenty are encouraged to hand down some of their wealth to those less fortunate. It's unclear if any Bitcoin donations were made during the festival but notably the Burning Man organizers themselves recently shut down the option to receive Bitcoin as means of supporting their efforts.
Finally, the long-awaited SEC decision on the Cboe ETF has once again been postponed. The SEC released a public notice in which it stated that it requires further comments to be made on 18 key areas in the Cboe's application document. The SEC previously notified the public that they are encouraged to give their own comments with regards to the filing of a Bitcoin ETF by the Cboe. While they have received over 1400 comments so far, the final decision on whether or not the SEC will allow Cboe to start trading these financial instruments will be made sometime in the future.
Avoiding disaster scenarios and receiving negative news is nothing new for bitcoin and it is a sign of strength to handle it the way bitcoin handled it – the price even went up and the negatives are already water under the bridge. Keep them coming, honey badger don't care!

CaptainAltcoin's writers and guest post authors may or may not have a vested interest in any of the mentioned projects and businesses. None of the content on CaptainAltcoin is investment advice nor is it a replacement for advice from a certified financial planner. The views expressed in this article are those of the author and do not necessarily reflect the official policy or position of CaptainAltcoin.com