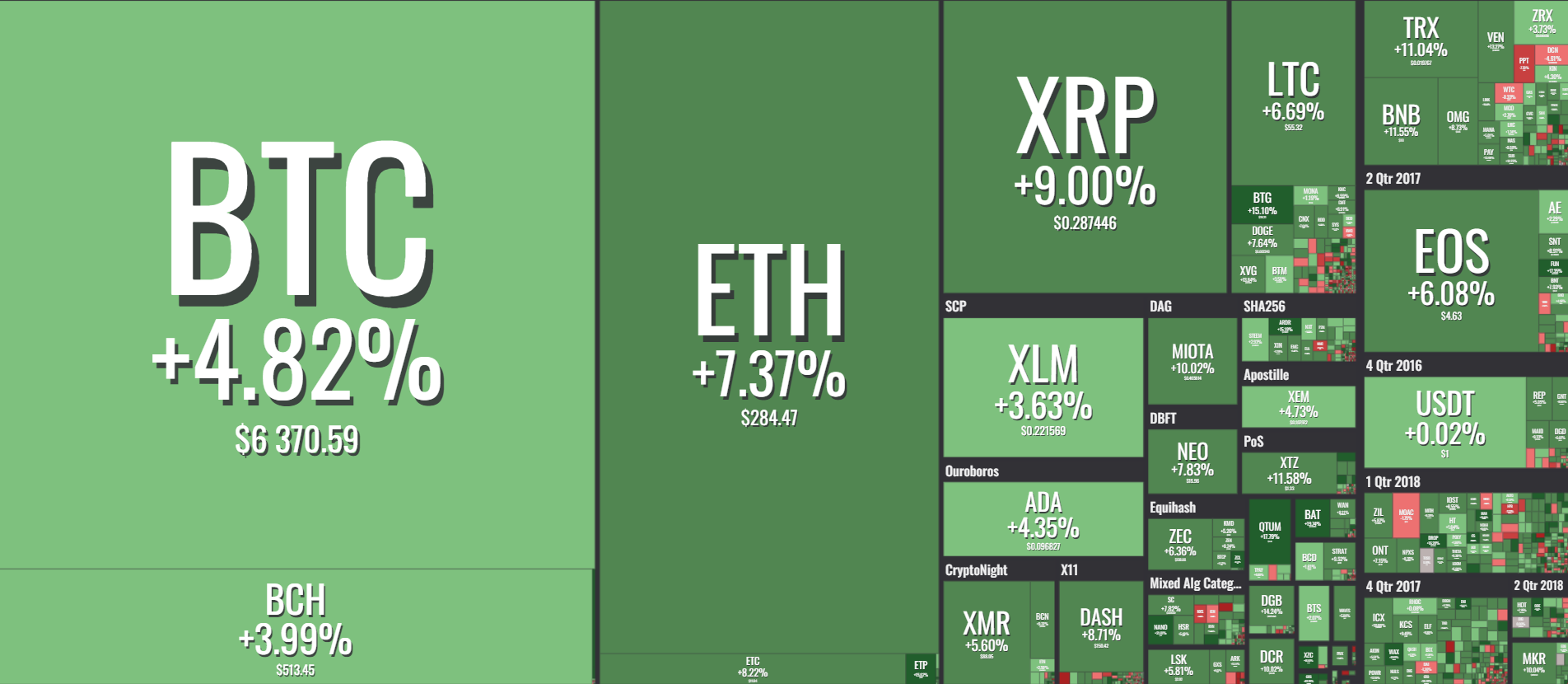 The crypto pendulum swinged back almost immediately. After a horrific, bloody Monday, even for the current bear market standards, the sellers have apparently run out of steam and the green roared in hard. Once the market noticed that buyers are taking over, a small alts rebound was initiated followed by a decent recovery by BTC itself. BTC went from below $6000 to $6424.95 USD in a matter of hours, showing that the bulls aren't willing to let those pesky bears take over without repercussions. So as the market starts to lick its wounds, is there a chance that this recovery is possibly a long-term one? Let's see what some knowledgeable people have to say.
Bitcoin (BTC)
MarcPMarkets, a TradingView powerhouse, posted the following analysis:
"BTCUSD: Price breaks the 6K psychological support only to close back above. This type of price action spells one thing: squeeze. The failed low formation off of this major support is a telling sign especially in an environment where sentiment is heavily bearish. Many do not realize that while the alts were selling off, this market refused to push the 5750 low. If weakness was dominant in this market, price should have closed below 6K at minimum."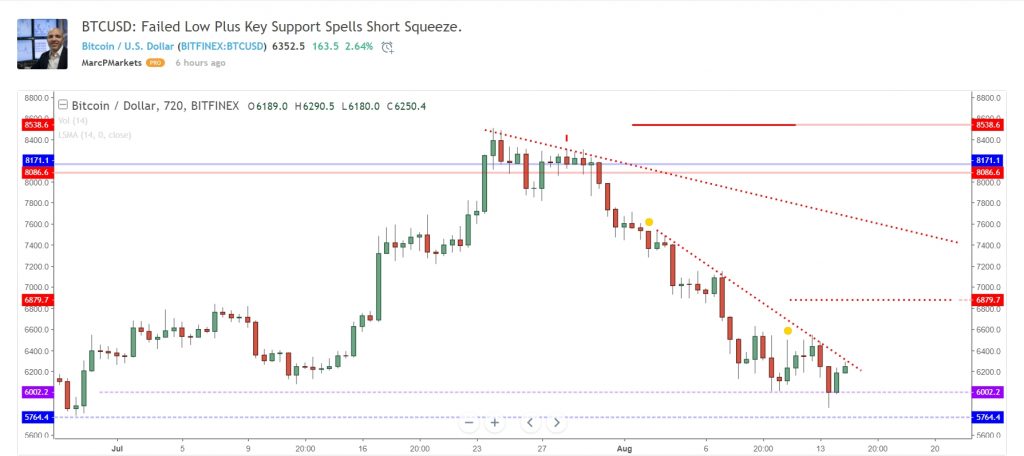 He does acknowledge that there are bearish structures beneath 6300 and 6879 levels (.382 resistance relative to the 8500 high). He also points out the extremely massive number of shorts, pointing out that the crowd tends to be wrong at the top/bottom of the price movement. When everyone is betting on the short because it the obvious trade, the market tends to respond in the opposite direction. We are all aware that the market can go lower (most feel that $5000-$5400 USD levels are the real bottom) and a daily close of $5900 USD or lower will suggest that this latest run is reversing. He suggests that major alts breaking important supports on Monday was followed by BTC managed to avoid so is a major sign of the strength that the current levels bear and advises against shorting the current BTC prices. Check out the complete analysis here.
Other traders noticed that the bounce was initiated by a "hammer" candlestick pattern, well known sign of reversals.
$BTC daily update :
Closed with a hammer as i suggested it earlier.
Demand below 6k has prevented it to go lower than 5.8k.
Market sentiment as its lowest.
I don't know about you but there is no way i'm going to short this. pic.twitter.com/uphTmbnK30

— The Crypto Monk ⛩ (@TheCryptoMonk) August 15, 2018
With rumors that some very rich investors moved $190 million USD of fiat into the crypto market, there are clearly people who feel this is the moment to buy in. Or in a more doom-like scenario, this is just Tether manipulating the market. A definite confirmation of a strong reversal would require us to close above $6500 USD on the daily. If the price closes below the consolidation zone of $6000 – $6500 USD zone, we can expect to see the bearish sentiment and movements towards low $5000's to continue.
Ethereum (ETH)
After suffering some of the worst oversold conditions in more than a year, Ethereum managed to bounce back as expected. PRO_Indicators of TradingView expects that this is the time to buy and hold the king of altcoins:


"Once again the warnings here are the same: Buy & Hold is not possible to do with leverage. Buy & Hold is an investment psychology and nothing close to speculative entries. You must be ready to invest into something that may go to 0. You'll never exit this trade until it goes to that 0 value… Or to your target!"
He recommends that investors can perhaps switch just smaller parts of their portfolios into ETH, clearly feeling that the bottom has been almost found. He claims that while he's confident that ETH has found its bottom, BTC he remains vary of still. TraderCobb, another TradingView veteran, feels like we could be looking into some shorting opportunities in the short term:
"With many in the top-10 divergent on the 4 hour time frame my focus is on ETHUSD 1.30%. The candle still needs to close before we can go through the check list however I wanted to alert the community that this is something I am stalking for a short."
XRP
cheynos from TradingView had this to say about XRP: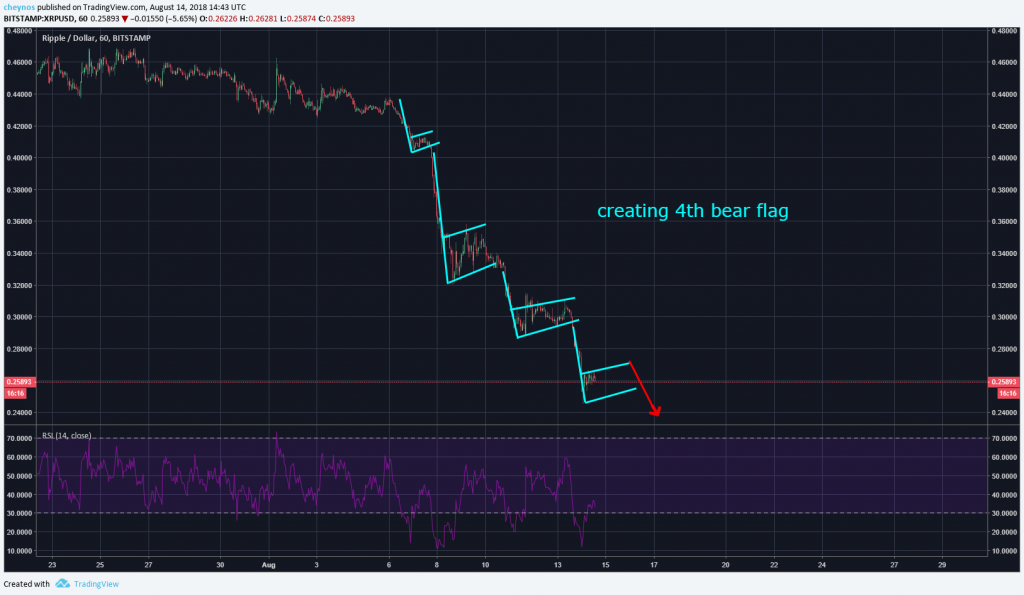 "I think that we will go down to around 0.16 if we follow the downwards trend line. That level is for me the buy-zone. Everything between the 0.16 and 0.20 is buy-zone. I expect a bounce off the downwards trend line to our first resistance at 0.40. If we got rejected at that level and bounce off, that would be very healthy. If we bounce off the 0.40 and create a higher low, I would be extremely bullish on Ripple."
With an extremely oversold RSI on the daily, these new yearly lows could be overturned soon. He also offers an hourly analysis, which is somewhat less bullish:
Check out his full analysis to see details about XRPBTC pairing and some extra insights he gives regarding the XRPUSD shorts/longs.
Bitcoin Cash (BCH)
Crypto_ocean provided us with the following graph regarding BCH:


The coin experienced significant fall during this bear market and could be looking to reach the all-time low areas if the drop continues. Traders feel this is unlikely to happen and cite $490 USD/$550 USD as the acting support/resistance zones.
EOS
EOS managed to overtake XLM as the 5th most valuable currency on the market. A TradingView user alanmasters feels the coin has a lot of potential and thinks that EOSBTC pairing could experience some positive action in the near future:


"It is only a matter of time. Our falling wedge, shared in an earlier trade idea, is almost complete. Looking at past history, the EOS vs BTC pair is getting ready for some bullish action… The potential is huge!"
Conclusion
It's only a matter of time… how many times have we heard that when talking about crypto bull runs? For now, it seems like BTC is still relatively strong, with alts rubber-banding behind it as per usual. The latest rally is probably just a small bounce that will soon be followed up by another drop into the low $5000's. More buying volume and an insane amount of hopium will be required to break the current downtrend that the market is still in.

CaptainAltcoin's writers and guest post authors may or may not have a vested interest in any of the mentioned projects and businesses. None of the content on CaptainAltcoin is investment advice nor is it a replacement for advice from a certified financial planner. The views expressed in this article are those of the author and do not necessarily reflect the official policy or position of CaptainAltcoin.com