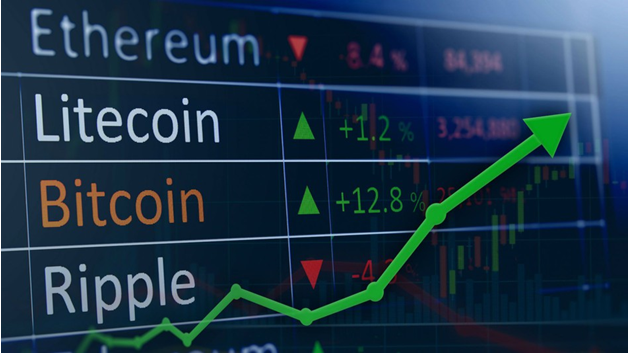 It is an objective fact that cryptocurrency prices follow the bitcoin behavior on the market like puppies follow their owners and even though many bigger crypto projects keep invoking the "decoupling" and announcing their independence, that hasn't happened yet.
One of the major reasons why altcoin and bitcoin prices are intrinsically tied is because in most exchanges, the most popular trading pairs are of the form altcoin/bitcoin. What it means is that in most of the cryptocurrency trades, you buy/sell altcoin using bitcoin and vice versa. Bitcoin is essentially the USD of cryptocurrency. When USD falls or rises, every currency takes a hit in some way. Its something similar with Bitcoin. Bitcoin just holds majority of the cryptocurrency market share so its prices have a huge influence on the altcoin prices intrinsically.
Whenever there is a semblance of separate price discovery by any particular altcoin, uproar of baseless hope blasts out of the altcoin's holders in the form of newly minted jarong like decoupliiing or flippening!
Decoupling in a nutshell is being free from Bitcoin's influence: most of the altcoins and their prices are highly dependent on bitcoin price movements. Every time bitcoin hibernates and enters a slump, altcoins crash even harder.
Although the occasional resilience altcoin prices show amidst bitcoin decay create an illusion of independence and sovereign price discover, the real thing is still a far fetch as there are a lot of conditions that need to be met before this happens.
Values above 0 shows the degree to which altcoin is moving in the same direction as BTC prices (either up or down in tandem), and values below 0 shows the degree to which altcoin moves in the opposite direction of BTC prices (so when BTC goes down, altcoin goes up, or vice versa). Values around 0 shows that when BTC price moves, altcoins stays steady, or alternatively that when altcoin moves up or down that the BTC price is staying steady.
Here is the representation of this on coinmetrics.io chart:


Some of the top coins have an incredible 1.0 correlation – meaning they are mirroring bitcoin's movement completely. In the last 30 days ADA and ARK have shown such price behaviour. (source: enroyd.com)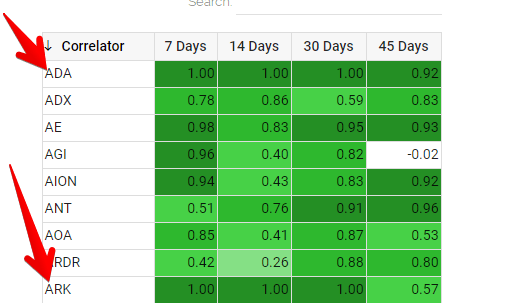 In the last 30 days, DASH is the only maverick, a large cap coin that is showing some independent action having a negative correlation of -0.64 against bitcoin. That is mostly due to the fact that DASH failed to follow bitcoin's most recent rally and its BTC value stayed approximately on the same level as before the most recent bitcoin surge (DASH stayed in the range of 0.021 to 0.023 BTC).
Ravencoin has 0.95 and Tron has 0.94 correlation coefficient in the last 30 days, making them a couple of most bitcoin correlated coins in the top 50.
Overall, majority of cryptocurrencies are in a lockstep with bitcoin, correlation coefficient higher of .90 in most cases. Many analysts and commentators agree that this is a sign of market's immaturity. Bitcoin maximalists on the other side take this as a proof that bitcoin is the only coin worth owning. Bitcoin detractors take this as a manipulation device to lump bitcoin together with some obscure and worthless crypto projects in order to push their narrative about bitcoin's imminent death.
As with any data, the observer can take it and interpret and mold it to fit his own agenda but one objective conclusion we can draw from this data is: the only price action worth following in the mid-to-long term is bitcoin's. Charting other coins might make sense only for the highly active day-traders with very short-term trading timeframes.

CaptainAltcoin's writers and guest post authors may or may not have a vested interest in any of the mentioned projects and businesses. None of the content on CaptainAltcoin is investment advice nor is it a replacement for advice from a certified financial planner. The views expressed in this article are those of the author and do not necessarily reflect the official policy or position of CaptainAltcoin.com