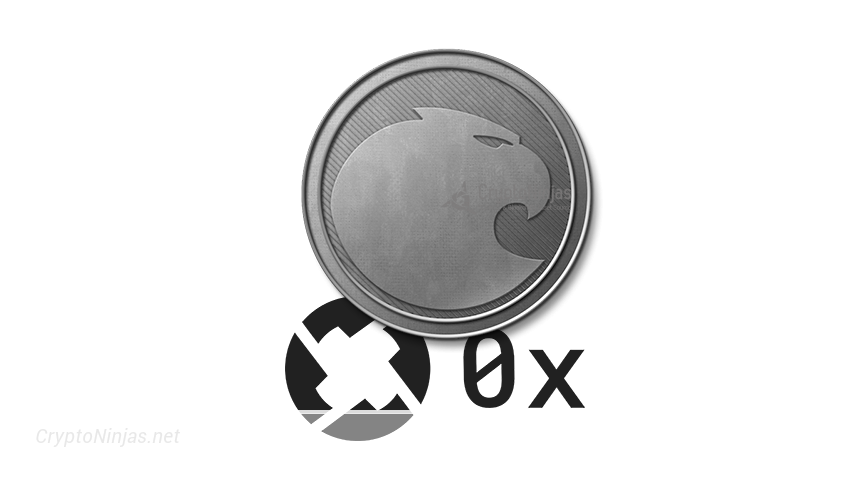 Ever since Coinbase dropped the news that it's considering this coin as its future portfolio addition, 0x (ZRX) has been performing admirably, especially when compared to the rest of the market. While Bitcoin itself started to slightly recover, most alts seemingly still lack faith from investors and are staying in the limbo. This wasn't the case with ZRX. Monthly lows were reached on July 1st, when one ZRX was valued at $0,736 USD/11594 satoshi. Since then, the coin experienced two solid run-ups, with the second one leading it to monthly highs of $1,17 USD/18369 satoshi. Since then, we saw ZRX starting to consolidate a bit before it apparently decided to embark on another run upwards today. Right now, the price of ZRX sits at $1,06 USD (5,45% drop in the last 24 hours). ZRX currently has a market cap of $567,595,435 USD which makes it the 23rd most valuable cryptocurrency out there.
Taking a page from the book of community appreciated projects, 0x decided to start releasing development updates. In that spirit, they recently released their first, developer update #1, and will be releasing more similar ones in the future. As the name suggests, the update is meant for people who are actively developing dApps on top of the 0x protocol. These people will be happy to hear that the update saw the 0x team release tools that are compatible with the V2 version of the protocol.
Besides these, they re-deployed V2 contracts to Kovan testnet and announced that they will be fully committing to Semantic Versioning. Check out the complete announcement here.  Additionally the project announced a security audit with Soho Token Labs is underway, while a second audit that will be done by Consensys is planned to begin in late July. As of now, V2 mainnet is in preparation stages and the full mainnet is supposed to be launched in August/September.
---
Bitstamp is one of the oldest cryptocurrency exchanges. Read our Bitstamp detailed guide here.
---
The ecosystem running on the 0x protocol is regularly updating the community as well. DDEX recently introduced a bug bounty program designed to encourage third party developers to look into their code and find potential security vulnerabilities. Potentially finding critical bugs will net the founder a bounty of $10,000 USD, with scaled down rewards for lesser bug discoveries. Melonport is set to release the Paros version of their manager interface + smart contracts and ERC-DEX will be waiving fees in conjunction with Melonport's trading event. Another DEX recently got created on top of the protocol; its name is Weswap and it is an instant peer-to-peer token exchange where users get to buy and sell Ethereum tokens in a decentralized manner.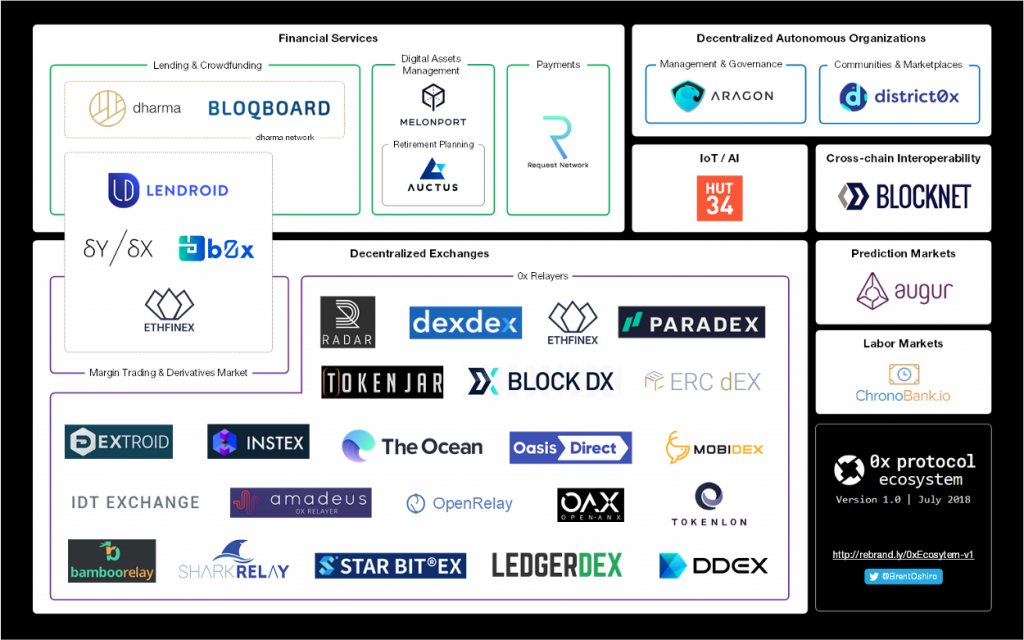 Source: https://medium.com/@BrentOshiro/the-0x-ecosystem-v1-infographic-1846db17a630
Finally, 0x team will be sponsoring NIFTY, a conference that will host people interested in blockchain gaming and collectibles. Teams will get to compete by using the 0x protocol in creative ways and the team that builds the most innovative game/collectible prototype will win ZRX tokens.
0x is looking as strong as ever and the market seems extremely bullish on it. That being said, there could be an upcoming pullback if Coinbase announces that it will definitely be adding ZRX, as some people will for sure be looking to take profits. Still, expect ZRX to continue performing well throughout the month of August.

CaptainAltcoin's writers and guest post authors may or may not have a vested interest in any of the mentioned projects and businesses. None of the content on CaptainAltcoin is investment advice nor is it a replacement for advice from a certified financial planner. The views expressed in this article are those of the author and do not necessarily reflect the official policy or position of CaptainAltcoin.com