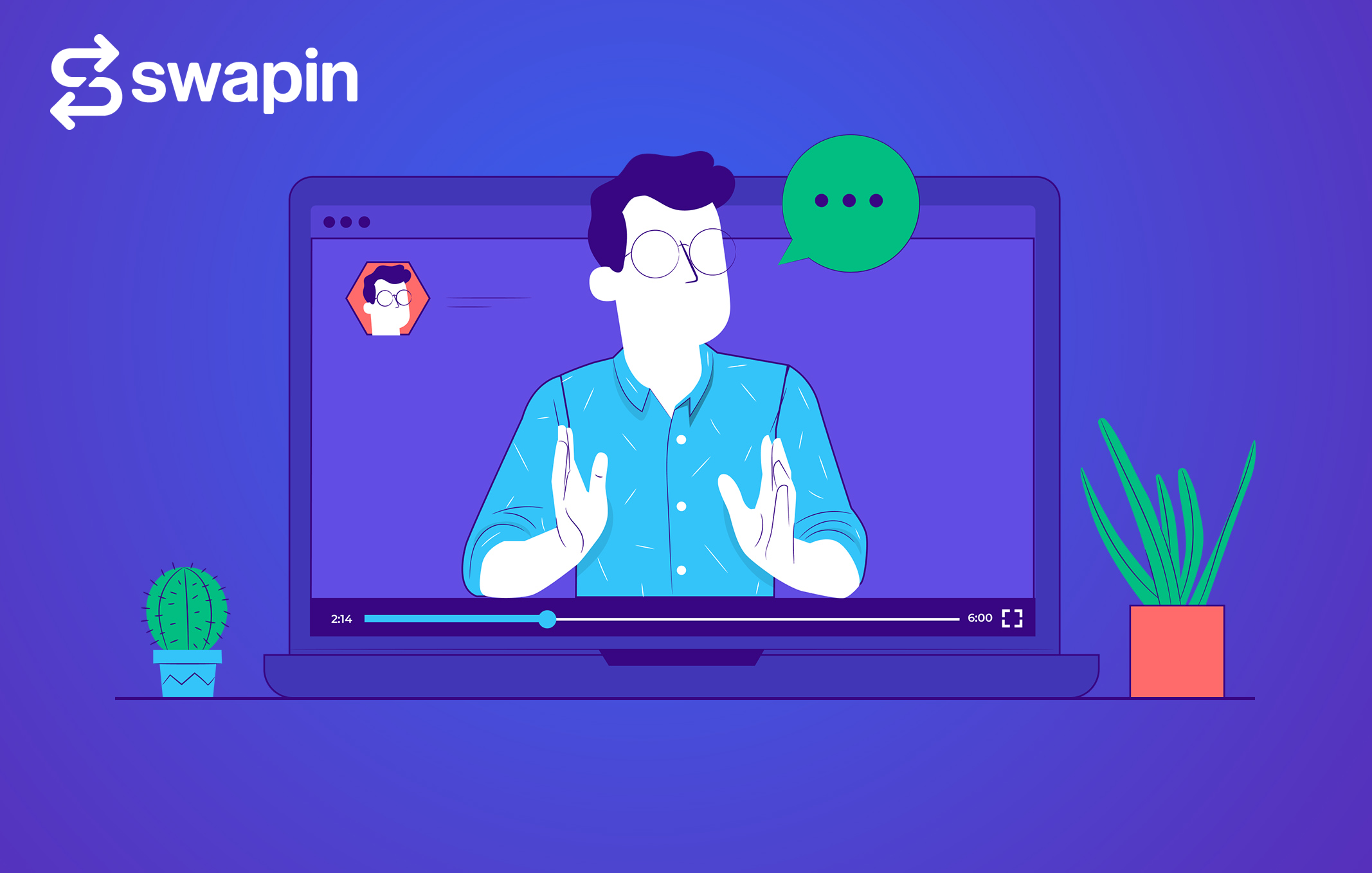 Converting cryptocurrencies to fiat funds is becoming a necessity in the modern world. Traders, investors, miners, and anyone who makes a profit in cryptocurrencies often need fiat to pay bills or other expenses. The solutions that the Swapin platform provides are suitable for such needs.
Registration on Swapin
To start working with the Swapin service you need to go through the registration process. Registration on Swapin is easy and takes very little time, as all steps are simple and understandable.
To register on the platform go to the official Swapin website, then click "Get started" or "Go to app", which are placed on the main page of the site.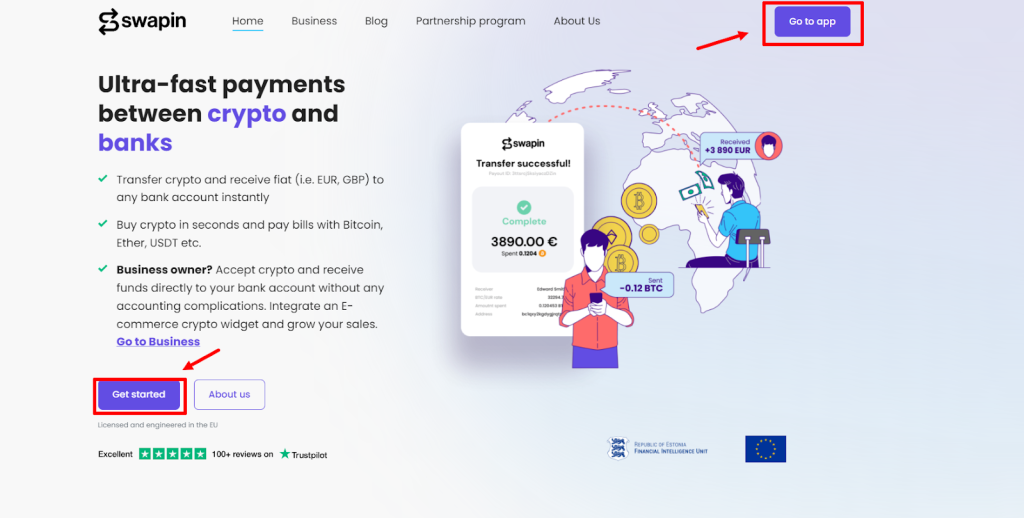 By clicking the button the site will redirect users to the app's registration field. The service will offer a choice of account: Personal or Business.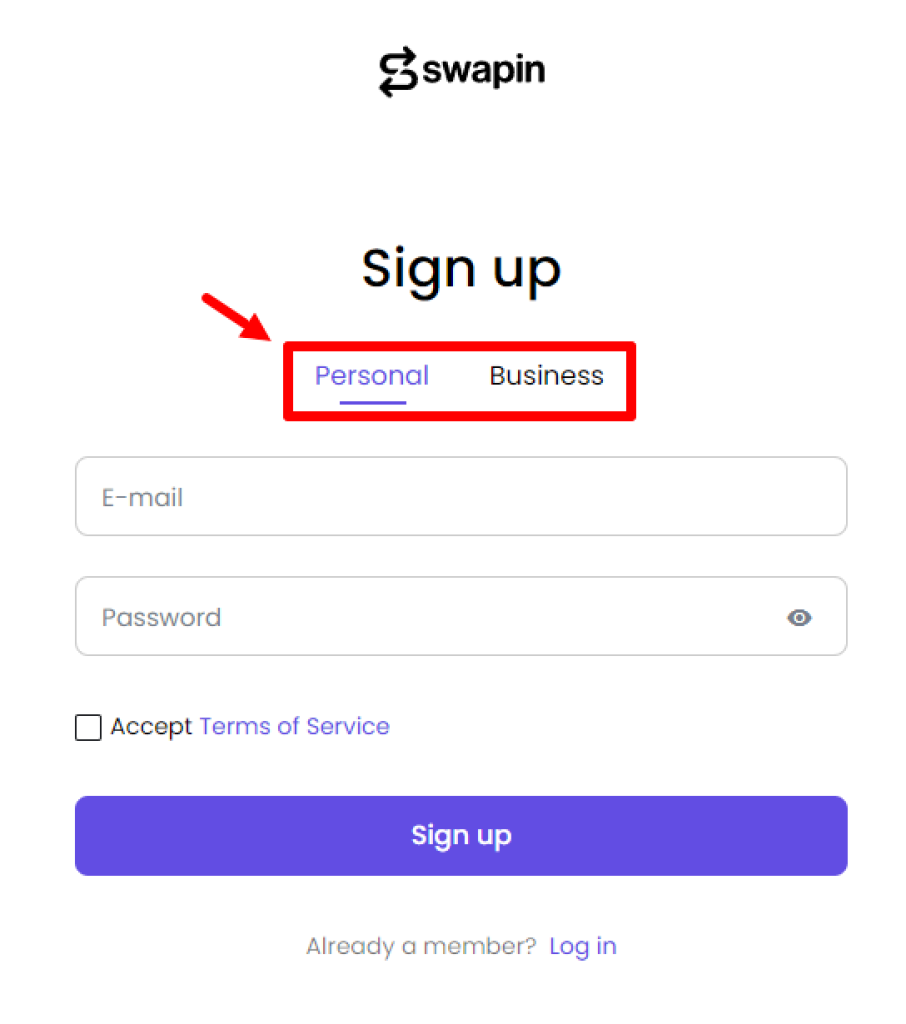 If you need a personal account, it is required to fill in two fields with email and password, and also agree to the platform policy. After filling in the email and setting the password click Sign up. Then, you need to go to the email specified during registration to confirm it.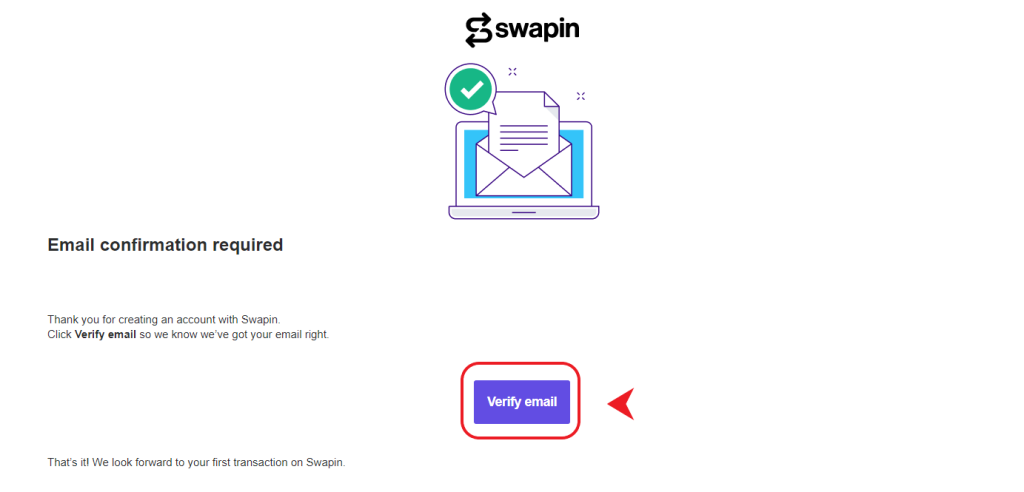 To complete the Business account registration process the user is required to specify the name and legal form of the company additionally.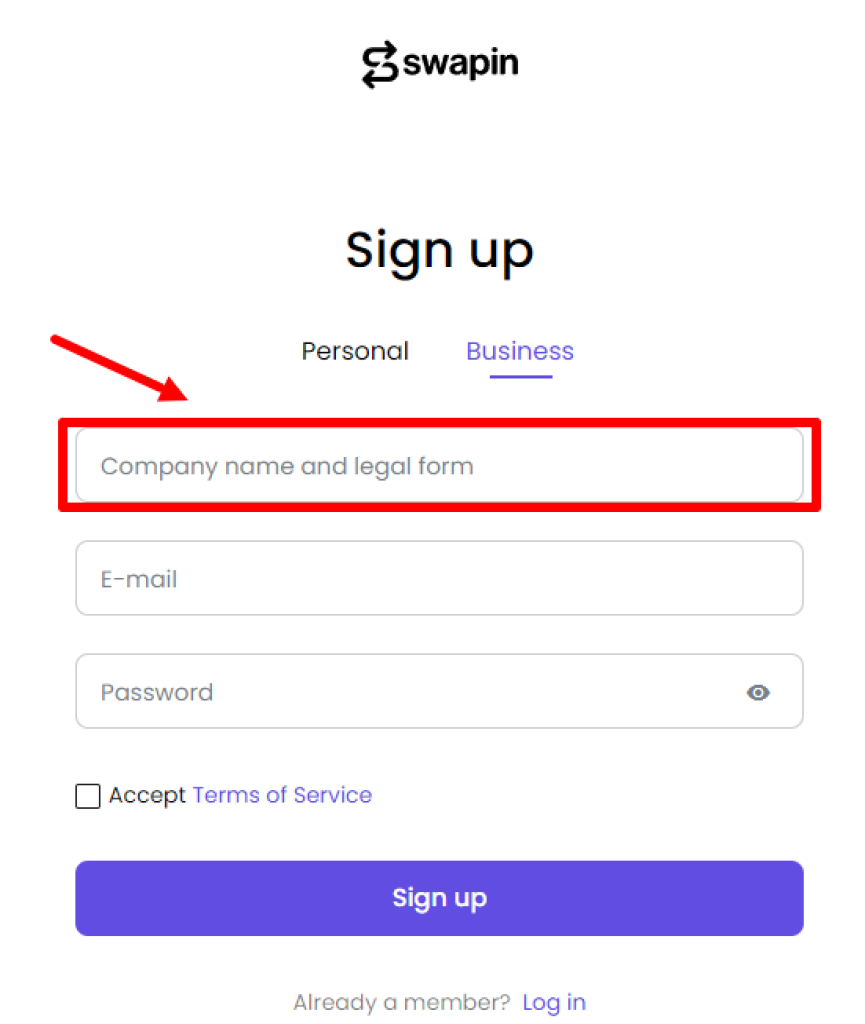 KYC
To start using the service it is required the user complete a short verification process. That is because the company has an Estonian license and must comply with financial regulations. Platform functionality becomes immediately available after confirming your identity, but you can get acquainted with it after completing the registration.
Your personal information
The verification process starts with filling up personal information. It includes:
Full first and middle names
Full surname(s)
Code and Phone number
Country of residence
Birth country
Citizenship
Level of verification and limits
Then answer extra questions:
Are any of your relatives or co-workers a politically exposed person?
I confirm that I use this account for my personal needs (I am the actual beneficiary).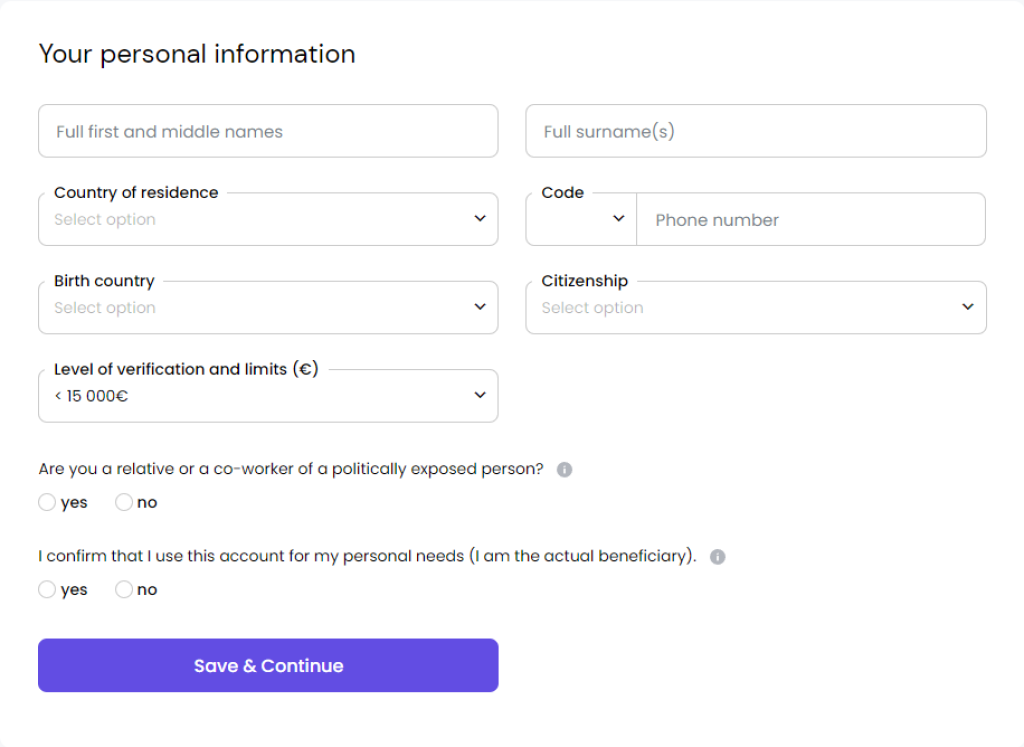 Click "Save & Continue".
Verify your identity
The next step of verification: a user needs to provide a photo of an identity document and a selfie with it on the Veriff website.
To proceed to this step, click on "Identity" and then"Start verification".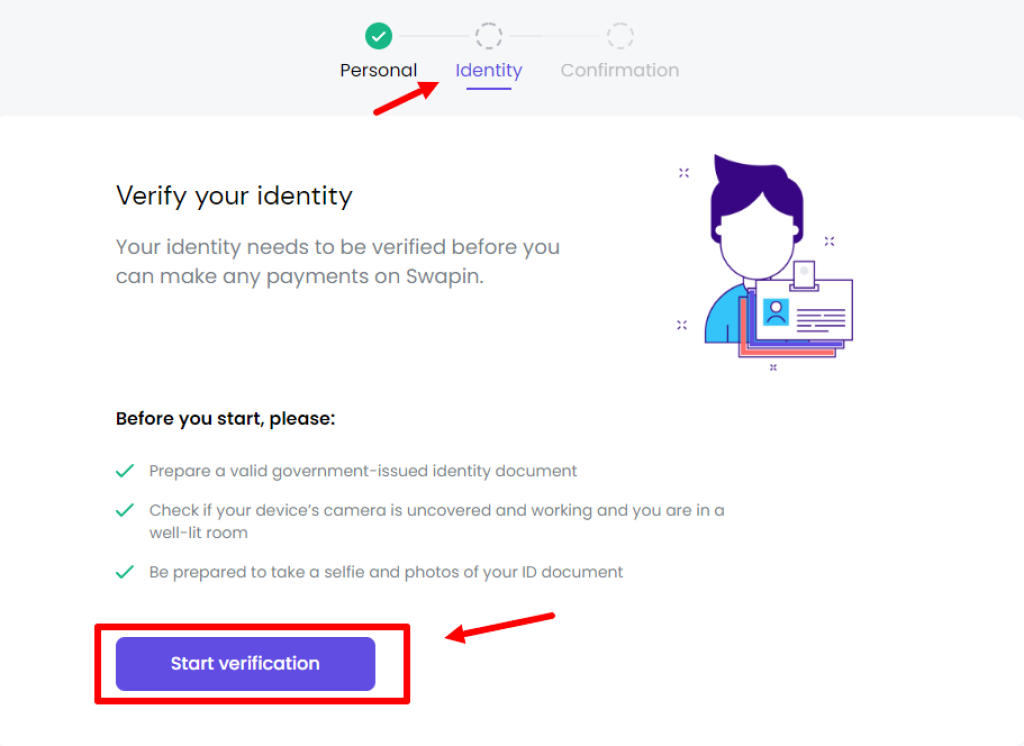 For users convenience, there are two ways to go to the Veriff site. First, the user can enter the phone number manually. In this case, the user will receive a message with a link to follow to complete the process. The second option uses a QR-code, which can be scanned with a phone camera to be automatically taken to the Veriff website.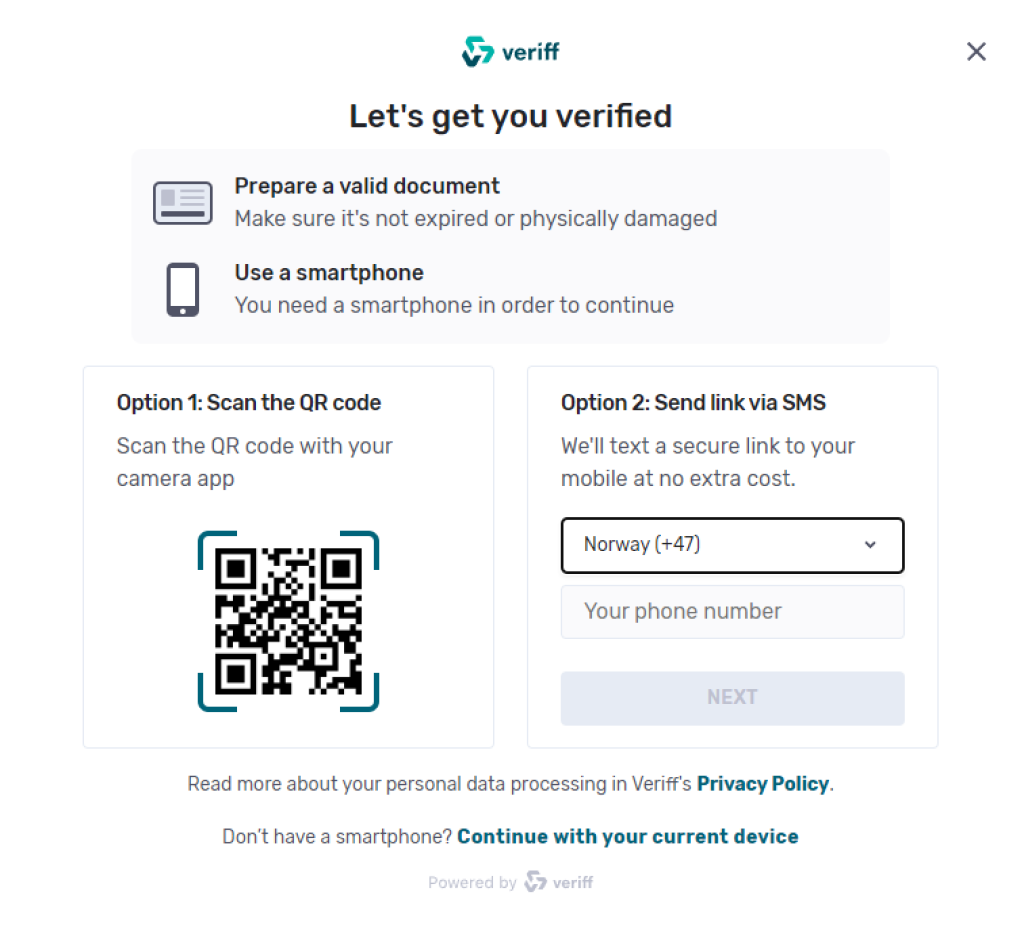 Here, take a photo of the identity document and selfie with it, then click "Save & Continue".
Level of Verification
Choose the level of verification and the limit. To do this, fill out the following form:
"Your address" section
Country of residence;
County / State;
City;
Postal Code;
Address.
Photos of documents will be required to confirm the address:
Utility bill
Credit card statement
Lease agreement or mortgage statement
Documents can be downloaded in .jpg, .png and .pdf format.
If it is necessary, the company can require legal translation of all documents into English.
The next step is to fill in "Income information".
Purpose of transactions;
Employer name;
Net income;
Source of funds.
Finish the verification process by clicking "Save & Continue".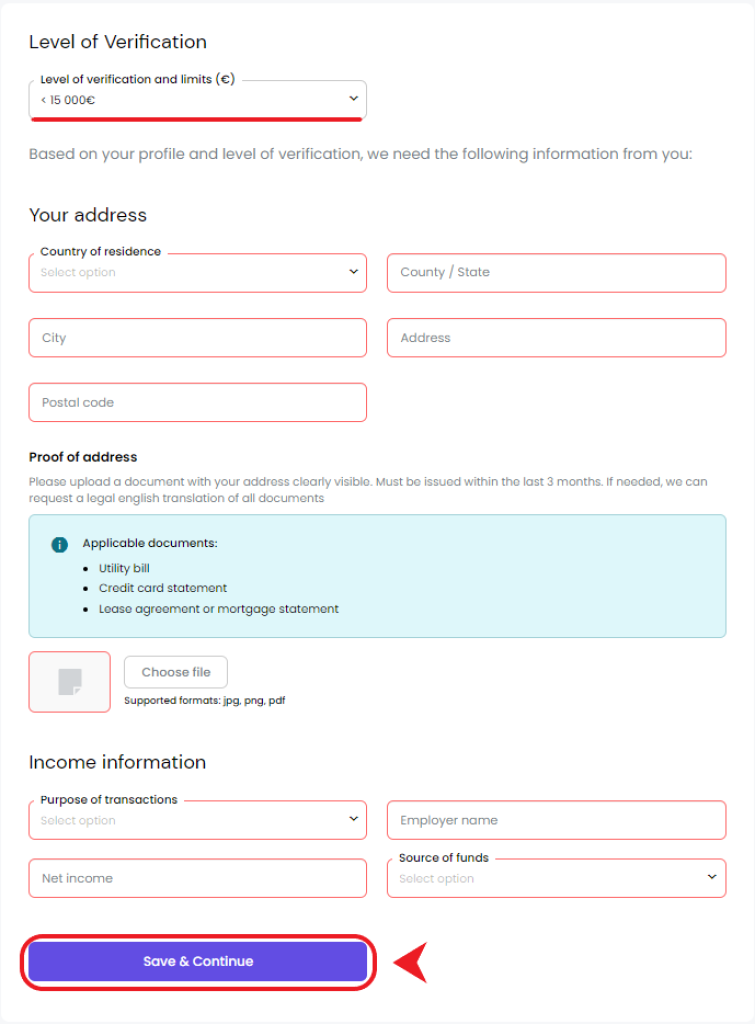 Solutions for Individuals
InstaPay
The innovative InstaPay tool automatically converts cryptocurrency into fiat and sends it to a specified IBAN account. If you are a holder of digital assets and you need to send it in fiat, this solution will be very helpful.
Real estate giant RE/MAX uses this service. Now, their clients can buy apartments and houses with crypto.
To work with this feature, go to the personal account and choose "InstaPay". The service will require the user to fill out the following fields:
Predefined payment (select if you have predefined payments template)
Beneficiary's name
Beneficiary's IBAN
Amount €
Payment description
Receiver address (Street, City, Country)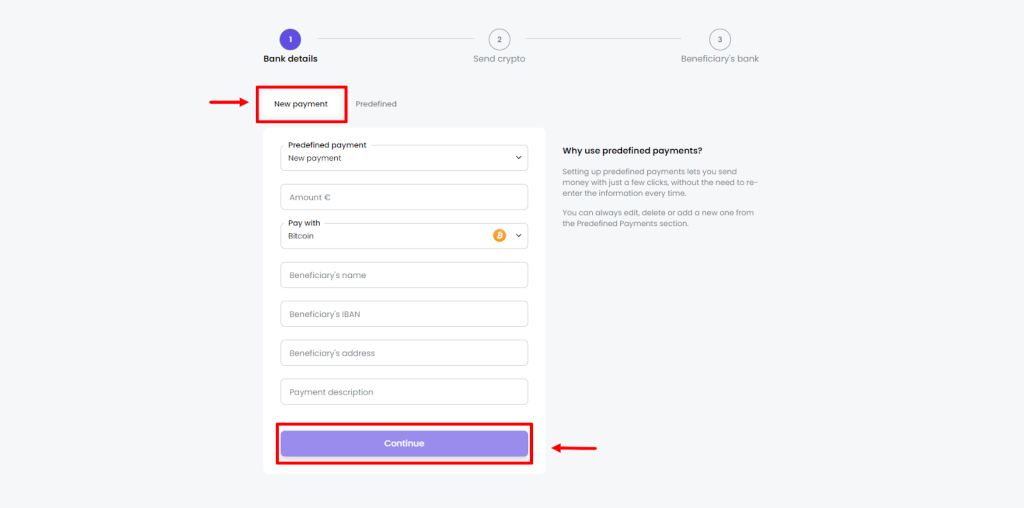 Click "Continue".
After that, double check the wallet address and transaction details. You can change it if it is necessary before sending.
If you have vouchers with which you can pay the conversion and transaction fee, you can use it by clicking "Apply Service Fee Voucher". Note: Vouchers cannot be used partially, and only one can be applied per transaction.
Swapin will fix the cryptocurrency rate for 30 minutes to protect both parties from the risks of volatility. During this time, you must make a transfer to the recipient's address.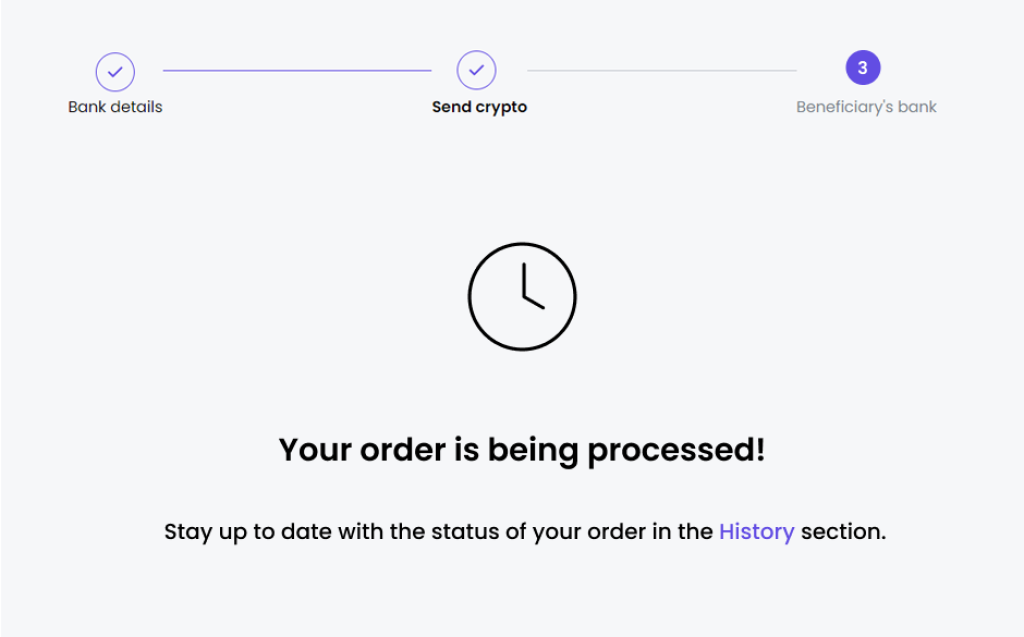 After the user sends the cryptocurrency, the service converts it into EUR and sends it to the recipient's bank account instantly.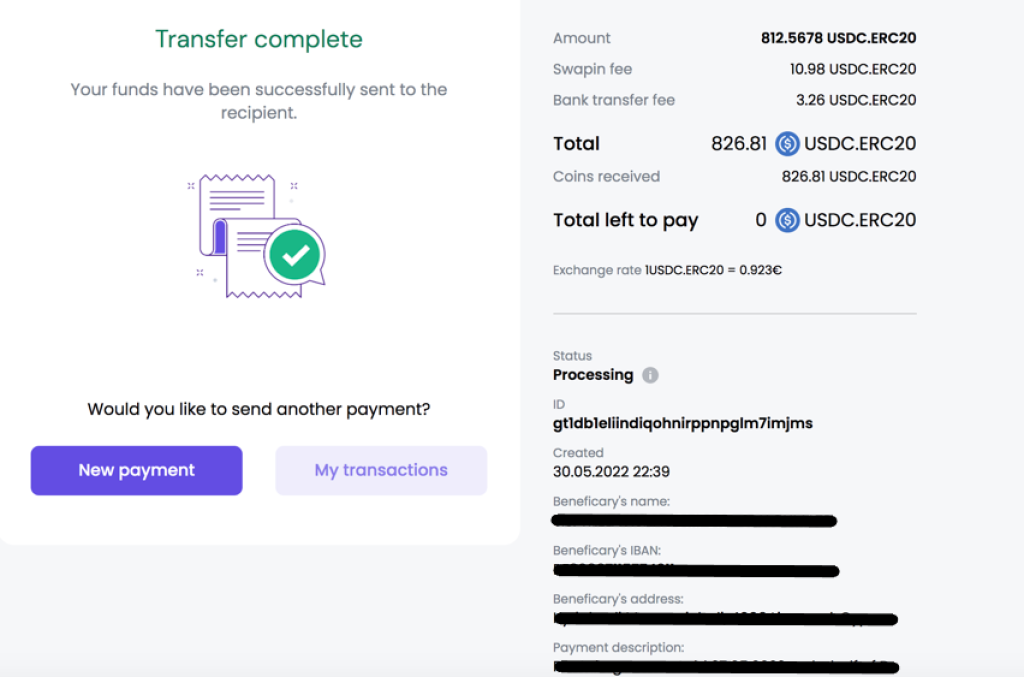 In the future, all transactions and their history can be seen in the "History" section.
InstaFill
This feature will love crypto holders, who always need fiat. Instafill works like this: you connect an IBAN account to a Swapin crypto account, and when fiat is needed, you can simply fund your account with cryptocurrency. It will be automatically converted to EUR and sent to the specified IBAN account.
To work with InstaFill, choose it in the header of the site and click "Create new". You will be required to fill in the following fields:
InstaFill name
Select coin
Beneficiary's name
Beneficiary's IBAN
Beneficiary's address
Click ''Continue"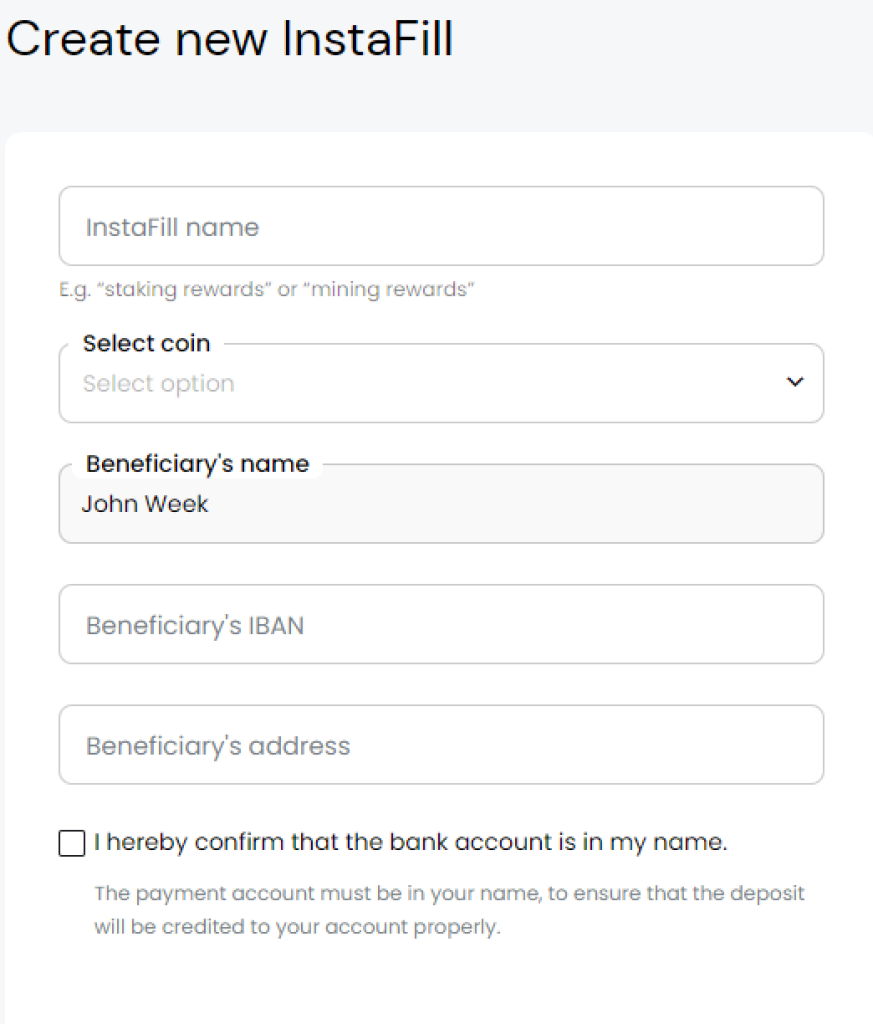 Predefined Payments
This solution is a payment template for recurring payments. If you pay bills, loans, rent or other things monthly, then this feature will come in handy. All parameters are set individually, so you can customize everything to your needs.
The section can be accessed through InstaPay, which is located in the header of the site, with the subsequent selection of Predefined.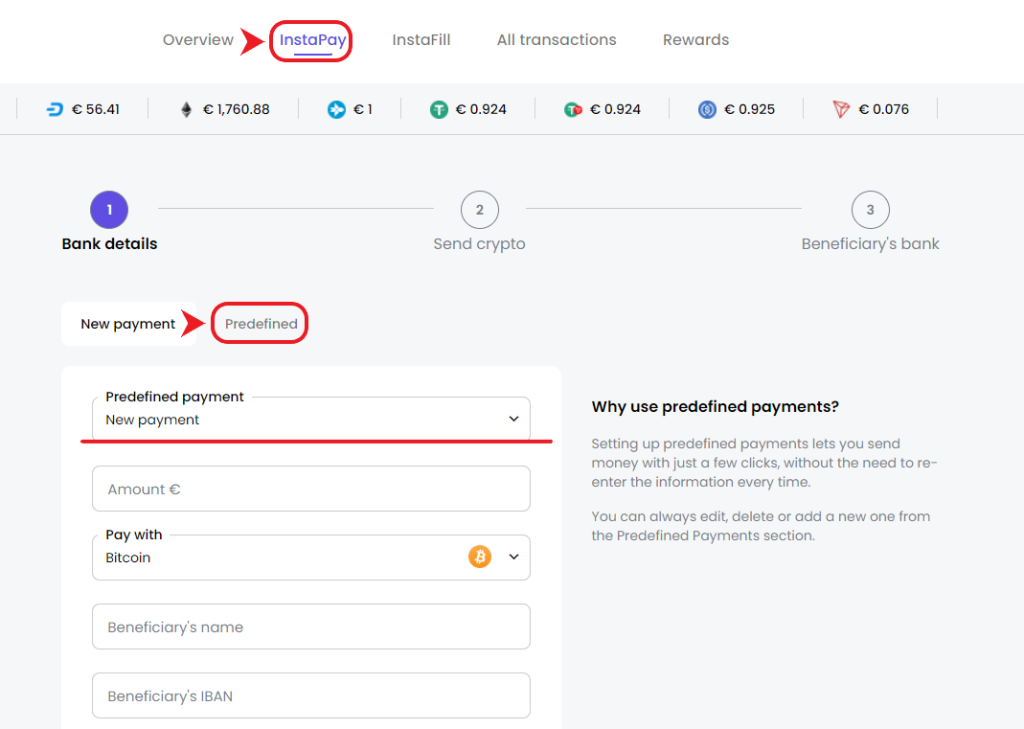 Creating a template by clicking "Predefined" and "Create new".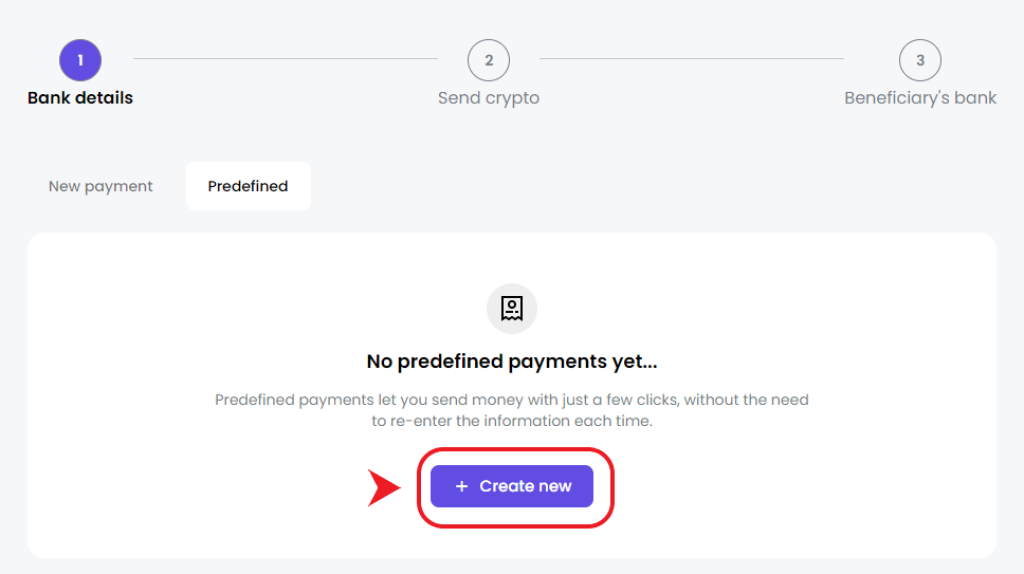 Fill in the following fields:
Predefined payment name
Amount €
Coin
Recipient's name
iban
Receiver address (Street, City, Country)
Description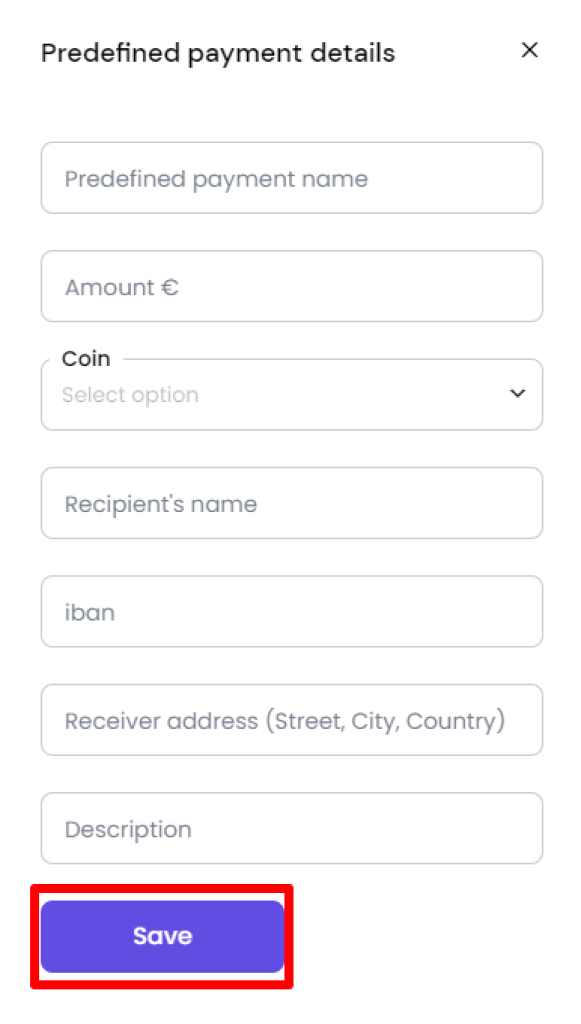 Click "Save".
Business solutions
CoinCollector
Thanks to this feature, companies can issue invoices to customers in fiat, and they can be paid using cryptocurrency. Clients choose one of the ten digital assets that are represented by the service. Their list includes:
Bitcoin (BTC)
Ethereum (ETH)
Bitcoin Cash (BCH)
Litecoin (LTC)
Dash (DASH)
Tron (TRX)
USDT ERC-20
USDT TRC-20
USDC ERC-20
Service Coin (ESCT)
Service Coin is an EUR-backed stablecoin.
Here is how CoinCollector works:
If you are the recipient of an invoice for payment, then you need to fill in the following fields:
Select cryptocurrency
Specify the amount in EUR
Payment Description
Referral number (optional)
Contact Email
Confirm the validity of the entered data
Click "Proceed"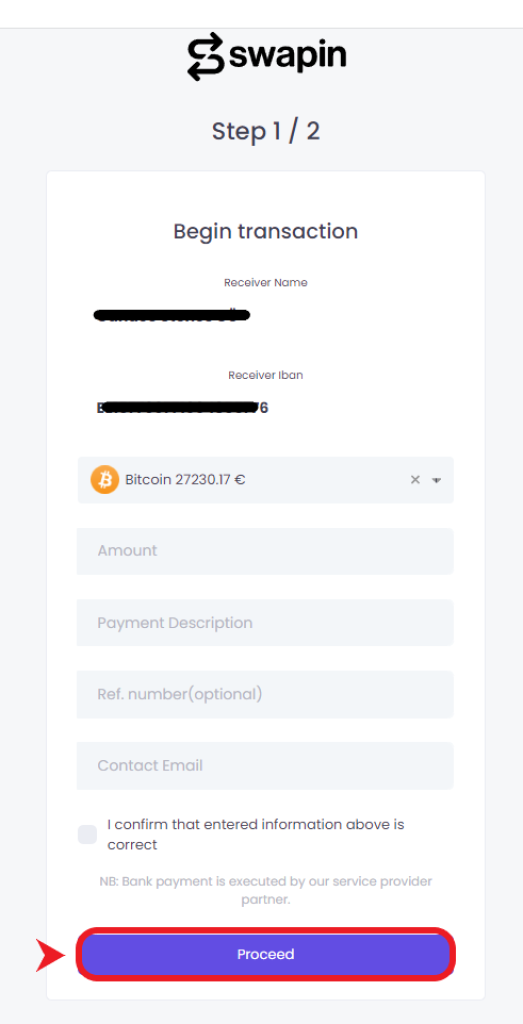 E-Com widget
The E-Com ecommerce widget integrates into any merchant website. Using the tool, online stores can accept payments in crypto even if they prefer fiat.
The client pays the invoice in digital assets, then EUR arrives at the corporate IBAN of the store.
Fees and Conditions
Users can open and maintain an account on Swapin for free. Commission and fees are taken for operations that will be carried out on the platform.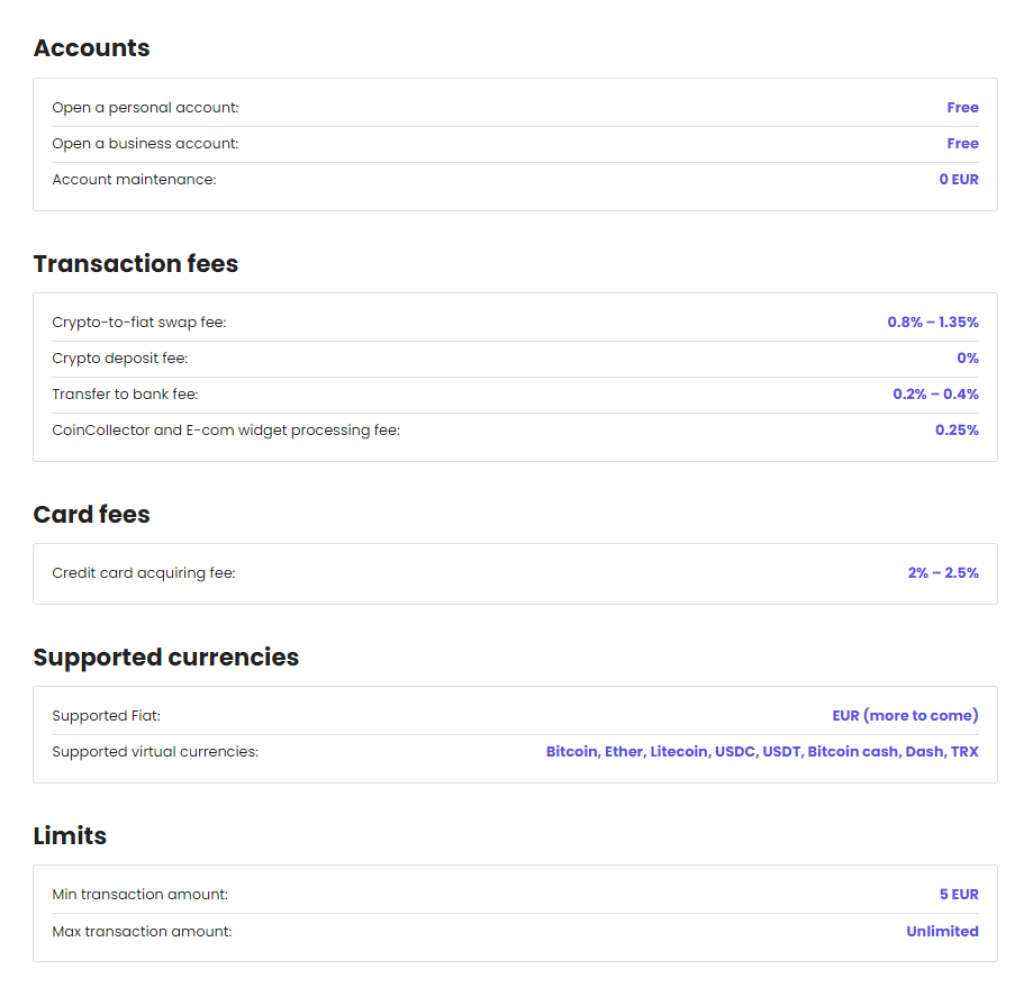 The minimum amount of transactions is 5 EUR and the maximum is unlimited.
Personal account
The personal account contains all the features that Swapin provides. Users can view the history of all transactions in the "All Transactions" section, which is located in the header of the site.


On the right, you can see the "Rewards" section. This is a partnership program from Swapin, thanks to which users can receive additional income and discount vouchers from attracting new users.
In addition, in your personal account, you can edit any personal user data, if necessary.
Summary
The innovative Swapin platform will suit both cryptocurrency holders and people who encounter it in one way or another. The services that Swapin provides can help companies in attracting new customers who want to pay for something using crypto. Users do not have to spend time and commission costs on the services of exchanges each time fiat is needed. By linking a personal IBAN account to a Swapin crypto account, the conversion will take place automatically. Connect to Swapin now and break down the barriers between crypto and the banking system.

CaptainAltcoin's writers and guest post authors may or may not have a vested interest in any of the mentioned projects and businesses. None of the content on CaptainAltcoin is investment advice nor is it a replacement for advice from a certified financial planner. The views expressed in this article are those of the author and do not necessarily reflect the official policy or position of CaptainAltcoin.com