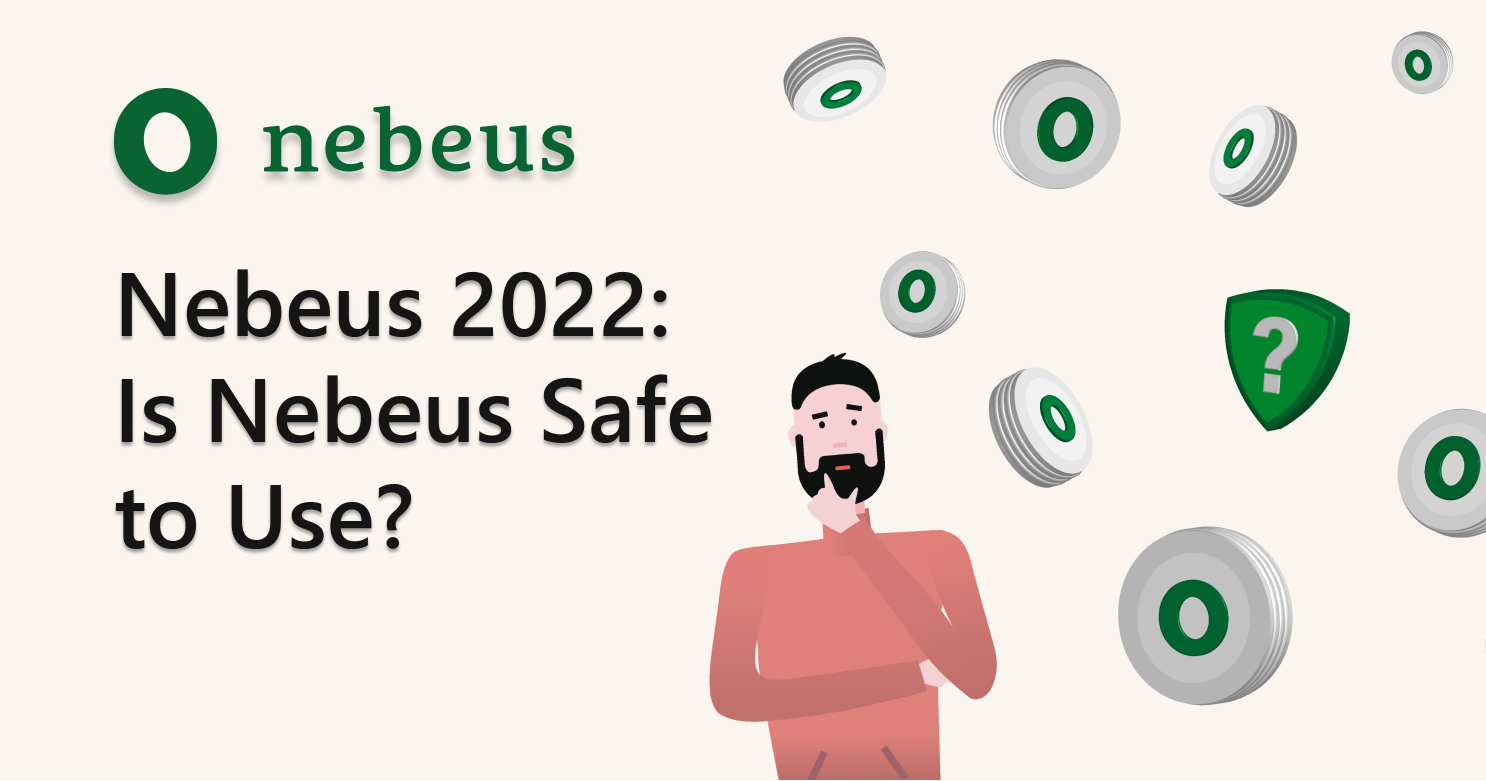 Crypto-backed loans have become a highly sought-after product for crypto investors looking to access cash while retaining their holding in crypto.
Read on to learn about crypto-backed lending on Nebeus.
What is Nebeus?
Nebeus is a cryptocurrency app and desktop platform that was launched by Sergey Romanovsky in 2014 and enables users to take out instant crypto-collateralized cash loans, exchange coins, earn yield on their digital assets, and more.
Nebeus Main Services
Let's take a look at the services that Nebeus offers.
Crypto-Backed Loans
Cryptocurrencies have proven to be a potentially highly lucrative investment option for long-term holders. However, emergencies may force investors to cash out earlier than planned, thus potentially missing out on future returns. This is where Nebeus' crypto-backed loans come in.
Instead of cashing out on your investment, you can use your crypto as collateral to secure cash (or stablecoin) loans to settle emergencies while maintaining your investment. Nebeus offers one of the best lending interest rates and lets you take loans in stablecoins in addition to fiat currencies like USD, EUR, and GBP.
You can currently choose between two loan options on Nebeus: quick loans and flexible loans.
Quick Loans
Quick loans are instant pre-approved loans you can secure with just a few clicks. This loan comes with a 50% loan to value (LTV), a 0% interest rate for the first three months, and a free early repayment option. If you are looking for a quick loan, then you may want to consider using the quick loan option.
Flexible Loans
The flexible loan option is a more advanced loan where you can select and customize your terms. With this option, you can get a maximum loan of €250,000 for up to 36 months and a customizable loan to value between 50% and 80%. Interest rates are between 6% to 13.5%. Although it differs based on your LTV; the lower your LTV, the lower your interest rates. If you have a clear and specific view of what you want, then you may consider using the flexible option.
The best part with Nebeus crypto-backed loans is that your collateral is secured with a $100 million insurance policy. Also, Nebeus has a Loan Health Monitor feature that enables you to monitor the performance of your collateral against your loans. This allows you to effectively manage your assets in a highly volatile crypto market.
Additionally, Nebeus offers zero risk loans that provide borrowers with a 10-day grace period during which they can repay the loans or active Auto Margin Call Management, where borrowers can add crypto to their Nebeus account and let Nebeus automatically manage and replenish their loan collateral. And best of all, should crypto prices increase again during the 10-day margin call period, Nebeus automatically cancels the margin call, and the loan agreement continues without any changes.
Crypto Exchange
Buying and selling cryptocurrencies can be a technical and tedious process with some traditional exchanges. Trading fees on some platforms are also another issue.
With Nebeus, you can easily trade several cryptocurrencies. You can also transfer coins from any other digital wallet or deposit fiat using your bank card.
You can currently trade BTC, ETH, LTC, DASH, XRP, XLM, BCH, USDT, USDC, EUR, GBP, and USD on Nebeus.
Crypto Renting
Another exciting service on Nebeus is crypto renting. While everyone may not be interested in taking crypto-backed loans, earning passive income on your crypto investment is a good offer to consider. You get paid a daily interest rate in euros (or stablecoins) when you rent Nebeus your crypto for a predetermined period via any of their renting programs. Nebeus offers four renting programs, including Juniper, Sequoia, Bonsai, Baobab.
Juniper – When you rent Nebeus a minimum of 0.0025 BTC or 0.03 ETH for more than a month, you earn a 3.5% APR.
Sequoia – When you rent Nebeus a minimum of 0.12 BTC or 3 ETH for more than four months, you earn a 6.75% APR.
Bonsai – When you rent Nebeus a minimum of 50 USDC or 50 USDT for more than a month, you earn a 6.5% APR.
Baobab – When you rent Nebeus a minimum of 1,000 USDC or 1,000 USDT for more than four months, you earn a 12.85% APR.
Crypto Insurance
Crypto insurance is critical for crypto users these days. Nebeus, in partnership with Bitgo and Lloyds of London, offers a $100 million bank-grade class III cold storage security for your crypto assets. Two insurance subscription options are available for you to buy:
Single Insurance (€4/month)
$100 Million insurance from Lloyds of London for one of your crypto (either BTC or ETH).
Full Insurance (€6.90/month)
$100 Million insurance from Lloyds of London for your full Vault (BTC and ETH).
With Nebeus crypto-insurance, your crypto assets are protected against third-party hacks, private key copying, and loss or theft of private keys inside the Bitgo Custody ecosystem.
Pros & Cons of Nebeus
Pros
Nebeus is an all-in-one platform for your crypto-to-fiat needs.
Nebeus has low-interest rates and trading fees.
Nebeus offers one of the best loan-to-value ratios among crypto-backed lenders.
Your collateral is covered by a $100M insurance policy.
You can monitor the health of your collateral.
Nebeus complies will all EU and UK AML rules and regulations. 
Cons
Nebeus may not be appealing to DeFi crypto enthusiasts who prefer anonymity. 
Is Nebeus Safe?
Nebeus ensures the safety of your assets. The company is regulated by the Bank of Spain and registered with Spain's Anti-Money Laundering Supervisory Authority (SEPBLAC).
On November 31, 2021, Nebeus applied to the Bank of Spain for the European Union's MiCA (Markets in Crypto-Assets framework) registration as a Spanish digital asset company. Nebeus is one of the first companies in Spain to have successfully applied for this registration.
Conclusion
Nebeus provides a secure crypto lending ecosystem that enables cryptocurrency holders in Europe and the UK to access instant crypto-back loans. Accessing liquidity has never been easier for crypto investors, thanks to Nebeus.

CaptainAltcoin's writers and guest post authors may or may not have a vested interest in any of the mentioned projects and businesses. None of the content on CaptainAltcoin is investment advice nor is it a replacement for advice from a certified financial planner. The views expressed in this article are those of the author and do not necessarily reflect the official policy or position of CaptainAltcoin.com