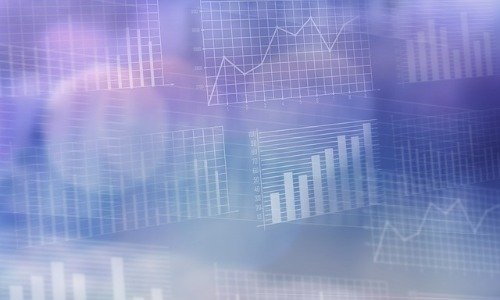 Total market capitalization remained at $114 billion this week. Stellar was hit really hard, falling 15 percent last week. Tron had to relinquish last week's gains, while Litecoin saw another uptick.
Again this week was rather disappointing: while Bitcoin, XRP Ethereum and Bitcoin Cash recorded only small to moderate losses, Tron and Stellar fell by over ten percent. Stellar thus continues its downward trend, while Tron had to give up last week's high. Only EOS and Litecoin can record price increases of one and four percent, respectively. In the case of Litecoin, the announcement that Charlie Lee is pushing developments in favour of greater fungibility may have inspired some investors.
In any case, the market capitalization remained constant at 114 billion US dollars.
The bearish sentiment of recent weeks has largely given way to a wait-and-see attitude: For the larger crypto currencies, we arrive at neutral assessments in which a rise above the resistance or a fall below the support should be used as an entry into a long or short position. The smaller crypto currencies within the top 10 mostly give a bearish impression. It is a good idea to think about a short position where the given prices for support and resistance can serve as a guideline for a target or a stop loss.
Best Price Development: Litecoin (LTC)
It wasn't really much, but at least the Litecoin price can be happy about a price gain of four percent. With this increase, the price continued to remain above the moving average of the last fifty days. An old downward trend in force since March 2018 is currently being tested.
According to the rising MACD and the also rising RSI, which is currently at 55, the chances for this are not bad. The Aroon indicator also leads to a bullish assessment. So you can try it with a long position, at the latest after a rise above the first resistance at 39.94 US dollars. As a stop loss, support at 30.19 US dollars is a good choice, as a target you can target 40.97 US dollars. If the price falls below this stop loss, you can try a short position where the stop loss is about 33 US dollars. The target is the 2018 minimum of 23.75 US dollars.
Worst price development: Stellar (XLM)

Stellar's fall knows no end. Last week he already lost 13 percent, this week the Stellar course had to lose another 15 percent. This means that the price has reached a minimum that has not been tested since December 2017.
A negative and currently still falling MACD, as well as an RSI at 30, speaks a bearish language. The Aroon indicator continues to confirm this view with a strong Aroon down signal. Thus, a short position is the obvious choice, where the supports can be used as targets at 0.065 US dollars and 0.043 US dollars. The first resistance at 0.103 US dollars can be used as a stop loss. Only after a rise above the second resistance at 0.126 US dollars is a long position currently available. As a stop loss, you can use the first resistance again, while possible targets are 0.174 US dollars and 0.24 US dollars.
Stability of the Top 10

Ethereum's and XRP's market capitalizations are ten percent apart, which a bold bull run or fall could quickly correct. Otherwise, the situation has stabilised somewhat. Although the market capitalizations of Bitcoin Cash, Tether and Litecoin are almost on a par, Tron has fallen so far behind Litecoin as a result of this week's fall that a stable 23 percent separates the market capitalizations of these two Krpyot currencies. With Stellar falling almost in sync with Tron, the gap between market capitalisations has hardly changed: Furthermore, Stellar needs a price gain of six percent to rise above Tron.
Winners and losers of the week
On average, the crypto currencies of the top 100 fell by eight percent and thus performed significantly worse than Bitcoin. The winners of the week were Augur and Apollo, whose prices were the only ones to post more than five percent plus. The losers of the week were Revain, Zilliqa and NEM, who each suffered price losses of more than 20 percent. NEM may have been affected by the bankruptcy of the NEM Foundation.
85 percent of the top 100 crypto currencies performed worse than BTC. However, the market share remained at 53 percent.

CaptainAltcoin's writers and guest post authors may or may not have a vested interest in any of the mentioned projects and businesses. None of the content on CaptainAltcoin is investment advice nor is it a replacement for advice from a certified financial planner. The views expressed in this article are those of the author and do not necessarily reflect the official policy or position of CaptainAltcoin.com