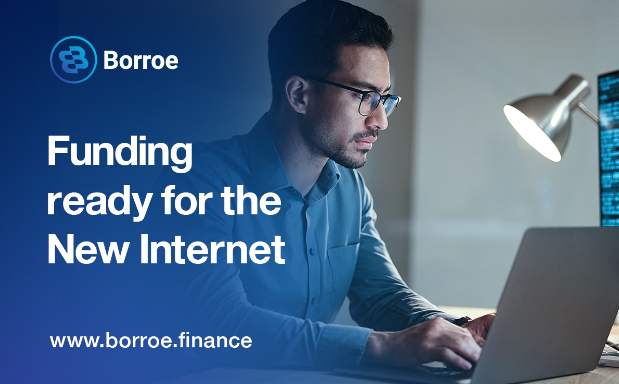 In the volatile crypto market, two crypto projects are capturing the attention right now: Polygon (MATIC) and Borroe ($ROE). Polygon, with its scalable, interoperable blockchain, has recently seen a massive surge in trading volume, creating ripples of excitement. This heightened activity is also fuelling an optimistic outlook for promising newcomers like Borroe.
Read on to find out the ripple effects of Polygon's trading volume boom and how it stands to pave the way for Borroe's presale success.
Borroe Hits Presale Milestone with 25% Price Increase
Borroe is a new crypto project with a groundbreaking mission: to revolutionize the funding industry and make an impact on the growth of the Web3 market. Borroe aims to disrupt traditional fundraising methods through its innovative platform.
In this environment, Borroe establishes itself as a one-of-a-kind crowdfunding platform where any Web3 business can use its future income to unlock immediate cash flow. The platform mints NFTs backed by subscriptions, outstanding invoices, and other future sources of revenues and sells them at a discount on the Borroe Finance marketplace.
Buyers – particularly investors seeking stable, high returns – invest in these fractionalized NFTs. Once the loan is returned, the expired NFTs can be kept and may grant additional benefits, such as access to corporate events. Also, the loan NFTs can be traded on secondary marketplaces, unlocking new opportunities for active traders.
Moreover, Borroe's platform stands out due to its low transaction fees, robust fraud prevention mechanisms, and efficient approval processes. These features are seamlessly integrated with artificial intelligence via AI risk assessment, which will ensure fairness, transparency, and security on the platform.
Lastly, the presale event of Borroe is generating substantial buzz within the crypto community. The project has completed the beta stage successfully and is now in the first presale stage with a 25% price increase, from $0.01 to $0.0125.
Each new presale stage is specially designed to offer incremental price increases, with a predicted 300% potential increase for early investors.
Polygon's Explosive Trading Volume Paves the Way for $ROE's Success
Ever since NFTs became a digital sensation, Polygon has proven itself to be a robust platform for these unique assets.
Attracting creators and collectors, Polygon offers low-cost transactions and faster processing times than many of its counterparts. These benefits have attracted an influx of users, significantly enhancing MATIC's trading volume.
In the last few weeks, the number of NFT buyers and sellers has surged. Some of the top Polygon NFT collections on OpenSea include y00ts, Ring Runnerz, and the Sandbox.
Much like how Polygon provides an answer to Ethereum's scalability issues, Borroe aims to revolutionize crowdfunding and offer real-world financing solutions for Web3 businesses. The NFT market's growth on the Polygon network proves the appetite and potential for platforms that offer innovative and accessible solutions.
For Borroe, this signifies a considerable opportunity. By allowing businesses to mint and sell NFTs backed by their future income, Borroe is creating a unique marketplace that could be as appealing to investors as the NFT space has been on Polygon.
Summary
Polygon and Borroe are undeniably carving out unique paths in the cryptoverse.
The explosive trading volume on Polygon highlights the rising interest and increasing activity in the digital asset space, especially regarding NFT trading. This, in turn, sets a promising precedent for the potential success of the upcoming Borroe presale.
Borroe, with its disruptive approach to funding, stands at the brink of revolutionizing the Web3 ecosystem. By enabling members to use future income and recurring revenue streams to unlock immediate funding, Borroe promises to democratize access to capital for a variety of businesses.
Explore the Borroe ($ROE) Presale:
Buy Presale | Website | Telegram | Twitter
Disclaimer: This sponsored content is not endorsed by CaptainAltcoin, which takes no responsibility for its accuracy or quality. We advise readers to do their own research before interacting with any featured companies. The information provided is not financial or legal advice. Neither CaptainAltcoin nor any third party recommends buying or selling any financial products. Investing in crypto assets is high-risk; consider the potential for loss. CaptainAltcoin is not liable for any damages or losses from using or relying on this content.