Let's face it: the crypto market isn't currently in the most ideal position. Earlier in the year, it looked like it was going to bounce into a decent bull run, with bitcoin crossing $30,000 and ether crossing $2,100. Sadly, it's pulled back as global markets take a tumble and face a few rough months ahead.
However, there are some tokens that are proving capable in being able to outdo major assets in the short-run. These should provide some good relief for investors, who are no doubt eager to see their portfolios turn greener.
Along with an ETH price prediction for the near term, we provide 3 altcoins – WSM, YPRED, and SONIK – that are shaping up to be much better alternatives to ETH in the short-term.
Short-Term ETH Price Prediction Not The Strongest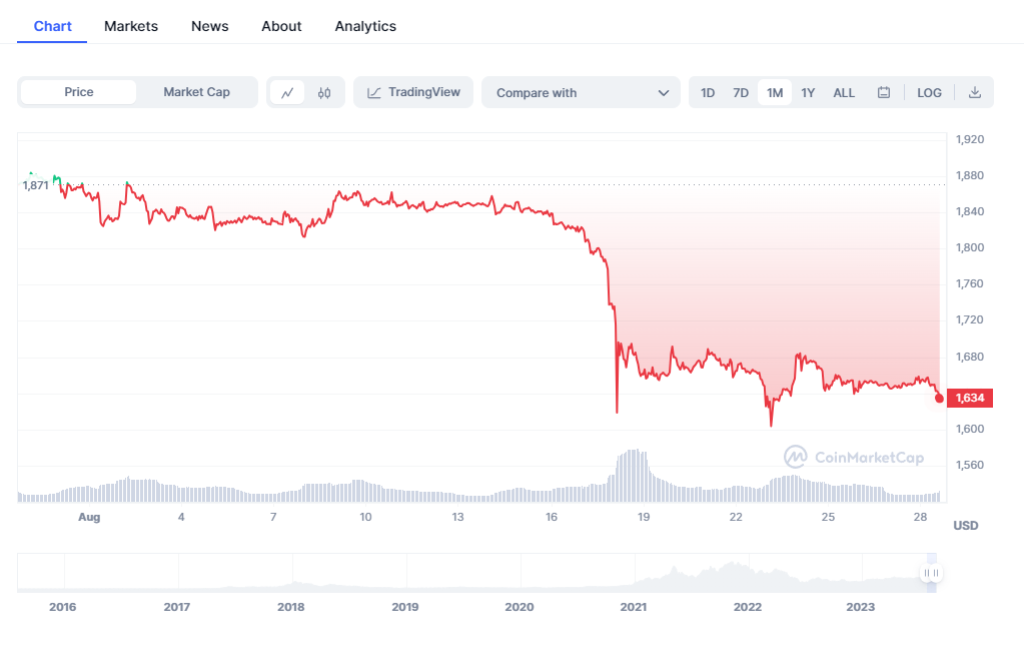 After dropping from some important levels around the $2000 mark, ETH has been failing to overcome resistance levels which has further pushed the price down. Currently, Ethereum's price has reached the lower support boundary of the ascending consolidation, hinting at the possibility of an impending reversal in the trend.
In the weekly timeframe, ETH's price has shaped a substantial harmonic triangle, completing the pattern with the 4th wave. However, the 5th wave appears to have not yet reached the upper resistance of the rising wedge it has adhered to for more than five years. Despite the prevailing bearish conditions, there are bullish indicators for ETH's long-term outlook. Trading within a pattern of ascending wedges, the price seems poised for a bounce back from the lower support after the recent rejection. This hints at an upcoming ascent beyond the $4000 mark – but in the medium term.
Considering the broader trajectory of price action, it seems improbable for the price to revisit the current all-time high at $4,891.70. Instead, a potential rejection around the $4000 mark is anticipated. Following this rejection, the price could initiate a substantial decline, potentially shedding over 90% of its value and pushing it to trade below triple-digit figures, breaking free from the confines of the wedge.
Wall St Memes is the Token You Should All Watch Out For

Here's a unique token that was born from the Wall Street Bets movement and the subsequent GameStop incident. The Wall Street Memes (WSM) token and community deftly combines elements from the financial sector, meme-based humor, and online culture. Wall Street Memes, with its emphasis on meme coins, not only advocates for cryptocurrency investment but also playfully critiques and challenges the conventional financial establishment.
At the core of this phenomenon is the WSM token, introduced by Wall Street Memes. This token enables users to partake in lighthearted and amusing speculative activities reminiscent of those observed on Wall Street. By joining the Wall Street Memes community and acquiring WSM tokens, individuals can demonstrate their support for the cause and potentially gain access to cryptocurrency-inspired memes.
The WSM token is currently in its final stage of presale, leaving limited time to acquire the token. Priced at $0.0337, it is poised to rise further following exchange listings. Despite being a relatively young project, it has already amassed a substantial following and generated $25 million in funds thus far. Notably, staking has also gained significant traction, with millions already staked.
Trade on US-Banned Exchanges With No KYC 🤫
Tired of missing hot new listings because your favorite exchange is banned in the US? 🇺🇸
With RocketXchange you can finally trade on Kucoin, ByBit and more without registration or KYC! 🙌
Simply connect your wallet to access every coin. No VPN needed.
Seamlessly bridge between EVM, Solana, Cosmos and 100+ chains. Discover the next crypto gem with low fees.
Take your trading to the next level with:
Instant access to banned CEXs 🚫
No KYC required 🙅‍♂️
Trade on your terms – no registration required
Maintain full custody – tokens stay in your wallet
Access liquidity across leading DEXs and CEXs
Bridge assets quickly between any blockchain
Escape CEX limits today with RocketXchange!
Show more +
Prospective buyers have the option to procure the token using either ETH or USDT as their preferred payment method. The WSM team places a strong emphasis on transparency, fully disclosing the components of the project's tokenomics. Community rewards will constitute 30% of the total token supply, with 20% allocated to CEX and DEX liquidity, while the remaining 50% is earmarked for the presale.
Given the considerable interest in WSM, it is anticipated that the token will witness rapid sales during the presale phase. In the forthcoming weeks, investors are expected to eagerly partake in the initiative, further fueling the growing enthusiasm surrounding WSM.
Introducing $WSM – yep, we've gone and done it.
The community token that's flipping the Wall Street Memes game upside down! 🐂

We have 50% of the #Token supply up for grabs in the #Presale and 30% set aside for rewarding our community.🔥

Let's make some serious waves together,… pic.twitter.com/fH2TMGmglZ

— Wall Street Memes (@wallstmemes) May 27, 2023
Participation across a wide spectrum of social media platforms now presents individuals with the potential to qualify for an upcoming token airdrop offered by WSM. Those who trade or hold WSM tokens are eligible for this alluring airdrop opportunity. Wall St Memes stands out as an attractive investment choice, characterized by distinctive features that enhance its appeal.
yPredict Can Boost Your Trades, While Also Offering Gains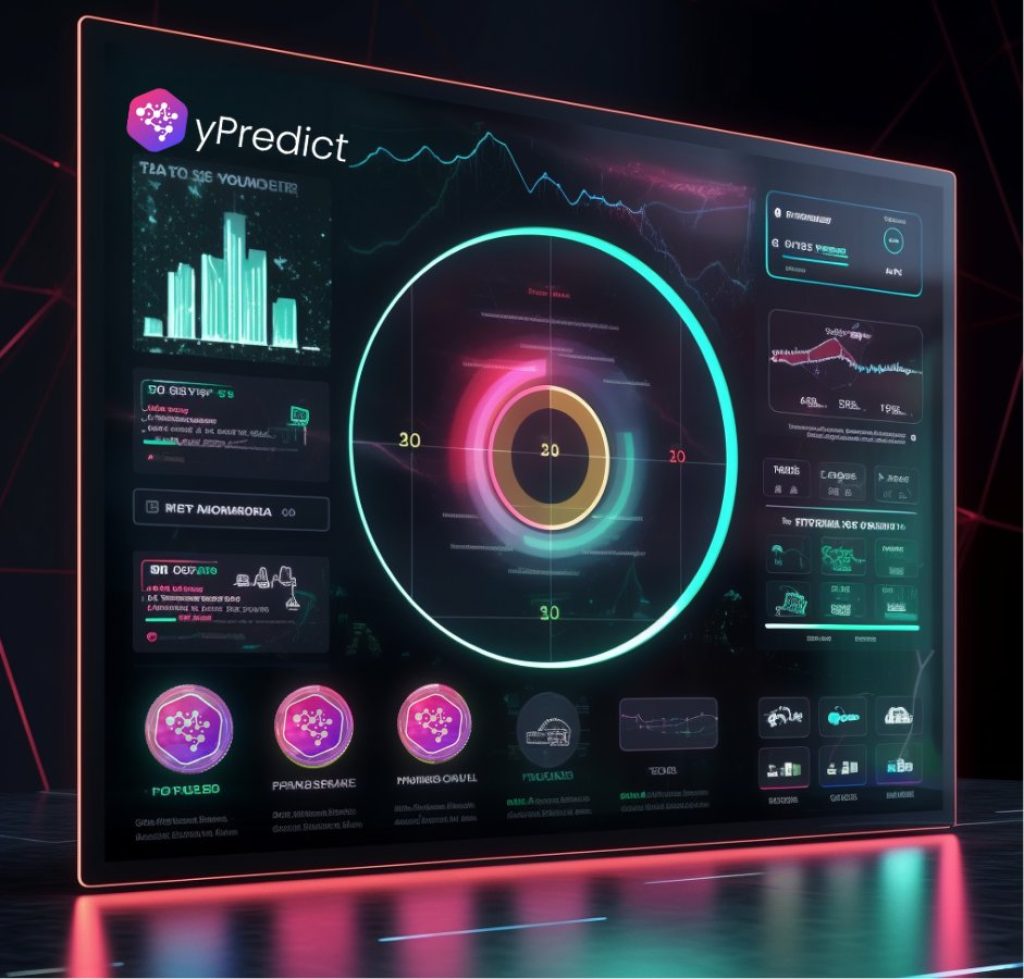 The yPredict (YPRED) token is an AI-powered platform that is a prediction market that stands out for its dedication to transparency and security. Operating on the Ethereum blockchain, this decentralized platform makes use of its native cryptocurrency, the YPRED token.
The primary aim of yPredict revolves around offering users a decentralized alternative to conventional prediction markets, enriched with the functionalities enabled by smart contracts. Within this framework, users actively participate in prediction markets encompassing a wide array of topics, ranging from finance and politics to sports.
A notable highlight of this platform is the "Social Trading" feature, which empowers users to observe and emulate the trading actions of the platform's most adept traders. This distinctive element equips users with the capacity to leverage the expertise of successful traders for their own advantage.
yPredict offers a comprehensive suite of customized services meticulously tailored to cater to the diverse requirements of traders and investors. These offerings encompass market forecasts, an analytical dashboard, a dedicated marketplace for predictive models, and a specialized trading terminal.
The vision of yPredict encompasses a future where the prediction market sector attains universal accessibility, achieved through the provision of a transparent and decentralized platform for trading predictions. By seamlessly integrating blockchain technology, the platform ensures the reliability and security of these prediction markets.
🚀yPredict ($YPRED), the ultimate AI-powered platform for traders! 📊🤖 Unleash the power of market sentiment analysis, chart pattern recognition, advanced indicators, and AI-driven buy/sell signals. An indispensable tool for consistently profitable trading.

🎯 Hurry, we're in… pic.twitter.com/B5lADbFgHm

— yPredict.ai (@yPredict_ai) August 11, 2023
The yPredict presale phase is currently in progress, featuring a token price of $0.10 that is set to increase to $0.12 upon its official listing. It's important to highlight that the ongoing presale stage has already garnered an impressive total of just over $3.6 million.
A substantial portion of the tokens, precisely 80%, has been set aside for the presale, with 50% of this allocation available during the token generation event. Subsequent to this, a 6-week locking period will commence, followed by a gradual vesting of the remaining tokens over a span of 6 months.
Sonik Coin is A Meme Coin That is Fast Moving Towards a Large Market Cap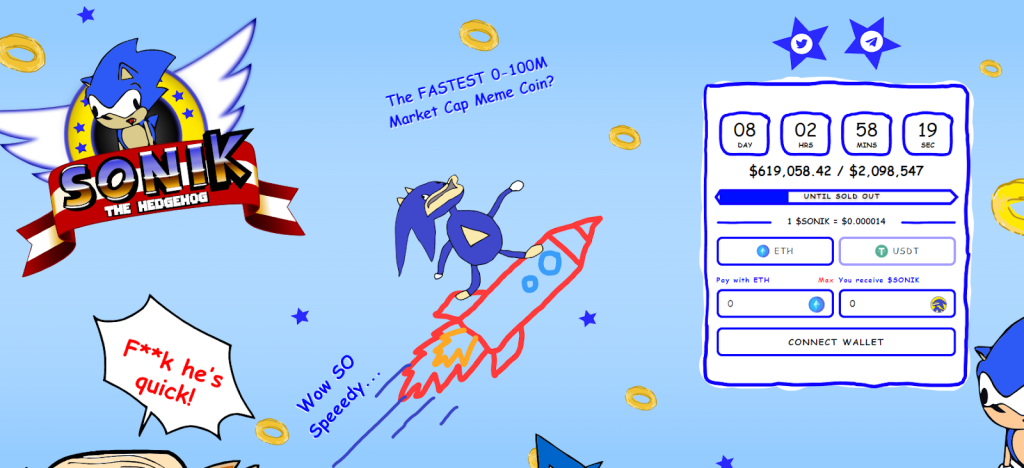 Sonik Coin (SONIK) is based on that famous character. Its mission is centered around achieving an ambitious market capitalization of $100 million, mirroring the character's iconic speed.
Those involved in its distinctive staking smart contract are rewarded generously for their steadfast dedication to the project. The Sonik coin endeavor offers an impressively high annual percentage yield (APY) to its stakers, aligning with the overarching goal of propelling $SONIK to remarkable heights. This innovative staking concept is causing a buzz, extending its influence to encompass both meme coins and 'version 2' themed coins.
Sonik emerges as a pioneering force in the realm of stake-to-speed cryptocurrencies on a global scale, enabling buyers to rapidly engage in staking activities and commence the accumulation of rewards. A substantial portion of the total token supply, precisely 40%, has been allocated for community staking rewards, with distribution scheduled over a four-year period.
Currently, an impressive 90 million SONIK tokens have already been staked, showcasing an extraordinary APY that surpasses 26,000%. However, it's important to acknowledge that this rate will gradually decrease as more stakers participate by depositing funds into the smart contract.
The team has set a relatively conservative target cap of $2 million, signaling that this coin is positioned for swift acquisition rather than prolonged presence in the market. Consequently, prudent action is recommended when considering investment options, as the presale phase is expected to reach its limit within a span of two weeks, or potentially even sooner. The present token price stands at $0.000014.
Conclusion
Wall St Memes (WSM), yPredict (YPRED), and Sonik Coin (SONIK) are altcoins that are standing out as ETH's short-term outlook seems suspect. As such, they're well worth considering if you want tokens with strong prospects to round out your holdings.
Disclaimer: We advise readers to do their own research before interacting with any featured companies. The information provided is not financial or legal advice. Neither CaptainAltcoin nor any third party recommends buying or selling any financial products. Investing in cryptoassets is high-risk; consider the potential for loss. CaptainAltcoin is not liable for any damages or losses from using or relying on this content.

CaptainAltcoin's writers and guest post authors may or may not have a vested interest in any of the mentioned projects and businesses. None of the content on CaptainAltcoin is investment advice nor is it a replacement for advice from a certified financial planner. The views expressed in this article are those of the author and do not necessarily reflect the official policy or position of CaptainAltcoin.com