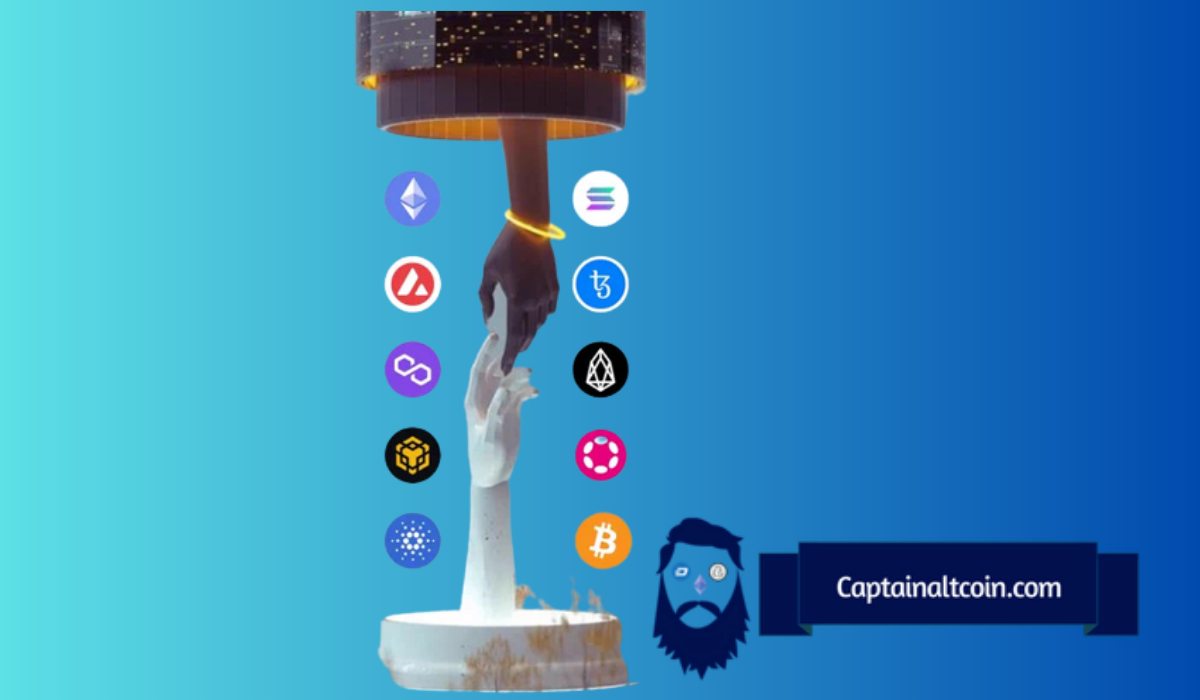 Ethereum, the reigning monarch of the DeFi realm, is undeniably grand, affluent, and perpetually in the limelight. However, does this imply that other Layer 1 (L1) networks are merely lurking in the shadows? Let's delve deeper into this intriguing narrative according to research shared by Stacy Muur.
Ethereum's dominance is evident in the transaction fees it generates, which are the highest across all L1 chains. This is primarily driven by the popularity of liquid staking and LSTfi following the Shapella upgrade, along with the frenzy around meme coins and Telegram bots.
The transaction fee for Ethereum has seen a significant increase of 84% to $8.89 QoQ, with gas prices surging by 53% to 47 Gwei.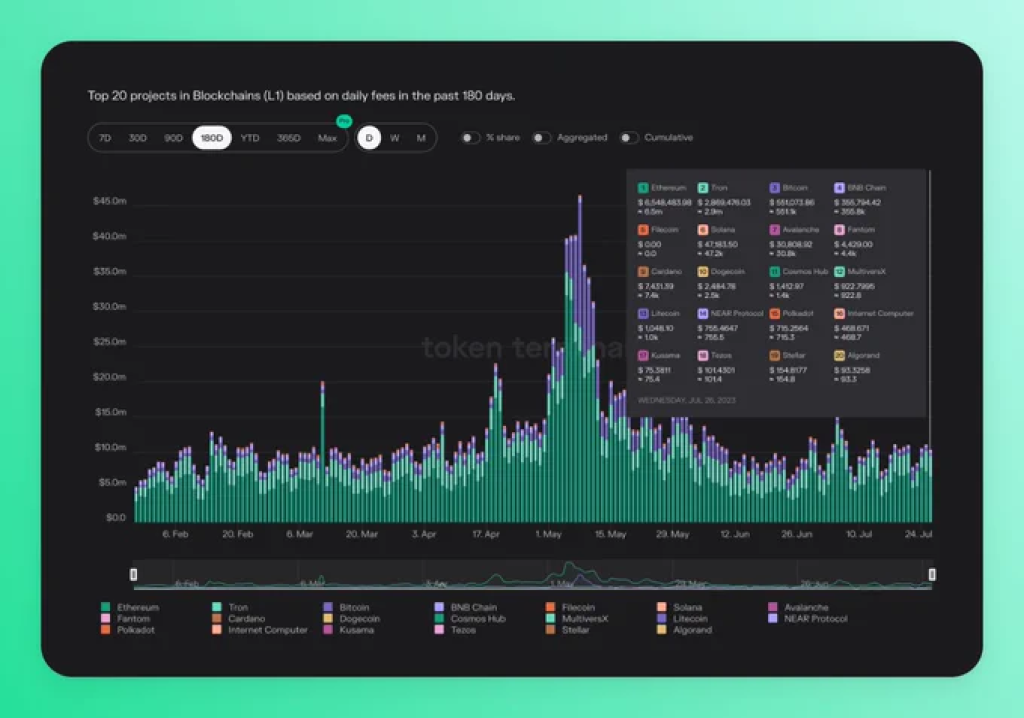 In contrast, BNB Chain has stepped in with an average fee of $0.14, following a significant dropoff. This is due to BNB Chain validators cutting gas fees by 40%, resulting in a 26% decrease in average transaction costs.
The impact of these fees is clearly visible in the revenue landscape. In Q2'23, Ethereum and TRON accounted for 93% of the total revenue generated by featured L1s. Ethereum reached its peak on May 5, generating over $32 million in revenue.
Trade on US-Banned Exchanges With No KYC 🤫
Tired of missing hot new listings because your favorite exchange is banned in the US? 🇺🇸
With RocketXchange you can finally trade on Kucoin, ByBit and more without registration or KYC! 🙌
Simply connect your wallet to access every coin. No VPN needed.
Seamlessly bridge between EVM, Solana, Cosmos and 100+ chains. Discover the next crypto gem with low fees.
Take your trading to the next level with:
Instant access to banned CEXs 🚫
No KYC required 🙅‍♂️
Trade on your terms – no registration required
Maintain full custody – tokens stay in your wallet
Access liquidity across leading DEXs and CEXs
Bridge assets quickly between any blockchain
Escape CEX limits today with RocketXchange!
Show more +
Avalanche, however, dominates QoQ revenue growth among L1s, measured in native tokens. LayerZero and XEN Crypto have played significant roles in driving up activity levels and revenue.
Cardano – the Dark Horse of DeFi TVL Growth
Cardano, often symbolized as ADA, has emerged as the undisputed champion in terms of DeFi Total Value Locked (TVL) quarter-over-quarter growth. For those unfamiliar, TVL is a measure of the total assets locked in the smart contract of a DeFi protocol, a key indicator of the protocol's popularity and trustworthiness. Cardano's impressive growth in this area suggests a burgeoning ecosystem that's attracting significant capital.
Avalanche – the Pioneer of New Address Growth
Next, we have Avalanche (AVAX), leading the pack with the highest growth in new addresses quarter-over-quarter. This is a clear testament to its growing user base and adoption. In the world of blockchain, the creation of new addresses often signifies new users entering the network, thus indicating its expanding popularity.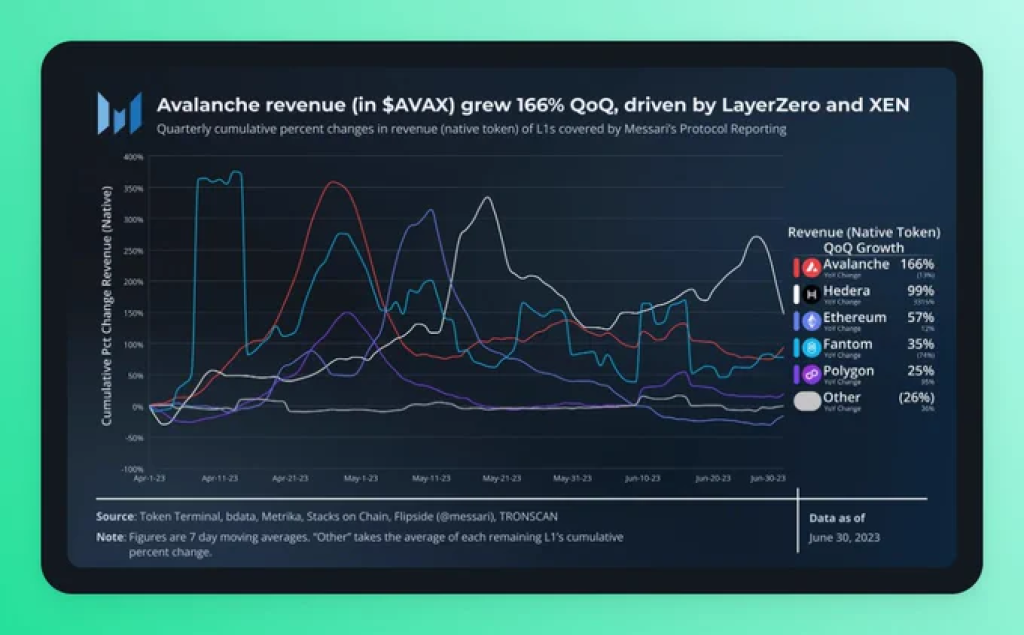 Tron – the Champion of P/S Ratio
Lastly, Tron (TRX) boasts the best Price-to-Sales (P/S) ratio. In the context of cryptocurrencies, the P/S ratio is a valuation metric that compares a cryptocurrency's market cap to its revenues. A lower P/S ratio could mean that the crypto is undervalued, making Tron an attractive option for investors seeking value buys.
The Future of DeFi: A New Era of Blockchain Dominance
As we venture further into 2023, the decentralized finance (DeFi) landscape continues to evolve at a rapid pace. Ethereum, with its robust ecosystem and advanced capabilities, has long held the reins of the DeFi world. However, the power dynamics among blockchain networks are not set in stone and could potentially shift in the near future.
Key takeaways:
Polygon, a well-known layer-2 scaling solution for Ethereum, is making a significant change. It's transitioning from its native token $MATIC to a new token, $POL. This move is designed to enhance the utility of the platform and could potentially increase its influence in the DeFi space.
Cardano, another major player in the blockchain arena, is gearing up for its 'Mithril' upgrade. This update is aimed at enhancing the efficiency of Cardano's speed, security, and decentralized decision-making capabilities. If successful, it could significantly boost Cardano's standing in the DeFi realm.
Tron, a blockchain platform focused on content sharing and entertainment, is also making strides with its Periander update. While details are scarce, the update is expected to bring about significant improvements to the platform.
Solana, known for its high-speed blockchain, is introducing a new developer tool named Solang. This tool is designed to bridge the key differences between Solana and Ethereum blockchains, making it easier for developers to build on Solana. This could potentially attract more projects to the Solana ecosystem.
BNB Chain (formerly Binance Smart Chain) is pushing forward with its growth initiatives. These include the Gas Grant Program and various incubation programs aimed at fostering innovation and growth within the BNB Chain ecosystem.
In conclusion, while Ethereum continues to hold a dominant position in the DeFi space, these developments indicate a dynamic and evolving landscape. The power distribution among blockchain networks is fluid and could easily shift as these platforms continue to innovate and grow. The future of DeFi, it seems, is set to be an exciting one.

CaptainAltcoin's writers and guest post authors may or may not have a vested interest in any of the mentioned projects and businesses. None of the content on CaptainAltcoin is investment advice nor is it a replacement for advice from a certified financial planner. The views expressed in this article are those of the author and do not necessarily reflect the official policy or position of CaptainAltcoin.com