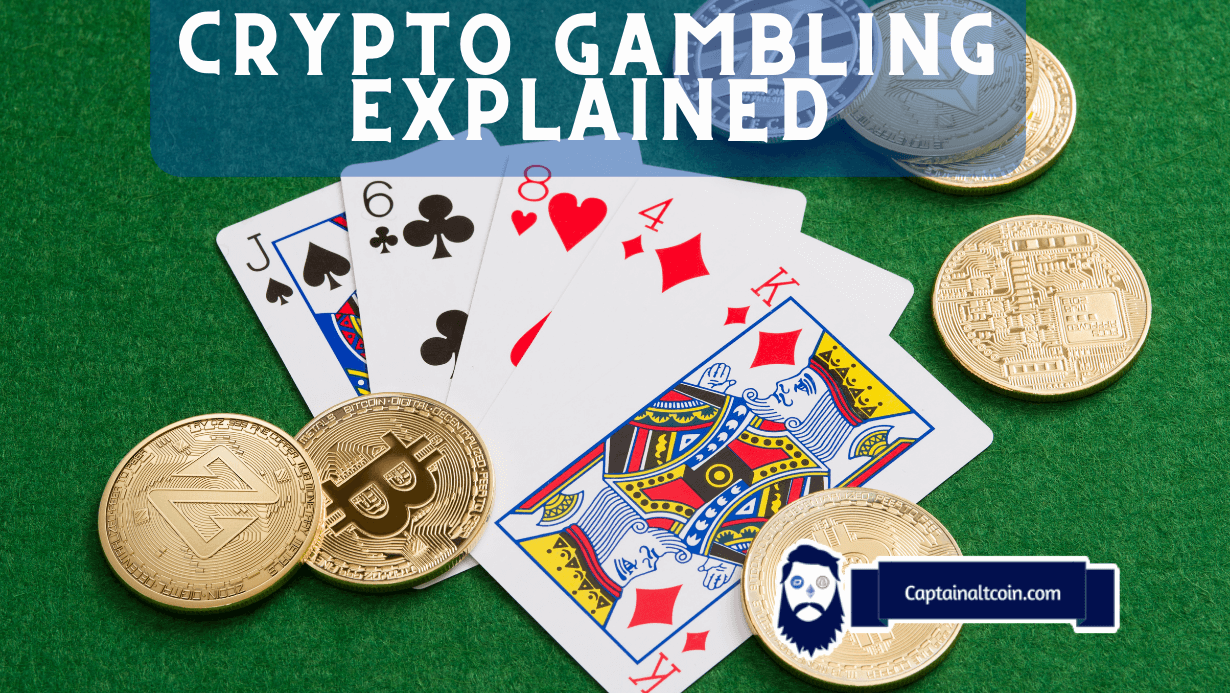 When Satoshi Nakamoto allegedly launched Bitcoin, he intended to replace fiat currencies. So far, this hasn't been the case, but cryptocurrencies have become an ideal solution for many activities, and Online gambling is an obvious one. 
The popularity of BTC, ETH and USDT resulted in thousands of sites that have decided to completely forego classic payment methods. And thus, crypto gambling was born. It allows players to enjoy their favourite games, all while staying anonymous and keeping their activities private.
Many experts consider this the best way to play at online casinos, as you only need a crypto wallet and a bit of knowledge. However, risks are also involved, such as price volatility, shady sites, etc. But don't worry, today's guide will cover all of that. Once you're done reading, you'll be able to take the crypto gambling plunge almost immediately.
What Are the Basic Features of Crypto Gambling?
The best thing about cryptos, in this sense, is their decentralization. Every transaction is vetted by its users, or an automated system, and all records are stored in a secure digital ledger called the blockchain. That means there are no geographical restrictions — as long as you have a wallet and an internet connection, you're good to go.
Then, there's also the benefit of privacy. Cryptos aren't connected to your real name, and you can switch wallets whenever you want. However, as Crypto.com states, cryptocurrencies are not entirely anonymous. Wallets can be hacked, and people can connect your personal info to the wallet. So, no matter what, you should remain responsible and avoid reckless behavior.
According to some experts, instant transactions are the biggest benefit of crypto gambling. Instead of having to wait for a week or so, everything is handled in 15-60 minutes. Of course, there are differences between various blockchains, but the speed and reliability stay the same.
In addition, crypto gambling sites have grown more open to offering generous deals. Many sites openly give better deals for BTC or altcoin deposits compared to their fiat counterparts. That, coupled with the already low transaction fees, makes cryptocurrencies the ideal payment method for both casual and pro gamblers.
Getting Started with Crypto Gambling
Contrary to popular belief, crypto gambling isn't restricted to casinos. You can use your wallet to gamble on sports, poker and even crypto mini-games. Everything works the same as with fiat currencies, but with bonuses, lower fees and faster transactions. And best of all, it's easier to join a site than ever before. You can pick one of the options listed at CryptoGambling.tv, claim a reward, and that's it.
Then, you should choose a reliable crypto wallet. Many of the popular exchanges have their own web and mobile wallets, so you can start from there. But by far, the most important thing is your choice of crypto. Bitcoin is by far the most popular one; however, many consider it too cumbersome and inefficient for gambling.
Ethereum and Litecoin are next in line, with ETH amassing even more users after the recent structural changes in the blockchain. USDT is also popular because its value is always ~$1, unlike other volatile cryptos. Nevertheless, there are plenty of other altcoins, such as Monero, Solana, Ripple, Dash, etc. All of them have distinct advantages and downsides, so it's up to you to conduct research before making a purchase.
And last but not least, you must only play at reputable crypto-gambling sites. Don't register at an unlicensed site, and always read the Terms & Conditions before claiming a bonus. Casinos and sportsbooks often like to sneak in restrictions and rules here. If you see something you think it's abusive or exploitative, look for another casino. Value your time and stay safe, above all else.
How To Place Your First Bets
As reported by Forbes and various other outlets, the crypto winter is nearing its end. Whether it's recovery from the bear market or the recent failure of US banks, it's not certain. Nevertheless, it's the right time to get started with crypto gambling. Here's what you need to do before placing your first bet.
Find a Crypto Exchange: Cryptocurrencies are acquired through an exchange. User A has some Bitcoin to sell, while User B wants to buy some. Crypto exchanges let them connect with each other and complete the transaction at or near market price. It's imperative that you find a reputable crypto exchange, such as Coinbase, Binance or Kraken.
Create a Crypto Coin Portfolio: Once you've created your crypto exchange account, you can browse the platform for cryptos you find interesting. Use the search function and take a good look at the spreads — the difference between the lowest sell price and the highest buy price. Since you're a beginner, you won't need to check altcoin price predictions immediately. BTC or ETH will do just fine.
Deposit to the Gambling Site: The banking section is the last obstacle between you and your first crypto bet. To make a deposit, click on it and pick the coin you purchased on the exchange. The sportsbook/casino will provide you with their wallet address, through which you can send the funds. And that's it.
What Does the Future Hold for Crypto Gambling
Cryptocurrencies have undeniably changed the iGaming industry for the better. Deposits are much easier than with traditional options, such as cards or bank transfers.
Players also don't have to wait for an eternity to get their withdrawals — the blockchain handles everything in less than an hour. And, of course, crypto gambling is also an investment opportunity of sorts. Since you'll be holding the coins, fluctuations in value will cause changes in your overall bankroll. Always check the current price before playing.
Most importantly, make sure you choose a reputable gambling site. It must have a license from a legitimate regulator and all the features crypto gamblers demand. In these situations, listening to expert advice and visiting sites with experience in this particular niche is essential. Your crypto wallet and crypto exchange must be secure, too.
But there's no need to worry or feel anxious. Just follow our steps and learn about cryptos at your own pace. It's a fun journey, but the fun can only be maintained if you play responsibly, track coin prices and have a fixed gambling budget. Don't let your pastime get out of control, and good luck.

CaptainAltcoin's writers and guest post authors may or may not have a vested interest in any of the mentioned projects and businesses. None of the content on CaptainAltcoin is investment advice nor is it a replacement for advice from a certified financial planner. The views expressed in this article are those of the author and do not necessarily reflect the official policy or position of CaptainAltcoin.com