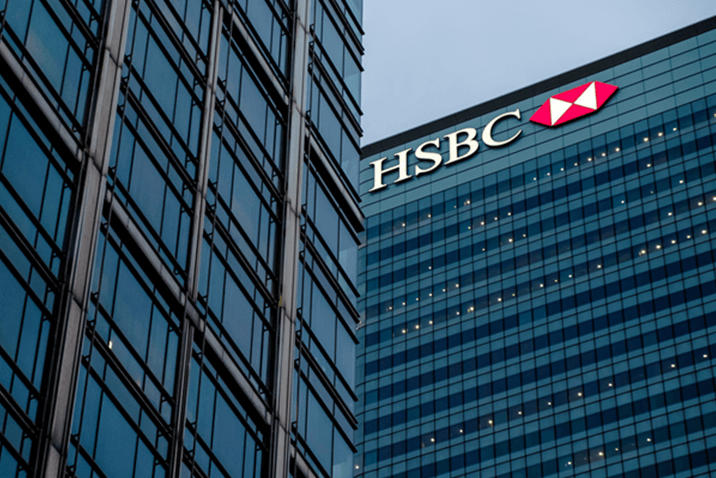 Despite being initially created as the driving force behind cryptocurrencies, specifically Bitcoin, Blockchain technology has certainly come on leaps and bounds over the past decade. Not only is it the scaffolding through which thousands upon thousands of cryptocurrencies are now being created, but it has become the technology of choice for leading banks searching for new investments in financial technologies.
Despite traditional bricks-and-mortar institutions having seemingly been afraid of FinTech just a few years ago, the pressure of a changing society is making it harder to ignore up and coming technologies. As a result, more and more banks are starting to actively seek out improvements for their processes, and many of these revolve around Blockchain. In just the first month of this year, we've seen a number of reports of investments, launches and partnerships and here, we've put together an overview.
HSBC Processes $250 Billion On Their Forex Blockchain Platform
The end of a year brings countless reviews of the previous 12 months, but the one that's truly caught the attention of the FinTech world is HSBC's recent press release. Posted to The Financial Times, HSBC announced that in 2018, they processed an incredible $250 Billion in Forex through their blockchain platform. Sitting up with some of the best forex brokers, HSBC handled over 3 million transactions since launching 'FX Everywhere' in February 2018, earning it a worthy spot as a contender within the blockchain-based Forex markets.
HSBC Become Sponsors Of London-Based Blockchain and AI Festival
A successful year for a blockchain platform isn't all that HSBC have going for them – they've also been active in supporting other blockchain-related activity in the UK. The London festival CogX is the starting event for this year's London Tech Week, and they have just secured HSBC as a lead sponsor for the event. With over 500 speakers, 300 start-up companies and 15,000 participants, the banking giant's move to support this event is a sure sign of FinTech acceptance in the industry.
Both Blockchain and Artificial Intelligence have the potential to completely change the world of banking and how we manage our finances. HSBC's step to support this is certainly a promising sign, and one we'll be keeping an eye on in the coming months.
ING Are Signing A 5-Year Deal With R3 For Platform Access
The Dutch international bank, ING, has recently been in the news for securing a deal with R3 that provides them with access to their Blockchain platform. This five-year deal will not only provide ING with access to R3's blockchain-based platform Corda but will allow them to implement their decentralised applications (CorDapps), in order to enhance their trade finance and other markets.
This move is the first step for both companies towards not only working together but for ING to help promote the Corda platform on a wider scale to their customers and other interested parties.
Lloyds Banking Group Set Their Sights On Start-Up Banking Platform
Cloud-based data hosting is nothing new, but Lloyds Banking Group has recently announced plans to migrate some customers towards a new blockchain cloud platform by the name of Thought Machine. Thought Machine is a start-up company who have developed the Vault OS core banking platform. Over the years, leading banks like Atom Bank, IBM and, of course, Lloyds, have all invested millions but it's only the latter that has taken this one step further.
Lloyds' plans to move customers to this platform comes at a time when the banking group is aiming to modernise their service. If this move is successful, they plan to increase the 500,000 members being moved in increments, until the banking process becomes cloud-based.
The China Banking Association (CBA) Launches New Blockchain-Based Platform
China has sat at the forefront of technological advancement for some time now, but recent moves by the China Banking Association (CBA) are bringing Chinese banks to pay attention to the potential that blockchain technology can truly hold. They are doing this by starting up their very own blockchain platform, designed to host trade finance transactions.
Leading banks, including Bank of China, China Merchants Bank, Ping An Bank, China Postal Savings Bank and, once again, HSBC, have already signed up to the new program, which is supported by the FinTech firm PeerSafe. This creation is designed to make transactions between banks much simpler, safer and far more streamlined, thus enhancing the banking process in China.
Bermuda Launch The First Crypto-Friendly Bank
It was announced in recent days that a FinTech-friendly bank will be set up on the island of Bermuda, adding another reason as to why it's becoming a leading offshore financial destination. David Burt, Premier for the country, announced the island's new addition in an interview with the BBC from his position heading the Bermuda delegation at the World Economic Forum.
This addition is a big move for Bermuda, bringing a rising technology to the Island's shores.  Previously, they've shied away from adding any kind of FinTech start-up to their business line-up, claiming that quality was an important part of the decision-making process. For this reason, this new bank is a huge sign that blockchain technologies could be working their way into daily life on a wider scale than initially thought.
As banks expand their services to include blockchain, and countries open their arms to new business opportunities surrounding this innovative technology, the world is slowly becoming more and more okay with blockchain. The next 12 months will be interesting to watch, and we can't wait to see what happens next.

CaptainAltcoin's writers and guest post authors may or may not have a vested interest in any of the mentioned projects and businesses. None of the content on CaptainAltcoin is investment advice nor is it a replacement for advice from a certified financial planner. The views expressed in this article are those of the author and do not necessarily reflect the official policy or position of CaptainAltcoin.com